Prior to embarking on their Hollywood careers – and even during them – a number of celebrities opt to serve in the US military. While this was most prominent in the Second World War, with the likes of Clark Gable and Henry Fonda enlisting following the Japanese attack on Pearl Harbor, it has occurred in subsequent conflicts. This includes the Vietnam War, which saw quite a few celebrities serve both overseas and in the United States.
Oliver Stone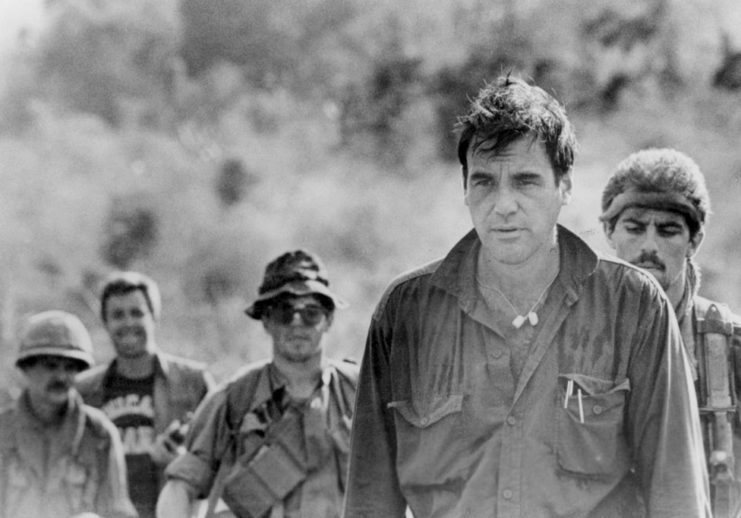 Kicking off our list of celebrities who served in the Vietnam War is director Oliver Stone, who released three films about the conflict. Stone requested combat duty upon enlisting the US Army in 1967 and was subsequently assigned to 2nd Platoon, Company B, 3rd Battalion, 25th Infantry. He was stationed along the Cambodian-South Vietnam border and saw frequent combat against enemy soldiers.
He was later transferred to the long-range reconnaissance platoon attached to the 21st Cavalry Division. During one patrol, he and his comrades were ambushed by a large contingent of North Vietnamese Army (NVA) troops. According to Stone, he almost died during the hours-long engagement, when a McDonnell Douglas F-4 Phantom II dropped a 500-pound bomb over the area. If it hadn't been for a nearby foxhole, he likely would have perished.
For his service in Vietnam, Stone was awarded the Purple Heart and a Bronze Star for Valor. After his return to the United States, he turned his focus to filmmaking, releasing such hits as Midnight Express (1978) and Scarface (1983). Among his most popular films are his Vietnam trilogy, which consists of Platoon (1986), Born on the Fourth of July (1989), and Heaven & Earth (1993).
James Avery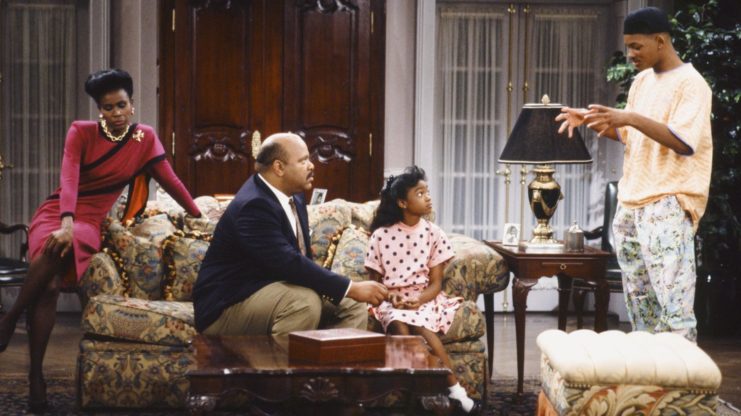 The late James Avery is likely best known for portraying Philip Banks on The Fresh Prince of Bel-Air (1990-96), but his resume includes a number of memorable television and film appearances. We mean, remember when he guest starred as General K'Vagh on Star Trek: Enterprise (2001-05)?
While he was one of the most recognizable celebrities for many years, what many might not realize is Avery served in the US Navy during the Vietnam War. Very little is known about his service, other than he enlisted following his high school graduation and was deployed from 1968-69. Following his time in the Navy, he relocated to San Diego, California, where he began writing poetry and scripts for PBS. The rest, as they say, is Hollywood history!
Dennis Franz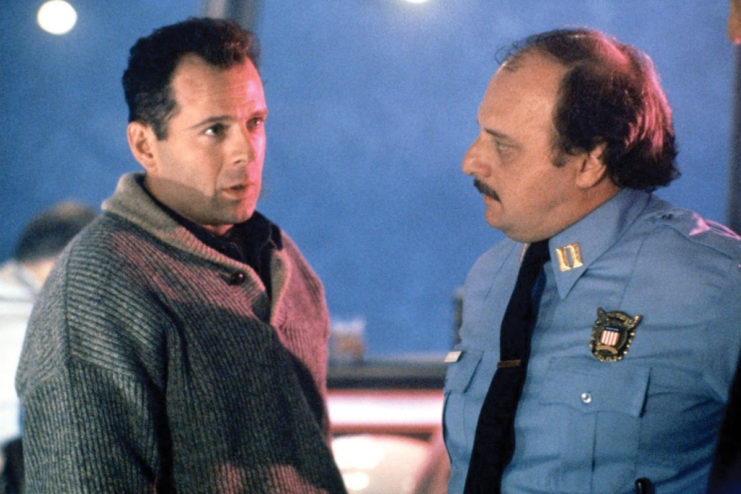 There are few celebrities who can say they served in the Vietnam War, let alone with one of the US Army's most famed divisions. Dennis Franz is one of those individuals, having served with the 101st Airborne Division. Not only did he serve with the 101st, he also spent time with the 82nd Airborne during his eleven-month deployment overseas.
While in Vietnam, Franz and his comrades frequently experienced combat, which left a mark on him. Speaking about his deployment, he later said, "I was curious about the military service and went into the Army. [It] was a very traumatic, life-changing experience… I'm not as frivolous as I once was. I experienced death over there, and losing friends. I got as close to being shot as I care to. I could feel and hear bullets whizzing over my head, and that shakes you up quite a bit."
Following his service, Franz took to the stage and guest starred on a number of television shows. His big break came when he was giving a starring role on NYPD Blue (1993-2005), with his character, Andy Sipowicz, earning him four Emmy Awards. Other notable credits include Die Hard 2 (1992), alongside Bruce Willis; Mighty Ducks (1996-97); and Beverly Hills Buntz (1987-88).
Jesse Ventura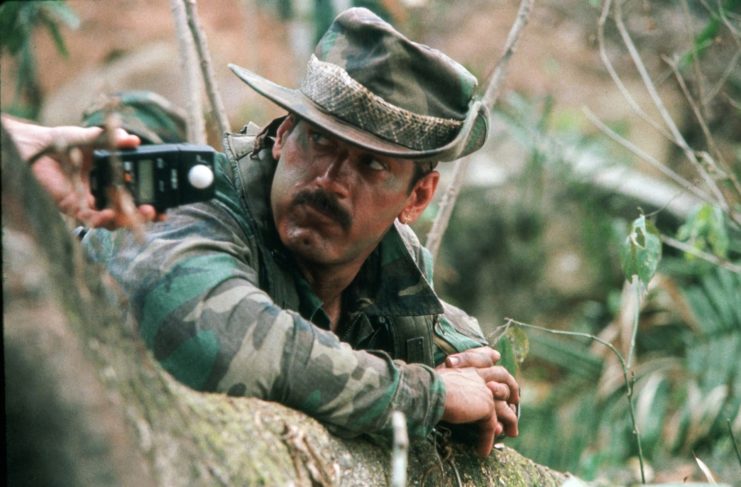 Professional wrestler-turned actor-turned politician Jesse Ventura may be a controversial figure, but back in the day he was a member of Underwater Demolition Team (UDT) 12. It's no surprise Ventura, birth name James George Janos, served in the US military, as his parents were veterans of the Second World War.
Not one to shy away from discussing his service in Vietnam, Ventura has received criticism for claiming to be a Navy SEAL. While he graduated from Basic Underwater Demolition/SEAL (BUD/S) school, he never completed the extra 26 weeks of training needed to actually become a SEAL. The reason he claims to have been one, however, has to do with the UDTs being broken up and combined with SEAL teams following the conflict.
Serving from 1969-75, Ventura never saw combat. Following his discharge from the Navy, he built a career as a professional wrestler and actor, after which he moved into politics. He became mayor of Brooklyn Park, Minnesota, and was later elected the state's governor.
He received widespread negative attention over a decade later when he sued Chris Kyle, an Iraq War veteran, for defamation, after he claimed to have punched Ventura at a California bar. When Kyle was killed in an unrelated incident, Ventura substituted his widow and the executor of Kyle's estate as the defendant in the case. A jury later ruled in his favor, awarding him $1.85 million. This verdict was reversed by the US Court of Appeals for the Eighth Circuit.
Dale Dye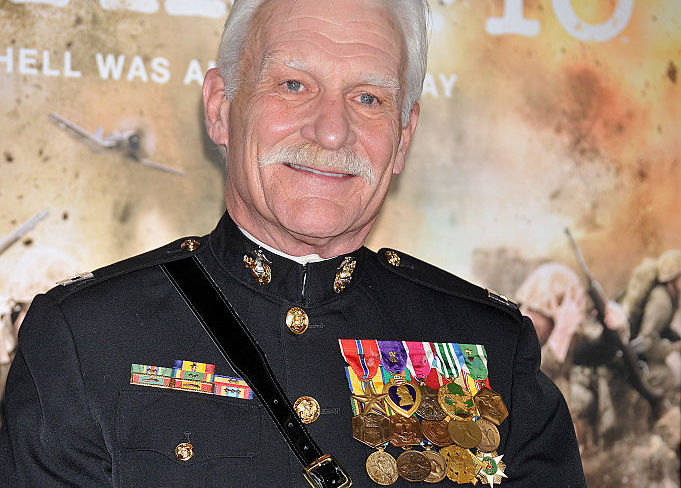 Dale Dye is an example of a Vietnam War veteran who didn't rub shoulders with Hollywood celebrities until after his service. Prior to jumping into the entertainment industry, Dye was a career military man, serving three tours in South Vietnam with the US Marine Corps. He first gained an interest in the military after learning about the Battle of Iwo Jima and told himself he'd enlist once he was old enough.
Dye's unit was one of the first deployed to Vietnam, and it wasn't long before it was recommended he become a combat correspondent, as his superiors were impressed with his observational skills. In this role, he not only participated in the Tet Offensive, but accompanied the 2nd Battalion, 3rd Marines during Operation Ford, witnessing engagements with the NVA. During one skirmish, he even took the place of fallen assistant machine gunner, exposing himself to enemy fire.
At the end of the Vietnam War, Dye had participated in 31 combat missions and was the recipient of a number of decorations, including the Marine Corps Achievement Medal with Combat "V." He continued to serve following the conflict and was deployed to Beirut in 1982-83.
Upon his retirement, he became a military correspondent for Soldier of Fortune and KFI AM 640. He also founded Warriors, Inc., a technical advisory company dedicated to ensuring the realistic portrayal of military combat in Hollywood productions. Since then, he's appeared in a number of notable war features, including Saving Private Ryan (1998) and Band of Brothers (2001).
Richard Kline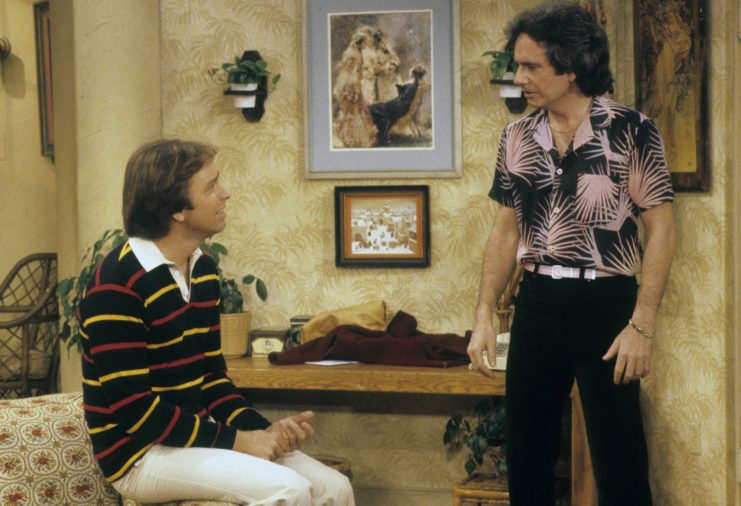 Richard Kline might be best known for his role as Larry Dallas in the television sitcom Three's Company (1977-84), but did you know he served during the Vietnam War? What's more, he was struck by lightning during his deployment!
After graduating from Northwestern University with a Masters of Fine Arts, Kline enlisted in the US Army. He completed basic training and Officer Candidate School (OCS) and was deployed to Vietnam as a lieutenant with the 101st Airborne. He was stationed north of Saigon, but never saw combat, as he was tasked with improving troop morale through a program called Recreation, Welfare and Morale.
Kline has since revealed the guilt he felt about serving in Vietnam, which caused him to keep it a secret until the Iran hostage crisis was resolved. "I had what they called a sense of 'double guilt,' because I was in theater, and all my friends were extremely liberal and anti-war, and I was anti-war. By going into the Army, I felt guilty, and then, by not serving in combat, I also felt guilty, so go figure," he told Priscilla Barnes on her podcast.
An interesting tidbit about Kline's Vietnam service was that he was struck by lightning while at a rural airport in Phu Bai. He was standing beneath the wing of a Lockheed C-130 Hercules during a storm when lightning struck. He and those he was with were transported eight feet across the tarmac. Everyone survived the incident.
Tom Selleck
Tom Selleck may not have been sent overseas during the Vietnam War, but he was one of a number of future celebrities who were drafted. He subsequently enlisted with the California National Guard, serving with the 160th Infantry Regiment from 1967-73. At the time, he'd been under contract with Fox, and only learned after being discharged that he'd been fired by the studio.
As it turns out, the setback didn't impact Selleck's career all that much. He later went on to star in a string of popular films and television shows, most notably Magnum P.I. (1980-88), Three Men and a Baby (1987), Friends (1994-2004) and Blue Bloods (2010-present).
Selleck has continued his work with the military, with his image being used in promotional posters for the California National Guard and California Military School. He's also a spokesperson for the Vietnam Veterans Memorial Fund.
Demond Wilson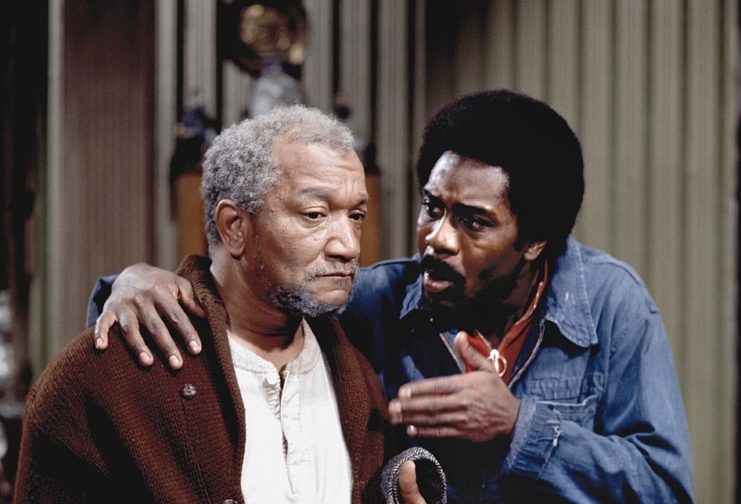 Best known as his portrayal of Lamont Sanford in the television sitcom Sanford and Son (1972-77), Demond Wilson has largely kept out of the public eye for the past decade, opting instead to focus on his religious beliefs. His emphasis on spirituality dates back to his childhood, when an appendix rupture almost took his life. From then on, he'd promised to serve God.
From 1966-68, Wilson served in the US Army and was deployed to Vietnam with the 4th Infantry Division. Little is known about his service overseas, other than he was wounded in combat and discharged as a Sergeant E-5. Upon his return to the US, he acted in Broadway and off-Broadway productions, before landing guest roles on a number of TV shows.
Pat Sajak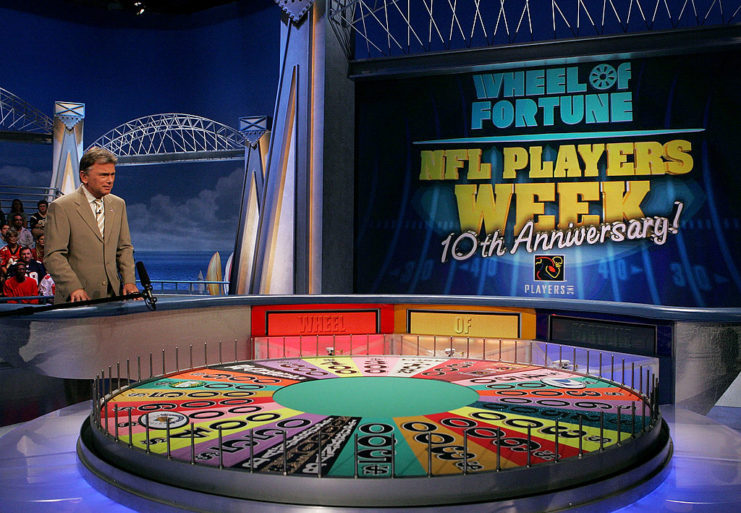 The long-time host of one of the most popular game shows on television, Wheel of Fortune (1975-present), Pat Sajak is also a Vietnam veteran, having served as a disc jockey with the American Forces Vietnam Network (AFVN) in Saigon. Originally trained as a clerk typist, Sajak hosted Adrian Cronauer's popular program, Dawn Buster. He even continued the DJ's tradition of kicking off the show with the famed phrase, "Good Morning, Vietnam!"
Speaking about his time with the AFVN with LAVA 105.3, he said, "It really was good duty. And if you have to be in Vietnam, it was a pretty good place to do it. By the way, the enemy never got one of our records the whole time I was there."
He added in an article for the USO, "Before I was Pat Sajak of Wheel of Fortune, I was Pat Sajak Vietnam DJ. I was an Army Spc. 5th class who had joined the service, been trained as a clerk typist, was sent to Vietnam as a finance clerk. After repeated attempts, I had been transferred to Saigon to be a disc jockey, as I had been in civilian life. The Army can work in mysterious ways."
R. Lee Ermey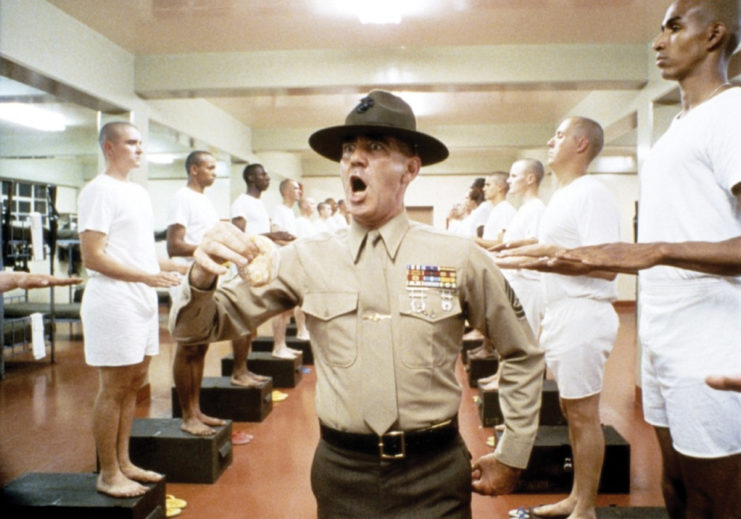 The majority of readers will likely know R. Lee Ermey was as a sergeant in the US Marine Corps, but some might not realize the extent to which he served. Ermey enlisted after a judge threatened him with jail time after an adolescence of criminal mischief, and he went on to serve for 11 years.
After completing recruit training at Marine Corps Recruit Depot, San Diego, Ermey served in the aviation support field, before becoming a drill sergeant in India Company, 3rd Recruit Training Battalion. He was subsequently sent to Okinawa with Marine Wing Support Group (MWSG) 17, before serving a 14-month deployment in Vietnam.
Ermey was medically discharged from the Marine Corps in 1972, having served a second stint on Okinawa. Speaking with the New York Times in 1987, he shared the injury was caused "by a rocket" some 18 years prior, but refused to go into more details. He did, however, carry shrapnel in his back until his death in April 2018.
Following his service, Ermey continued to be active in the Marine Crops, speaking with recruits and and even putting on a USO-style comedy routine in Afghanistan. He also moved into acting, with his first role being a helicopter pilot in Apocalypse Now (1979). Ermey's first major film appearance was in 1987's Full Metal Jacket. He'd initially been hired as a technical advisor, but director Stanley Kubrick later cast him as Gunnery Sgt. Hartman after watching an instructional tape he'd recorded.
Wes Studi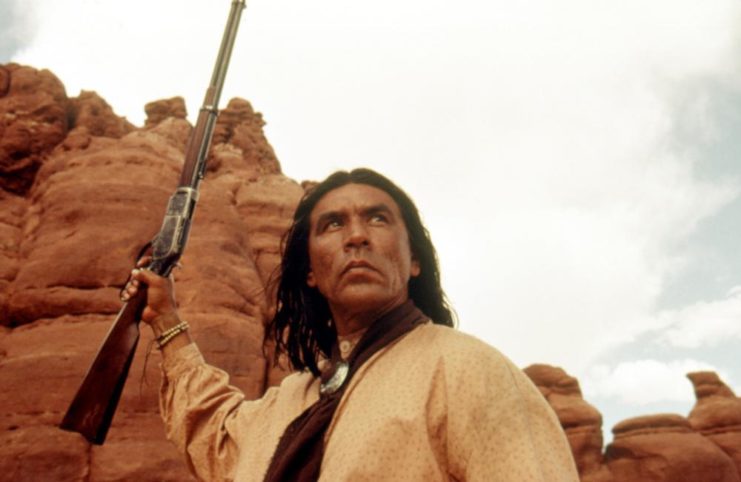 The final entry on our list of celebrities who served in the Vietnam War is West Studi, who is best known for portraying the title character in Geronimo: An American Legend (1993) and Magua in The Last of the Mohicans (1992). What many might not know is that the actor was a member of the Oklahoma National Guard.
Studi enlisted in the Oklahoma National Guard at just 17 years old, and received both basic combat and advanced individual training at Fort Polk, Louisiana. He decided he wanted to serve in Vietnam. With only one year left with the National Guard, he volunteered for active duty, serving overseas with Company A, 3rd Battalion, 39th Infantry Regiment, 9th Infantry Division.
More from us: Vietnam War Movies That Best Show the Realities of the Conflict
Studi's 12-month deployment came shortly before the "Mini-Tet" Offensive, which saw the Viet Cong and NVA attack Saigon in the wake of the Tet Offensive. He was stationed at the French Fort, deep within Viet Cong-held territory. What he experienced during this assignment led him to become a veterans' activist. He's since become involved with the non-profit Vietnam Veterans Against the War and regularly visits Vietnam Veterans of America conventions.