Over the course of the Second World War, 473 military members received the Medal of Honor. They've all since passed away, with the last remaining recipient dying on June 29, 2022. Hershel W. "Woody" Williams spent his life serving his country and fellow veterans, and his death marked the end of a long line of World War II-era military heroes.
Hershel W. "Woody" Williams wasn't supposed to survive childhood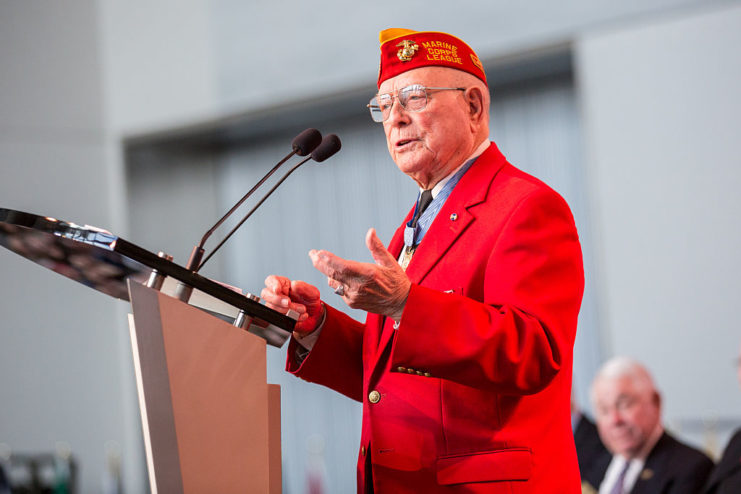 Hershel W. "Woody" Williams was born in 1923 in Quiet Dell, West Virginia. At birth, he only weighed around three pounds and, as such, wasn't expected to survive. However, he surprised everyone by living, and grew up on a dairy farm as the youngest of 11 children. Sadly, Williams would experience tragedy at a young age, losing his father to a heart attack and many of his siblings during a flu pandemic.
The future Medal of Honor recipient didn't have an easy time figuring out what to do with his life. He first worked as a truck driver for a construction company, before becoming a taxi driver. When the Japanese attacked Pearl Harbor on December 7, 1941, he was in Montana, working with the Civil Conservation Corps.
Hershel Williams had trouble enlisting with the US Marine Corps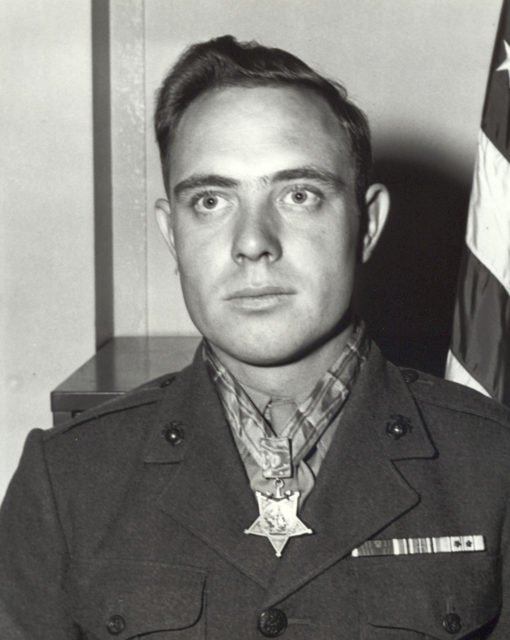 Like many men his age, Hershel Williams was eager to join the war effort following the events at Pearl Harbor. He had his sights set on the US Marine Corps for an interesting reason: the service's dress uniform. When he would see enlisted personnel around town, he thought the Marine uniforms were much better looking than the ones worn by the US Army.
There was a problem, however, with Williams' choice of the Marine Corps. Standing at only five feet, six inches, he was rejected for being too short. The next year, however, the service retracted its height requirements and he was able to enlist in the reserve force. He was assigned to a tank training battalion, before being transferred to the infantry battalion at Camp Elliott. He was specifically trained in using flamethrowers and as a demolition man.
According to the young Marine, much of his training was about the technical aspects and the design of the flamethrower. There was little instruction on how to operate the weapon.
Fighting during the Battle of Iwo Jima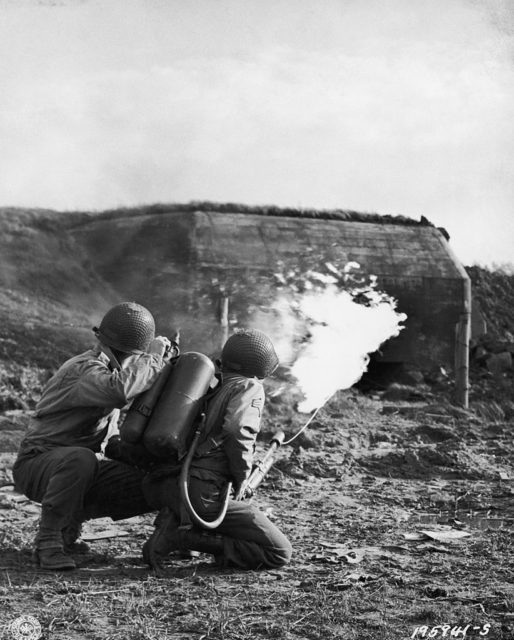 Hershel Williams was first sent to the southwest Pacific with the 32nd Replacement Battalion, prior to joining Company C, 1st Battalion, 21st Marine Regiment, 3rd Marine Division at Guadalcanal. He was attached to Headquarters Company during the Battle of Guam, before rejoining Company C in October 1944.
Hershel entered the Battle of Iwo Jima as corporal with Company C. They were tasked with helping US tanks clear a path for infantry, as the Japanese forces used pillboxes for cover while firing at the American troops. The company's commander asked for Marines to complete the task, and Williams and a handful of others volunteered. He was the only one to not become a casualty.
After killing the Japanese soldiers in the first pillbox, Williams went back and forth refueling his flamethrower, all the while covered by just four riflemen. He continued this process for four hours, taking out a total of seven pillboxes.
Hershel Williams was awarded the Medal of Honor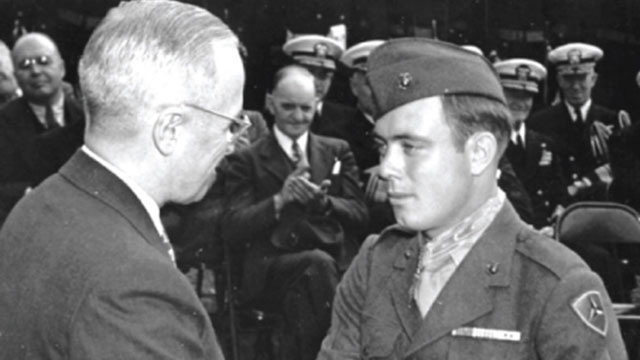 Williams fought for five weeks on Iwo Jima – and it would be his last battle. He was injured on March 6, 1945 and received the Purple Heart. That year, he was also awarded the Medal of Honor for his actions clearing Japanese pillboxes. The citation read, in part:
"On one occasion he daringly mounted a pillbox to insert the nozzle of his flamethrower through the air vent, killing the occupants and silencing the gun; on another he grimly charged enemy riflemen who attempted to stop him with bayonets and destroyed them with a burst of flame from his weapon.
"His unyielding determination and extraordinary heroism in the face of ruthless enemy resistance were directly instrumental in neutralizing one of the most fanatically defended Japanese strong points encountered by his regiment and aided in enabling his company to reach its objective. Corporal Williams' aggressive fighting spirit and valiant devotion to duty throughout this fiercely contested action sustain and enhance the highest traditions of the U.S. Naval Service."
Hershel Williams continued to serve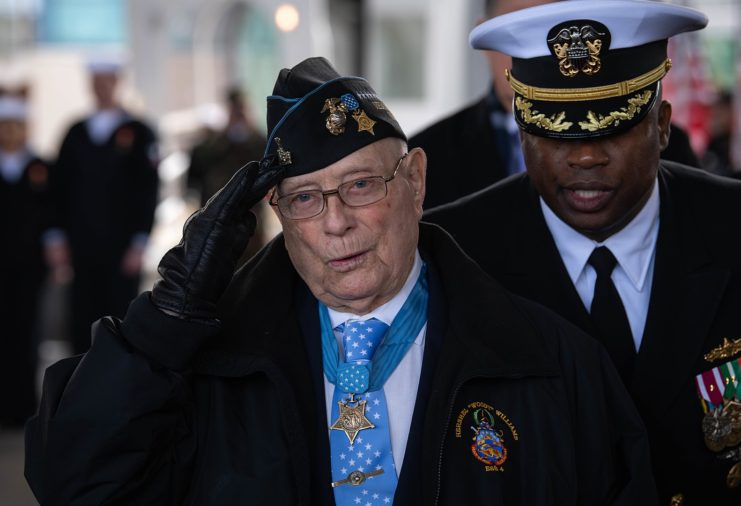 Following his incredible heroism and war injury, Hershel Williams was discharged from the Marine Corps in November 1945. Two and a half years later, he enlisted in the then-inactive Marine Corps Reserve, but was discharged in August 1949. This was followed by additional service in the reserve, at which point he reached the rank of Chief Warrant Officer 4.
More from us: John Levitow: The Lowest-Ranking US Air Force Airman to Receive the Medal of Honor
Eventually, Williams found his place as a Veterans' Affairs counselor, a position he held for 33 years. He was also active in the Sons of the American Revolution and in the Marine Corps League, and served as the chaplain of the Congressional Medal of Honor Society for 35 years. Williams even tossed the coin during Super Bowl LII in 2018, after his fellow Medal of Honor recipients nominated him to do so.
On June 29, 2022, Williams passed away at the Hershel "Woody" Williams Veterans Affairs Medical Center in Huntington, West Virginia. He was 98 years old.