Regardless of your religious practices, chaplains are critical to military operations. They can help support the troops, ensure religious needs are catered for and even negotiate peace with local religious leaders. On many occasions, military chaplains have selflessly put their faith and fellow humans before themselves in combat. The first American chaplain to die in WWII died heroically giving his life to save the lives of others. This was Father Aloysius H. Schmitt.
Becoming a chaplain
Schmitt was born in St. Lucas, Iowa on December 4, 1909. He attended Columbia College in Dubuque, Iowa, graduating in 1932. After his graduation, he relocated to Rome, Italy to study for his priesthood. On December 8, 1935, a few days after his birthday, Schmitt was ordained. Shortly after this, he started his first assignments at St. Mary's Church in Dubuque and St. Mary's Cathedral in Cheyenne, Wyoming.
Four years later he became a chaplain and enlisted in the US Navy. By this point, WWII was just about to begin in Europe, although America's involvement would come a little later. On June 28 1939 Schmitt became an Acting Chaplain and a Lieutenant, Junior Grade.
Pearl Harbor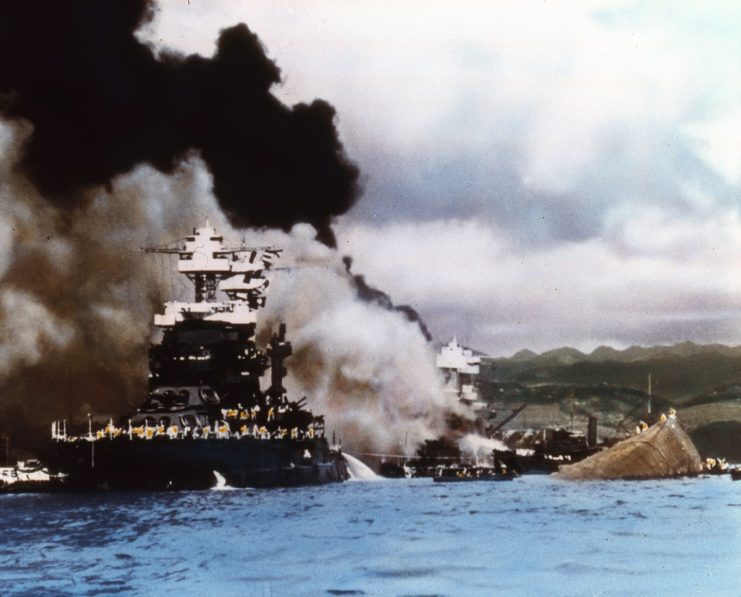 Sadly, Schmitt did not get to participate in WWII, as his life was cut short before the US had even entered the war. The short contribution he did make though was nothing less than heroic.
On December 7, 1941, the Japanese launched a surprise attack on the major American naval base at Pearl Harbor. The attack caused widespread devastation across the base and resulted in the deaths of 2,400 people. In addition, four battleships, three destroyers, three cruisers, and 200 aircraft were destroyed.
The USS Oklahoma was one of the American battleships present during the attack. It was sunk by a number of torpedoes and 429 of its crew were killed.
When the attack happened Schmitt was serving onboard Oklahoma. As the ship started to capsize, many sailors jumped into the harbor only to be burned alive by the flaming water. Others managed to escape by crawling along the ship's mooring lines.
However large numbers of men were stuck below decks as the ship rolled over, including Schmitt. Schmitt found himself in a compartment alongside a number of other sailors with only a small porthole to escape through.
He helped men climb through the hole, but when it was his turn to leave, he struggled to climb through the porthole. Knowing he was preventing others from escaping, he decided to stay and help others squeeze through instead. Remaining calm and collected the entire time, Schmitt helped man after man through the hole, blessing each one as they went. In total, he helped 12 escape to safety.
But in exchange for the lives of these sailors, Schmitt had to give his own. He died below the decks of USS Oklahoma that day, the first US chaplain to die in the war.
For this, Schmitt was originally awarded the Navy and Marine Corps Medal posthumously, but in 1945 the Navy determined that he was actually due a Silver Star. This was confirmed in October 2017.
Recovery
When the attack ended rescue efforts immediately began to try and save the many men trapped in watertight compartments of the sunken ships. Schmitt's communion chalice, Latin prayer book, and body were recovered from the ship, but he was not successfully identified. He was buried in Hawaii in a grave marked as unknown.
The Navy presented a crucifix in 1944 to the Archdiocese of Dubuque in Schmitt's name. Teakwood and metal from Oklahoma were used in the 24-inch tall cross.
For the decades since then, Schmitt's location has been unknown.
More From Us: Pentagon Ends Program to Identify Sailors Killed During Attack on Pearl Harbor
In 2015 the Department of Defense exhumed the remains of 388 military personnel for identification. The following year, Schmitt's remains were successfully identified after DNA matched that of a relative.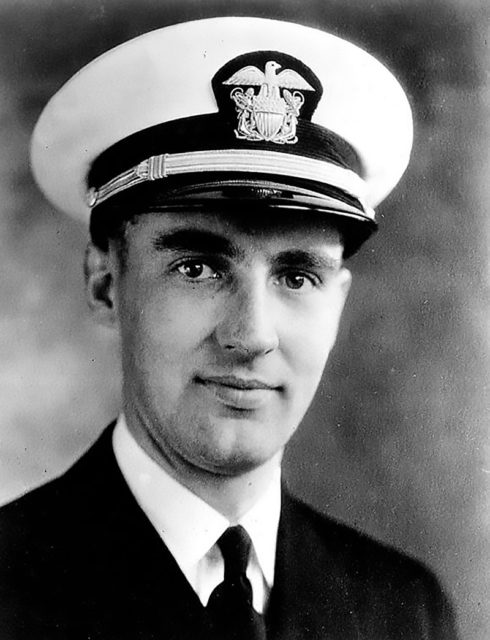 His remains were sent back to Iowa and a Memorial Mass was held for him in his home parish of St. Luke on October 5, 2016. Finally, on October 8, 2016, Schmitt's remains were moved to Dubuque for burial in Christ the King Chapel at Loras College.