Smedley Butler was born into privilege, but decided to fight for his country when he was just a teen. He became one of America's most decorated Marines, earning two Medal of Honors in separate engagements. His worldview changed, however, and by the end of his storied career, he'd become a pacifist, disillusioned by war.
Smedley Butler's early life
Smedley Butler was born into wealth in 1881. Residing in West Chester, Pennsylvania, his lineage had been in North America since the 17th century. His father, Thomas, was a lawyer who later went on to be a judge and a member of the House of Representatives for 31 years. He also served as chairman of the House Naval Affairs Committee during both Warren Harding and Calvin Coolidge's administrations.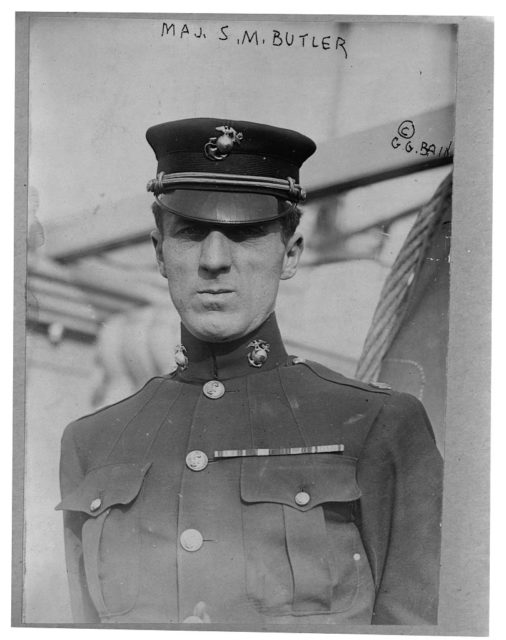 Butler attended the prominent Haverford School, where he was the captain of both the baseball and football teams. Despite his upper-class upbringing, he was eager to enter the US Marine Corps following school and participate in the Spanish-American War. Against his family's objections, he was able to do so and joined the Marines at the age of 17.
Early military career
Butler's first military engagement was during the Spanish-American War. He lied about his age and was commissioned as a second lieutenant. While sent to Guantánamo Bay shortly after its capture, he wound up spending much of his time on ships and didn't see combat.
His next assignment was garrison duty during the Philippine-American War. Stationed in Manila, bored and with little to do, he spent much of the time drinking. He eventually struck up a friendship with fellow Marine Littleton Waller. When Waller was given a command assignment during the Boxer Rebellion, he took Butler with him. During 1900's Gaselee Expedition, Butler was shot in the thigh while engaging the enemy, and later awarded the Brevet Medal – one of only 20 Marines to receive it.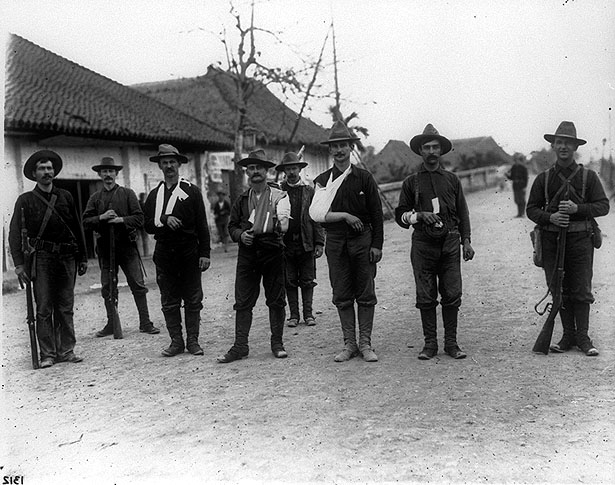 Butler spent the next few years participating in action in Central America, during what became known as the Banana Wars. The operations had a profound effect on him. He came out against American business interests in the Caribbean, and felt that Wall Street bankers and American businesses had too much impact on foreign policy decisions.
Butler's first Medal of Honor
In 1914, the US was planning an invasion of Mexico, due to poor diplomatic relations. Butler and another man, Navy Lieutenant Frank Fletcher, were sent ahead to survey the area. This was intended to be a spy mission, where Butler and Fletcher would assess the situation.
Butler posed as a railway official who was looking for a lost employee, which allowed him to scour the city and gain access to areas he wouldn't be privy to otherwise. He located weapons being used by the Mexican Army and was able to determine the size and readiness of the force the US would face, allowing him to update maps and verify useable railway lines.
The invasion was eventually scrapped when officials loyal to Mexican General Victoriano Huerta captured a small American naval landing party, leading to the Tampico Affair.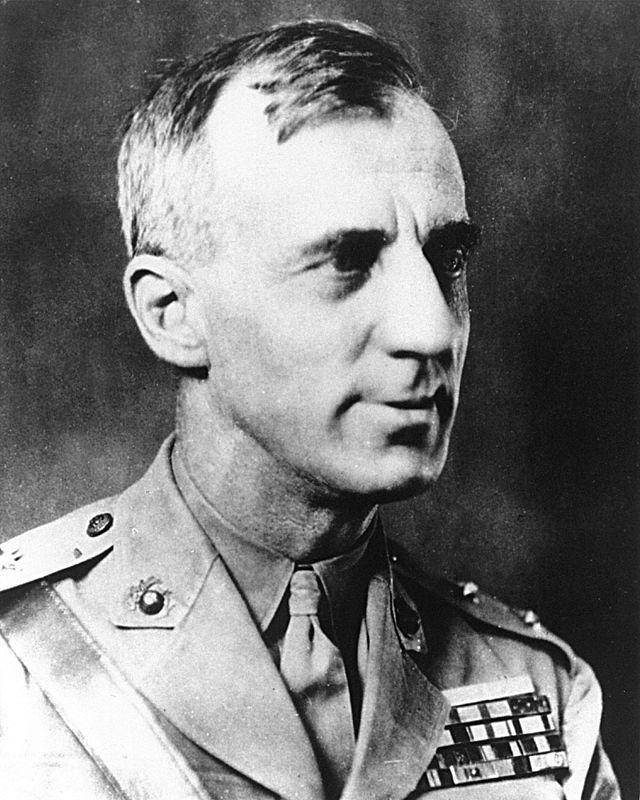 When President Woodrow Wilson discovered that a shipment of arms was to arrive in Mexico, he ordered a group of Marines and sailors to Veracruz to intercept it. Thanks to their actions, 5,800 Marines were sent to secure the city. The US government decided this was preferable to a full-scale invasion, and Butler received the Medal of Honor for his efforts.
Second Medal of Honor for his actions in Haiti
Butler was sent to Haiti after President Vilbrun Guillaume Sam was assassinated in 1915. During one operation, Butler and his platoon took on a group of Cacos rebels and fought them in hand-to-hand combat. The Marines suffered only one injury during the 20-minute battle, while 51 Haitian insurgents were killed.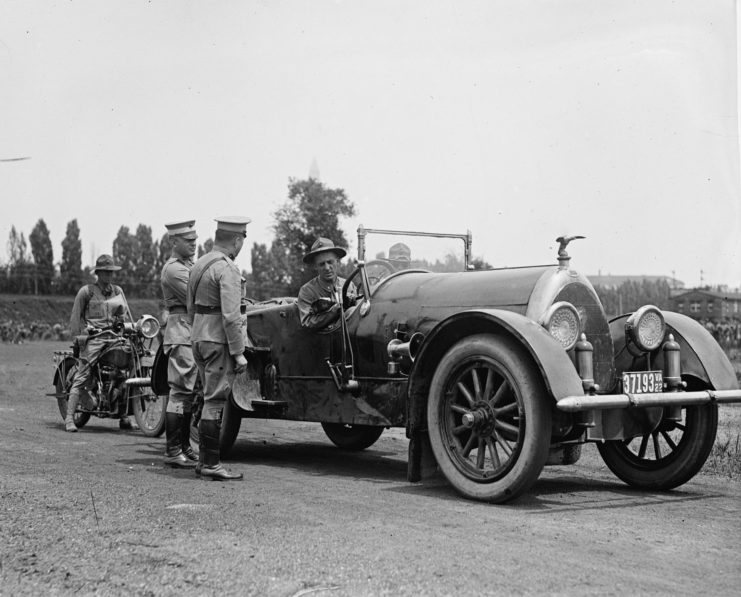 Assistant Secretary of the Navy Franklin D. Roosevelt was particularly impressed with Butler's leadership, and the Marine received his second Medal of Honor. This gave him the distinction of being the only Marine, aside from Dan Daly, to receive the medal for two different actions.
World War I and beyond
Following his actions in Haiti, Butler tried, and failed, to get sent to the Western Front during World War I. The reason: while impressed by his bravery, his superiors believed him to be unreliable. Instead, he was placed in command of Camp Pontanezen in France, a debarkation depot that helped troops with the American Expeditionary Force get to the front.
Following the conflict, he was named the commanding general of the Marine Barracks in Quantico, Virginia and, later, Philadelphia's Director of Public Safety, at the request of Mayor W. Freeland Kendrick and President Coolidge.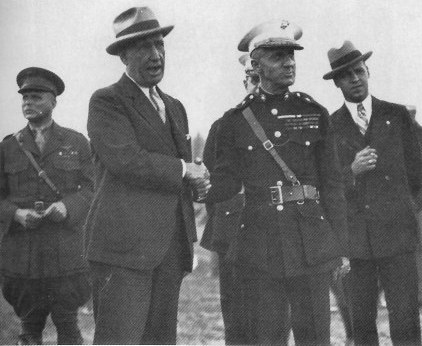 Following his work in Philadelphia, Butler assumed his role in the Marines and was sent to San Diego. From 1927-29, he was the commander in charge of the Marine Expeditionary Force in China, where he used his influence to ensure the protection of US interests. Upon his return to America, he was made a major general, the youngest in the Marine Corps.
Things weren't always good for Butler, however. In 1931, his arrest was ordered by President Herbert Hoover, after he spread gossip about Italian dictator Benito Mussolini. This had angered the Italian government, which put pressure on Hoover to silence the Marine. After he apologized, his court-martial was canceled. He only received a reprimand.
Butler officially retired from the Marine Corps on October 1, 1931. Less than a year later, he announced his bid for the US Senate. He was defeated by incumbent James J. Davis, who received nearly double the vote Butler did. During his campaign, he was known for speaking out about veterans' bonuses, an issue that eventually led to the creation of the Bonus Army.
Uncovering the Business Plot
In 1934, Butler alerted the public to a plot, made up by business leaders to overthrow President Roosevelt and replace the government with a fascist dictatorship. According to Butler, the plot was revealed to him by Gerald P. MacGuire, a Bond salesman with Grayson M-P Murphy & Co. General Hugh S. Johnson was to be installed as a dictator, and the plan was backed by the JP Morgan.
In addition, Butler said, an army of 500,000 former soldiers were to march on Washington, DC.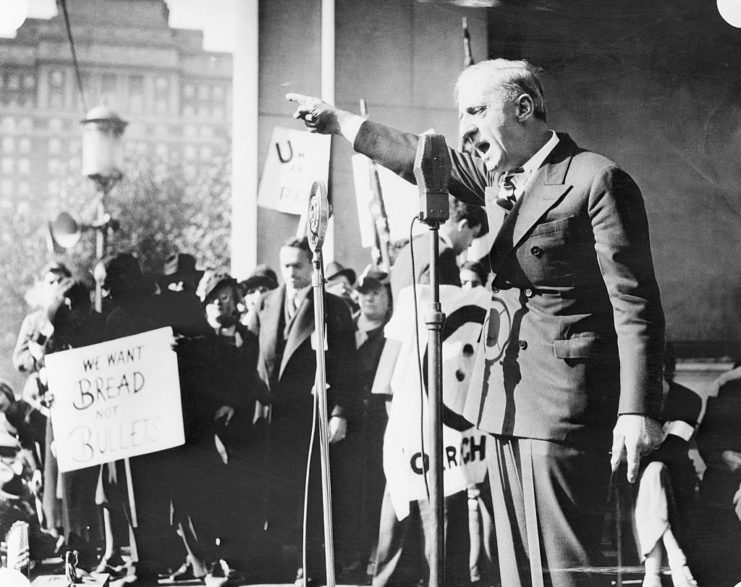 While most media members found the claims to be sensational, some in the government took it seriously. Butler told his story to a Congressional Committee led by John W. McCormack and Samuel Dickstein. The Committee later stated, "There was no question that these attempts were discussed, were planned, and might have been placed in execution."
It also asserted that "our Committee was able to verify all the pertinent statements made by General Butler, with the exception of the direct statement about the creation of the organization. This, however, was corroborated in the correspondence of MacGuire with his principal, Robert Sterling Clark."
Later life and pacifism
Having fought in battles throughout his adulthood, Butler became fiercely opposed to war later in life. He was particularly opposed to the idea of imperialism and the way big businesses became involved in foreign actions. In 1935, he wrote a book, titled War is a Racket, and regularly attended events hosted by churches, veterans and pacifists.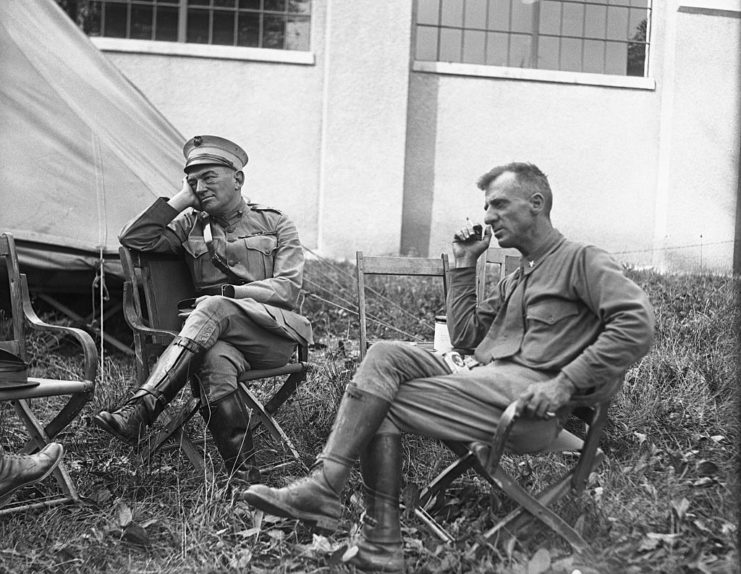 Butler died in 1940 at the age of 58, likely of cancer. His funeral, which was held at home, was attended by politicians, members of the Philadelphia Police Force and Marine Corps officers.