Hershel Williams, the last surviving Marine to have earned the Medal of Honor during WW2, let loose with a flamethrower during an event in West Virginia last week. Hershel "Woody" Williams, 97, is no stranger to flamethrowers, as he used the fearsome weapon during the Battle of Iwo Jima in February 1945.
Williams rattled off a selection of WW2-era weapons, too, including the Thompson submachine gun. He earned his Medal of Honor while using a flamethrower against Japanese defenders on the island of Iwo Jima.
The hero was described in his Medal of Honor citation, which said "Cpl. Williams' aggressive fighting spirit and valiant devotion to duty throughout this fiercely contested action sustain and enhance the highest traditions of the U.S. Naval Service."
Williams' actions on Iwo Jima
While U.S. tanks were trying to make their way through the island's formidable defenses of mines, obstacles, and pillboxes, Williams and several riflemen were ordered to move ahead with explosives in an effort to neutralize Japanese positions, which were unleashing crippling fire onto his fellow troops. On their way to the pillboxes, all of the men accept Williams were injured, forcing him to do it alone.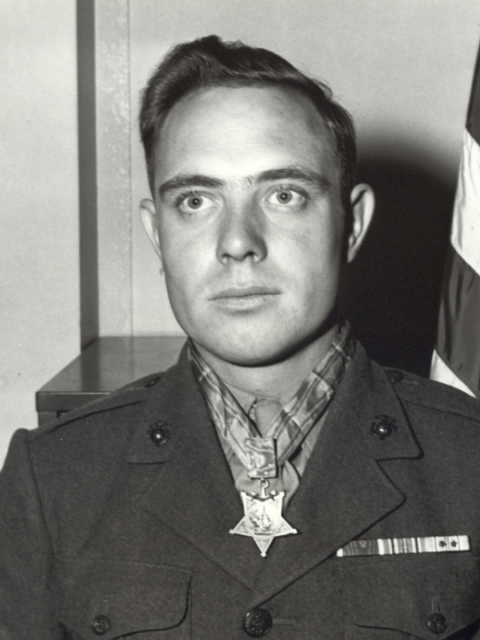 His Medal of Honor citation describes his heroism perfectly: "Covered only by four riflemen, he fought desperately for four hours under terrific enemy small-arms fire and repeatedly returned to his own lines to prepare demolition charges and obtain serviced flamethrowers, struggling back, frequently to the rear of hostile emplacements, to wipe out one position after another."
The Japanese resistance on the island was some of the fiercest the U.S. had encountered during its entire time in the Pacific Theater. 21,000 Japanese troops were on Iwo Jima when the U.S. attacked, but by the end of the battle, only 216 were captured alive.
Still alone, Williams climbed on top of a Japanese pillbox, a defensive structure with openings to fire and observe from, and inserted "the nozzle of his flamethrower through the air vent, killing the occupants, and silencing the gun."
"They dug caves called pillboxes to protect the island, and they were built in such a way that mortars and artillery couldn't affect them," Williams said after reuniting with a flamethrower at the event.
"So the enemy can stay in those pillboxes, and the flamethrower was the only way you can actually get through them. Once you eliminated the enemy in the pillbox, you were required to detonate an explosive to ensure they weren't going to survive," He added.
Continuing on, he "grimly charged enemy riflemen who attempted to stop him with bayonets and destroyed them with a burst of flame from his weapon."
Video: Williams letting loose with the flamethrower at a veterans picnic
Receiving the Medal of Honor
His extreme bravery in the face of imminent danger was "directly instrumental in neutralizing one of the most fanatically defended Japanese strong points encountered by his regiment and aided vitally in enabling his company to reach its objective," according to his Medal of Honor citation.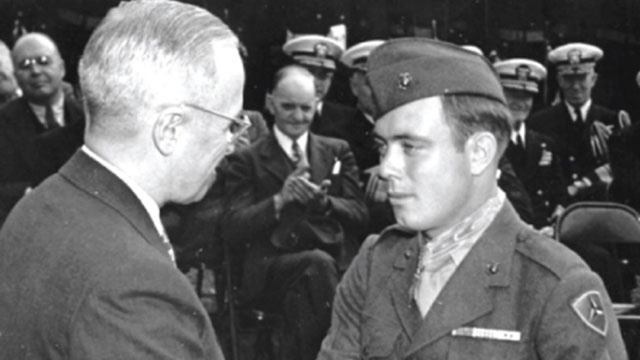 On the day of these actions, the flag was raised on Mount Suribachi, one of the most famous events of WW2, and one that Williams witnessed from around 3,000 feet away. In March, Williams was wounded by shrapnel and received the Purple Heart. He was sent back to the U.S. in September of 1945 and was awarded the Medal of Honor by President Harry S. Truman in October.
Since then, the U.S. has further honored Williams by naming a Navy vessel, a National Guard facility, and a VA Medical Center after him. Williams helped establish the Hershel Woody Williams Congressional Medal of Honor Education Foundation in 2010, which honors Gold Star recipients and their families.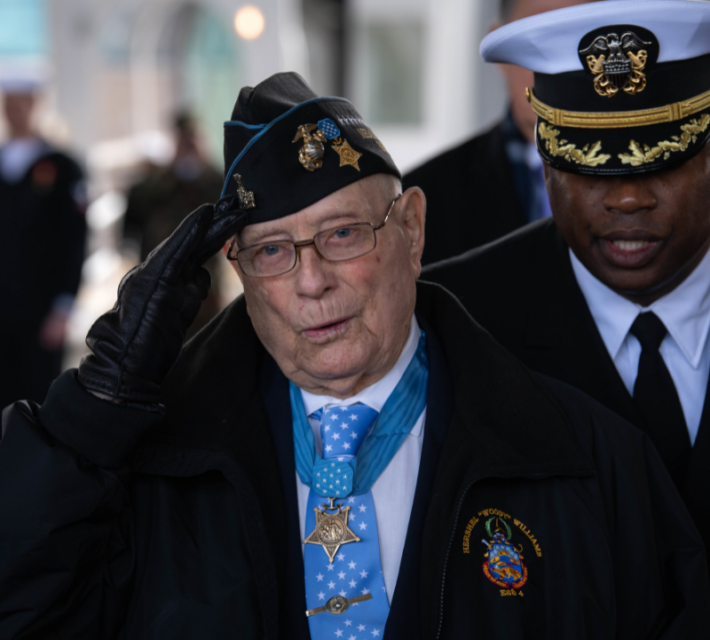 More from us: Iraq Hero Alwyn Cashe To Be Honored At US Military Base
At the event in West Virginia, Williams once again felt the power of the flamethrower, which he held onto as flamethrower expert Charles Hobson fired it over the Ohio River.
Since the death of Charles H. Coolidge in April of 2021, Williams is the last surviving WW2 Marine to have received the Medal of Honor.