By Damian Lucjan and Clare Fitzgerald
Society had never before experienced a conflict quite like the Second World War. While the Great War was the first to bring together the world's power in armed engagements, World War II was on a much-larger scale, as shown by the faces of both those fighting in the conflict and its millions of victims.
Captured German Pilot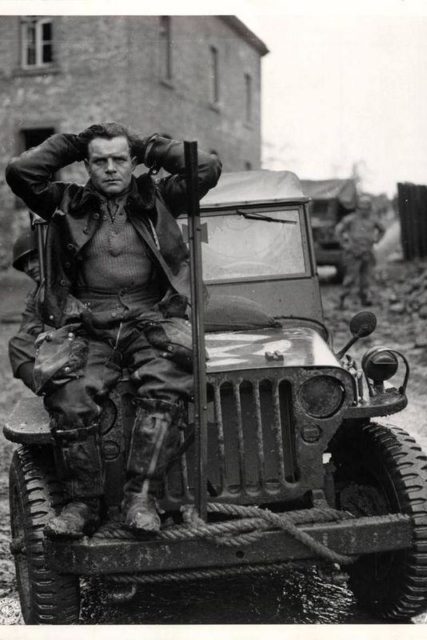 Captured Luftwaffe pilot who was shot down by anti-aircraft fire near Weisweiler, Germany during the Battle of Hürtgen Forest, 1944. His name and fate are unknown, but given the date and location, it's likely he survived the war.
Czesława Kwoka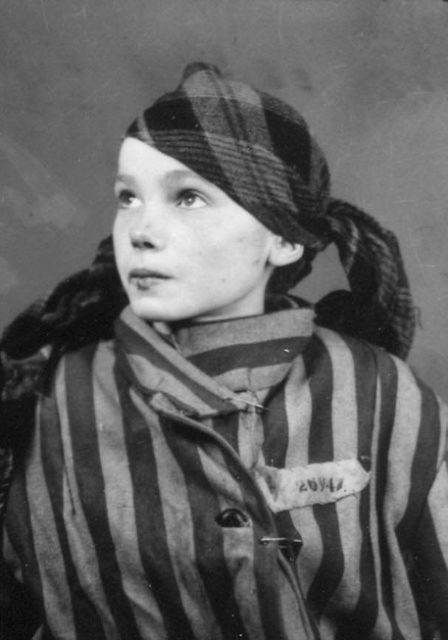 14-year-old Czesława Kwoka, a Polish girl who was also Catholic, during her imprisonment at Auschwitz. Over the course of the Second World War, an estimated 230,000 children, most of them Jewish, lost their lives at the concentration camp.
German battleship Tirpitz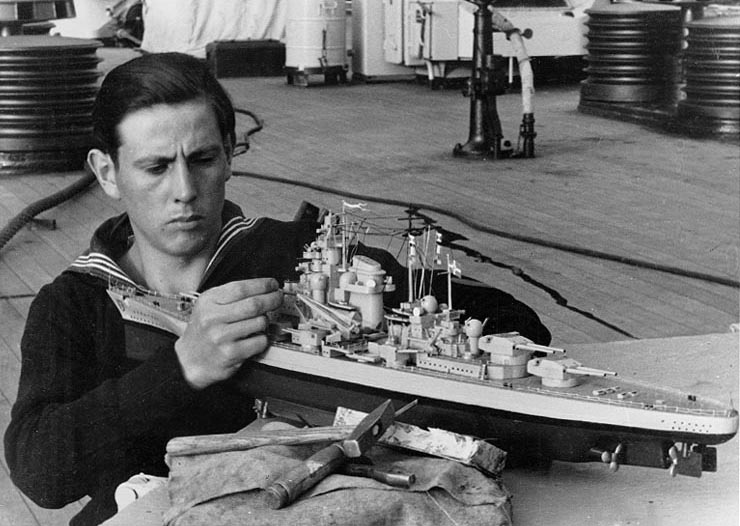 Sailor constructing a model of Tirpitz while onboard the German battleship. The second of two Bismarck-class vessels launched for use by the Kriegsmarine, she was sunk by Royal Air Force (RAF) bombers during Operation Catechism on November 12, 1944.
Weeping Parisian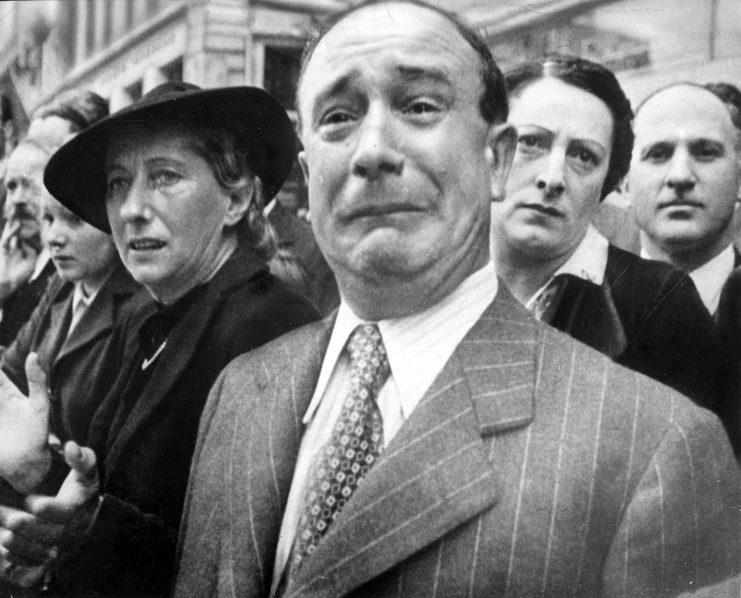 As Life Magazine explained in its March 3, 1941 issue, this photo depicts a Parisian man shedding patriotic tears as flags for his country's lost regiments are exiled to Africa.
US Marine after two days of fighting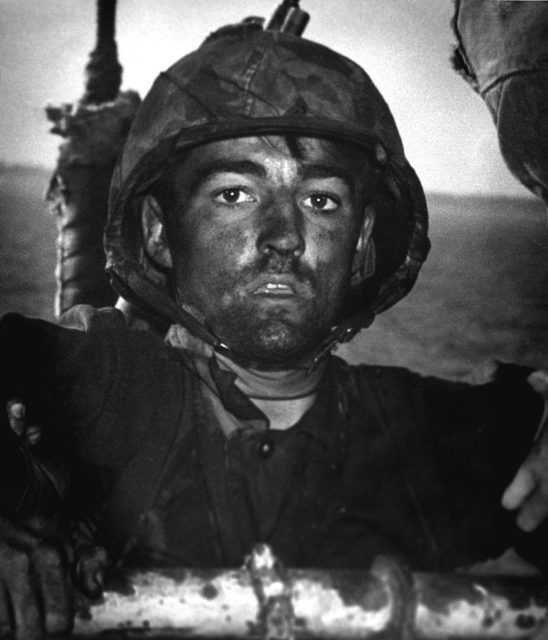 The face of a US Marine after two days and nights of fighting during the Battle of Eniwetok, a World War II engagement that occurred in the Pacific Theater in February 1944. It's believed he was killed a month later.
The Crying Boy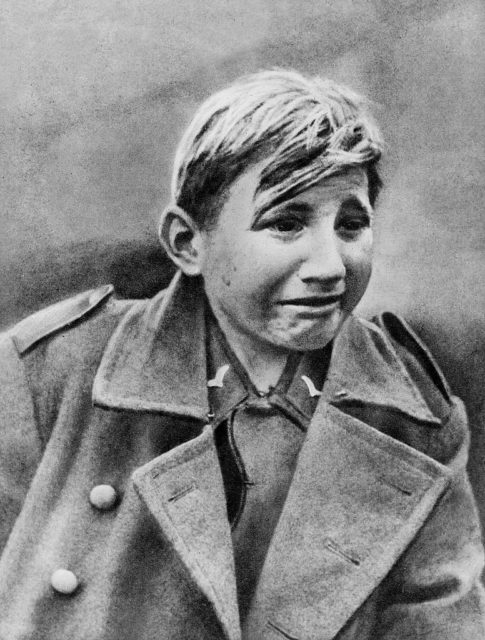 The face of 16-year-old Hans-Georg Henke, an anti-aircraft soldier during World War II. A member of the Luftwaffe's anti-air squad, he manned 88 mm guns at a German battery as a way of supporting his family after the deaths of his parents.
He claimed this photo was taken as the Red Army overran his unit. However, an American photographer later said it was taken in Hessen and that the emotion on Henke's face is combat shock caused by the incoming US forces.
Actions have consequences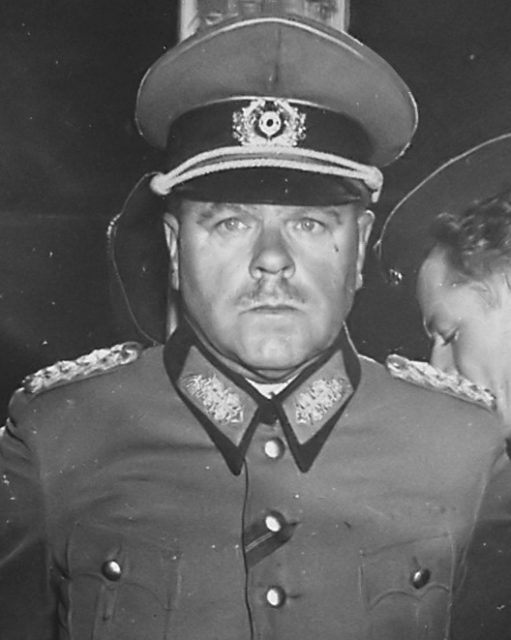 German Gen. Anton Dostler being tied to a stake before his execution by firing squad on December 1, 1945. He was convicted of war crimes and sentenced to death by an American military tribunal at the Nuremberg Trials.
Taking a coffee break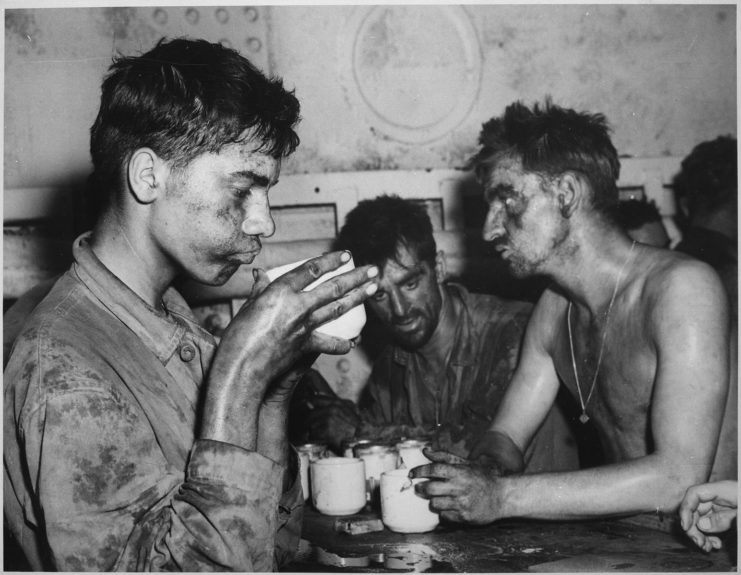 Pfc. Faris M. Tuohy drinking a cup of coffee aboard a ship off the Marshall Islands during the Battle of Eniwetok, February 1944. After seven days of fighting, the American forces came out victorious over Japan.
Japanese-American veteran being detained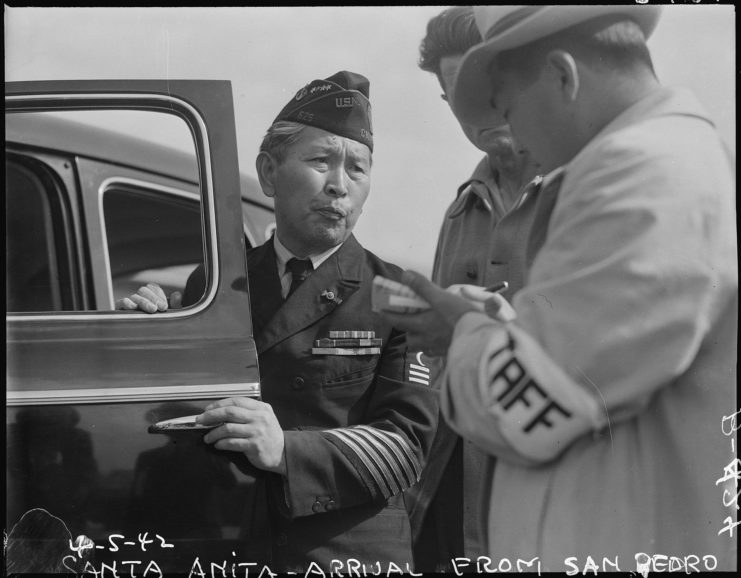 A US Navy veteran from the First World War is brought to the Temporary Detention Camp for Japanese-Americans in April 1942, a few months after the attack on Pearl Harbor. A total of 97,785 Japanese-Americans were held at internment camps throughout the Second World War.
Elated American pilot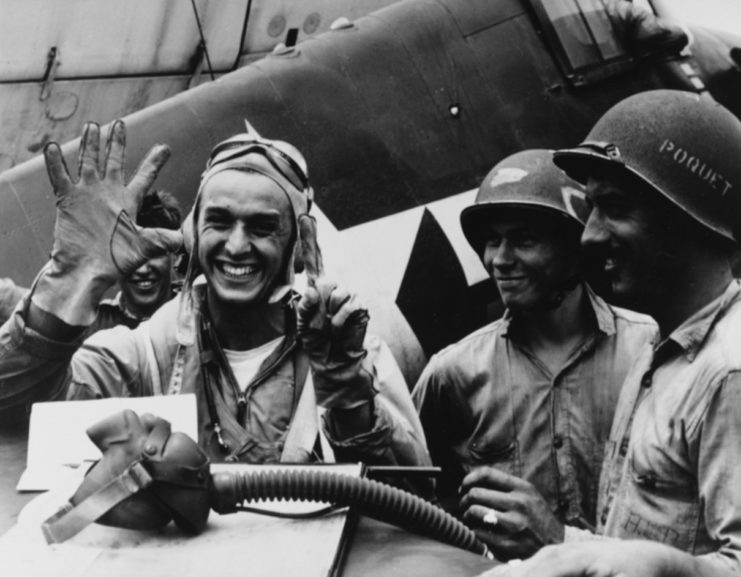 Lt. Junior Grade Alexander Vraciu, an aviator with the US Navy, using his fingers to show how many aircraft he downed during the Great Marianas Turkey Shoot in the Battle of the Philippine Sea. This photo was taken aboard the USS Lexington (CV-16).
Women in the cockpit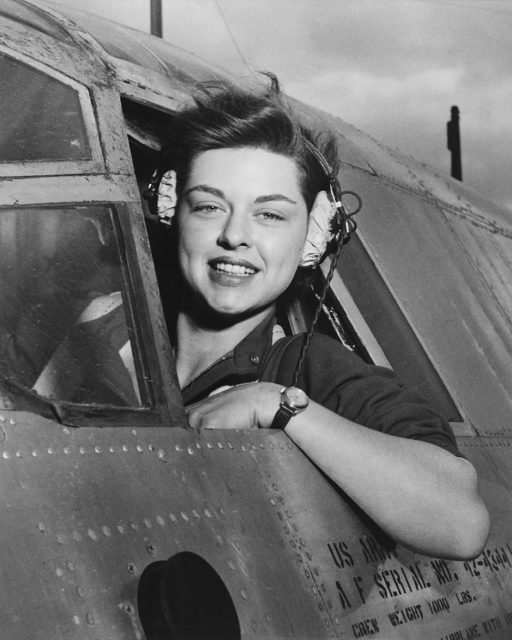 Elizabeth L. Remba Gardner was a member of the Women Airforce Service Pilots (WASPs), which ferried military aircraft throughout the Second World War. This photo was taken just prior to her taxiing down the runway at Harlingen Army Airfield, Texas.
Saying 'thank you'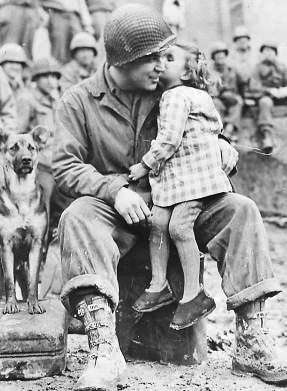 Tec-4 Elvin Harley of the 3rd Armored Division receives a peck on the cheek from a French girl while listening to music by the 9th Armored Division Band near Aboncourt, France on February 14, 1945.
Taking a moment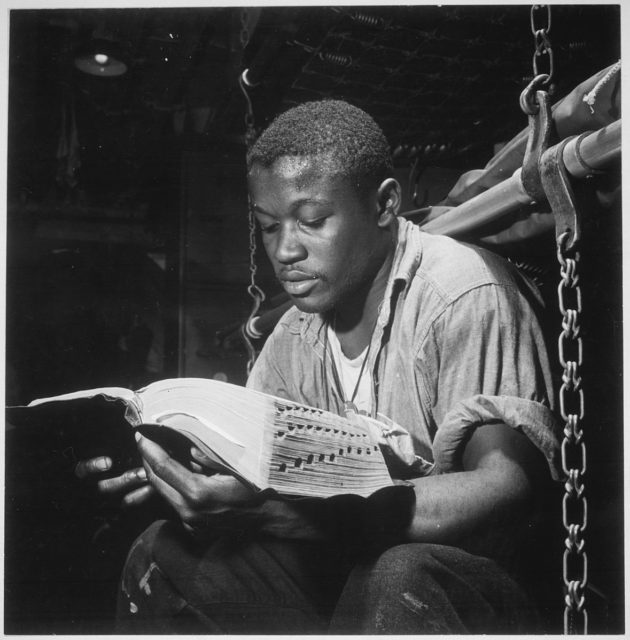 STM2-c James Lee Frazer taking a moment to read a few chapters of the Bible. This photo was taken the day before a raid on Manila Bay in January 1945.
Warsaw Uprising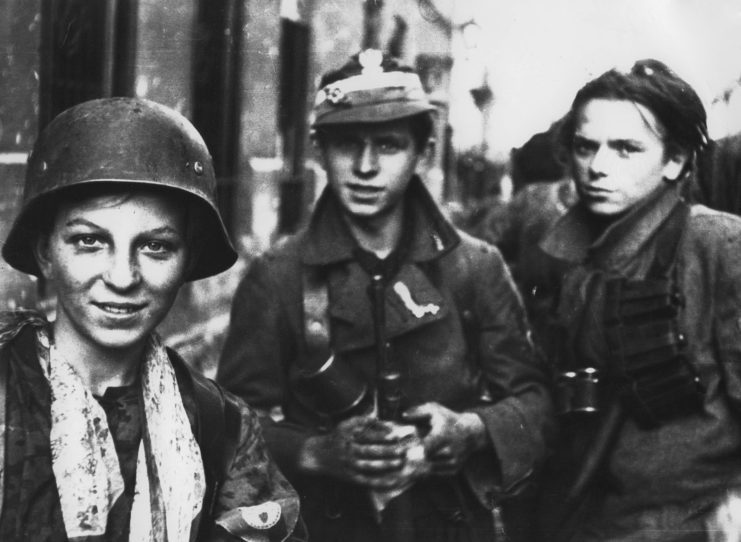 Polish Boy Scouts serving with the Radosław Regiment during the Warsaw Uprising, September 1944. Look at the determination on their faces as they fight for Poland's liberation. All three survived the war.
Māori Battalion putting on a ceremonial performance
Māori Battalion performing a haka in Helwan, Egypt for the King of Greece, July 1941.
Taking a break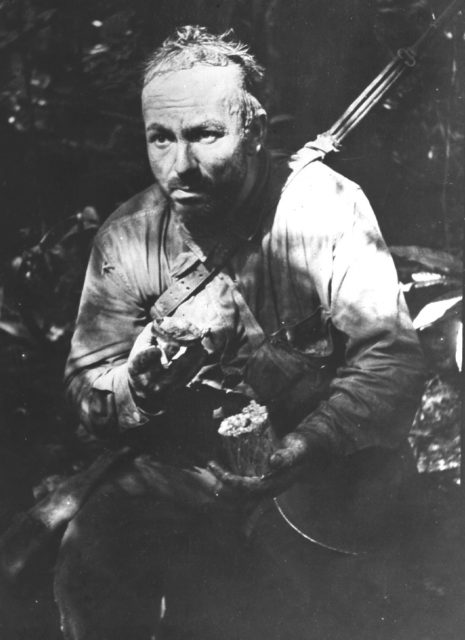 Pvt. Lloyd Culuck of Company A, 1st Battalion, 172nd Infantry Regiment takes a break to eat from a can of Ration B on New Georgia Island in the Southwest Pacific during the New Georgia Campaign. Having landed on July 2, 1943, he hadn't changed his clothes in 12 days, due to the amount of fighting between the American forces and Japan.
Marching through the Ardennes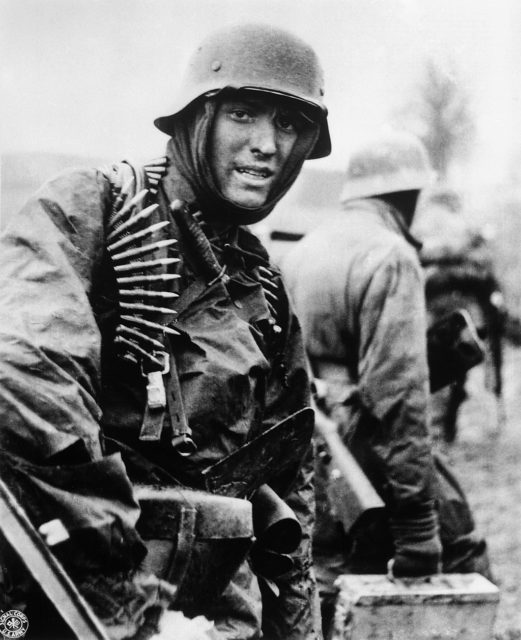 German machine gunner marching through the Ardennes during the Battle of the Bulge, December 1944.
Italian wine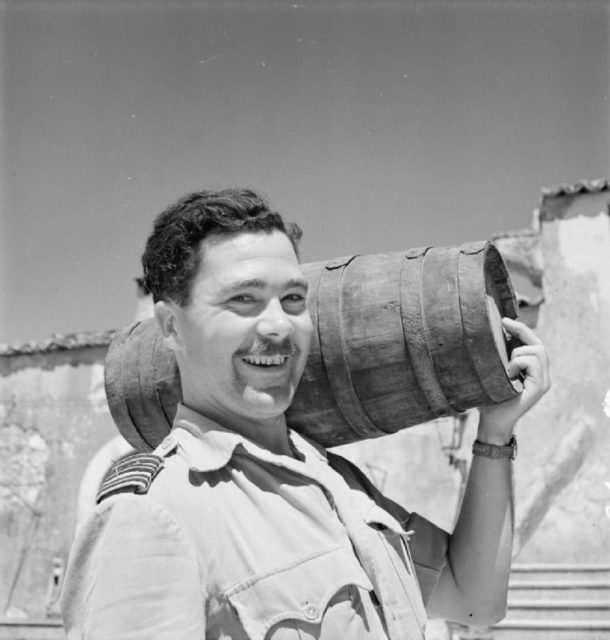 Wing Commander G.H. Westlake, the commanding officer of No. 1 Mobile Operations Room Unit, with a cask of Sicilian wine. While a fighter pilot with No. 80 and 213 Squadrons RAF, he shot down nine enemy aircraft and shared in the downing of two more. He also led No. 213 Squadron in North Africa between August and October 1942.
Westlake worked as a controller for No. 211 and 212 Groups in Tunisia, before becoming 1 MORU during the invasions of Sicily and Italy. He later returned to operations, commanding a unit of the Italian Co-Belligerent Air Force, before leading the No. 239 Wing RAF in Italy.
He was responsible for the success of Operation Bowler, leading an attack against a harbor in Venice in March 1945.
The Japanese surrender brought about an emotional response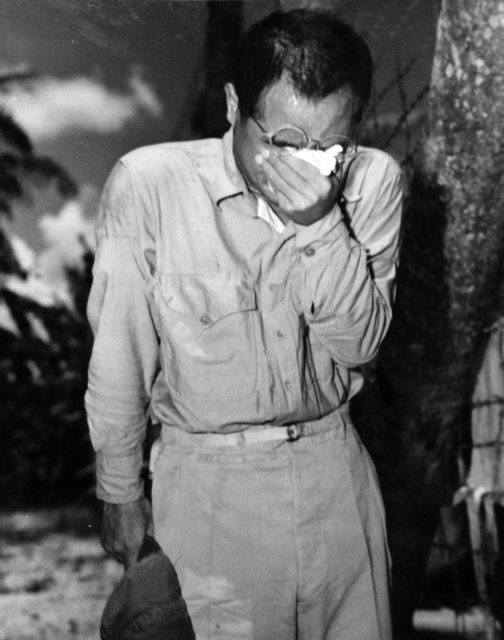 The face of a Japanese prisoner of war (POW) listening to Emperor Hirohito's surrender, which signaled the end of World War II.
'V' for victory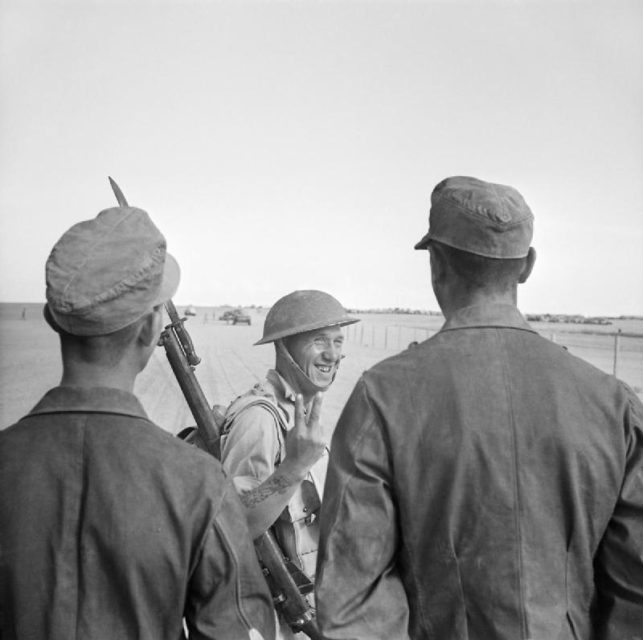 British soldier holding up the "insult" version of the famous "V" for Victory sign toward German POWs that were captured at El Alamein, October 1942.
Intense fighting on Guam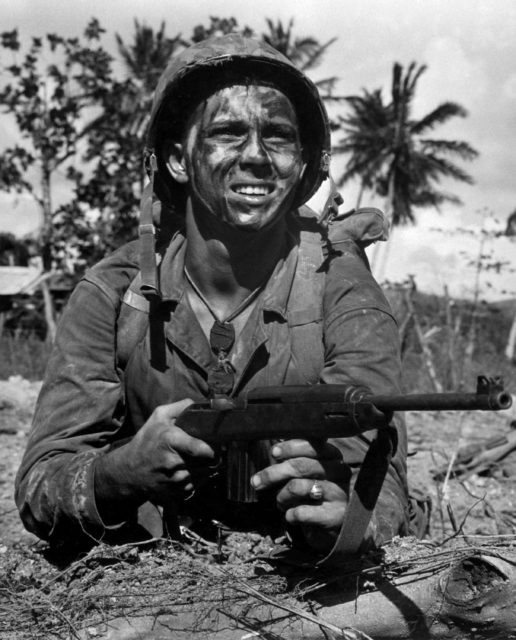 US Marine Gill A. Gideon Jr. aiming his M1 Carbine during fighting on the first day of the Battle of Guam. The engagement resulted in an American victory.
Look at this gun!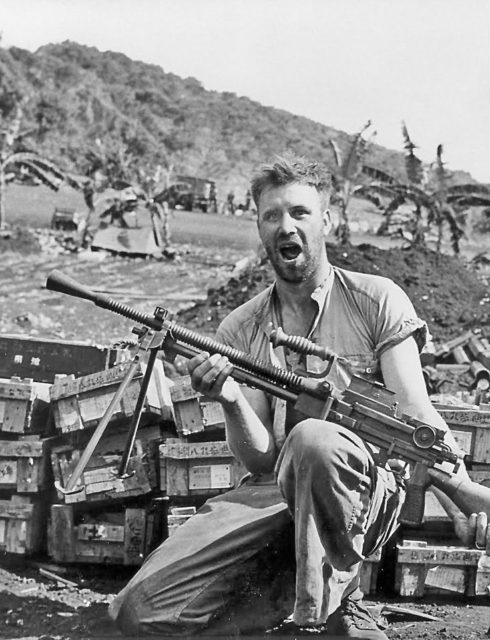 More from us: These Images Show How the French Celebrated Following the Liberation of France
The shocked face of a US Marine holding a Type 99 on Saipan, which was equipped by the Imperial Japanese Army during World War II.