One of the all time classic war films that is full of Hollywood stars of the day. You can never imagine the 'star's of Hollywood today teaming up for a movie but back in the day it was normal. We all have our favorite characters from the movie and one of mine has to be Telly Savalas who played a completely barking mad soldier! So lets have a look at some trivia from The Dirty Dozen:
Lee Marvin referred to this movie as "junk" and "just a dummy moneymaker", although he enjoyed the film. The movie has nothing to do with war, he stressed, and he was very pleased that he got to do The Big Red One (1980), which mirrored his own wartime experiences.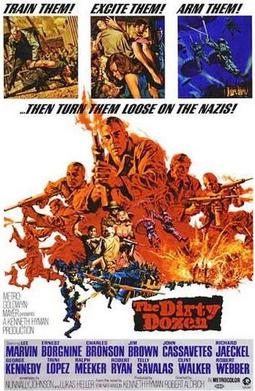 Production on the film ran for so long that Jim Brown was in danger of missing training camp for the up-coming 1967-68 football season. As training camp and the NFL season approached, the NFL threatened to fine and suspend Brown if he did not leave filming and report to camp immediately. Not one to take threats, Brown simply held a press conference to announce his retirement from football. At the time of his retirement, Brown was considered to be one of the best in the game and even today is considered to be one of the NFL's all-time greats.
The scene where one of the dozen pretends to be a general inspecting Robert Ryan's troops was initially written for Clint Walker's character. However, Walker was uncomfortable with this scene, so Robert Aldrich decided to use Donald Sutherland instead. The scene was directly responsible for Sutherland being cast in M.A.S.H. (1970), which made him an international star.
Charles Bronson's character says his father was a coal miner from Silesia (an area of Poland known for its coal mining). In real life, this is true. Bronson's (real name: Charles Buchinski) father was a coal miner from Lithuania, and Bronson himself worked in the mines as a boy in Pennsylvania.
Lee Marvin's chronic alcoholism was a problem during filming.
Construction of the faux chateau proved *too* good. The script called for it to be blown up, but the construction was so solid that 70 tons of explosives would have been needed to achieve the effect! Instead, a section was rebuilt from cork and plastic.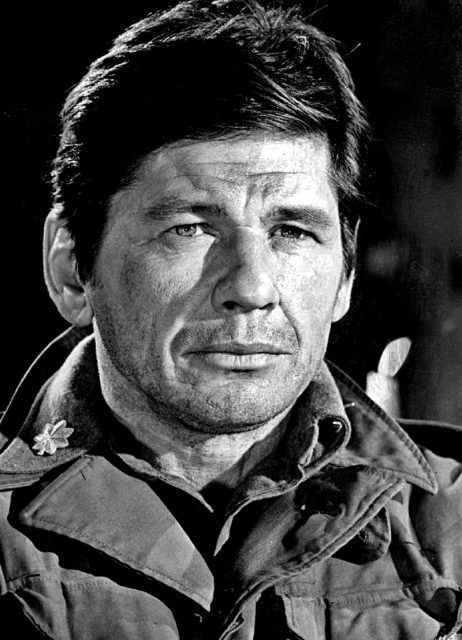 "The Dirty Dozen" author E.M. Nathanson may have gotten the idea for the title (if not the plot) of his best-selling novel from a real-life group of World War II 101st Airborne Division paratroopers nicknamed "The Filthy Thirteen." These men, demolitionists in Headquarters Company of the 506th Parachute Infantry Regiment of the 101st, supposedly earned their nickname by not bathing or shaving for a long period of time during training prior to the Normandy invasion. Members of The Filthy Thirteen can be seen in famous vintage film footage and still photos, their faces painted with Indian "war paint," before boarding their planes for the D-Day jump. Another idea source for Nathanson's book may have come from future director Russ Meyer, who was at the time a combat cameraman. He had shot some footage of a group of American soldiers–inmates at a military prison who were under death sentence for such crimes as murder, rape and mutiny–who were training at a secret location for the D-Day invasion, for which they would be parachuted behind German lines to commit acts of sabotage and assassinations. Prison authorities told Meyer that the men, who volunteered, were told that if they survived and returned their sentences would be set aside, their records expunged and they would be set free. Guards told him that the group was called "the dirty dozen" because they refused to bathe or shave. After the invasion, Meyer made inquiries as to these men's fates, and was told that none of them came back. After the war, he related this story to Nathanson, who was a friend of his.
Charles Bronson was so angry with Lee Marvin for constantly turning up dead drunk that he threatened to punch the star.
Donald Sutherland was a late casting decision, replacing an actor who dropped out because he thought the role was beneath him.
Jack Palance turned down the Telly Savalas role because he disapproved of the character's racist overtones.
Director Robert Aldrich intended the film as an anti-war allegory for what was happening in Vietnam.
When Lee Marvin and Charles Bronson ring the doorbell at the castle, the bell rings da da da dah (…-) 3 times in rapid succession. In Morse code this is the letter V (Victory) and the 4 notes represented by the code are the first notes of Ludwig van Beethoven's "5th Symphony", but again, even though by the German Beethoven, it was an Allied anthem signifying victory. Someone in dubbing the sound was having fun.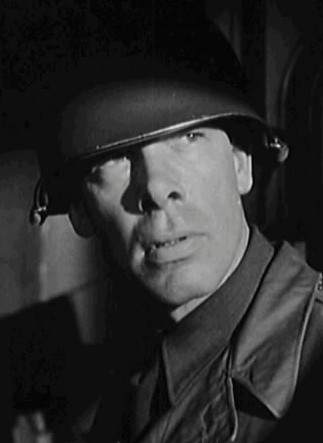 George Kennedy, Clint Walker, Ernest Borgnine and Jim Brown were reunited to play the voices of the soldiers some 31 years later in Small Soldiers (1998).
During WW2 the American forces did indeed "borrow" a prison in the UK for housing US servicemen convicted of criminal acts. This was Shepton Mallett prison in Somerset, which operated as a prison from 1625 to 2013. During the war nine US military personnel were executed there–three by firing squad, six by hanging. The hangman used was the British Albert Pierrepoint, who in his career hanged approximately 450 people, including some 200 Nazis convicted is the Nuremburg war crimes trials.
John Wayne was first offered the part of Maj. John Reisman, but he declined. The part was then offered to Lee Marvin, who took it. Wayne's refusal was due to his disapproval of the original script, in which Reisman has a brief affair with a married woman whose husband is fighting overseas.
The film was controversial when it was released, as it depicted Allied soldiers as no different than Nazis.
MGM's biggest moneymaker of 1967.