Inside the Église Saint-Côme et Saint-Damien d'Angoville au Plain are two stained glass windows dedicated to the US forces that pushed through following the D-Day landings. One, in particular, is dedicated to Robert Wright and Ken Moore, US Army medics who used the church as an impromptu aide station.
They worked tirelessly to save not just their comrades, but enemy soldiers, as well.
101st Airborne Division in Angoville-au-Plain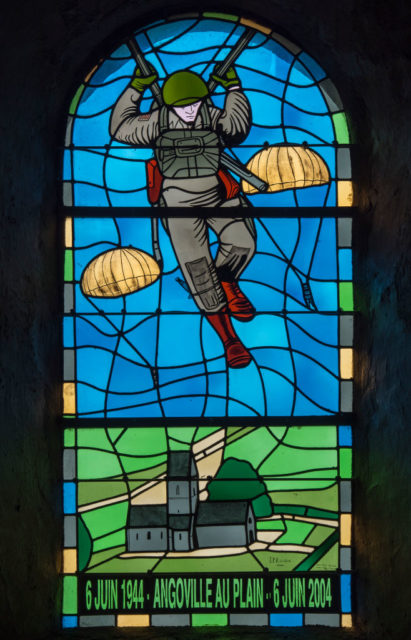 At the time of the D-Day landings, Angoville-au-Plain was occupied by members of the 91. Luftlande-Infanterie-Division. It also happened to fall in close proximity to the drop zone where the 2nd Battalion, 501st Parachute Infantry Regiment, among others, landed on June 6, 1944.
As with the other members of the 101st Airborne Division, the 2nd was tasked with cutting off the main road between Paris and Cherbourg, which went past Angoville-au-Plain. The paratroopers were thoroughly disoriented after landing, as they suddenly had to navigate through the French countryside in the darkness of the night. On top of that, many became separated from those they jumped with and/or their equipment.
Once they'd collected themselves, it wasn't long before heavy fighting broke out in Angoville-au-Plain.
Establishing an aide station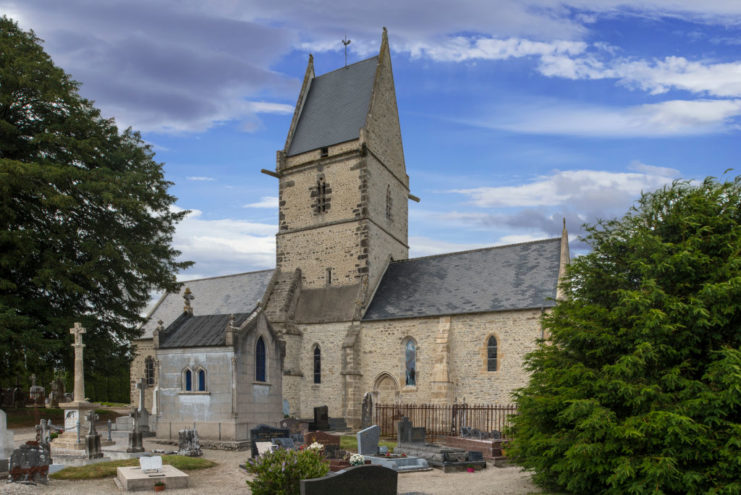 Robert Wright and Ken Moore had a similar experience to their comrades, losing much of their medical gear during their jump. Not only were they now badly equipped for their duties, neither of them were armed, in accordance with international law.
Moore, in particular, had a rough go of it, pulling the pin on a grenade given to him before the jump, only to discover it was a cow, not a heavily-armed German, rustling in the bushes.
Landing in different areas, both managed to spot the Saint-Côme et Saint-Damien d'Angoville au Plain church tower peaking out above the tree line and made their way toward it. It wasn't long after arriving that they commandeered the building for use as an aide station. Wright hung a Red Cross flag on the outside so that it was noticeable to those moving through the streets.
Robert Wright and Ken Moore treated the wounded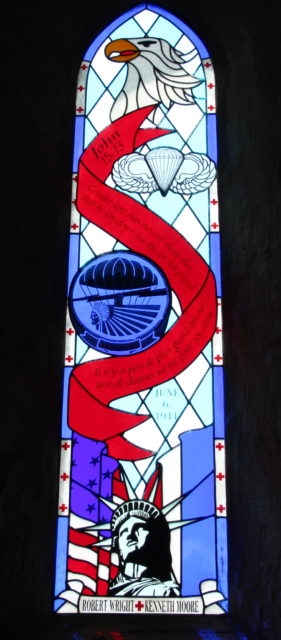 It didn't take long for the Robert Wright and Ken Moore to treat an influx of wounded soldiers and civilians, despite their abysmal medical resources. They worked quickly to triage casualties on the pews, with those needing the most care closest to the altar and those who had no chance of surviving placed behind it.
Although the pair didn't have many of the items they would've liked, they did have some morphine, as well as fresh water from a nearby pump. They were also able to find an old cart or wheelbarrow, which they used to bring the injured back to the church. While they were somewhat protected as medics, there was still great risk in doing this.
When they got out there, they would collect any and all injured individuals they could find, including Germans. Moore recalled later in life, "They were young men much like us. The only difference was they were wearing a different uniform. When you cut through a uniform to get to a wound, it doesn't matter what arm-patch, from what regiment, is on that uniform. You cut through to save a life."
Arrival of the Germans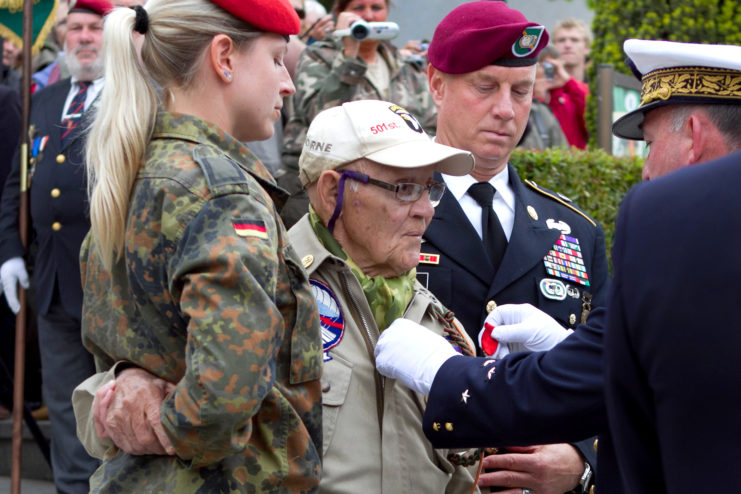 While Ken Moore and Robert Wright worked away, control of the town flipped between belligerents. They were given warning by an American officer on the evening of June 6 that Angoville-au-Plain had reverted to German control, but both medics refused to leave their makeshift hospital. Soon after, a German officer arrived. Although they were initially unsure what would happen, he agreed to honor the neutrality of the church, given that Moore and Wright were treating his men.
The one rule the men enforced was that any servicemen leave their weapons outside. This was dutifully honored, even by the two German soldiers who came down from the bell tower to surrender. Apparently, they had been hiding in the church well before the two took it over. Of course, Moore and Wright accepted, under the caveat that they stay to treat the wounded.
Ironically, the one person to break the rule was an American officer, who carried a concealed gun.
Remembering their actions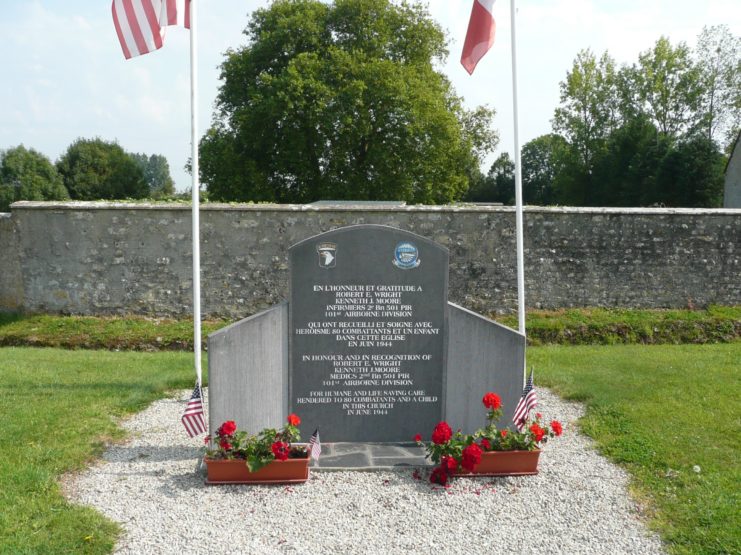 Ken Moore and Robert Wright operated out of the hospital until the fighting ended on the third day. By this point, Angoville-au-Plain had been liberated and the Americans were moving on to other objectives. Both medics continued serving for the rest of the war, and are credited with saving 80 lives, for which they were awarded Silver Stars.
A monument in Angoville-au-Plain has been erected in their honor, as well as the aforementioned stained glass window in the church. Wright was later awarded the French Legion of Honour in Sainte-Mère-Église on the 67th anniversary of D-Day.
More from us: Joe Ekins: The Tank Gunner Who Took Out the Black Baron and Three Tigers
Both have since died. One of Wright's final wishes was to be buried in the graveyard outside of the church where he and Moore saved so many lives during the Second World War. He wasn't able to, due to bureaucracy. However, someone did sneak some of his ashes over to France, where they were laid to rest.
If you visit the church today, you will see a small gravestone with the initials "R.E.W."