During World War II, ace fighter pilots became household names, and few were more famous than Gregory "Pappy" Boyington. The star swimmer and wrestler joined the US military out of college and became the commander of Marine Fighter Attack Squadron 214 (VMFA-214) – better known as the Black Sheep Squadron.
This is his incredible story.
Gregory "Pappy" Boyington's early life and upbringing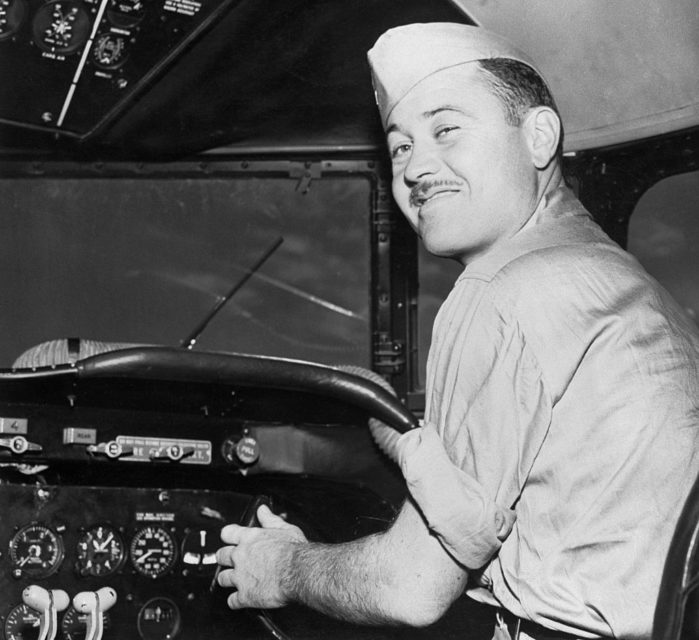 Gregory "Pappy" Boyington was born in Coeur d'Alene, Idaho in December 1912. His family moved around a lot when he was a child, but that didn't stop the future aviator from pursuing his interests. He was a star wrestler in high school, and continued with the sport upon attending the University of Washington. He also competed in swimming competitions and was a member of one of the school's fraternities.
While attending university, Boyington participated in the Army Reserve Officers' Training Corps (ROTC) program, with dreams of becoming a pilot. After graduating with a degree in aeronautical engineering, he worked as a draftsman and engineer for Boeing.
Taking to the skies during World War II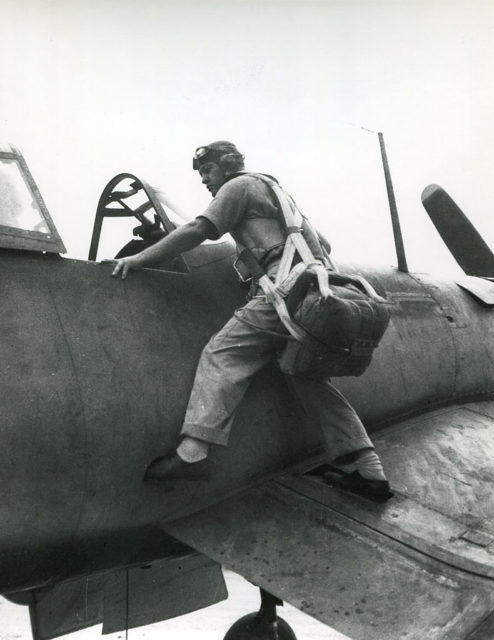 After a few years in the US Army Coast Artillery Reserve and two months of active service with the 630th Coast Artillery at Fort Worden, Washington, Boyington enrolled as a US Marine Corps aviation cadet. He then transferred to the Marine Corps Reserve and was sent to Naval Air Station (NAS) Pensacola for flight training.
After being commissioned as a second lieutenant with the Marine Corps, Boyington completed additional training and was assigned to the 2nd Marine Aircraft Group. He was then hired by the Central Aircraft Manufacturing Company (CAMCO), which was tasked with defending China and the Burma Road. He became a flight leader for the 1st American Volunteer Group – better known as the Flying Tigers – and was credited with downing three-and-a-half Japanese aircraft.
In 1942, Boyington left CAMCO to participate in World War II, operating in Guadalcanal with Marine Fighter Attack Squadron 122 (VMFA-122). The next year, he was named the commanding officer of Marine Fighter Attack Squadron 214. As the oldest member of his squad (he was 31 years old), the pilot was given the nickname "Gramps."
Boyington soon became one of America's most revered flying aces. Piloting a Vought F4U Corsair, he shot down 14 enemy aircraft in 32 days. By January 1944, that total had increased to 26, tying the record set by Eddie Rickenbacker in the First World War.
Gregory "Pappy" Boyington becomes a prisoner of war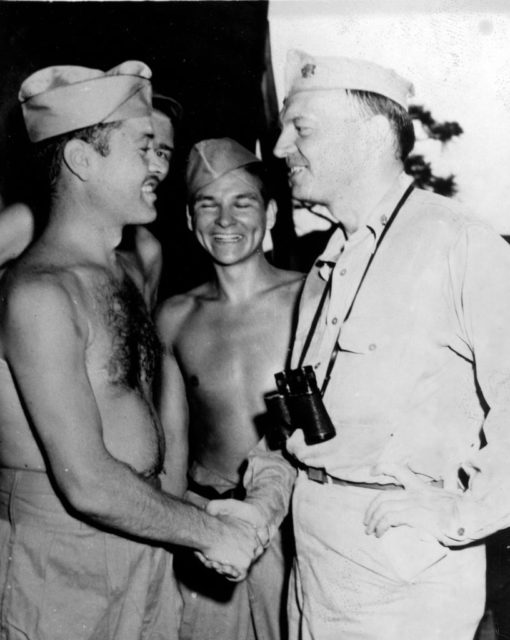 On January 3, 1944, Boyington and around 30 other pilots took on 70 Japanese aircraft. He was shot down and recovered by the Imperial Japanese Navy and transferred to an internment camp. While held as a prisoner of war, he spent time at the Ōfuna and Ōmori camps, with one of his fellow inmates at the former being famed distance runner, Louis Zamperini.
Boyington was liberated in August 1945, after the atomic bombs were dropped on Hiroshima and Nagasaki. He was then called to Washington, DC, where he was presented with the Medal of Honor from US President Harry S. Truman. The recognition had been bestowed upon him by President Franklin D. Roosevelt prior to his death. In October of that year, Boyington was also awarded the Navy Cross.
Returning home to fame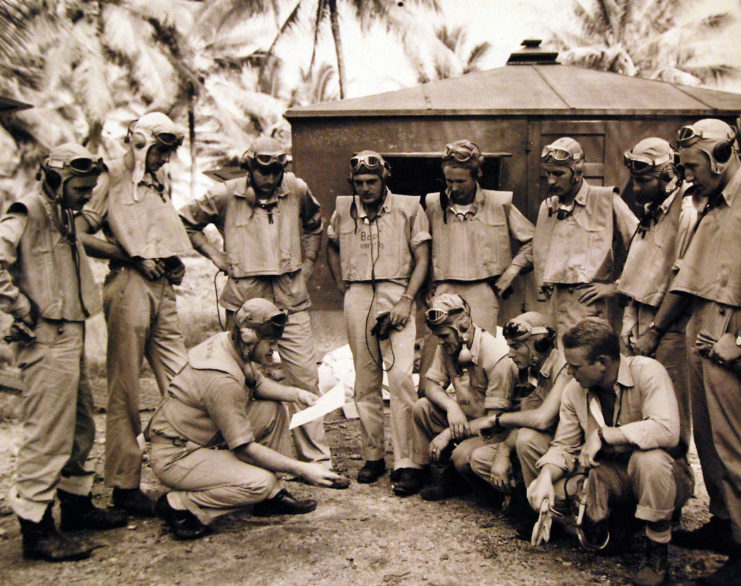 When the war was over, Boyington became one of its most famous servicemen. He participated in a Victory Bond Tour, and continued to serve with the Marine Corps until 1947, at which point he was promoted to the rank of colonel.
In 1957, he appeared on the game show, To Tell the Truth, and the following year penned his memoir, Baa Baa Black Sheep. In the mid-1970s, a television show aired on NBC, which was partially-inspired by Boyington's book. He was portrayed by actor Robert Conrad, and the series ran for two seasons.
In 1981, Boyington took part in a reunion of the Black Sheep Squadron at the Smithsonian. This coincided with an exhibit based on the F4U Corsair, the aircraft the squadron spent much of their time flying during the Second World War.
Gregory "Pappy" Boyington's legacy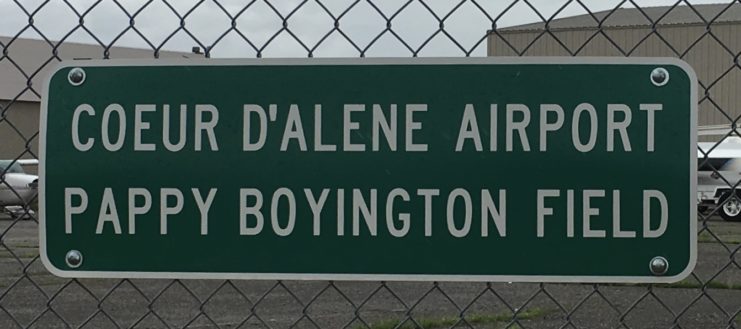 Gregory "Pappy" Boyington died of cancer in 1988, at the age of 75. He was buried at Arlington National Cemetery with full military honors.
The airport in his hometown was renamed in his honor in 2007, following a campaign led by filmmaker Kevin Gonzalez, Robert Conrad and Boyington's son. As well, a memorial was dedicated to him at the University of Washington in 2009. He's honored there along with other alumni members who were awarded the Medal of Honor.
More from us: Medal of Honor Recipient Gary Wetzel Has Never Stopped Serving
In 1994, Boyington was named to the National Aviation Hall of Fame, located in Pensacola, Florida. Some 27 years later, the Marines chose to honor him with the NROL-82 mission patch, which features his initials and an F4U Corsair.