The Battle of Iwo Jima is one of the most renowned in United States history. The five-week battle, fought by the Navy and Marines, captured two Japanese airfields and moved the U.S. war effort forward. The reason the battle is so well remembered, though, is due to an iconic photograph snapped by the Associated Press' Joe Rosenthal of Marines raising the America flag on Mount Suribachi.
The identity of the flag-raising Marines was hotly debated for decades. With help from the FBI and private investigators, the Marines revealed that there were two flag raisings. A first smaller flag was raised early on. Later in the day, a second, larger flag was raised, and that was when Rosenthal took his photo. This is a brief history of the twelve brave men who raised the two flags.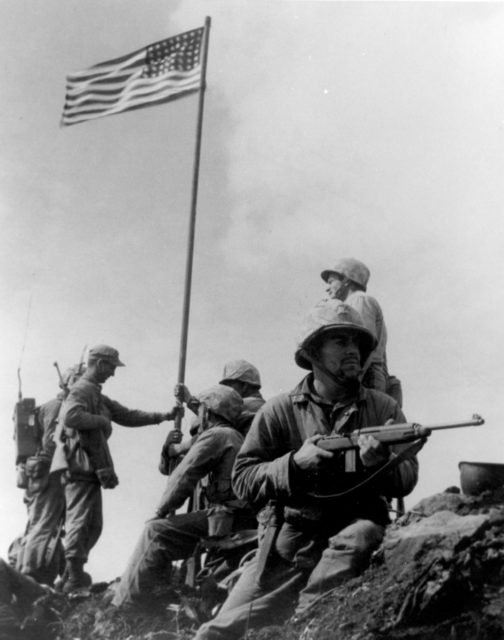 1st Lt. Harold G. Schrier – First Flag Raising
Schrier, a Marine, took part in many of the most critical battles of the Second World War, including Iwo Jima, Guadalcanal, and Midway. He received the Navy Cross for his heroism at Iwo Jia. Schrier also took part in the Korean War. He retired from the Marines in 1957 after 21 years of service and died in 1957 at the age of 54.
Sgt. Ernest I. Thomas – First Flag Raising
Ernest Ivy Thomas, a college student when World War II broke out, was committed to serving his country. He twice failed the medical test due to color blindness but was allowed to enlist in the Marines upon his third try. Iwo Jima was the first battle for Thomas. Two weeks after participating in the flag raising, he was killed by sniper fire on Iwo Jima. Thomas posthumously received the Navy Cross and Purple Heart.
Sgt. Henry O. Hansen Jr. – First Flag Raising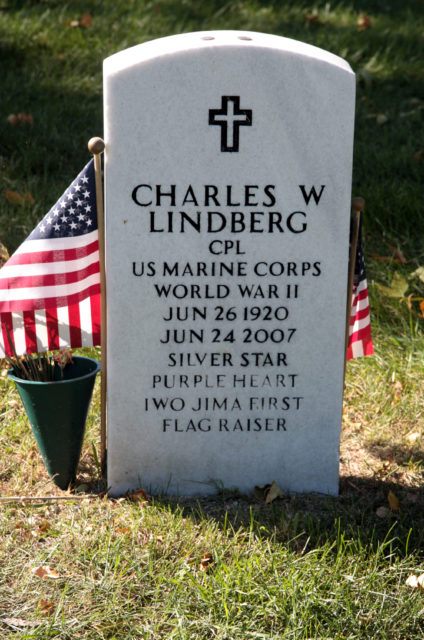 From Somerville, Massachusetts, Hansen served as a parachutist in the Paramarines. Iwo Jima was his first battle, and he landed on the island in February of 1945. Hansen was killed in action in Iwo Jima on March 1st. Actor Paul Walker portrayed Hansen in Clint Eastwood's 2006 film, Flags of Our Fathers.
Cpl. Charles W. Lindberg – First Flag Raising
Lindberg was from Grand Forks, North Dakota, and enlisted in the Marines following the attack on Pearl Harbor. He fought in three island campaigns during WW2, Guadalcanal, Bougainville, and Iwo Jima. Lindberg was shot by a sniper on Iwo Jima and was evacuated off the island. The Silver Star recipient, who passed in 2007, dedicated his life to raising awareness about the first flag raising.
Pharmacist Mate 2nd Class John H. Bradley – First Flag Raising
Bradley received a Purple Heart and the Navy Cross for his actions at Iwo Jima. For the rest of his life, though, he was reticent to talk about the flag-raising and downplayed his role in it. He died in 1994. His son, James Bradley, wrote the book Flags of Our Fathers that told the story of his Dad and the other men serving with him at Iwo Jima.
Pvt. Philip L. Ward – First Flag Raising
After serving his country, Philip Ward returned to McAllen, Texas. He died there in 2005 at the age of 1979. During his life, Ward was not recognized as one of the men at the first flag raising. Following his death, the Marine Corps amended their mistake and recognized the former Private.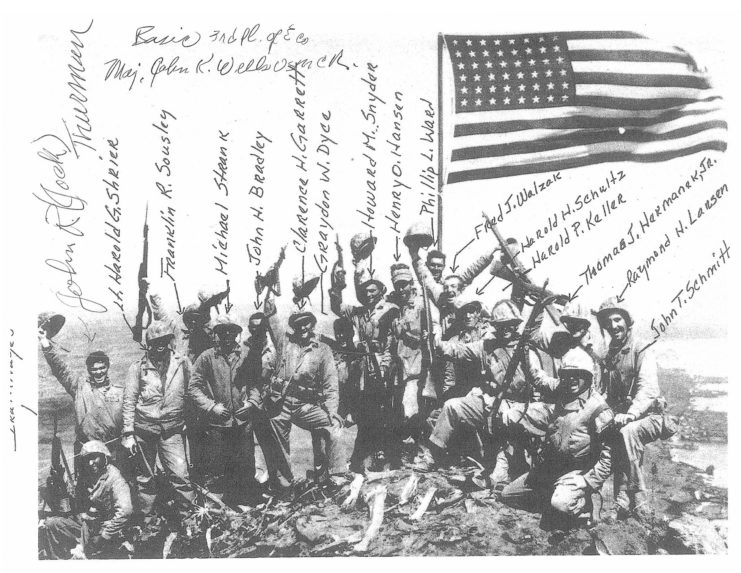 Cpl. Ira Hayes – Second Flag Raising
Ira Hayes grew up on Indian Reservations in Arizona and enlisted in the Marines in 1941. As a member of the Paramarines, he took part in several battles including Bouganville and Vella LaVella. He came home a hero and helped identify the other soldiers in the second flag-raising picture. He even played himself in a John Wayne movie about Iwo Jima. However, Hayes suffered from PTSD and alcoholism and died in 1955 at the age of 32.
Cpl. Harold Schultz – Second Flag Raising
From Detroit, Michigan, Harold Schultz received a Purple Heart following Iwo Jima. He talked little about his time in the war and only revealed that he was one of the flag raisers to his daughter while on his deathbed. He was later officially recognized as one of the men from the photo in June of 2016.
Sgt. Michael Strank – Second Flag Raising
Michael Strank was born in Czechoslovakia but was raised in Pennsylvania. He enlisted in the Marine Corps in 1939 and fought in World War II battles like Pavuvu and Bouganville. Strank was shot and killed in Iwo Jima on March 1st. In Flags of Our Fathers, James Bradley described him as a solid leader who often told his men, "Follow me, and I'll try to bring you all safely home to your mothers."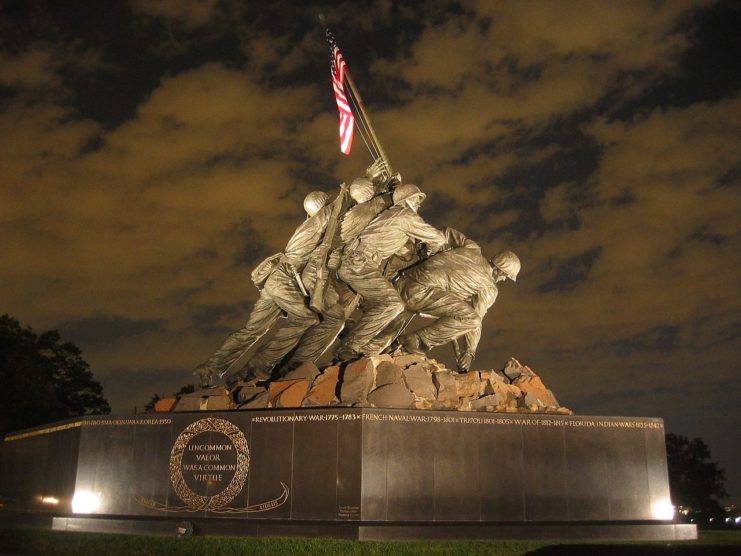 Pfc. Franklin Sousley – Second Flag Raising
Franklin Sousley was Hilltop. Kentucky and was drafted into the Marines in 1945. Following basic training in San Diego, Iwo Jima was his first time in battle. Sousley was killed at Iwo Jima by a sniper on March 21, 1945. He was identified as one of the men in the picture in 2014.
Cpl. Harold Keller – Second Flag Raising
Harold Keller was born in Brooklyn, Iowa, and joined the U.S. Marine Corps in 1942. Keller took part in the Battle at Guadalcanal and was injured at Bouganville. However, he was recovered in time to take part in Iwo Jima as well. Following his return to civilian life, Keller never mentioned his part in the flag-raising to his wife or family. He was identified as one of the men in the picture in 2019.
Cpl. Harlan Block – Second Flag Raising
Raised in Yorktown, Texas, Harlan Block enlisted in the Marine Corps with seven of his friends from High School. He fought in Iwo Jima in a platoon led by Michael Strank. When Sgt. Strank was killed, Block took command of the unit. But he was shot the same day as Strank and died in Japan.