Robin Olds is an iconic man known for his exceptional flying skills, and equally exceptional mustache, which, as he says, was the "middle finger I couldn't raise in PR photographs." The son of an influential pilot, Olds was destined for greatness. He started out in WWII-era propeller aircraft and eventually found himself in the seat of an F-4 Phantom over Vietnam.
The man, the mustache, the legend
Olds was born in Honolulu, Hawaii, on July 14 1922 to Robert Olds, another notable figure in US history. The Olds family contained many influential people; Robert Olds' grandfather was a soldier and witnessed the hanging of the conspirators in Abraham Lincoln's assassination, while another relative was a colonel in the Revolutionary War.
The Olds were also related to Ransom E. Olds, the founder of Oldsmobile.
Robert Olds served as a flight instructor during WWI, and soon after worked closely with Brigadier General Billy Mitchell. Robert was a strong proponent of strategic bombing, and was a member of the "bomber mafia."
With this lineage and so much time around airmen, it was no surprise that Olds would eventually join the military. He first flew at the age of eight. At Hampton High School Olds was the class president for three years in a row and played football, where he was aggressive and highly talented.
After this, he joined West Point in 1940 but undertook flight training after Japan attacked Pearl Harbor. When he returned to West Point he was selected as an All-American linebacker. While he was excelling at West Point, Olds became slightly disillusioned with the strict rules, as he believed they were only used to enforce behavior rather than honor. After this, he was demoted from Cadet Captain to private for drinking alcohol.
He received his flying wings in May 1943 and was assigned to the P-38 Lightning. Soon, he and his fellow airmen would be preparing for D-Day.
Olds in action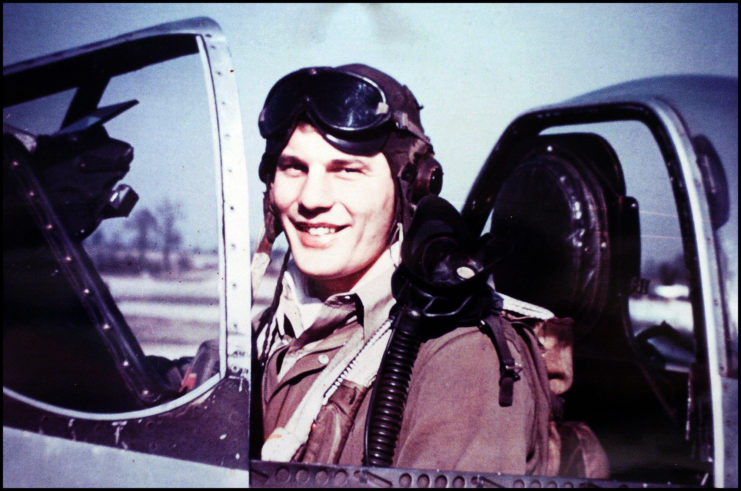 His first taste of operations came in May 1944 and his first kill came on August 14 when he shot down two German Fw 190s, a formidable aircraft.
Olds took to learning and understanding the maintenance side of his aircraft and would frequently assist ground crews with servicing. In addition, he demanded that his aircraft be waxed to help his P-38 cut through the air.
Just over a week after his first aerial success, Olds shot down another two fighters; this time Bf 109s, one of which Olds shot down while both of his engines were off (his engines had starved of fuel as he forgot to switch to internal fuel tanks at the start of the engagement). On the way home from this mission Olds encountered and shot down another Bf 109, his fifth kill. This made him an ace, the first in his fighter group after just three months of combat.
In mid-September, his fighter group transitioned to the P-51 Mustang, with Olds naming his Scat VI. He shot down another Fw 190 before he finished his first tour in November 1944, taking two months' leave.
He returned to combat in January 1945 and was promoted to major on February 9. This very day he shot down his seventh aircraft, another Bf 109. Between then and the end of the war Olds scored a number of kills and even had a brief encounter with Me 262s. By the time the war ended he had shot down 13 aircraft and destroyed 11.5 more on the ground. Olds is the only pilot to have been an ace in both the P-51 and P-38.
He was placed in command of his own squadron in March, at just 22 years of age.
In 1946 he started dating a Hollywood actress, whom he would be married to for 29 years.
Vietnam
As Olds continued to climb the ranks (promoted to colonel in 1953) he missed out on the fighting in Korea but would come back for more during Vietnam. In this period Olds was known to clash with his superiors as he had a bold attitude and a tendency to ignore the rules.
He became involved in the combat over Vietnam in 1966, operating from Thailand. Enormous leaps had been made in aircraft technology since WWII, with piston-engine fighters being a thing of the past. Olds was now in the seat of an F-4C Phantom, an entirely different beast from the P-51s and P-38s of two decades ago.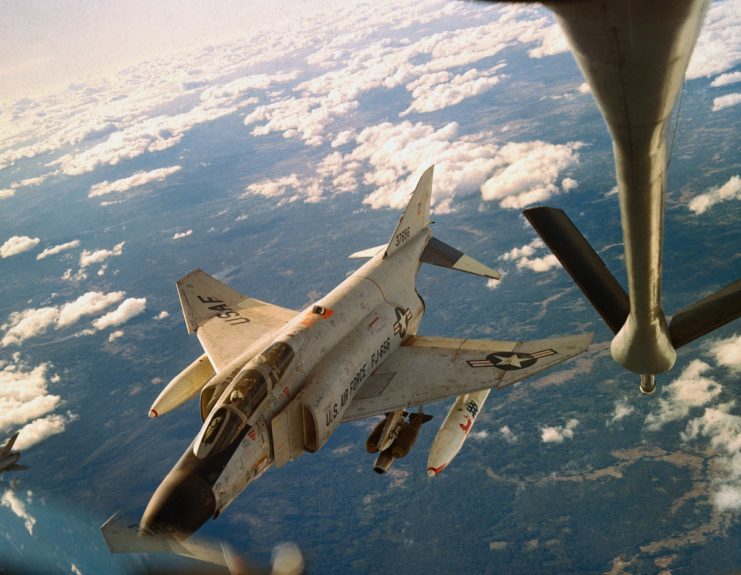 This was no problem for Olds though, as he quickly shot down a MiG-21. It was during Vietnam where Olds, the rule breaker, would start wearing his legendary mustache. This broke regulations that enraged his superiors but garnered respect from his men.
After shooting down four MiGs in Vietnam, Olds flew his last combat mission in September of 1967. In total, he earned 17 air-kills, logged thousands of flying hours, and flew 259 missions. He remained in the Air Force and ended up trying to improve the abilities of the US' airmen with an Air Force Academy and as an inspector for pilots in Vietnam. He became a brigadier general and offered to reduce his rank so he could return to combat, but when this was denied he retired.
Robin Olds and his fabulous rebellious mustache came to symbolize the core of American pilots and he's now one of the most famous people to have ever passed through its ranks.
Olds passed away in 2007 at the age of 84 after a battle with prostate cancer.