Those old enough to remember the premiere of the original Top Gun film in 1986 likely recall seeing US Navy-run recruitment booths outside of theater screenings. The aim was to use the movie's popularity to boost enlistment, and it appears the service is hoping to do the same with the release of Top Gun: Maverick.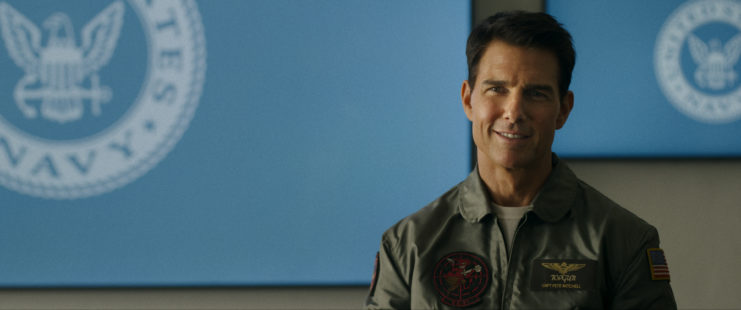 Top Gun: Maverick premiered in theaters over the Memorial Day long weekend and has given Tom Cruise his first ever $100 million opening. Over its first three days in North American cinemas, the film earned an estimated $124 million, a number that's set to increase to around $248 million when international earnings are added to the total.
Set over 30 years since the events of the original film, Top Gun: Maverick sees Capt. Pete "Maverick" Mitchell, played by Cruise, return to train the latest batch of TOPGUN pilots for a special mission. Among those he's tasked with training is the son of his deceased best friend, Lt. Nick "Goose" Bradshaw.
Starring alongside Cruise are Miles Teller as Lt. Bradley "Rooster" Bradshaw, Jon Hamm as " Vice Adm. Beau "Cyclone" Simpson and Ed Harris as Rear Adm. Chester "Hammer" Cain. Val Kilmer also reprises his role as Adm. Tom "Iceman" Kazansky.
The Navy is hoping to take advantage of the movie's hype and success, with recruiters setting up booths and tables near theater concession stands. The service is hoping to hit its Fiscal Year (FY) 2022 recruitment goals, which call for 3,800 new officers and 40,000 sailors. However, it and other facets of the US military are struggling to meet enlistment targets, largely because of the legacies of the wars in Afghanistan and Iraq.
Speaking with FLYING, Cmdr. Dave Benham, a spokesperson for the Navy, said, "Our recruiters nationwide are working tirelessly to meet those goals and to meet the manpower needs of our fleets. We think Top Gun: Maverick will certainly raise awareness and should positively contribute to individual decisions to serve in the Navy."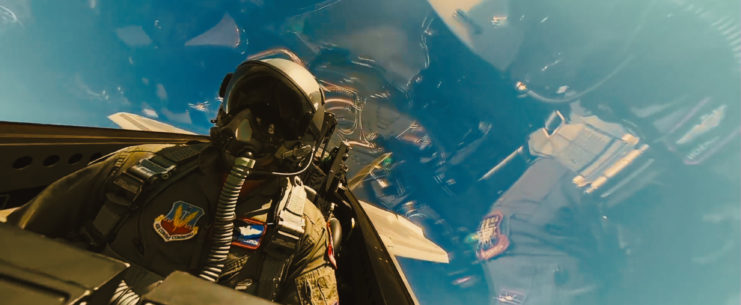 The US Air Force is also looking to take advantage of the film's success, despite the fact it centers around naval aviators. Similar to the Navy, the service is setting up booths in movie theaters, and has even commissioned an advertisement, titled Own The Sky, to play before screenings.
The one-minute long advertisement features pilots performing high-speed maneuvers in F-22 Raptors and F-35 Lightning IIs. Among those flying are Maj. Kristin "BEO" Wolfe of the F-35A Lightning II Demonstration Team, stationed out of Hill Air Force Base, Utah.
"The intensity of this spot in stunning, so hold on to your popcorn because we are bringing the Air Force to your seat," said Maj. Gen. Ed Thomas, Air Force Recruitment Service (AFRS) commander, in a statement. "There are more than 130 career options an Airman can take on their full or part-time journey to defend our skies. The air superiority in this video just gives you a glimpse of a small percentage of what is possible when you join us."
The sky is our domain, we dominate it ⚡️

Check out our very own commander and demo pilot Maj Kristin "BEO" Wolfe in the Air Force's newest commercial "Own the Sky" that will be playing in theaters during @TopGunMovie @aircombatcmd #F35DemoTeam l #TopGun | #AF75 pic.twitter.com/6TS5H7pJiw

— F-35A Demonstration Team (@F35demoteam) May 26, 2022
With the Navy and Air Force going to such great lengths to use the film to boost recruitment numbers, one wonders: how did the same tactics work back in 1986? According to the Navy, the box office success of the original Top Gun film didn't result in a noted boost in enlistment. However, some sources claim recruitment numbers jumped 500 percent in the year following its release, giving the Navy its highest number of applications in years.
At the time, the service's numbers were struggling to bounce back following the Vietnam War.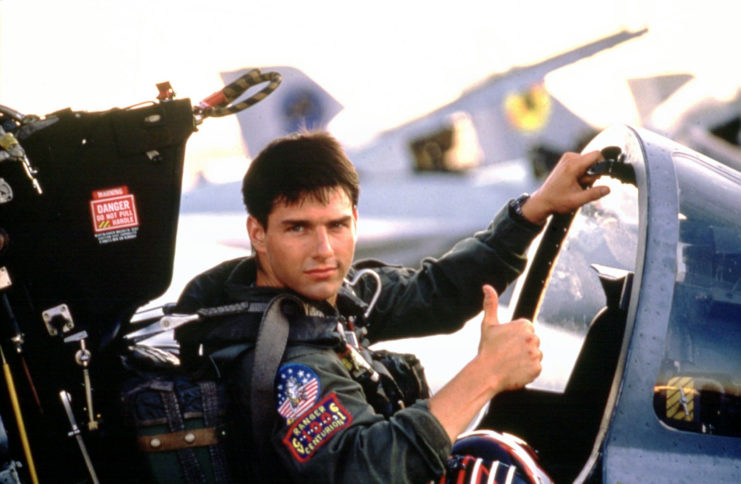 More from us: US Navy Sailors, Command Treated to Advanced Screening of 'Top Gun: Maverick'
Only time will tell if these efforts will afford the Navy the same alleged success it saw in the 1980s. What is certain, however, is that Top Gun: Maverick will be one of the most successful films of the summer 2022 box office season.