Top Gun: Maverick was released in 2022 to rave reviews and popularity, largely due to how fondly people remembered the first film. In 1986, another movie about fighter aircraft was released, the cult classic Iron Eagle. Like Top Gun, the mentor to the film's main character was inspired by a real-life hero, this time from the US Air Force.
Cmdr. Mike "Viper" Metcalf and Col. Charles "Chappy" Sinclair
In Top Gun, Tom Cruise's Pete "Maverick" Mitchell is mentored by Tom Skerritt's Mike "Viper" Metcalf. Viper was partially based on Rear Adm. Pete "Viper" Pettigrew. Pettigrew was a decorated pilot who flew 375 missions and made 529 aircraft carrier landings during the Vietnam War. He also acted as an instructor at the US Navy's TOPGUN School, which inspired the film, and worked as an adviser to Top Gun filmmakers Don Simpson and Jerry Bruckheimer.
In Iron Eagle, Jason Gedrick's Doug Masters is tutored by Col. Charles "Chappy" Sinclair. While it's never been directly confirmed, Chappy is said to be based on Gen. Daniel "Chappie" James Jr., who has an incredible story of his own.
Daniel James Jr.'s upbringing and early days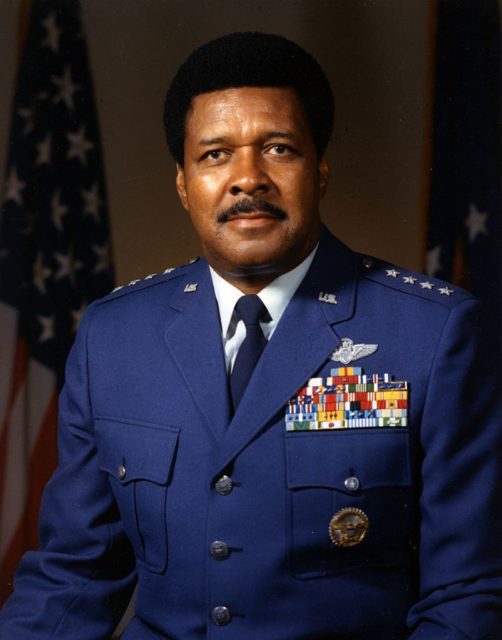 Daniel James Jr. was born in Pensacola, Florida in 1920. His mother was a teacher who opened the Lillie A James School. Both her own kids, as well as other African-American children in the neighborhood, were educated there. Over time, the educational institution became one of the most prestigious middle schools in Florida.
From 1937-42, James attended the Tuskegee Institute in Alabama. At the same time he was earning his degree in physical education, he was also training with the Civilian Pilot Training Program. James joined the US Army Air Corps Aviation Cadet Program a year after graduating university, and received his commission as a second lieutenant, before completing additional training as a fighter pilot.
While at Tuskegee Army Airfield, James trained pilots for the all-Black 99th Pursuit Squadron, who were deployed to North Africa in April 1942. Over the course of the Second World War, the squadron participated in over 3,000 missions in Europe, destroying nearly 300 enemy aircraft.
A decorated war hero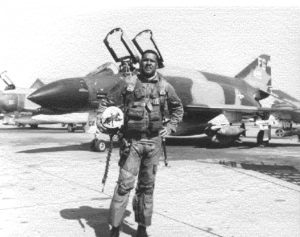 While the US Air Force veteran didn't fight in World War II, he did take to the skies over Korea. During the Korean War, Daniel James Jr. flew 101 combat missions in North American F-51 Mustangs and Lockheed F-80 Shooting Stars. He also served in Vietnam, flying a total of 78 missions. This included participating in Operation Bolo, which saw seven Vietnamese-flown Mikoyan-Gurevich MiG-21s destroyed by American aircraft.
For his service in Korea and Vietnam, James received the Defense Distinguished Service Medal, two Air Force Distinguished Service Medals, two Legions of Merit, three Distinguished Flying Crosses, a Meritorious Service Medal and 14 Air Medals.
In 1969, the pilot was part of a group tasked with turning Wheelus Air Force Base, in Libya, over to militant Muammar Gadaffi. The two had a tense standoff, with Gaddafi at one point reaching for his pistol. James later recalled, "I told him to move his hand away. If he had pulled that gun, his hand would have never cleared the holster."
The highly-decorated veteran rapidly moved up the chain of command within the Air Force. In September 1975, James became a four-star general and was assigned as the commander-in-chief of NORAD/ADCOM at Peterson Air Force Base, Colorado. At that point, he was the highest ranking African-American in the history of the US military.
Iron Eagle (1986)
Unlike Pete Pettigrew, who was an adviser on Top Gun, Iron Eagle was filmed after Daniel James Jr. had already passed. The Air Force general had retired in January 1978, due to medical concerns, and died of a heart attack three weeks later.
Production on Iron Eagle began in 1984. While the filmmakers never specifically said who the character was based on, Louis Gossett Jr.'s Charles "Chappy" Sinclair has a similar call sign to James, and the pair share a number of similarities. The movie, where high schoolers fly a mission against the Libyans, was not all that realistic or financially successful. It did, however, become a cult classic and spawned three sequels.
Daniel James Jr.'s legacy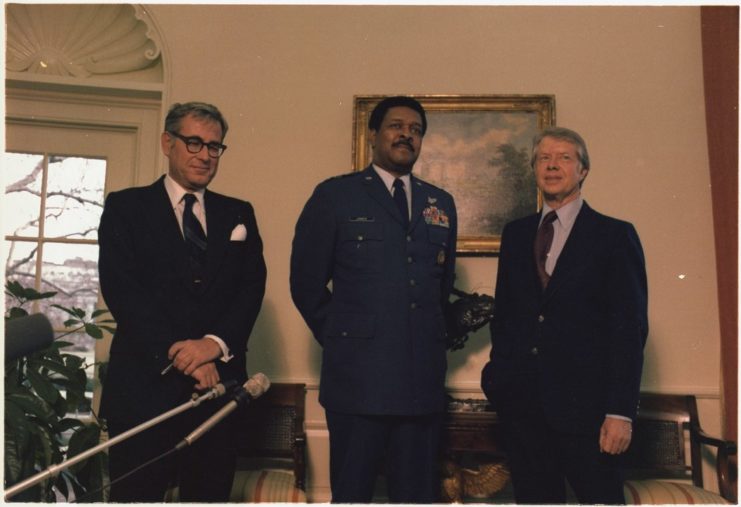 More from us: Richard H. Best: The Only WWII Pilot to Bomb Two Japanese Aircraft Carriers in One Day
Daniel James Jr. was a military man before anything else. When asked in 1967 about the resistance to the Civil Rights Movement and the assassination of Martin Luther King Jr., he said:
"I'm not disgusted – I'm a citizen of the United States of America and I'm no second-class citizen either and no man here is, unless he thinks like one and reasons like one and performs like one. This is my country and I believe in her, and I will serve her, and I'll contribute to her welfare whenever and however I can. If she has any ills, I'll stand by her until in God's given time, through her wisdom and her consideration for the welfare of the entire nation, she will put them right."