The Second World War saw thousands of air battles between pilots. Germany, which started the conflict in 1939 with its invasion of Poland, held a lot of its power in its air force, known as the Luftwaffe. In the early days, German pilots dominated the skies. By 1945, however, the Allies had shown their superiority.
Despite the high number of pilots to take to the skies between 1939-45, only five became Triple Aces in a Day, meaning they shot down 15 enemy aircraft. All five were members of the Luftwaffe.
Wilhelm Batz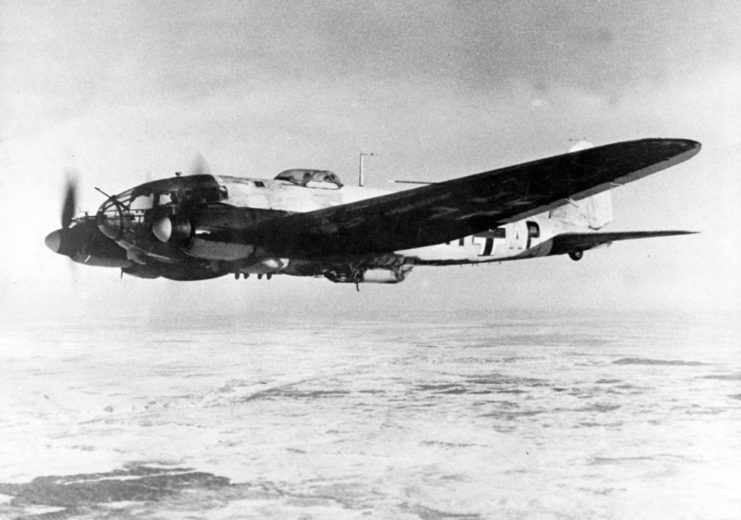 Wilhelm Batz was born in 1916 and grew up idolizing the Red Baron, Manfred Von Richthofen. In 1935, at the age of 19, he joined the Luftwaffe, and quickly rose through the ranks to become an instructor. Batz had a number of requests for combat denied, but once the Second World War began, he flew in many missions.
Over the course of the conflict, Batz flew 445 missions and shot down 237 enemy combatants, with his first victory occurring on March 11, 1943 during a flight over the Kerch Strait. He became a Triple Ace in a Day on May 31, 1944 by shooting down 15 Soviet aircraft. For his actions, he was later awarded the Knights Cross of the Iron Cross with Oak Leaves and Swords.
Following the war, Batz served in the German Air Force from 1956-72. He also received flight training in the United States.
Hubert Strassl
Hubert Strassl was born in Austria in 1918. He joined the Luftwaffe in 1941, at the age of 23, and was quickly dispatched to the air with the Jagdgeschwader 51, racking up a sizeable win total. In the 221 missions the Austrian pilot flew, he achieved 67 aerial victories over the Eastern Front.
In 1943, Strassl took part in the Battle of Kursk. The offensive is remembered as the largest tank battle ever, but there was plenty of fighting in the air, as well. He became a Triple Ace in a Day on July 5, 1943, when he shot down 15 Soviet aircraft while flying missions south of Orel.
Just three days later, Strassl had to bail out of his Focke-Wulf Fw 190 and died when his parachute failed to fully deploy. He was posthumously awarded the Knight's Cross of the Iron Cross.
August Lambert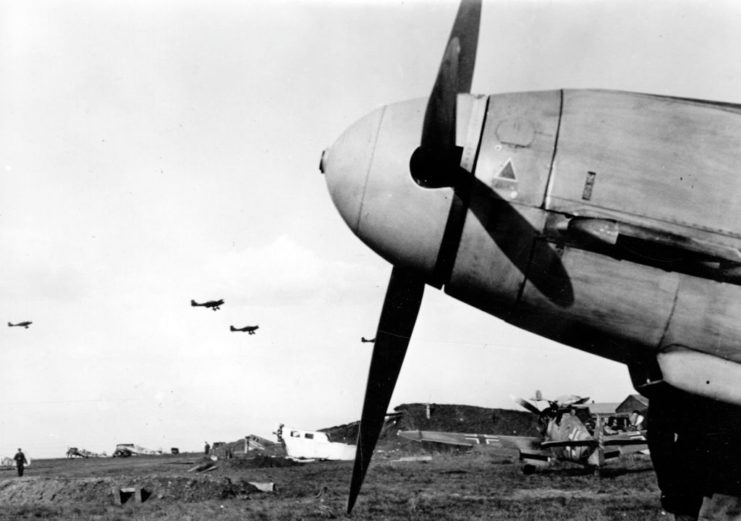 August Lambert was born in Kleestadt in 1916. He began his pilot training in 1937 and quickly impressed his superiors, leading to him becoming a flight instructor with various training units.
Early into his World War II service, Lambert was tasked with destroying enemy forces on the ground with II. Gruppe, Schlachtgeschwader 1. He soon moved to hunting the enemy in the air, experiencing similar success. During his time on the Eastern Front, he shot down 116 aircraft and claimed close to 100 ground vehicles.
Lambert became a Triple Ace in a Day in 1944, when he shot down 17 Soviet aircraft. However, this claim, along with his assertions he was also a Double Ace in a Day, have been disputed by historians. On April 17, 1945, he was shot down by American fighter pilots and killed while flying near the German town of Kamenz.
Emil Lang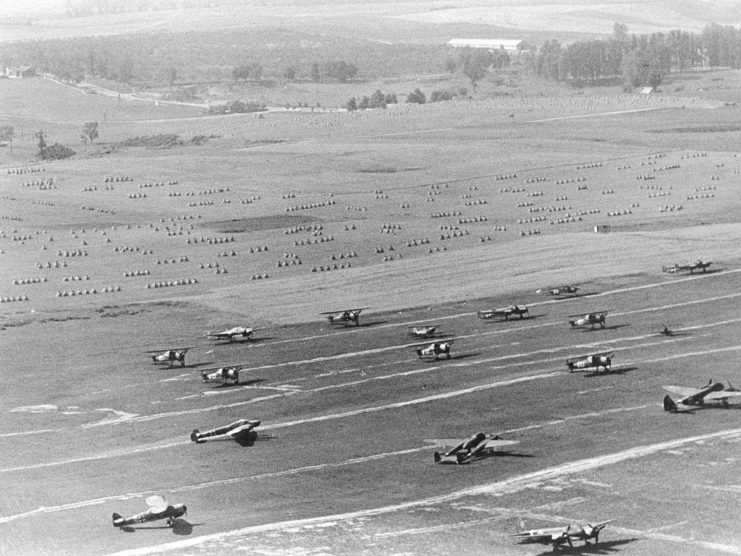 Emil Lang was born in January 1909. He was a keen athlete as a youth and starred in track and field, before becoming a civil pilot. Joining the Luftwaffe as a member of the military reserve force prior to the outbreak of WWII, his fellow pilots nicknamed him "Bully," saying his face resembled that of a bulldog.
Lang was an extremely successful pilot during the conflict, flying a total of 403 combat missions and shooting down 172 opposing aircraft. On November 3, 1943, he shot down 18 Soviet fighters, a feat that remains the most aerial wins by a pilot in a single day.
Following his service in the east, Lang was transferred to the Western Front. On September 3, 1944, he was having mechanical issues with his Fw 190 A-8, but took to the sky anyway. He was shot down by American fighters and killed in Belgium.
Hans Joachim-Marseille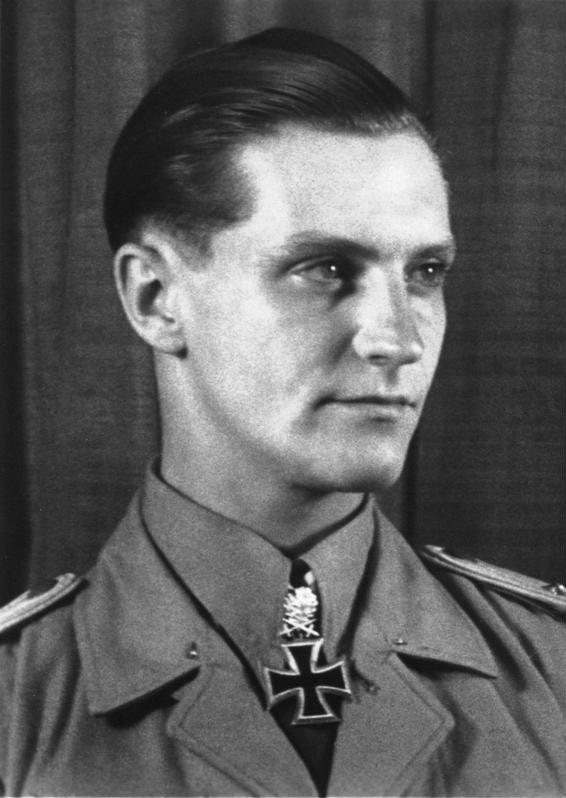 Hans Joachim Marseille was born in Berlin in 1919. By the age of 20, he had graduated from the Luftwaffe fighter pilot school, and was among those to fight in the Battle of Britain.
More from us: Dean 'Diz' Laird: The Only Navy Flying Ace to Down Both German and Japanese Aircraft During WWII
Joachim-Marseille had a reputation as a ladies' man and was sometimes grounded after being out too late. At the same time, he had significant success when he took to the air in his Messerschmitt Bf 109. He became a Triple Ace in a Day on September 1, 1942, when he shot down 17 Allied aircraft in North Africa. For this, he was nicknamed the "Star of Africa" and awarded the Knight's Cross with Oak Leaves, Swords, and Diamonds.
Less than a month later, the German pilot was killed after he bailed out of his aircraft following engine failure, but didn't open his parachute. While leaving the cockpit, his chest struck the plane's vertical stabiliser, either killing him instantly or incapacitating him enough to not deploy the parachute.