Edward "Babe" Heffron was one of many American heroes to come out of the Second World War. In particular, he served with E Company, 2nd Battalion, 506th Parachute Infantry Regiment, 101st Airborne Division – famous for being the "Band of Brothers." During his service, he participated in a number of major battles and offensives, including the D-Day landings and the Allied advance through the Netherlands.
Edward 'Babe' Heffron's early life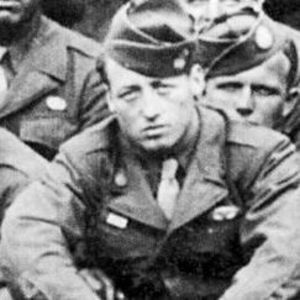 Born Edward James Heffron on May 16, 1923, Babe was one of five children. During the Great Depression, he dropped out of high school, so he could help his parents, financially. Heffron went to work at New York Shipbuilding in Camden, New Jersey, where he converted cruisers into light aircraft carriers. As this was work vital to the war effort, he was exempt from military service.
Despite his exemption, Heffron decided he would rather enlist in an airborne division with one of his friends. He refrained from mentioning he had a medical disorder, which caused his fingers to lock-up in an extremely painful curled position. He'd also kept this to himself when he was younger, as he didn't want the condition to keep him from playing football.
Needless to say, Heffron was determined to fight overseas.
Edward 'Babe' Heffron joins E Company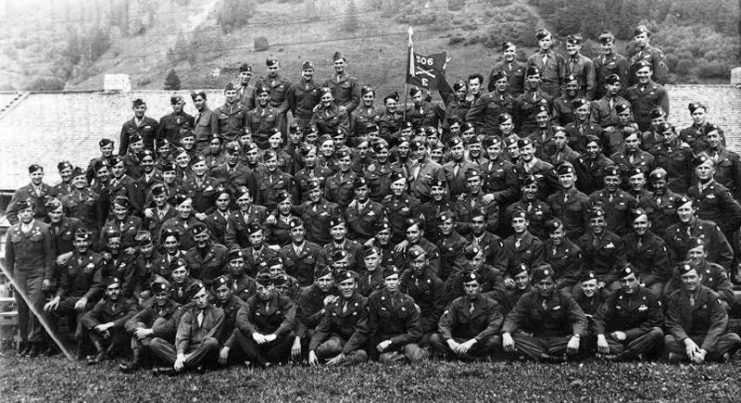 Babe Heffron enlisted on November 7, 1942 and was assigned as a replacement member in "Easy" Company. While completing jump school, he became extremely close with John T. "Johnny" Julian and J.D. Henderson, whom he'd serve with overseas. The trio made a pact that, if any of them died, the others would collect their belongings and return them to their families. The also promised to inform their comrades' loved ones of what had happened.
Alongside these men, Heffron fought in many of World War II's most famous battles: Operation Overlord, Operation Market Garden and the Battle of the Bulge. He was also with Easy Company when they liberated Kaufering concentration camp and helped seize the Führer's Eagle's Nest.
Through most of the war, he acted as a machine gunner, receiving a Bronze Star and Purple Heart for his service.
Loss of a friend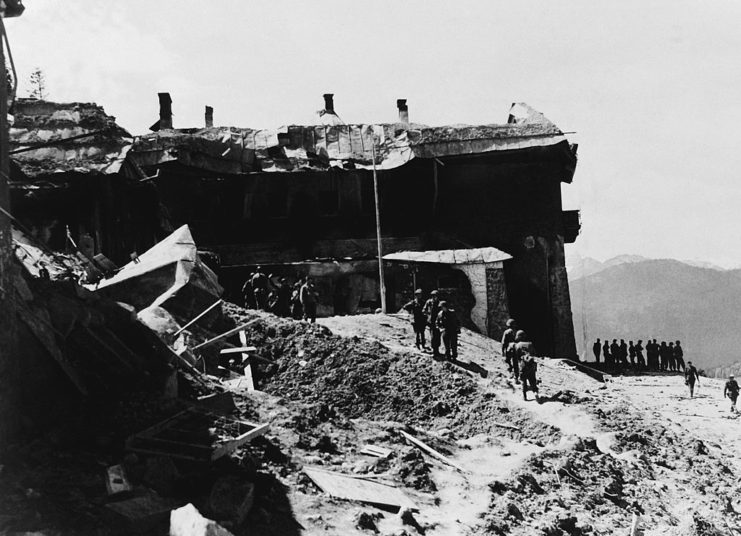 While engaged in Operation Market Garden, J.D. Henderson was injured and sent back to the US. A few months later, on January 1, 1945, word went out that Johnny Julian had been hit by enemy fire. Instead of continuing to man his machine gun like he was supposed to, Heffron leaped from his foxhole to try and get to his friend.
Despite trying multiple times to push through enemy fire, he was unable to do so.
It wasn't until Julian's body had been brought back that he was confirmed dead – although Heffron refused to look at the corpse. His friend's death had a profound effect on Heffron, who dreaded New Year's Day in the years that followed. While difficult at first, he was eventually able to contact Julian's mother, just as he'd promised during training, albeit 12 years after the fact.
Befriending William 'Wild Bill' Guarnere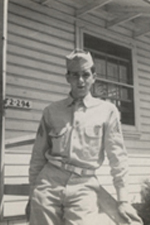 Alongside J.D. Henderson and Johnny Julian, Babe Heffron became close with William "Wild Bill" Guarnere, who also served with Easy Company. Their friendship outlasted the Second World War, and they even collaborated on a 2007 book detailing their experiences overseas.
Titled Brothers in Battle, Best of Friends, it featured a section about whether the sacrifices made during the war were worth it. "I know the sacrifices made by those who fought and lived, and the complete sacrifice made by the kids who never came home," Heffron wrote. "But I saw the faces of the people we set free from their occupiers… and I saw the life, even joy, return to people who'd been starved and beaten close to death, who'd seen their family members die horrible deaths.
"Even they could find joy again once they were free… I put my hand on Bill's shoulder and told him, yeah, the sacrifice was worth it. He said, 'Yeah, I think so, too.'"
The pair were heavily involved in each other's lives, with Guarnere serving as Heffron's best man at his wedding. He was also named the godfather to his friend's daughter, Trisha. Recalling her father and Guarnere, Trisha later said:
"When they were together, they always spoke as if they were one person. If you asked them if they were hungry, one would answer 'No, we're not hungry.' As if he was the spokesperson. I'd say 'Well, maybe Uncle Bill's hungry.' And my dad would reply, 'Nah, we're not hungry.' Even better, we'd be in a hotel lobby and I'd say 'Do you guys need to use the men's room?' And Uncle Bill would say 'No, we don't need the men's room.' It was always we."
Band of Brothers (2001)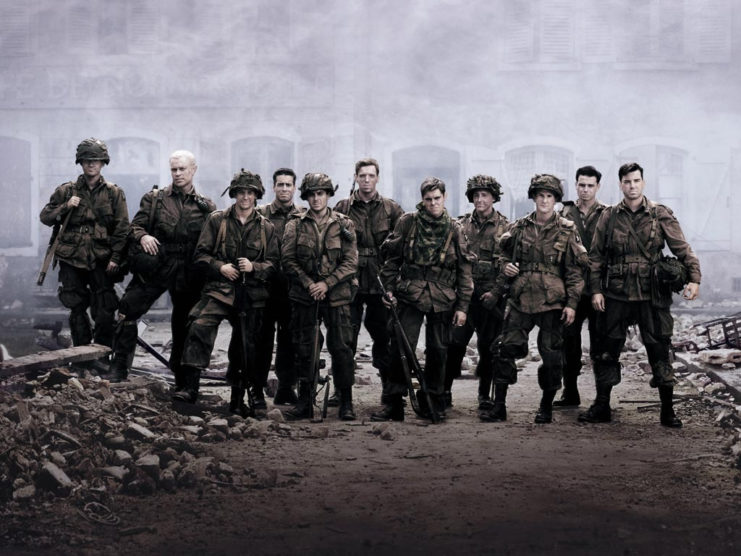 It was the 2001 HBO miniseries, Band of Brothers, based on a 1992 book of the same name, that made the wartime experience of Easy Company famous. It followed the men from their training to the end of the conflict, and supplemented the information from the book with both historical research and interviews with surviving members.
Babe Heffron was played by actor Robin Laing, who was quickly accepted by the veteran and his family.
Laing recalled meeting Heffron for the first time, saying, "He asked how I was getting on with the accent. 'Fine,' I replied. 'Let me hear it,' he said, and so I took a deep breath and did my best Philly accent. 'No, your Philly accent,' Babe said. He must have seen the disappointment on my face because he didn't let it hang in the air too long before breaking into a laugh and giving me a slap on the back. 'I'm only messing wicha, you did fine.'"
Unexpected connections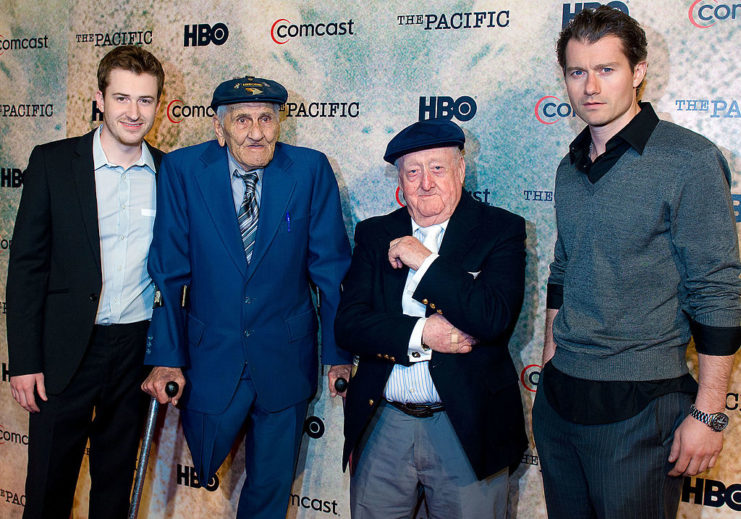 As time went on, Robin Laing spent more time talking with Babe Heffron, first to gain a better understanding of his role, but, eventually, because he came to view the man as a friend. He also met with Heffron's daughter and her husband, who instantly took a liking to the actor. He traveled around with them, and, in later years, Trisha and her partner repeatedly visited Laing and his wife in Scotland.
Perhaps this connection is all the more special because Band of Brothers allowed Trisha to hear about much of her father's wartime experience for the first time, stories she could keep with her, even after his death. In one instance, he finally explained that the reason he always fed feral cats was because he knew what it was like to be cold and hungry during the war.
More from us: Maurice Rose: The Highest Ranking US Officer Killed By the Enemy In Europe During WWII
Babe Heffron passed away on December 1, 2013. He was 90 years old. At the time of his death, he was still insisting that he was no hero and had simply fulfilled his obligation to his country.