The M270 Multiple Launch Rocket System (MLRS) is an armored multiple rocket launcher that has been used by the US Army for decades. Jointly developed by the United States, the United Kingdom, Italy, West Germany and France, it first saw use during the Gulf War. During the conflict, it showed its strength and utility, and has since been employed by a number of other countries outside of the US.
As of summer 2022, several M270 MLRS have been sent to the Ukrainian military, in support of its fight against the invading Russian forces.
M270 Multiple Launch Rocket System (MLRS)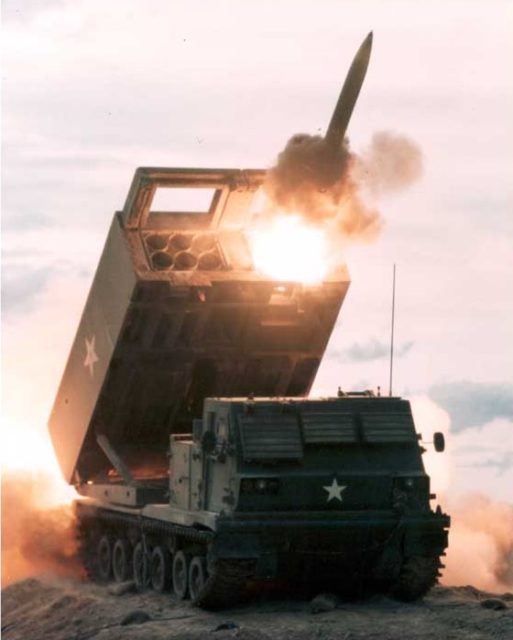 Originally known as the General Support Rocket System (GSRS), the M270 MLRS was designed to sit atop a modified M2 Bradley infantry fighting vehicle chassis. Production began in the late 1970s and the US Army received its first units in 1983. The M270 MLRS was designed as an addition to cannon weapons for the delivery of large volumes of firepower in a short amount of time. Specifically, it was intended to strike against critical, time-sensitive targets.
The M270 MLRS is self-loading and -aiming, and is able to strike with pinpoint accuracy. Weighing 55,000 pounds and powered by a Cummins VTA-903T diesel engine, it can reach up to 40 MPH. It has an armored cab, which protects its three-man crew from small arms fire, and reloading can be done within eight to 10 minutes.
The M270 MLRS can fire an array of munitions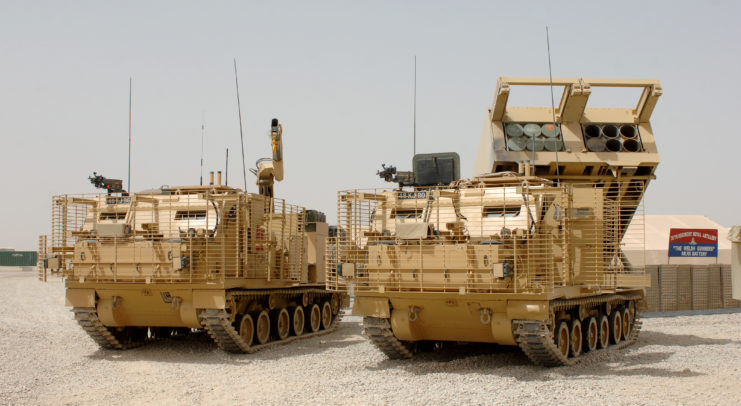 The M270 MLRS is unique in that it has no launching rails. Rockets are fired straight from one of two disposable containers, each holding six rockets, for a total of 12. The M270 MLRS can fire all 12 rockets in less than a minute.
The launcher system is capable of firing two MGM-40 Army Tactical Missile System (ATACMS) surface-to-surface missiles with a maximum range of around 300 km, as well as guided rockets (GMLRS) with a range of 70 km and cluster rockets fitted with anti-tank submunitions and AT2 anti-tank mines.
Use during Operation Desert Storm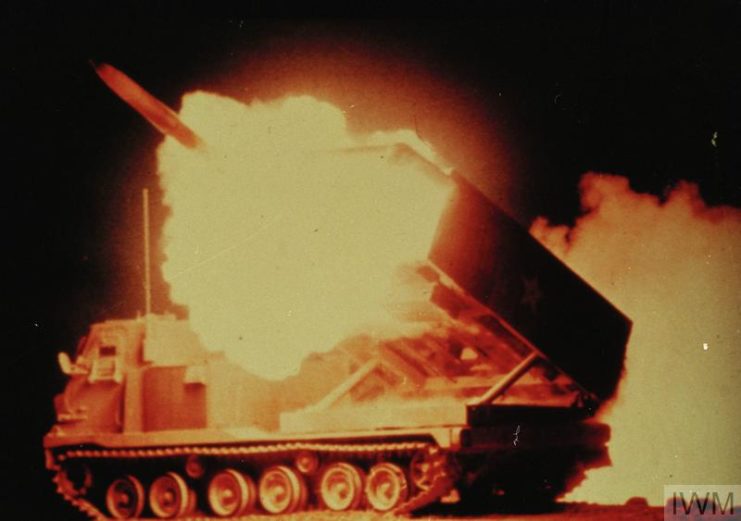 On February 13, 1991, the US Army positioned 10 M270 MLRS systems along a two-mile stretch of the border of Iraq, Saudi Arabia and Kuwait. At the time, the weapon had just been added to the service's arsenal and had been relatively untested in combat. Regardless, the M270 MLRS was used during Operation Desert Storm, and when the first launched its rockets, any doubts over its effectiveness were thrown out the window.
The mission was to strike enemy defensive positions from a distance in order to break the Iraqi forces into smaller units and allow American ground troops to engage. When the signal was given, the battery of 10 M270 MLRS launched over 100 rockets in a single minute. In such a short period of time, the US Army absolutely destroyed their targets in southern Iraq.
Planned upgrades to the M270 MLRS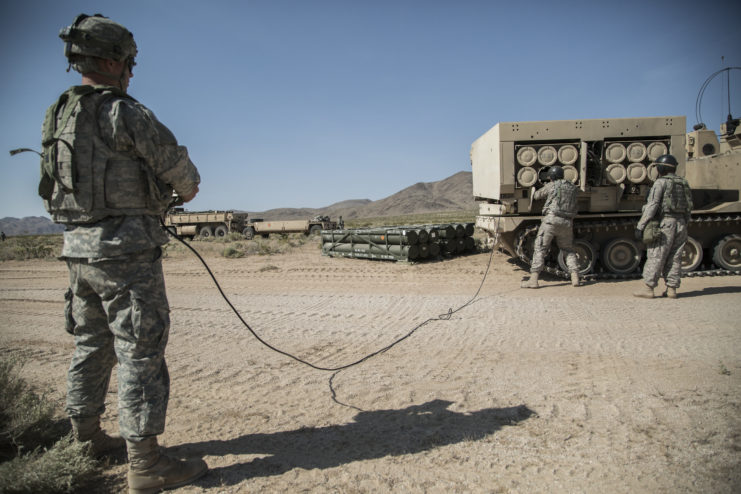 The M270 MLRS has undergone a number of upgrades, but many from the first and second variants still exist. As it stands, the US Army has 225 M270A0s and 160 decommissioned M270A1s that have been reserved for de-militarization.
Lockheed Martin has been provided with a contract to recapitalize more than 50 of them. The upgrades will bring the dated M270 MLRS up to the M270A2 standards and will include new engines, improved armored cabs, upgraded and rebuilt transmissions, new Common Fire Control Systems and improved system components.
The United Kingdom has provided units to Ukraine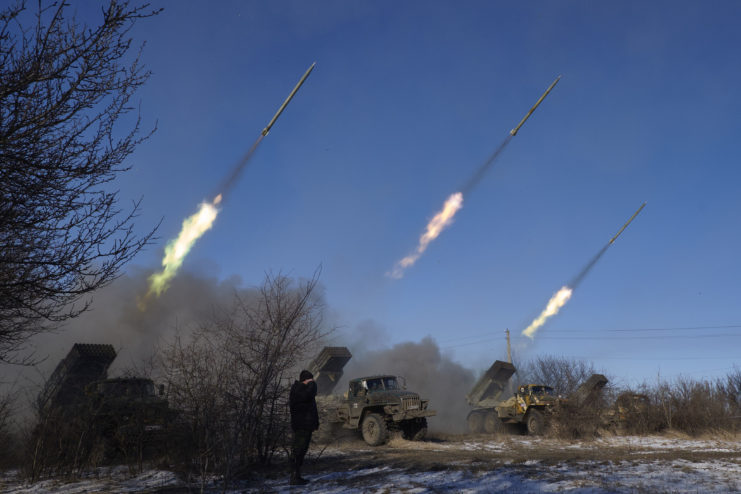 The UK government has confirmed it has sent three M270 MLRS units to Ukraine, marking a significant shift in support for the Russian invasion of the country. Up to now, Ukraine has been struggling to compete with Russia's wide array of artillery. Now, its military can strike far further than it could before.
UK Defence Secretary Ben Wallace explained how "these highly capable multiple-launch rocket systems will enable our Ukrainian friends to better protect themselves against the brutal use of long-range artillery, which Putin's forces have used indiscriminately to flatten cities."
The Ukrainian military has undergone training in the UK to learn how to use the M270 MLRS.
Norway is slated to provide the M270 MLRS to Ukraine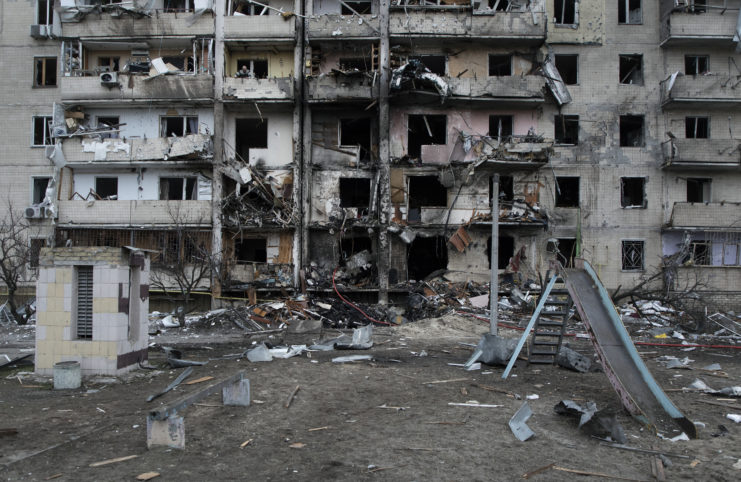 Norway has also agreed to provide Ukraine with three M270 MLRS, but the systems first need to be sent to the UK for upgrades. Norwegian Defence Minister Bjørn Arild Gram said, "Our weapons are in need of significant modernization, so we agreed with the British that they will receive Norwegian weapons to be able to ship [as] part of their MLRS to Ukraine."
More from us: The M320 Grenade Launcher is a Serious Step-Up From the M203
As of June 30, 2022, the Ukrainian military has been supplied 12 M270 MLRS units. Putin had previously said that if the long-range systems did arrive in Ukraine, the Russian forces would "draw appropriate conclusions" and "strike at those targets that we are not striking yet."