During the years he served in the US Senate, John McCain was known for being a maverick. He earned this reputation by sticking to his guns and making friends with those many would consider foes. It took a certain amount of bravery to operate in this fashion. That was no problem for McCain, who'd proven his mettle as a prisoner of war (POW) during the Vietnam War.
John McCain's early life and entry into the US Navy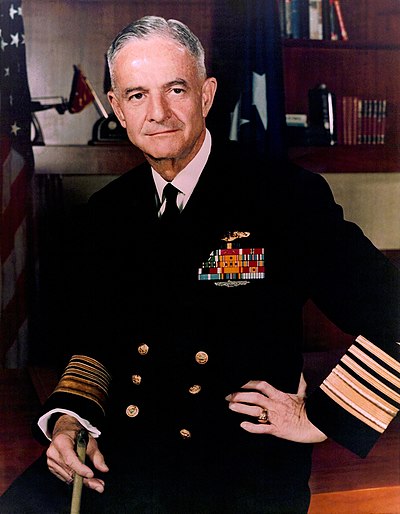 John McCain was born in 1936 at Coco Solo Naval Air Station in the Panama Canal Zone. His father, John "Jack" McCain Jr., was an admiral in the US Navy. Due to his profession, the younger McCain frequently moved around as a youth and attended nearly 20 different schools. To supplement his education, his mother made sure to expose him to a number of historical sites during their travels.
While attending Episcopal High School in Alexandria, Virginia, McCain cultivated a touch guy image for himself, thanks in part to his involvement in football and wrestling. After graduation, he looked to follow in his father's footsteps and attended the US Naval Academy in Annapolis, Maryland. While a bright young man, McCain didn't distinguish himself academically. In fact, when he graduated in 1958, he was ranked 894th out of 899 students.
Deployment to Vietnam and the USS Forrestal (CV-59) disaster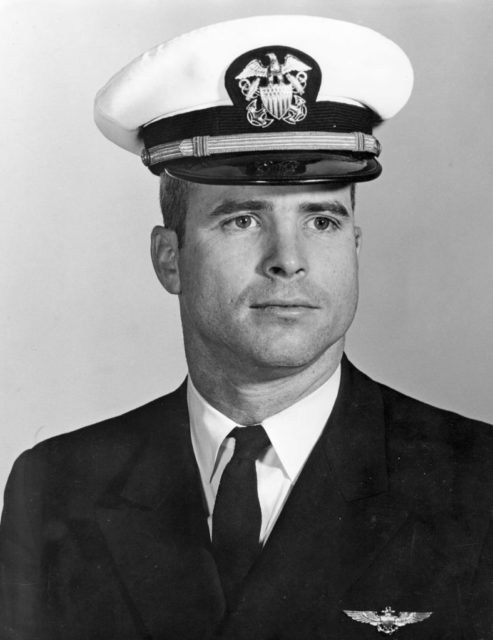 Following his graduation, John McCain was assigned to Naval Air Station Pensacola, where he began his training as a naval aviator. He was known as a hard partier who may not have been focused enough, as well as a subpar pilot. He wasn't assigned to the elite fighter aircraft units and, instead, piloted attack aircraft. As time passed, his abilities in the cockpit improved.
McCain requested a combat assignment in 1967. He was assigned to the USS Forrestal (CV-59), from which he flew Douglas A-4E Skyhawks with Attack Squadron 46 (VA-46). Just a few months after the aircraft carrier arrived in the Gulf of Tonkin, the future US Senator was in the cockpit of his A-4E when an Mk 32 "Zuni" Five-Inch Folding-Fin Aircraft Rocket (FFAR) accidentally launched and slammed into the aircraft.
While he was able to escape from the cockpit, McCain did suffer injuries from the subsequent bomb blasts that occurred following the FFAR's launch. Due to issues with the way the US Navy trained sailors to handle firefighting situations, it took longer than it should have for the subsequent blaze to be extinguished. When it was, it was found that 134 sailors had been killed, while hundreds more were injured.
Prior to the disaster onboard Forrestal, McCain had begun flying missions under Operation Rolling Thunder, a US strategic bombing campaign against the North Vietnamese. With the aircraft carrier damaged, he requested a different assignment and was transferred to Attack Squadron 163 (VA-163) aboard the USS Oriskany (CV-34).
John McCain's aircraft was shot down over Hanoi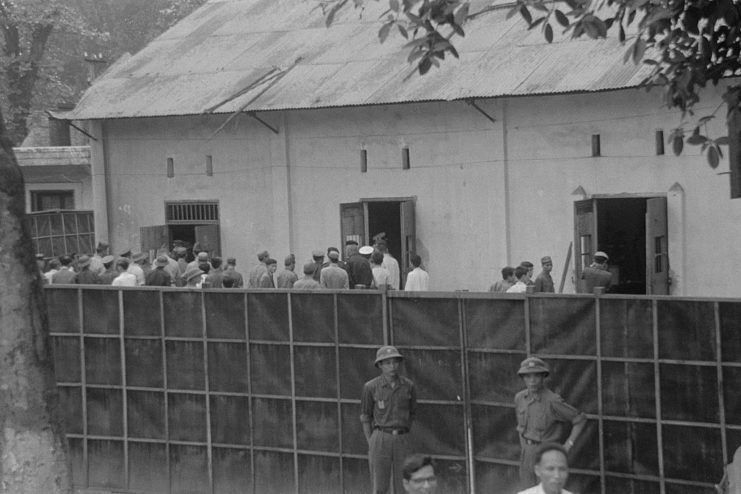 Upon joining Oriskany's crew, John McCain began volunteering to fly in some of the VA-163's most dangerous missions. This included a raid over Phúc Yên Air Base, during which he destroyed one aircraft and damaged another two.
On October 26, 1967, McCain embarked on his 23rd mission, a strike against the Yen Phu thermal power plant in Hanoi. During the mission, his A-4E was noted on the enemy's radar and downed by a Soviet-manufactured SA-2 anti-aircraft missile. While McCain was able to eject from the cockpit before the aircraft hit the ground, the force of the ejection fractured his left arm, his right leg and his right arm in three different places. He was also knocked unconscious.
After being rescued from Trúc Bạch Lake, after nearly drowning under the weight of his equipment, McCain was bayoneted and hit with rifle butts by the North Vietnamese. He was then taken to the infamous Hỏa Lò Prison, known as the "Hanoi Hilton" among those imprisoned there.
Despite the severity of his injuries, he was denied medical care while being interrogated. Eventually, the North Vietnamese learned he was the son of an important US naval official, and he was sent to a hospital, where the interrogations and beatings continued. He spent a total of six weeks recuperating in the medical facility.
Imprisoned for over five years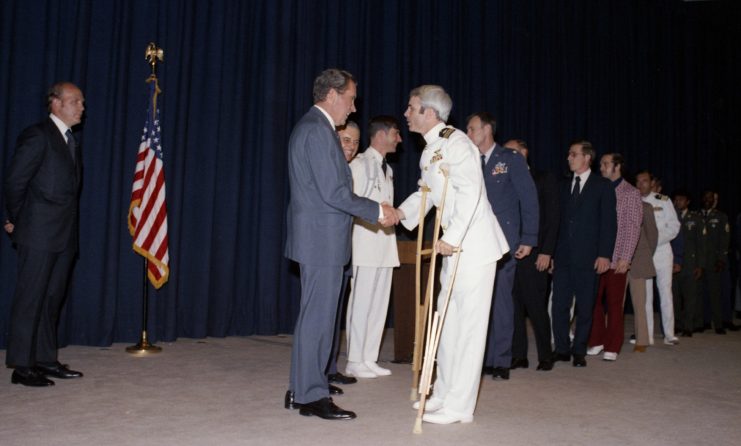 After his time in hospital, John McCain was sent to a POW camp just outside of Hanoi, known as "the Plantation." There, he was imprisoned with other American servicemen, including George "Bud" Day. A few months later, he was placed in solitary confinement, where he remained for the next two years.
Jack McCain eventually became Commander-in-Chief, Pacific Command (CINCPAC) and was named commander of the US forces in Vietnam. The North Vietnamese looked to release his son and use it for propaganda purposes. John McCain, however, refused to be released until all the servicemen imprisoned before him were freed.
Remaining at the POW camp, McCain was tortured on a regular basis, eventually becoming sick with dysentery. While conditions improved somewhat in 1969, following the death of North Vietnamese leader Hồ Chí Minh, the naval aviator still had years to go.
After a number of moves, McCain wound up back at Hỏa Lò Prison, where he remained until the start of Operation Homecoming, which saw the return of American POWs following the signing of the Paris Peace Accords. He was released, along with others, on March 14, 1973.
Overall, he'd been a captive of the North Vietnamese for five and half years. For his actions as a POW, he was awarded a number of honors, including the Purple Heart, three Bronze Stars and the Legion of Merit.
 John McCain's move into politics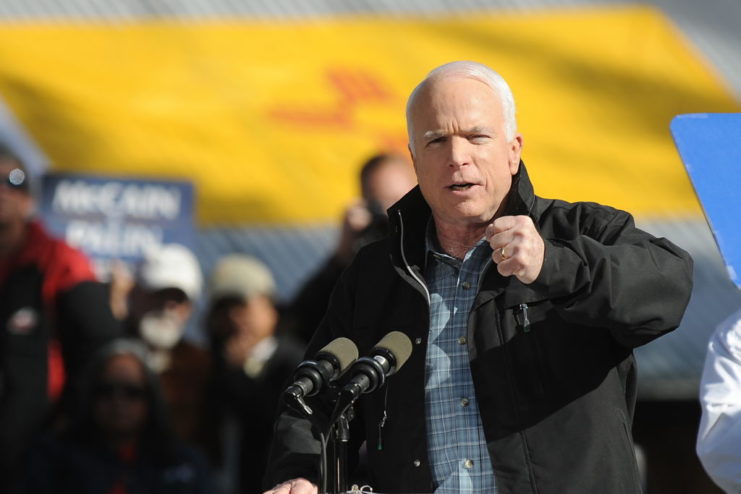 Upon his return from Vietnam, John McCain was treated as somewhat of a celebrity. He participated in a number of parades and was even given the key to the city of Jacksonville, Florida. He also met US President Richard Nixon during a reception for POWs at the White House.
In 1976, he became the commanding officer of a training squadron, having spent nearly two years assigned to an A-7 Corsair II squadron at Naval Air Station Cecil Field. He was then named the US Navy Liaison to the US Senate, which he credited for being his entry into politics.
In 1982, McCain was elected to the US House of Representatives, serving Arizona's 1st Congressional District. Four years later, he won his first term as a US Senator. He remained in the Senate for the rest of his political career, and even ran for president during the 2000 and 2008 elections. He lost both bid, however, to George W. Bush and Barrack Obama, respectively.
More from us: Wes Studi Served in Vietnam Before Becoming an Actor and Veterans Advocate
McCain remains a lauded member of the Senate, known for his willingness to cross the aisle if he felt he was in the right. He died in August 2018 of cancer, which had caused a tumor to form in his brain. After laying in state in the Arizona State Capitol, he was buried in the US Naval Academy Cemetery.