In 1986, moviegoers went bananas over the release of Top Gun. The film, which offered the general public a look into what the US Navy's TOPGUN school is like, expedited Tom Cruise's ascent into superstardom and made serving as a naval aviator so appealing that the service actually set up recruitment tables in the lobbies of movie theaters.
Now, 36 years later, the film's sequel, Top Gun: Maverick, has debuted in theaters. Once again starring Cruise as Pete "Maverick" Mitchell, it has fast become a blockbuster hit, earning hundreds of millions of dollars worldwide. Its success is down to a number of factors, largely the incredible air scenes featuring real-life naval aviators and the nostalgia watching the film brings about for those who watched the first in theaters.
Those feeling nostalgia for the movie are going to love this decades-old interview, which was unearthed by The Drive in 2018.
The interview takes place onboard the USS Enterprise (CVN-65), the Navy's first nuclear-powered aircraft carrier. It was filmed prior to Top Gun's release, and features co-stars Tom Cruise, Tim Robbins and Anthony Edwards, as well as director Tony Scott, discussing their experiences filming the movie.
There are also behind-the-scenes clips that show the cast during the filming process, complete with 1980s-era music.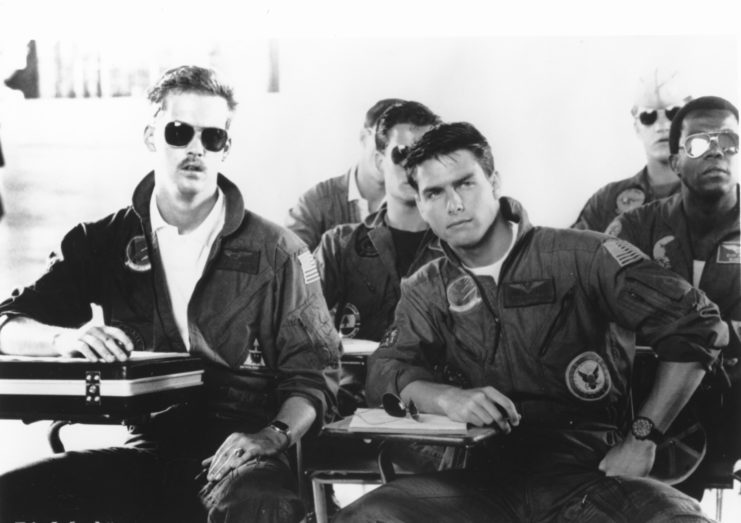 Cruise discusses why he took on the role, at first joking that he only accepted the part for money, before sharing that it came at the right time, as he'd just finished filming the 1985 movie, Legend. After this, he compliments his co-stars, explaining how much he enjoyed working with everyone.
Edwards, who was then most famous for portraying Gilbert Lowe in 1984's Revenge of the Nerds, cracks plenty of jokes throughout the interview, not unlike his character, Nick "Goose" Bradshaw. He proudly states that he feels his role is the best in the entire film, eliciting chuckles from his co-stars.
Robbins, who became a star in his own right two years later for his portrayal of Ebby Calvin "Nuke" LaLoosh in Bull Durham, then goes on to comment on how his role is much smaller than his co-stars. In fact, he goes so far as to compare Samuel "Merlin" Wells to a magician, saying he disappears at the beginning of the film, only to reappear at the end.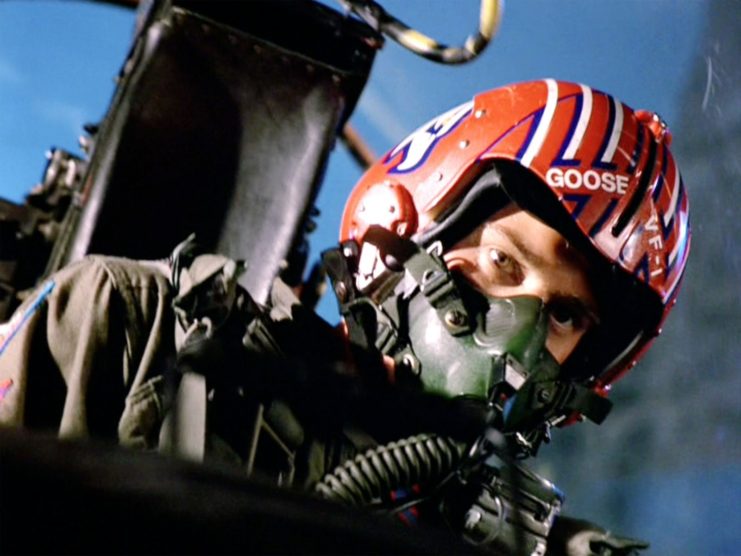 More from us: Tom Cruise Created Intense Flight Training Program for 'Top Gun: Maverick' Co-Stars
When asked about their reaction to seeing the Enterprise for the first time, the cast largely shared the same awe-struck reaction, with Edwards even noting that he "had an erection" at the time. They were later questioned about how they adjusted to life on an aircraft carrier – something that's difficult for Navy sailors – and they responded that, "yes," it took some time to get used to it.
We don't know about anyone else, but we could rewatch this interview over and over again.