Laid down in the middle of World War II, the Essex-class aircraft carrier USS Oriskany (CV/CVA-34) didn't see action until after the conflict. She was deployed to Korea and saw combat in Vietnam, with her success affording her and her crew 12 battle stars. Following her decommissioning, the vessel was sold for scrap and subsequently repossessed, with the decision made to turn her into an artificial reef.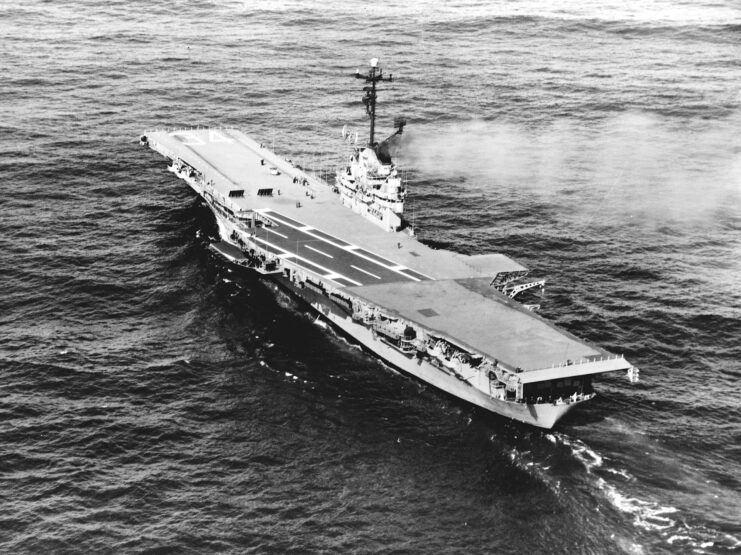 The lateness with which the USS Oriskany was commissioned meant she featured a different design than her sister ships, with a reinforced flight deck, a new arresting gear and stronger hydraulic catapults. Following a shakedown voyage and transits across Europe, she was deployed to Korea, to serve alongside the United Nations (UN) coalition forces.
Serving as part of Task Force 77 (TF 77), her aircraft bombed and strafed enemy positions, and two pilots downed enemy-flown Mikoyan-Gurevich MiG-15s. Upon departing Korea, Oriskany remained in Asia, before returning to the United States, where she conducted coastal operations. She also filled in for the USS Salvo Island (CVE-78) in the production of 1954's The Bridge of Toko-Ri, starring Mickey Rooney, Grace Kelly and William Holden.
Fast-forward to the Vietnam War, Oriskany operated out of various Japanese ports, before undergoing an overhaul and traveling to Vietnam to support the American and South Vietnamese forces. Over the course of just seven months, her aircraft performed over 12,000 sorties and dropped nearly 10,000 tons of explosives on the North Vietnamese. Most interesting, perhaps, was that the late Sen. John McCain (R-AZ) flew Douglas A-4 Skyhawks from the aircraft carrier.
Despite her success, Oriskany suffered two notable onboard incidents. The first occurred on March 6, 1953, when a general-purpose bomb from one of the vessel's Vought F4U Corsairs came loose and detonated, killing three crewmen and injuring an additional 13. The second, on October 26, 1966, saw a fire break out after a lit flare was placed in a flare locker. Starting in the forward hangar, the blaze quickly spread, killing 44.
In 1976, Oriskany was decommissioned and laid up in Bremerton, Washington. Some 19 years later, she was sold for scrap to a start-up based out of California. While under their purview, the aircraft carrier appeared in a second film, Robin Williams' What Dreams May Come (1998).
When it became apparent the company didn't intend to scrap Oriskany, she was repossessed by the Navy and eventually sent off the coast of Florida, where she was sunk to create an artificial reef. She initially sat at 135 feet below the surface, until Hurricane Gustav, in 2008, moved her 10 feet deeper.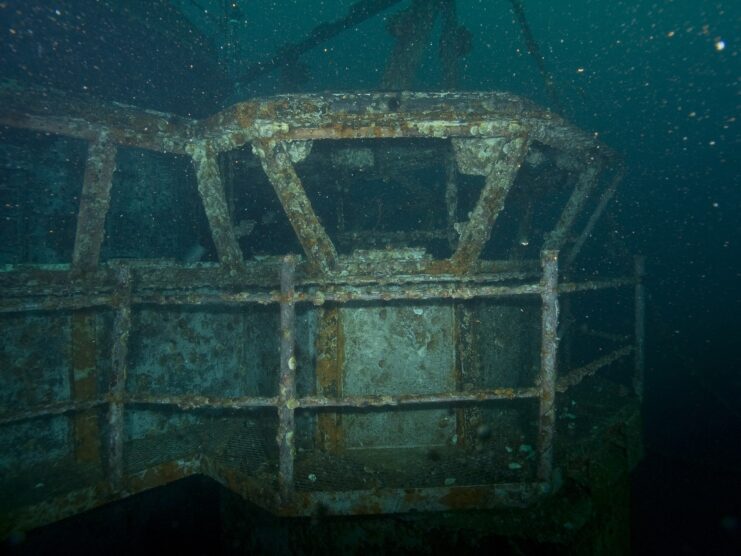 More from us: Typhoon-Class: The Last of the Famous Soviet Ballistic Missile Submarines Retired In 2023
The USS Oriskany has since been nicknamed the "Great Carrier Reef" by divers, who have made the vessel's remnants one of the most popular wreck diving sites in the world.