The United States is known to have the most powerful Navy in the world. By ton, its active fleet is larger than the next 13 most powerful ones combined. What is it, exactly, that makes it so great? One of the reasons is the service's impressive vessels. The following are 17 of the most powerful warships to ever operate as part of the US Navy's fleet, ranging from nuclear submarines to aircraft carriers.
USS Independence (LCS-2)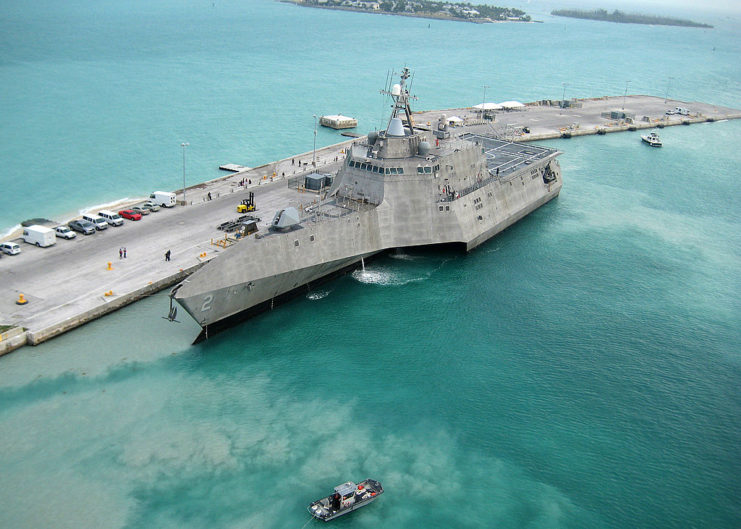 The USS Independence (LCS-2) was the sixth to feature the name and was commissioned on January 16, 2010. She was the lead in her class of littoral combat ships, smaller vessels designed to operate near shorelines. In fact, Independence was instrumental in the development of future littoral combat ships – she was frequently used to test designs and train crews.
Independence was designed in a way that allowed her to be used for various different operations, such as the destruction of sea mines, combat against smaller vessels and the search for submarines in shallow coastal waters. This aided in her becoming one of the US Navy's most useful warships.
After over a decade of service, Independence was decommissioned on July 29, 2021.
USS Gerald R. Ford (CVN-78)
The USS Gerald R. Ford (CVN-78) was named after US President Gerald Ford, who'd served with the US Navy during the Second World War. Although the ship was constructed in 2005, it took until 2017 for her to be delivered as the replacement for the USS Enterprise (CVN-65).
Gerald R. Ford is the first new aircraft carrier to be designed in over 40 years. She was first deployed in 2022 as the flagship of the Gerald R. Ford Carrier Strike Group (GRFCSG). She's an impressive sight at over 1,092 feet long, and is the world's largest warship, with a displacement of 100,000 tons. On top of that, the nuclear-powered vessel is equipped with extensive armaments and has the ability to carry over 75 aircraft.
Seawolf-class submarines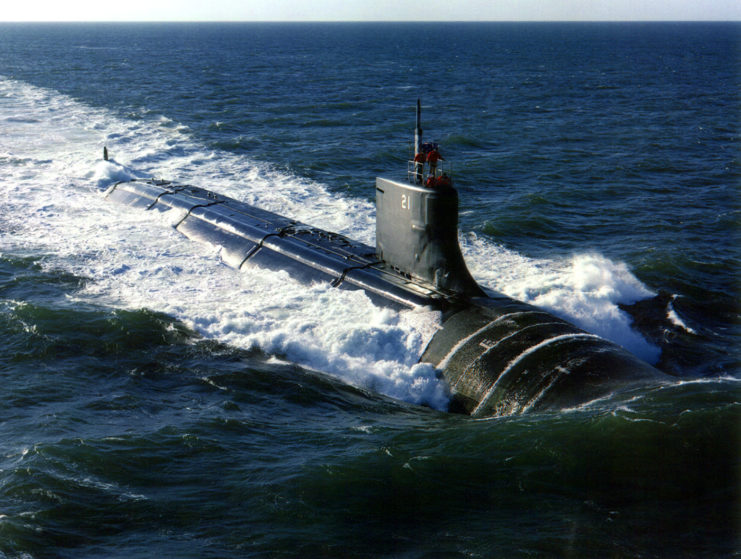 Work on the Seawolf-class of submarines began in 1983, with the first, the USS Seawolf (SSN-21), being commissioned in 1997. The initial plans were to build 29 submarines over 10 years, but this number dropped to only 12. This total didn't pan out either, however, due to the Cold War coming to an end.
When all was said and done, only three Seawolf-class submarines were built. Part of the reason for this was that each cost roughly $3 billion to build, making the class the second-most expensive ever. The vessels' design was intended to directly combat Soviet missile submarines and allow them to withstand missions in deeper water. They also carried multiple missiles and other weapons.
USS America (LHA-6)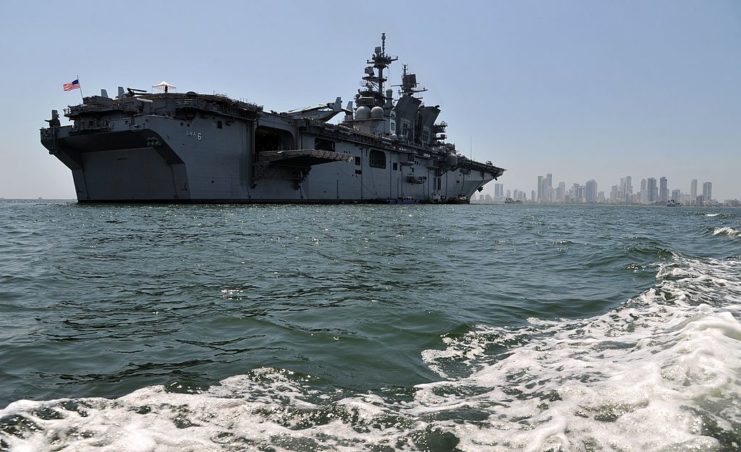 The USS America (LHA-6) is the lead vessel in the America-class of amphibious assault ships that replaced the Tarawa-class. She was designed for use as the flagship of the amphibious-ready group (ARG) charged with depositing US Marine Corps expeditionary units into battle and to shore via helicopter and other aircraft.
America's keel was laid in 2009 and she was launched three years later. The vessel successfully completed sea trials in the Gulf of Mexico in 2014, the same year she was commissioned. In 2021, America was part of Exercise Talisman Sabre in Australia, along with personnel from Canada, Japan, New Zealand, South Korea and the United Kingdom. In 2022, she was transferred to Sasebo, Japan.
USS Enterprise (CVN-65)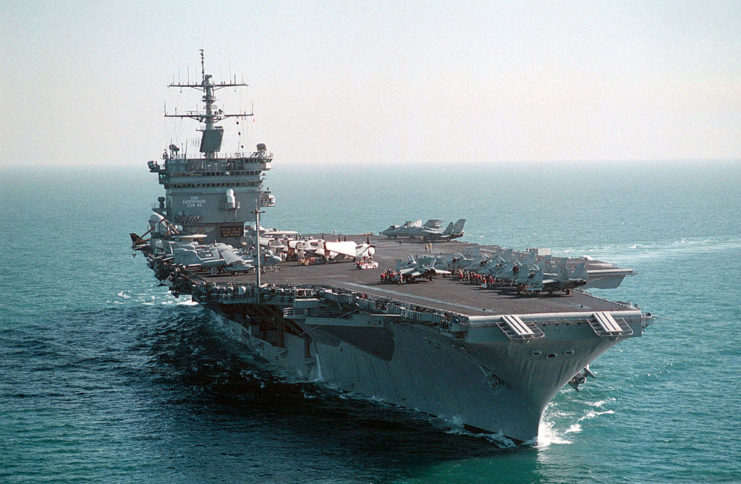 The USS Enterprise (CVN-65) was the first American nuclear-powered aircraft carrier, as well as the longest naval vessel ever built at over 1,122 feet. She's only the third largest carrier by displacement, however, at 94,781 tons. Although she was the only ship of her class, there were plans to make five others.
Enterprise was used in many important military engagements throughout her history, including the Cuban Missile Crisis and the Cuban blockade. She also served during the Vietnam War, cementing her reputation as one of the most powerful warships in the US Navy. While in Vietnam, Enterprise was re-designated CVN-65. While there, she carried aircraft that launched attacks against the Viet Cong, and she helped with the evacuation of Saigon during Operation Frequent Wind.
USS Midway (CV-41)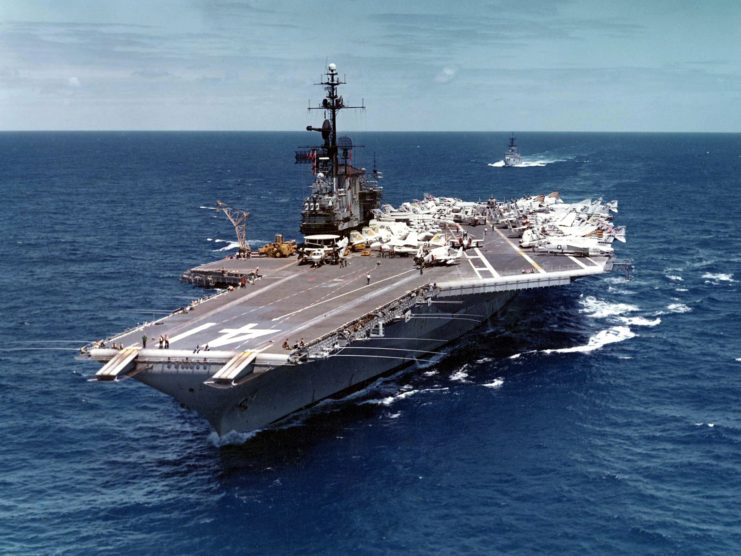 Another ship active during the Vietnam War was the USS Midway (CV-41). The aircraft carrier was commissioned by the US Navy only eight days after the conclusion of the Second World War, despite her construction beginning in 1943, and was named after the American victory during the Battle of Midway.
Midway was impressive in her day and was the largest ship in the world until 1955. Along with performing NATO drills, she was active during the Laos Crisis and sent to Vietnam numerous times. She received the Presidential Unit Citation from US President Richard Nixon for her service in Vietnam between 1972-73. One of her most important engagements was Operation Frequent Wind, when she took on helicopters that evacuated Americans from Saigon.
After she was decommissioned in 1992, Midway was turned into a museum ship in California.
USS Arleigh Burke (DDG-51)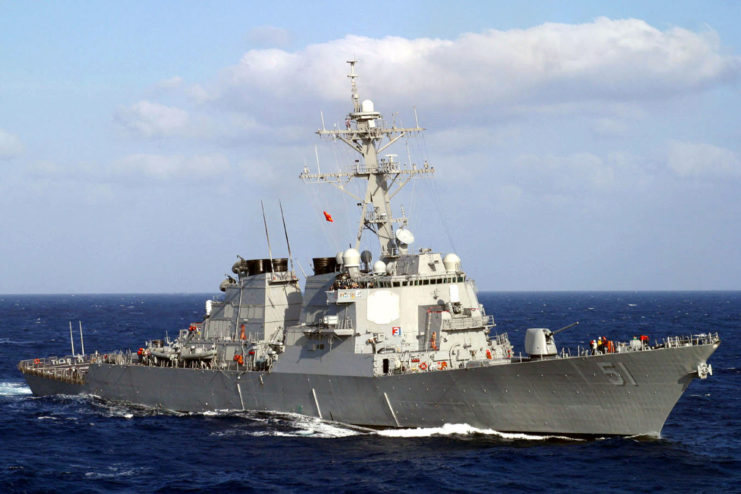 The USS Arleigh Burke (DDG-51) is the lead ship of the Arleigh Burke-class of guided-missile destroyers. She was named for Adm. Arleigh Burke, who served during World War II and the Korean War. He was also the Chief of Naval Operations during the presidencies of Dwight D. Eisenhower and John F. Kennedy.
Arleigh Burke was commissioned on July 4, 1991, replacing the Ticonderoga-class, which was too expensive to upgrade. She was given a number of new features, which allowed her to better evade radar, as well as track, launch and evade missiles. The vessel's upgrades also allowed her to operate in contaminated environments.
Arleigh Burke and her sister ships were designed to effectively operate during many different types of missions. Her most notable wartime deployments occurred in the Middle East throughout Operation Enduring Freedom and Operation Iraqi Freedom.
USS Kidd (DDG-100)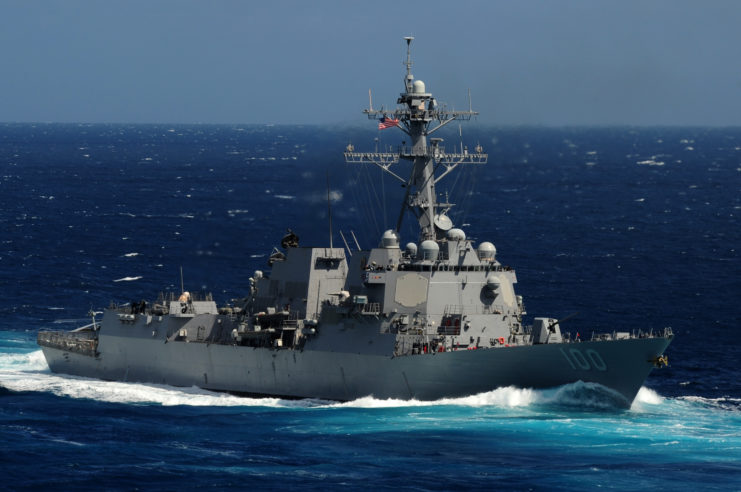 The USS Kidd (DDG-100) is an Arleigh Burke-class destroyer, which, much like the class' lead ship, has an interesting history. She was the third to feature the name of Adm. Isaac C. Kidd, the first American flag officer to die during the Second World War.
In 2012, Kidd was involved in the rescue of Al Molai, an Iranian fishing vessel whose crew was held hostage by Somali pirates for over 40 days. In 2009's Transformers: Revenge of the Fallen, Kidd's railgun was used to kill an enemy alien. She was also part of the convoy used to search for Malaysia Airlines Flight 370.
USS Harpers Ferry (LSD-49)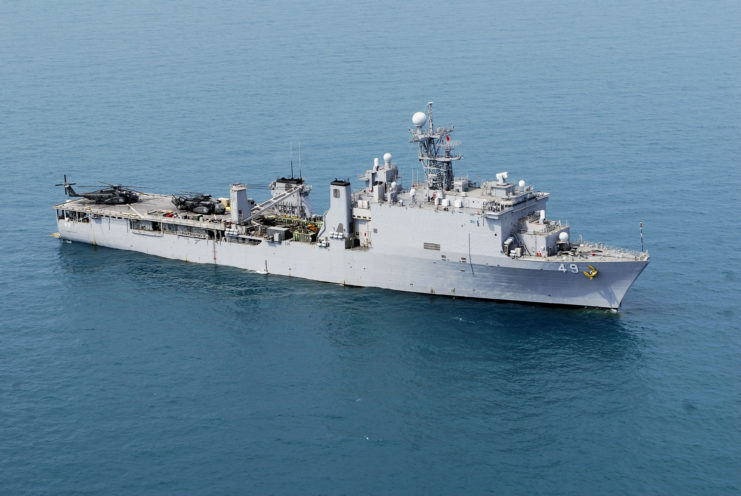 Named after Harpers Ferry, West Virginia, an important location during the American Civil War, the USS Harpers Ferry (LSD-49) was commissioned on January 7, 1995. She's the lead ship in her class of dock landing ships, which were modified from the previous Whidbey Island-class and designed to transport and launch amphibious vehicles and landing crafts.
Much of Harpers Ferry's service was completed while aiding countries recovering from disasters. She was deployed to Burma after Cyclone Nargis, to the Philippines following Typhoon Parma, and to Japan after the Tōhoku earthquake and tsunami. As of 2022, Harpers Ferry is still in service, but will be placed in reserve by 2024.
USS Ohio (SSGN-726)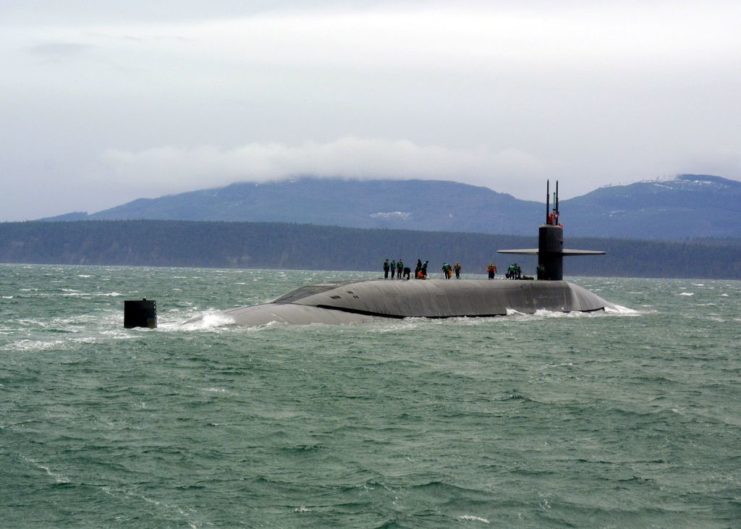 The USS Ohio (SSGN-726) is the lead vessel of the Ohio-class of nuclear-powered ballistic missile submarines. She was commissioned on November 11, 1981, and underwent extensive upgrades, which led to her eventual re-designation. The systems that were upgraded included the submarine's sonar, navigation and fire control.
Ohio was deployed in response to missile testing conducted by China, making appearances in South Korea, British Indian Ocean Territory and the Philippines. Ohio has 22 missile tubes, which hold seven Tomahawk cruise missiles each. It's since been decided that Ohio would be decommissioned and recycled by 2026.
USS Wasp (LHD-1)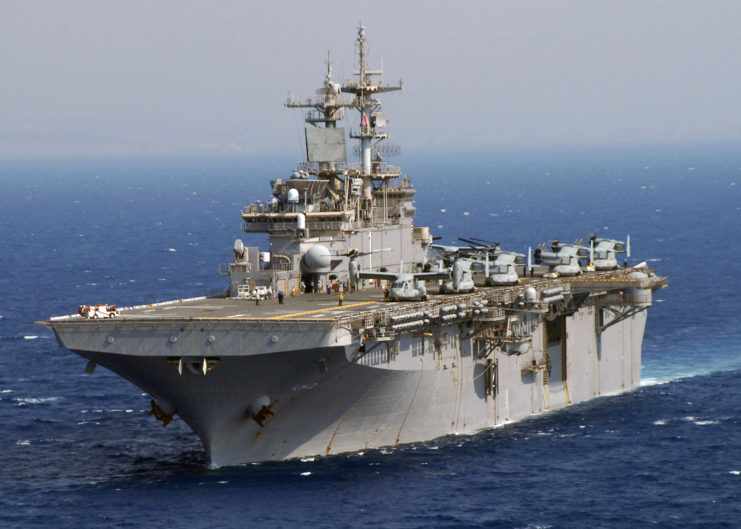 The USS Wasp (LHD-1) is the tenth ship to take on the name since the inaugural vessel in 1775. She was commissioned on July 29, 1989, and designed to carry Landing Craft Air Cushions and Harrier IIs. She can also hold helicopters, landing craft and amphibious vehicles.
Wasp features a unique design, which allows troops and vehicles to disembark horizontally and vertically for quick attacks. Additionally, she's equipped with medical and dental facilities, allowing her to be used in both combat and humanitarian settings. There are multiple medical and dental operating theaters, x-rays facilities, and laboratories. The vessel also has elevators to transport incoming casualties directly from the flight deck to the facilities located below.
USS George H.W. Bush (CVN-77)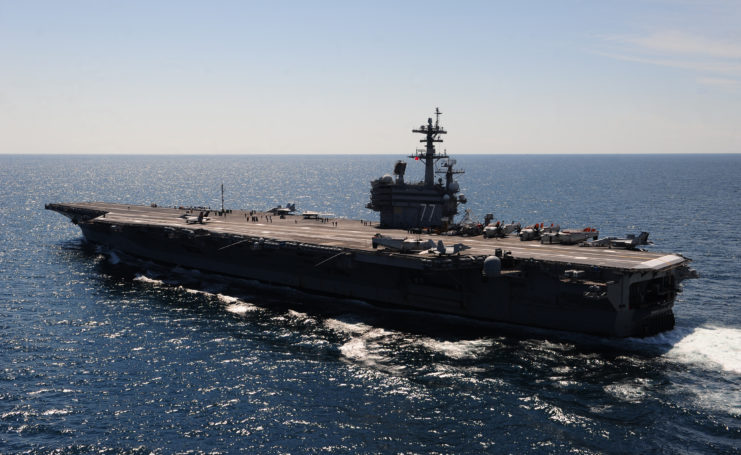 The USS George H.W. Bush (CVN-77) is one of the US Navy's Nimitz-class supercarriers, as well as one of its most powerful warships. She was named for US President George H.W. Bush, who served as a pilot during WWII, flying Grumman TBM Avengers.
Costing a whopping $6.2 billion, she was commissioned on January 10, 2009. As with many naval crafts, George H.W. Bush is one of the largest vessels in the world, with a displacement of over 100,000 tons. She's powered by two nuclear reactors, giving her a top speed of over 30 knots and allowing her to operate for 20 years without refueling. The supercarrier can also carry 90 helicopters and other aircraft.
USS Somerset (LPD-25)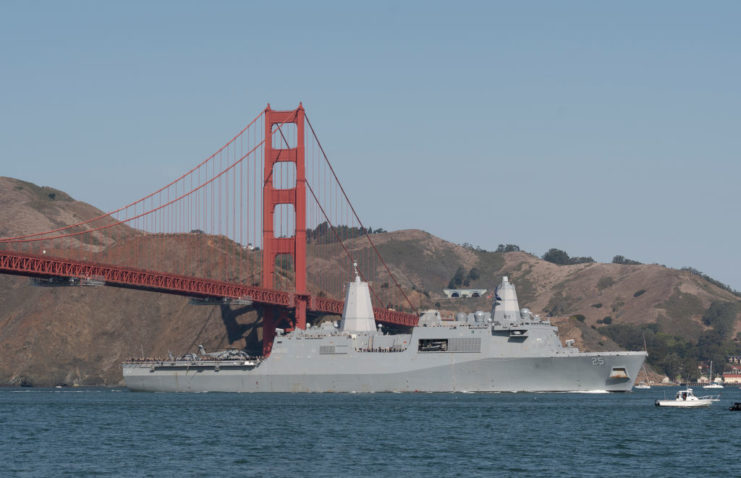 Commissioned by the US Navy on March 1, 2014, the USS Somerset (LPD-25) is another powerful warship. Part of the San Antonio-class of amphibious transport docks, she and her three predecessors were named for the passengers who crashed United Airlines Flight 93 in Somerset County, Pennsylvania to prevent it from flying into the Twin Towers – her keel was made from an excavator that came from near where the aircraft crashed.
Somerset is equipped with two 30 mm Bushmaster II cannons and two Rolling Airframe Missile launchers. She was designed to transport a maximum of 800 Marines and their amphibious vehicles and aircraft, an easy feat given the ship's 684-foot length.
USS Providence (SSN-719)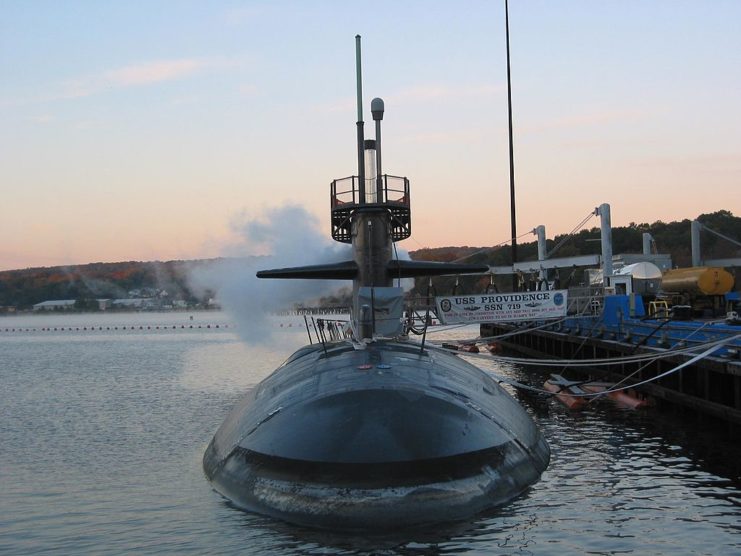 The USS Providence (SSN-719) is a Los Angeles-class submarine commissioned by the US Navy on July 27, 1985. Of the 62 that were built between 1972-96, only 32 are still in commission.
Providence was deployed during Operation Enduring Freedom; Operation Iraqi Freedom, where she launched the most missiles in 2003; and Operation Odyssey Dawn. She was not only the first submarine in her class to have a Vertical Launch System for the Tomahawk missile, but also the first to launch it in this manner. On September 1, 2022, Providence was decommissioned after 37 years of service.
USS Virginia (SSN-774)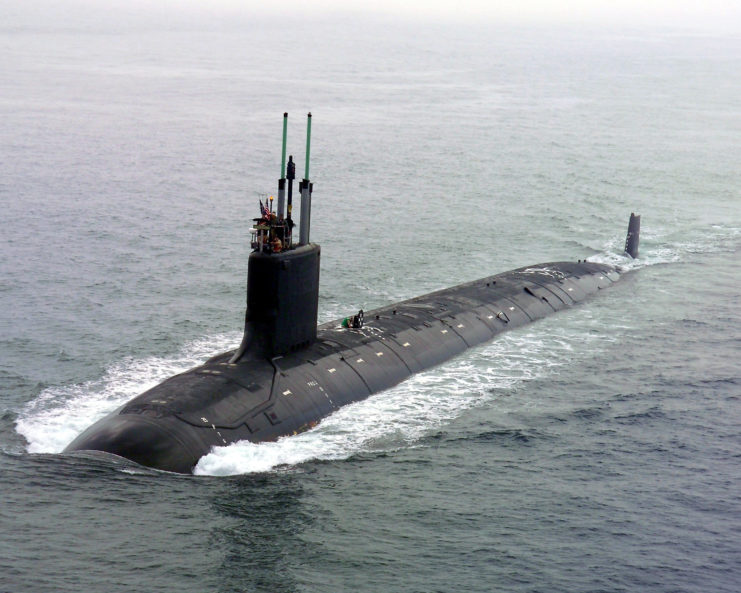 Another of the most powerful submarines in the US Navy's fleet is the USS Virginia (SSN-774). She's a nuclear-powered cruise missile attack vessel and was the first US submarine to be designed on a computer. Virginia-class submarines are unique as, instead of having periscopes, they have photonics masts. These operate in a similar way to periscopes, but don't require the tube. Another unique feature of the class is that they're entirely digital.
Virginia was first deployed as part of the War on Terror. The submarine has extensive armaments, including 12 vertical launch tubes and four 21-inch torpedo tubes used to launch Mk-48 torpedoes and BGM-109 Tomahawks.
USS Freedom (LCS-1)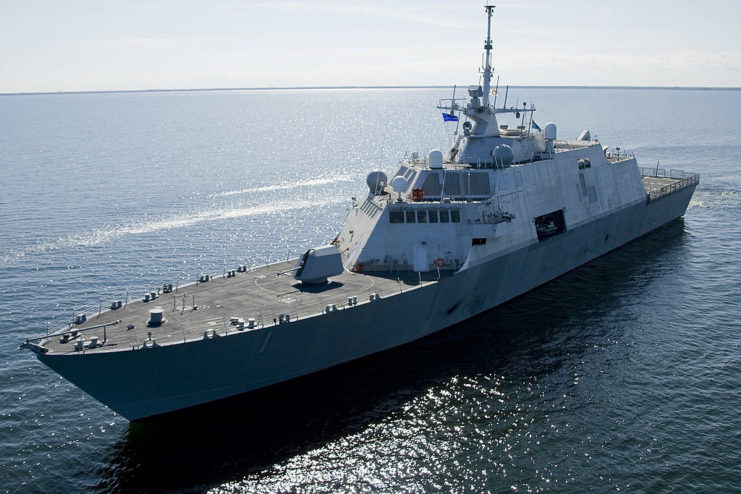 Designed to be direct competition to the USS Independence, the USS Freedom (LCS-1) is the lead ship in her class of littoral combat ships. She was commissioned on November 8, 2008 and assigned to Littoral Combat Ship Squadron (COMLCSRON) One. As with Independence, Freedom was designed to undertake a variety of different missions, such as minesweeping and humanitarian efforts, and can effectively operate in both deep and shallow waters.
Freedom was equipped to take on submarines and smaller ships, but wasn't intended to combat large vessels. She could carry a number of aircraft, and was equipped with one BAE Systems Mk 110 57 mm gun, four .50-inch machine guns, two Mk44 Bushmaster II guns and 21 RIM-116 Rolling Airframe surface-to-air missiles (SAMs). She was decommissioned on September 29, 2021.
USS Chief (MCM-14)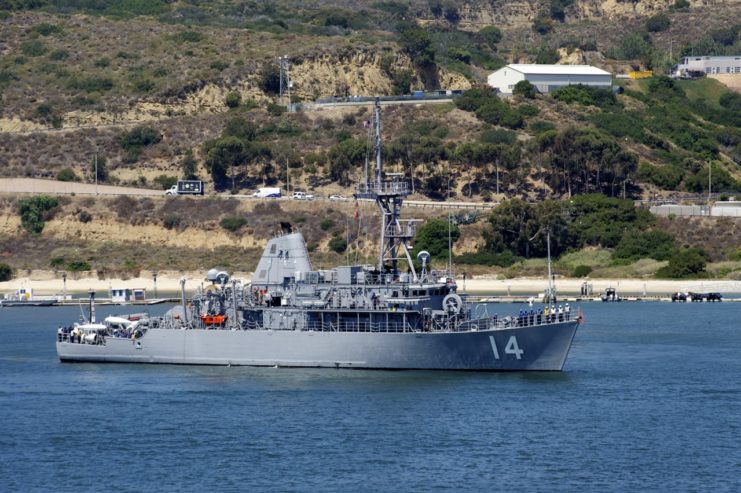 The USS Chief (MCM-14) is an Avenger-class mine countermeasures ship that was commissioned on November 5, 1994. She maintains her position as part of the US Navy's Pacific Fleet, with her home dock located in Japan. She's not designed to be fast, topping out at just 14 knots, and doesn't have much in the way of armaments, with only two .50 caliber machine guns. That being said, the vessel is good at mine detection.
More from us: Georgis Averof: The Greek Armored Cruiser With An Impressive Service History
Chief was named after her predecessor, the USS Chief (AM-315), as part of the tradition of honoring chief petty officers in the service. Even her insignia honors the vessel, which served in the Korean War and WWII. During this time, the first Chief won seven battles, which are represented in the newer vessel's insignia by seven stars.