The US Navy's newest and most advanced aircraft carrier has departed on her first ever deployment. The USS Gerald R. Ford (CVN-78) will undergo an exercise with NATO allies from North America and Europe, prior to a full deployment scheduled for sometime in 2023.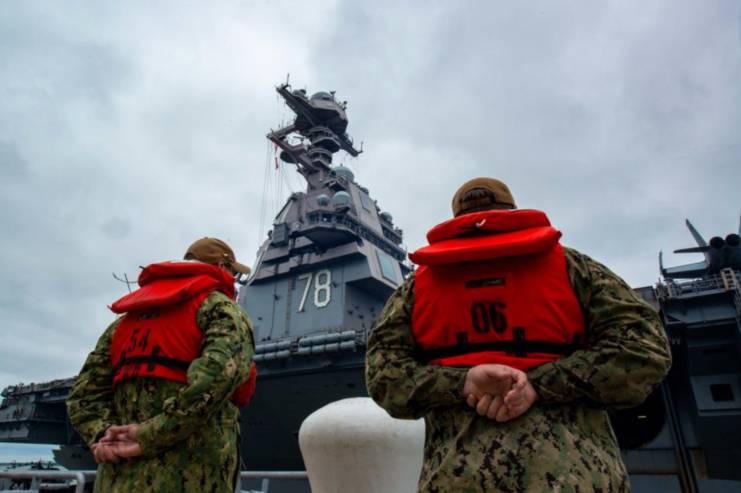 The USS Gerald R. Ford is the lead vessel in her class and is named for Gerald Ford, the 38th president of the United States and a distinguished veteran of the Second World War. The aircraft carrier was laid down in November 2009 and launched four years later. While initially slated for delivery in 2015, this was delayed until May 2017.
Two other Gerald R. Ford-class carriers are currently under construction, the USS John F. Kennedy (CVN-79) and Enterprise (CVN-80). The USS Doris Miller (CVN-81) is slated to be laid down in January 2026.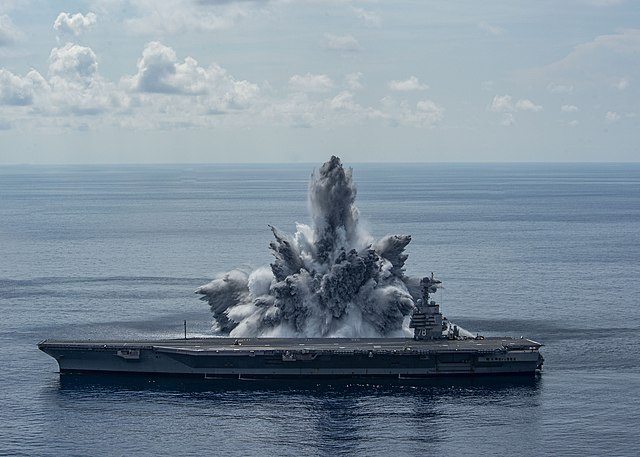 The USS Gerald R. Ford replaced the Enterprise-class aircraft carrier USS Enterprise (CVN-65). She is the first to be designed for the Navy in over 40 years and cost an estimated $13 billion. Along with being the world's largest carrier, with a length of between 1,092-1,106 feet, she's also the largest warship in terms of displacement, at 100,000 tons.
The nuclear-powered vessel borrows her hull from the previous Nimitz-class of carriers, with the ability to carry over 75 aircraft. Rather than feature the old steam catapults used to launch aircraft, Gerald Ford uses the Electromagnetic Aircraft Launch System (EMALS), which can be reset and reused more quickly. The carrier is also designed to need between 800-1,200 less crewmen than the Nimitz-class, allowing the Navy to save on space and labor costs.
Gerald R. Ford is armed with a mixture of guns and surface-to-air missiles (SAMs). She features three Phalanx Closed-In Weapons Systems (CIWS) and four .50-caliber M2 Browning machine guns, as well as two RIM-116 Rolling Airframe Missiles (RAMs) and two RIM-162 Evolved SeaSparrow Missile (ESSM) launchers.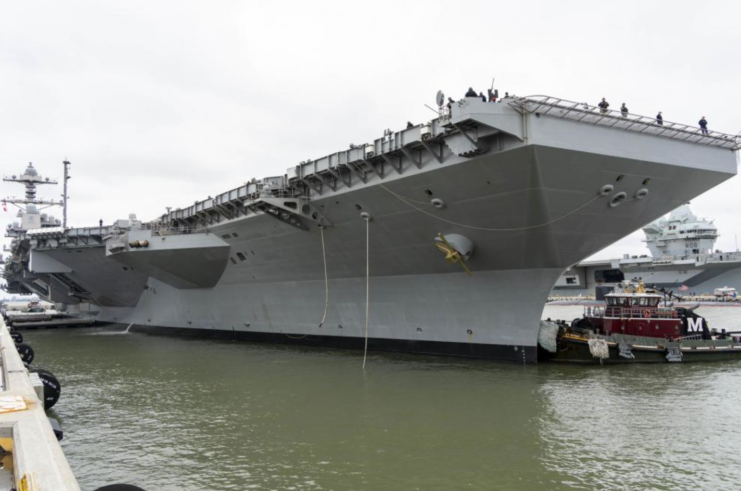 The USS Gerald R. Ford departed from Naval Station Norfolk on October 4, 2022 as the flagship of her Carrier Strike Group (GRFCSG). She'll be operating with 9,000 personnel from NATO allies and partners in both the 2nd and 6th Fleet areas in the Mediterranean Sea and Atlantic Ocean. Along with the nine countries involved in the exercise – Denmark, Canada, the United States, Sweden, Spain, the Netherlands, Finland, Germany and France – 60 aircraft and 20 ships will be participating.
The aircraft carrier is housing eight squadrons, featuring Boeing F/A-18 E/F Super Hornets, Boeing EA-18G Growlers, Sikorsky SH-60 Seahawks, Grumman C-2 Greyhounds and Northrop Grumman E-2D Advanced Hawkeyes.
Speaking about the deployment in a statement, Carrier Strike Group 12 Commander Rear Adm. Gregory Huffman said it's "an opportunity to push the ball further down the field and demonstrate the advantage that Ford and Carrier Air Wing (CVW) 8 bring to the future of naval aviation, to the region and to our allies and partners."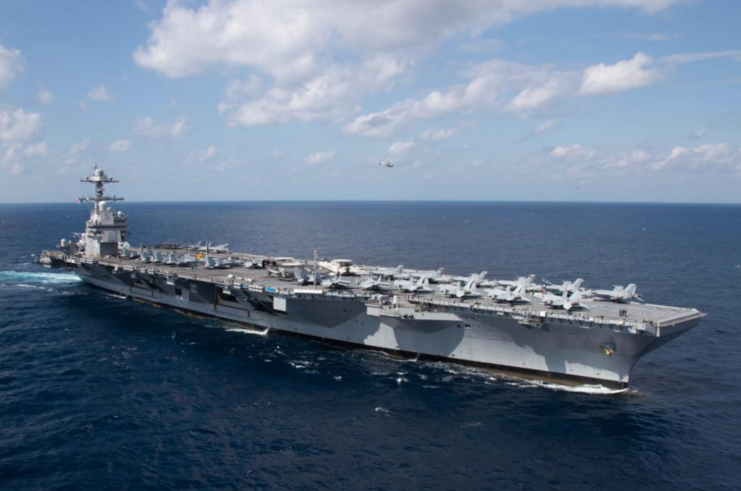 During the deployment, the GRFCSG will operate maritime, ground and air assets from the involved NATO member nations and partners, to strengthen defense efforts and deterrence, as well as improve effectiveness and interoperability.
"USS Gerald R. Ford is going to sail on the high seas with our partners," said Commanding Officer Capt. Paul Lanzilotta in the same statement. "We want interoperability, we want interchangeability with our partners. Our NATO partners that are sailing with us – we're going to work with them every day, every night. That's what it means to operate on the high seas.
"Air defense exercises. Long-range maritime strike. We're going to do pretty much every mission set that's in the portfolio for naval aviation, and we're excited about that."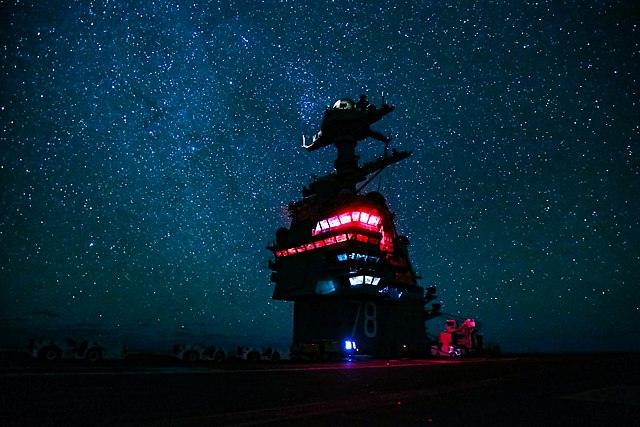 More from us: Indian Navy Commissions First Home-Built Aircraft Carrier
The GRFCSG includes the USS Ramage (DDG-61), Normandy (CG-60), Thomas Hudner (DDG-116) and McFaul (DDG-74); the USCGC Hamilton (WMSL-753); the USNS Robert E. Peary (T-AKE-5) and Joshua Humphreys (T-AO-188); Destroyer Squadron (DESRON) 2; Carrier Strike Group (CSG) 12; and Carrier Air Wing (CVW) 8.