With a range of around 500 miles when fully loaded for a mission, the Super Hornet has an effective range that is just over 40% farther than that of the Hornet.
The world of military aircraft has been one of rapid change and technological advancement, ever since the first combat airplanes took to the skies for the purpose of making war in 1911 during the Italo-Turkish War. The Second World War saw a huge surge in technological advances in military aircraft, and then with the introduction of jet powered aircraft shortly after WWII, even greater advances were made.
Today, over a century after the first primitive military planes flew their first combat missions, the Boeing F/A-18 E/F Super Hornet (informally nicknamed the "Rhino") represents some of the most impressive advancements made in the field of military aviation.
Like the F/A-18 Super Hornet's predecessor, the F/A-18 Hornet, the Super Hornet is a versatile aircraft that can be used in both fighter and attack roles (hence the "F/A" designation), and like the Hornet, it is a twin-engine carrier-capable aircraft.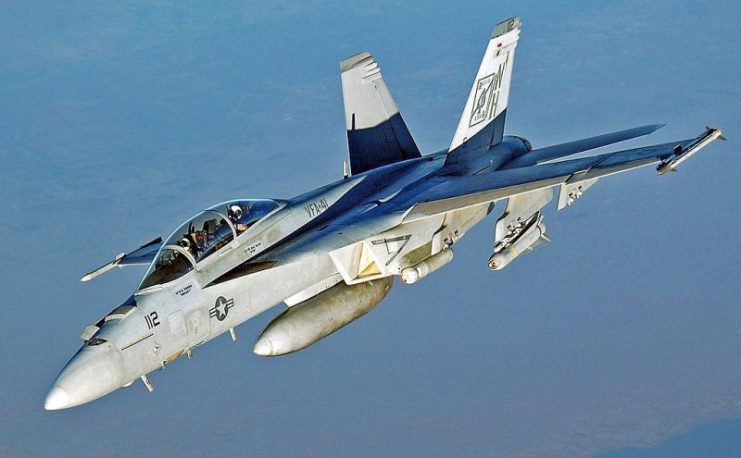 Powered by two General Electric F414-GE-400 engines, each of which produces 22,000 pounds of thrust, the Super Hornet is capable of the same top speed as the Hornet – an impressive Mach 1.8 – even though it weighs more than its predecessor, and can carry a far heavier load.
It is true that there certainly are much faster planes than the Super Hornet, and more maneuverable ones too, as well as others that can carry a heavier load – but none of these can perform such a wide array of functions as superbly as the Super Hornet can.
The sheer versatility of the Super Hornet and the fact that it is carrier capable are two of the reasons why the US Navy adopted the Super Hornet as its primary carrier fighter after retiring the Hornet from combat service in April 2018.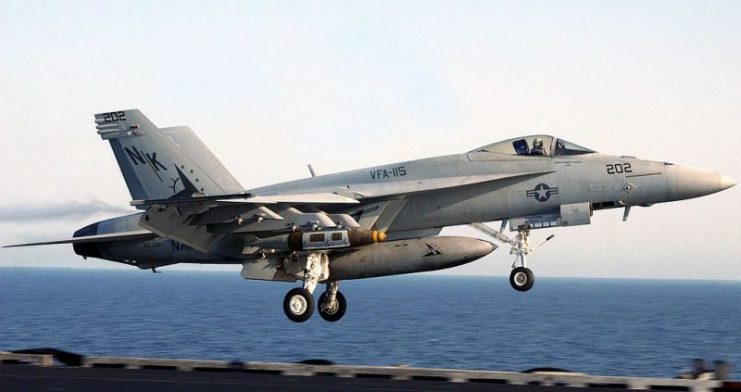 With a range of around 500 miles when fully loaded for a mission, the Super Hornet has an effective range that is just over 40% farther than that of the Hornet.
Its potential range can be increased even farther due to the fact that it is equipped with an aerial refueling system, and can thus be refueled in flight.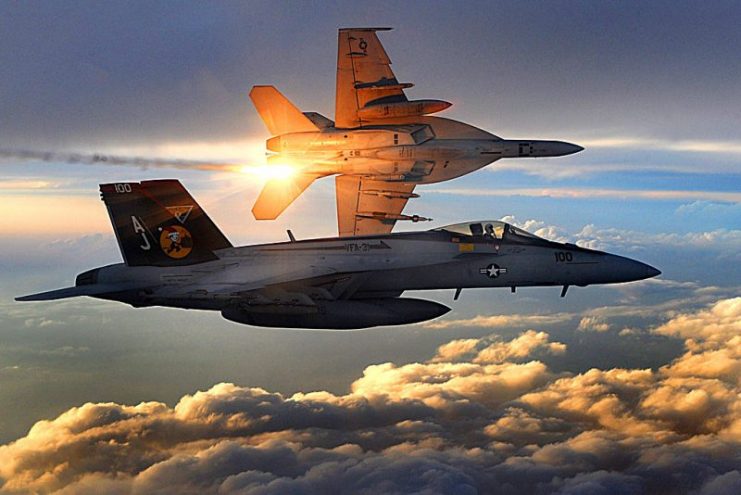 However, current development of new conformal fuel tanks for the Super Hornet, which will be ready by 2022, will increase the Super Hornet's effective range by an additional 300 miles.
This would, in theory, give the Super Hornet the ability to neutralize Chinese anti-ship ballistic missiles (ASBM), which are designed to target aircraft carriers, without the risk of having to get an aircraft carrier within range of these ASBMs.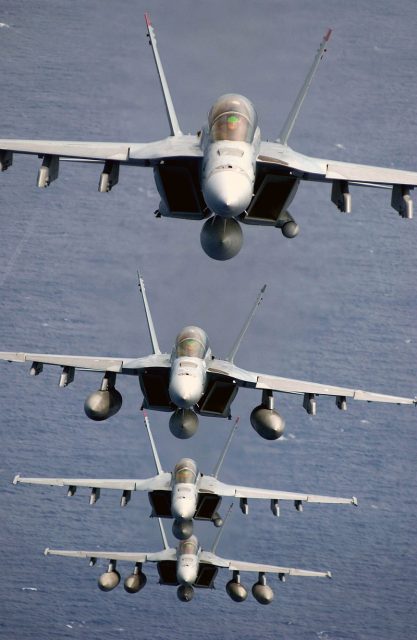 In terms of armament, the Super Hornet is capable of impressive lethality. It can carry the most sophisticated modern air-to-air and air-to-ground missiles via its eleven weapons stations, and in addition it is equipped with a M61 Vulcan 20mm rotary cannon.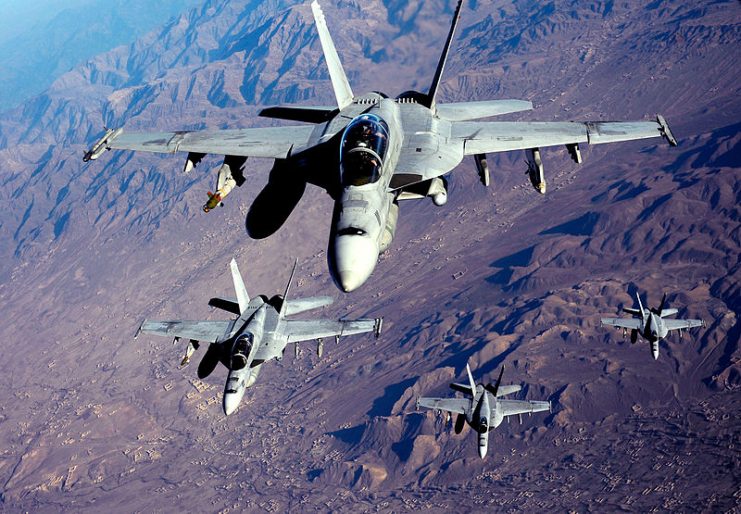 After its first flight in 1995, full-rate production of the Super Hornet began in late 1997. The Super Hornet subsequently got its first taste of action in the Iraq War in 2002, in which Super Hornets successfully took out enemy surface-to-air missile launchers, as well as flying air refueling, strike, and close air support sorties during the war.
Super Hornets have also seen extensive action in Afghanistan, attacking Taliban ground positions and fortifications – and all of these attacks have been successful.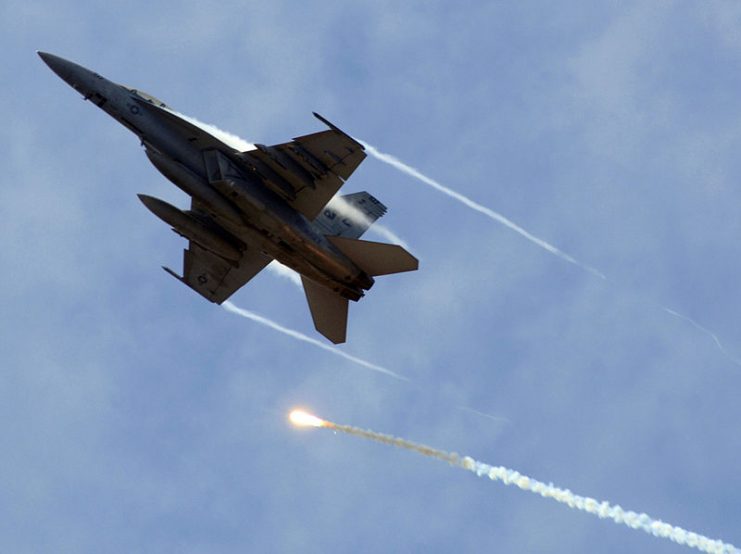 In more recent years, Super Hornets have been used against the Islamic State (ISIS) in Syria, taking out mobile artillery, mortar positions and fortifications used by ISIS fighters. Also, a Super Hornet made its first air kill in 2017 when one shot down a Syrian Air Force SU-22 Fighter-Bomber – which was also the first American aerial kill since 1999 of a manned aircraft.
While there are faster, more agile and more stealthy military aircraft, few are as effective as performing such a wide range of roles with such stellar effectiveness as the F/A-18 Super Hornet, and for this reason the Super Hornet is expected to remain the US Navy's primary carrier fighter for the next few decades to come.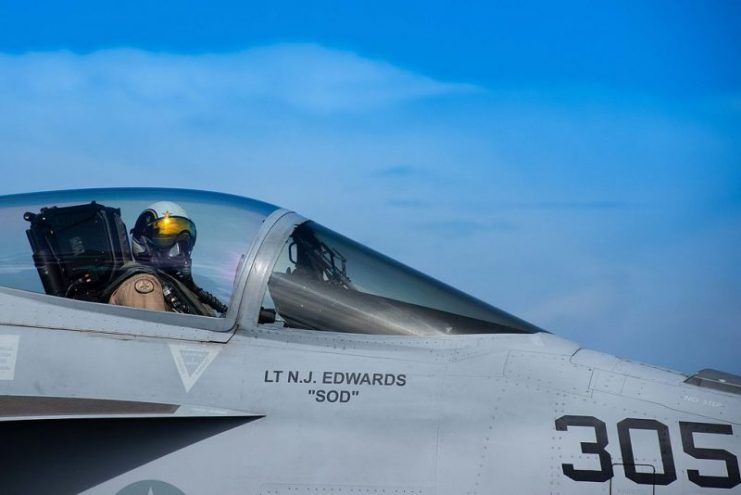 Read another story from us: Classified: The New Boeing High-Tech Autonomous Fighter
Another important factor in the Navy's decision to retain the Super Hornet for such a long time to come is the fact that its operational costs are so much lower than many of its competitors, so much so that US President Donald Trump tweeted in December 2016 that he had asked Boeing to price out an upgraded Super Hornet going forward, instead of focusing on Lockheed-Martin's impressive but staggeringly expensive F-35.
For the time being, it seems, the F/A-18 Super Hornet will continue to rule the skies.