A second capsule has been located within the pedestal of the Robert E. Lee statue that once stood over Richmond, Virginia's Monument Avenue. The discovery follows that of a lead box in early December, which was opened by conservators last week.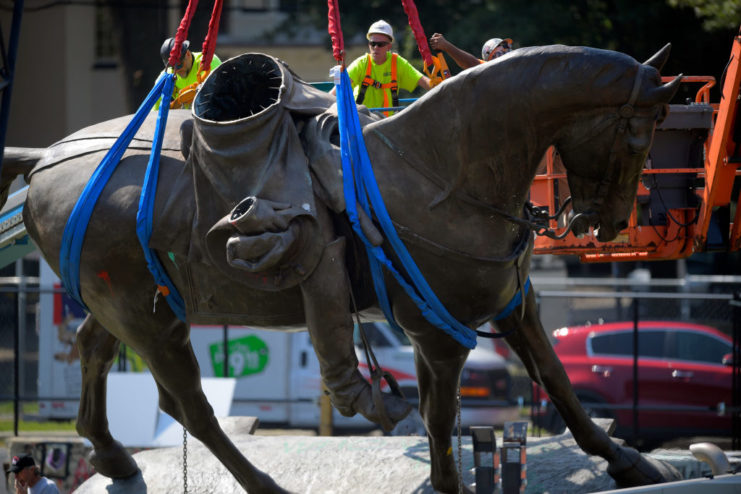 The first capsule contained a host of personal effects now believed to have belonged to the crew that constructed the pedestal, including a silver coin, various books and a photograph with the words "James Netherwood master stone mason" written on the back. The items uncovered were not what conservators were expecting, as a newspaper article from 1887 had hinted it contained American Civil War memorabilia and a rare photograph of President Abraham Lincoln lying in his coffin.
However, it appears the article was correct, given the discovery of a second, copper capsule. It was discovered "below grade in a very wet area," and contained an 1865 Harper's Weekly magazine with an image of a figure weeping over Lincoln's grave; a Richmond directory; a Bible with a coin stuck to it; newspapers, books and buttons; a letter; and an envelope containing Confederate money.
Within it was also a minié ball, a bullet commonly used during the Civil War, as well as two carved artifacts – a Confederate flag and a Masonic symbol – that were made from the tree that grew over General Stonewall Jackson's original grave.
Lee's time capsule includes a guide to city of Richmond. Would have been useful to Union Army liberators of 1865: pic.twitter.com/aTMkc6XVBy

— Michael Beschloss (@BeschlossDC) December 28, 2021
Upon being removed from the pedestal, the capsule was sent to the Virginia Department of Historic Resources (DHR), where it was x-rayed and assessed by conservators. Before it was opened, the Richmond bomb squad was called in to ensure it was safe.
The two-hour process of opening the box found severe water damage, which had caused many of the items within to expand and made them difficult to remove. Experts plan to continue their preservation work and research over the coming days and weeks.
The statue of Confederate General Robert E. Lee was among the many to stand along Richmond's Monument Avenue. It was removed in September 2021, following the death of George Floyd and the Black Lives Matter protests that followed. For years, there had been calls for it to be taken down, given what it symbolized.
After a months-long delay following lawsuits from local residents, the Virginia Supreme Court upheld the decision to remove it.