Experts with the Virginia Department of Historic Resources have opened a capsule found within the pedestal of the Robert E. Lee statue removed from Richmond in September 2021. However, the items inside weren't quite what they expected to find.
1875 almanac, other books found in capsule from Robert E. Lee statue pedestal https://t.co/5Ec6nwORuk pic.twitter.com/sTrtxwuUcN

— Reuters (@Reuters) December 23, 2021
Among the items found include a pamphlet, a red 1875 Almanac, a silver coin, a cloth envelope with papers inside, a tattered copy of Collinson Pierrepont Edwards Burgwyn's The Huguenot Lovers: A Tale of the Old Dominion, and a thin maroon text. There was also a photograph of a man, with the words "James Netherwood master stone mason" written on the back.
Many of the items had suffered water damage, partly the result of water condensation from the rapid temperature change after the capsule was removed from the pedestal. The process of opening it took five hours.
According to conservator Kate Ridgeway, each item had to be "stabilized" as they were removed from the capsule. Virginia Governor Ralph Northam was on hand, and minutes after it was opened said, "It's an important day for the history of Richmond and Virginia."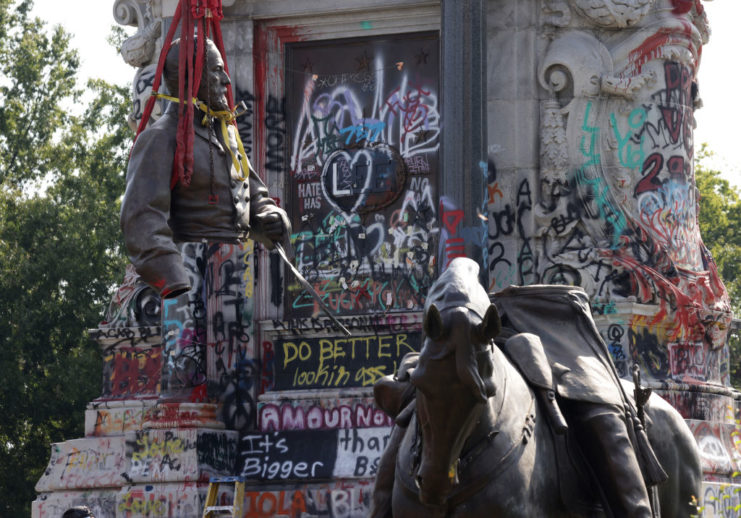 The statue of Confederate General Robert E. Lee was removed from Richmond's Monument Avenue after it became the center of Virginia's Black Lives Matter protests following the death of George Floyd. The day after it was removed, a crew spent over 12 hours searching for the capsule within the pedestal, but were unable to locate it until December 17.
The main reason the capsule was so difficult to locate is a newspaper article from when the statue was erected, which stated it had been placed in the pedestal's cornerstone. In fact, it was actually 20 feet high in the base. It also stated it was made of copper, but in actuality was lead.
The same article led experts to believe that nearly 60 items were within the capsule, including Civil War memorabilia and a rare photograph of President Abraham Lincoln lying deceased in his coffin, a stark contrast to what was actually found.
It's believed the capsule was placed in the pedestal by 37 Richmond residents, businesses and organizations.
🚨TIME CAPSULE UPDATE: The copper box found inside the pedestal of the Robert E. Lee statue will be OPENED, today or tomorrow.

A newspaper article from 1887 suggests the capsule contains Civil War memorabilia and a picture of Lincoln lying in his coffin. pic.twitter.com/dqyZ8QWTyD

— Anthony Antoine (@AnthonyNBC12) December 21, 2021
More from us: Sword stolen from a statue is returned 40 years after the theft
The Department of Historic Resources will continue to preserve the artifacts. The books will be put in a freezer to prevent them from developing mold, and the silver coin will be kept in a dry place to limit deterioration. The papers have been separated in the hopes they'll dry out.