The statue of Confederate Army general Robert E. Lee that stood over Richmond, Virginia's Monument Avenue has been removed from its pedestal. The removal of the 21-foot-tall bronze sculpture was met by cheers from the crowd, who gathered on the morning of September 8, 2021 to witness the historic event.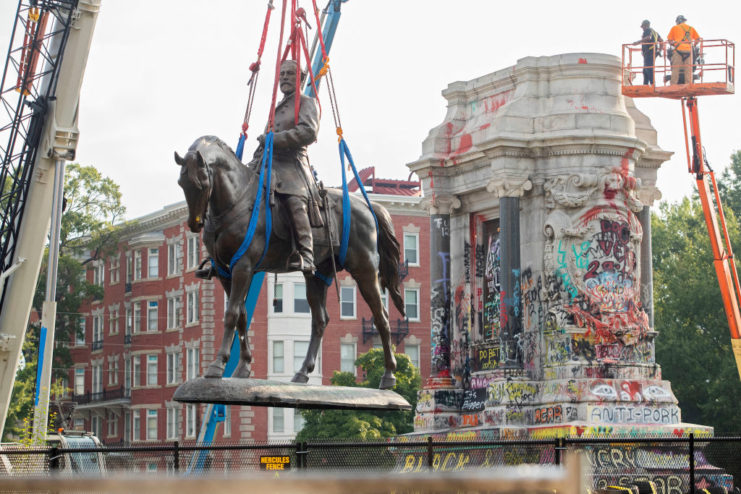 The statue was removed just after 9:00 AM, after a construction worker strapped harnesses around it. Once on the ground, crews began cutting it into pieces with a power saw along Lee's waist. This was to ensure it could fit under highway overpasses while being transported to an undisclosed state-owned facility for storage, until a decision can be made about its final disposition.
The removal of the sculpture was met with cheers and song by the crowd that had assembled. While one man with a Black Lives Matter flag was escorted away by police after running into the fenced-off area, no arrests were reported and there were no signs of a counter protest.
"This monument and its time capsule reflected Virginia in 1890 – and it's time to remove both, so that our public spaces better reflect who we are as a people in 2021," said Virginia governor Ralph Northam in a press release. "The past 18 months have seen historic change, from the pandemic to protests for racial justice that led to the removal of these monuments to a lost cause."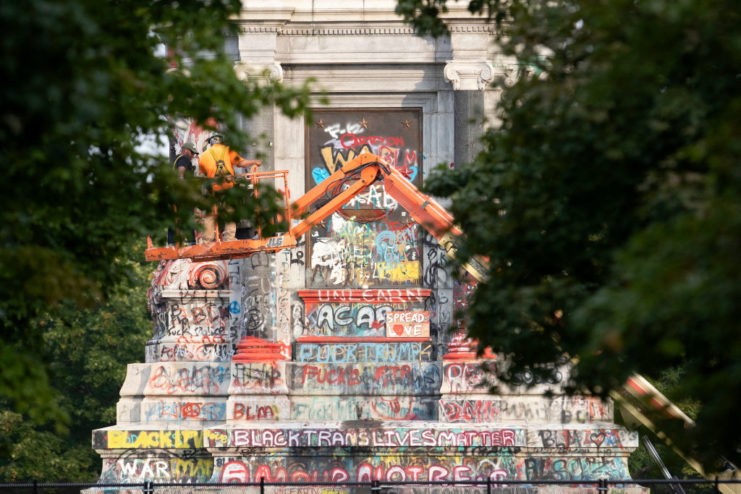 The statue's removal was ordered by Gov. Northam in June 2020, in response to nationwide protests following the death of George Floyd at the hands of a Minneapolis police officer. His death brought issues of police brutality and racism back into the spotlight.
Its removal was delayed after two lawsuits from local residents were brought forth, opposing the governor's decision. They argued the state was duty-bound to maintain the statue under two deeds signed in 1887 and 1890.
On September 2, 2021, the Virginia Supreme Court announced its 7-0 decision to uphold Gov. Northam's previous decision, stating the state was not bound by the deeds: "Those restrictive covenants are unenforceable as contrary to public policy and for being unreasonable because their effect is to compel government speech, by forcing the Commonwealth to express, in perpetuity, a message with which in now disagrees."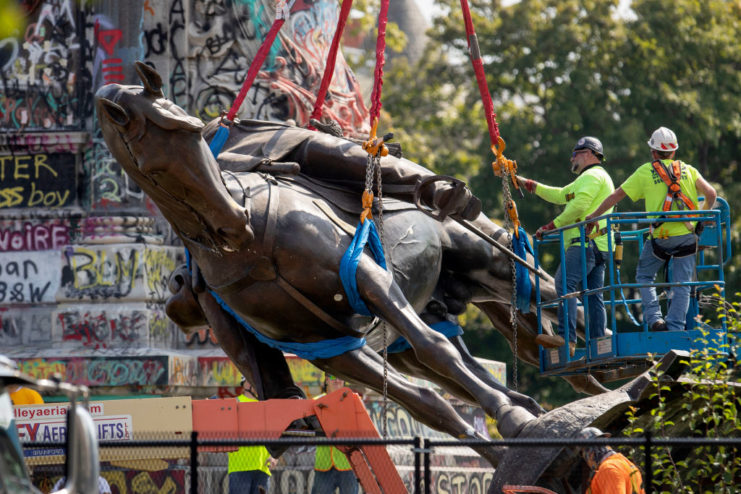 The statue of Robert E. Lee in Richmond towered over Monument Avenue and became the epicenter of the Black Lives Matter protests that occurred in Virginia. Its base was covered in graffiti, expressing the thoughts and beliefs of protestors.
While the statue has been removed, its pedestal will remain, in a community-driven effort to "reimagine" Monument Avenue. Work crews are expected to remove its decorative plaques and a 134-year-old capsule embedded within. According to historians, it may contain a rare photograph of President Abraham Lincoln.
It will be replaced by a new capsule created by sculptor Paul DiPasquale, and will include 39 artifacts that reflect this cultural moment in Virginia and the country. "It is fitting that we replace the old time capsule with a new one that tells that story," said Gov. Northam.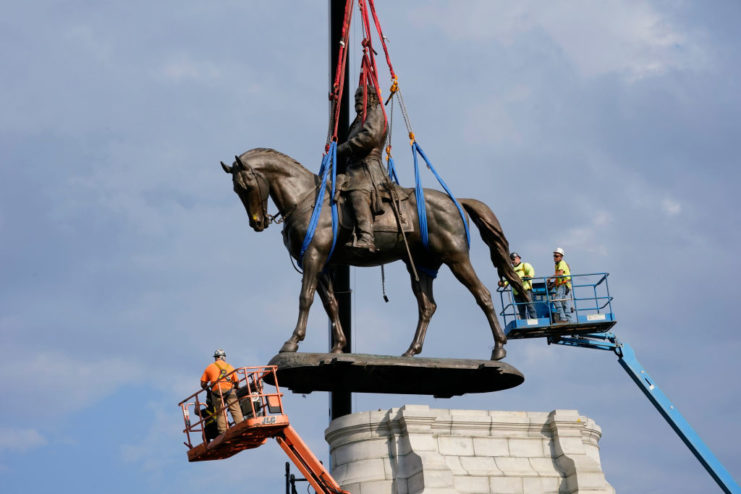 Prior to the statue's removal, capitol, state and city police closed off surrounding streets to ensure it could be dismantled safely. The Federal Aviation Administration granted the state's request to ban drones from flying overhead, and the removal was live streamed via Gov. Northam's social accounts.