To be presented with the Medal of Honor is to show great heroism while serving in the US Army. One soldier recently awarded the honor was Sergeant First Class Alwyn Cashe, who heroically gave his life to save his fellow soldiers after the vehicle they were riding in hit an improvised explosive device (IED) in Iraq.
Military service prior to the War in Iraq
Alwyn Cashe enlisted in the US Army in 1989, after graduating high school. He served two years in Korea and fought during the Gulf War, after which he was stationed for three years at Fort Lewis, Washington. In 1993, as an infantryman, he served another yearlong deployment in Korea, after which he acted as squad leader at Fort Hood, Texas, and for two years in Germany.
In 1998, Cashe graduated from Drill Sergeant School and went on to serve two years as a drill sergeant at Fort Benning, Georgia. He returned to Europe in February 2001, where he was an operations noncommissioned officer for the 19th Battlefield Coordination Detachment, before serving in Germany for two years as a squad leader in the 1st Battalion, 18th Infantry Regiment.
Finally, he served as a platoon sergeant in the 3rd Brigade, 3rd Infantry Division at Fort Benning in April 2004.
Operation Iraqi Freedom
Sergeant First Class Alwyn Cashe served two tours in Iraq, the first during the 2003 invasion and the second during Operation Iraqi Freedom. During his second deployment, he served with A Company, 1st Battalion, 15th Infantry Regiment, 3rd Infantry Division.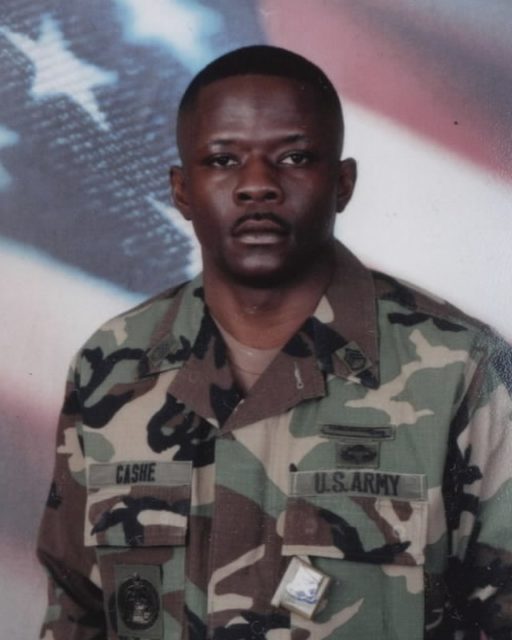 On the night of October 17, 2005, Cashe's unit set out to conduct a routine clearance patrol, ahead of another convey that was set to come through the area the next day. Despite a dust storm blowing through the area, it was intended to be "a standard drive down to the bridge, make sure the route was clear, hang out for a bit, and drive right back," aside from the fact only two of the three Bradley Fighting Vehicles were able to participate.
Cashe's Bradley was at the front of the convoy when it struck a roadside IED. The blast caused the vehicle's fuel cell to rupture, dousing those inside with fuel, and severed the opening mechanism of the cargo hatch. Cashe was only slightly injured and managed to crawl out through the gunner's hatch.
Six soldiers were trapped inside the vehicle, which quickly engulfed in flames. Despite his uniform being covered in fuel, Cashe rescued them and removed the body of an Iraqi translator who had been killed during the explosion.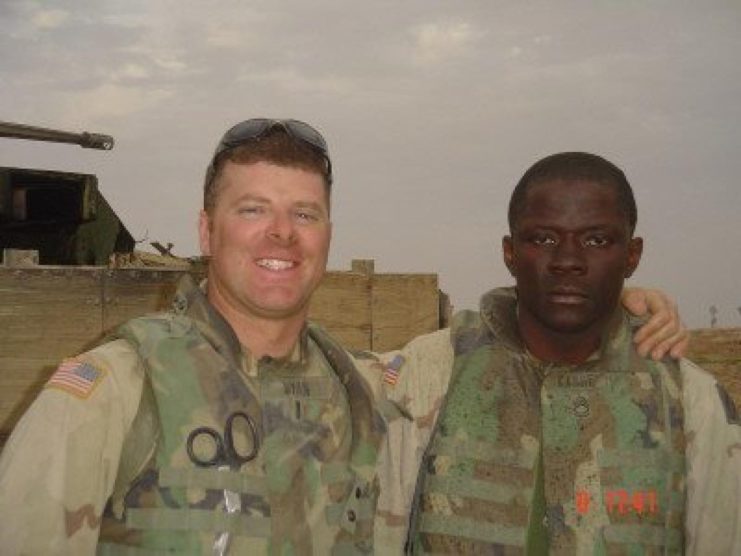 During the rescue, Cashe suffered second and third-degree burns to 72 percent of his body. He and the injured were medivaced to a nearby Iraqi military hospital, and he was later transported to Brooke Army Medical Center, Fort Sam Houston, Texas, where he succumbed to his injuries on November 8,  2005.
For his actions, he was nominated for the Silver Star by his battalion commander, Lieutenant General Gary Brito.
Road to the Medal of Honor
The push to upgrade Sgt. 1st Class Cashe's Silver Star to the Medal of Honor came from Lt. Gen. Brito, who at the time hadn't realized the extent of Cashe's injuries, as any witnesses had been evacuated to receive medical treatment. After learning more about his actions, Brito submitted additional statements to the Army, in support of posthumously awarding Cashe the honor.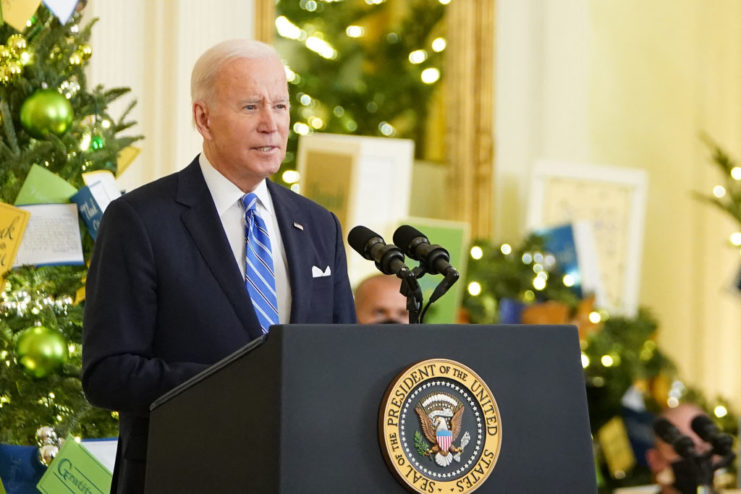 The effort to upgrade Cashe's Silver Star continued in October 2019, when retired Navy SEAL Dan Crenshaw, Stephanie Murphy (D-FL) and former Special Forces officer Michael Waltz submitted a letter to Secretary of Defense Mark Esper and Army Secretary Ryan McCarthy, requesting the change.
Murphy followed up the letter with the introduction of bill HR 8276 before the US House of Representatives, which waived the five-year statute of limitations for consideration for the Medal of Honor by authorizing the President to award the medal "for acts of valor during Operation Iraqi Freedom." It unanimously passed the House on September 22, 2020, and just over a month later made it through the Senate.
It was signed into law by President Donald Trump on December 3, 2020.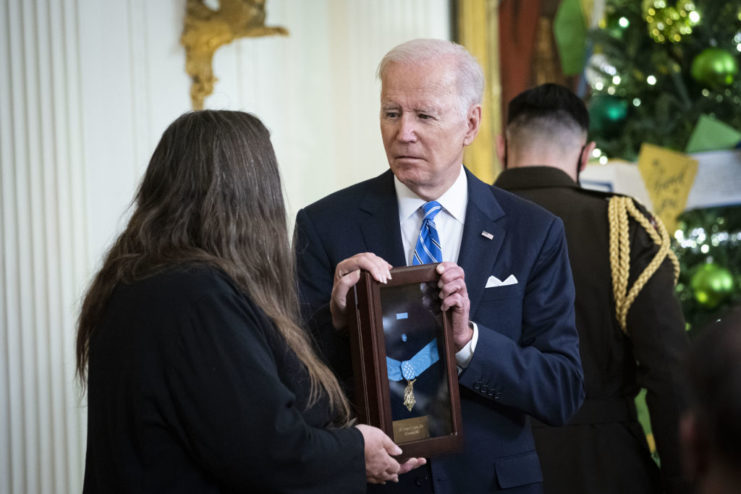 On December 16, 2021, Cashe's widow, Tamara, accepted the Medal of Honor on his behalf from President Joe Biden at a ceremony honoring him and two other service members, Sergeant First Class Christopher Celiz and Master Sergeant Earl Plumlee. He was the seventh soldier from Operation Iraqi Freedom to receive the honor and the first African-American since the Vietnam War.
Speaking at the ceremony, President Biden called him "a soldier's soldier" and "a man who literally walked through fire for his men."