Band of Brothers (2001), the acclaimed television miniseries that chronicles the harrowing experiences of Easy Company during World War II, had a dramatic impact not only on viewers but its cast, as well – particularly James Madio. Throughout the HBO release, Madio portrays Non-Commissioned Officer Frank Perconte of the 101st Airborne Division.
Over the years, the actor has shared time and time again the profound impact Band of Brothers has had on his life. Beyond his career in Hollywood, his involvement in the series ignited a passion for military history, leading him to become an advocate for veterans' causes and fostering a genuine appreciation for the sacrifices made by those who served.
Taught about World War II by a real-life veteran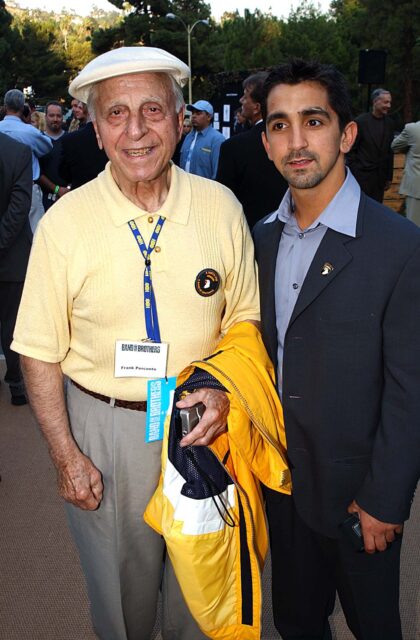 When James Madio was cast as Frank Perconte in Band of Brothers, he didn't have a strong understanding of the events that occurred during WWII. He admits he didn't really invest himself in academics as a youth, and explains it was his involvement in the series that really taught him about the major historical event.
As soon as he was cast, Madio began reading as much material about the 101st Airborne Division as he could. He also reached out to several veterans. One person with whom he had the opportunity to connect was Perconte himself. HBO had provided him with a book containing information about the Easy Company veteran, which listed personal information, a phone number and an address in the back.
Not wanting to trigger negative feelings about his past, Madio wrote Perconte a letter. When he finally heard back, it was through a phone call, with the veteran happy and excited to share whatever information he could with the actor. Madio admits he never brought up tough subjects with Perconte, so, unless the former serviceman brought a topic up himself, they never spoke about such things.
From this, the two developed a beautiful friendship.
James Madio had to attend boot camp for Band of Brothers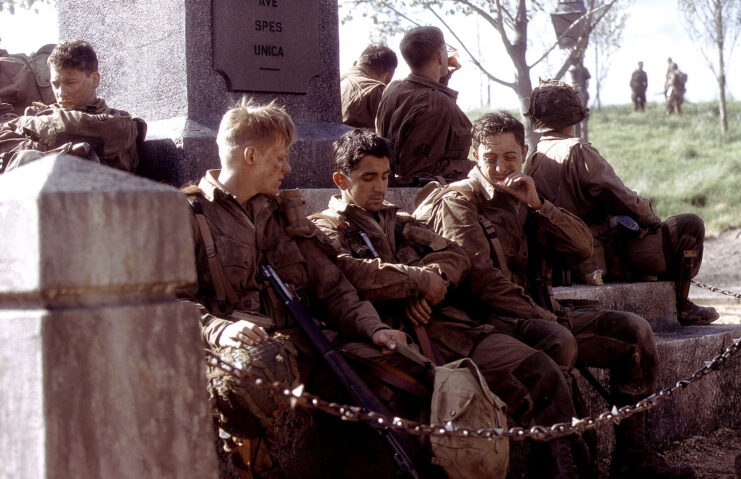 James Madio recalls attending boot camp for Band of Brothers, which was meant to emulate a real-life military boot camp. He was in his early 20s at the time and remembers it was actually quite difficult.
The actors who attended were stripped of their belongings, given uniforms and haircuts, and dropped off at an old Commando base outside of London. Their days began at 5:00 AM, with maneuver training, weapon stripping and marching. Madio recalls doing more pushups than he ever thought he'd perform in his life. That being said, he credits the training for allowing him to bond with his Band of Brothers cast mates, resulting in them being close years after filming ended.
The actor also admits he struggled with understanding the ranking system at the camp, calling people by their wrong rank. In an anecdote about Capt. Dale Dye, Madio jokes about how co-star Donnie Wahlberg set him up for failure.
The two were field stripping their weapons when Madio realized his wasn't working. He said to Wahlberg, "I'm gonna go talk to the general and tell him that this gun's not working." Wahlberg told him to go marching into "General Dye's" office and tell him his gun wasn't working. When Madio did this, he recalls that he could've sworn he saw smoke come out of Dye's ears.
"He was like, 'You salute me. You say 'Sir.' I'm a captain and not a general, and that is a weapon, not a gun,'" he shares, adding that his punishment was doing even more pushups. Despite this mishap, Madio says he and Dye have remained good friends.
Working with veterans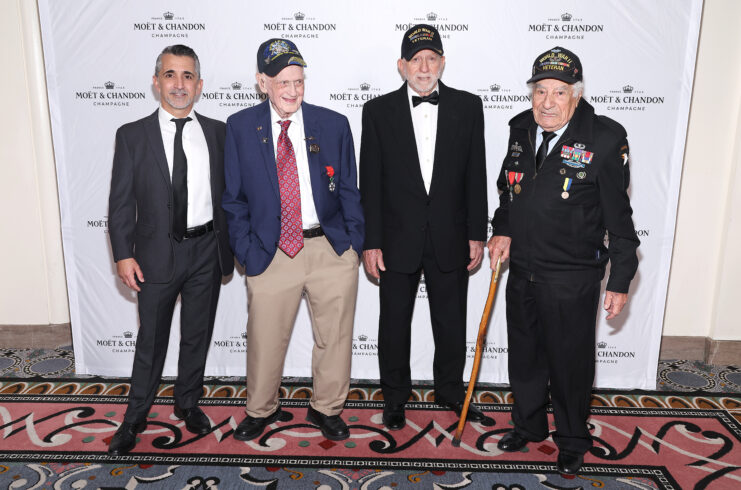 When Band of Brothers concluded, James Madio's involvement in the veteran community continued in other ways. Shortly after, he was invited to accompany Perconte to a WWII veterans reunion in Europe. Madio explains, "Frank had just lost his wife, and his son couldn't go on the tour. He asked me if I would go with him. I spent two weeks with Frank and the other vets as we went around Normandy, Holland and Germany. It was amazing."
Madio has been involved in many other reunions involving his fellow cast members throughout the years, and has taken every opportunity he can to honor soldiers of the Greatest Generation.
Ultimately, Band of Brothers has had a lasting effect on Madio, who explains, "It changed me as a young man. I was this kid from the Bronx with no education on World War II. I went to Europe for a year and got to meet these guys who fought there. It taught me respect and understanding for what they did. It shaped me into the man I am today."
Hear from James Madio himself
More from us: Why Was 'Casablanca' Banned In Germany?
Now that you've read about James Madio's involvement in both Band of Brothers and the veterans community, it's time to hear the actor speak for himself. In early 2023, the American Veterans Center sat down with Madio to discuss the series and how it's impacted his life, and the result is a truly powerful and insightful interview.