American Sniper (2014) is a biographical war film, directed and produced by Clint Eastwood. It focuses on the life of Chris Kyle, who claimed 255 kills while serving four tours as a sniper in Iraq; the Department of Defense has officially confirmed 160. American Sniper was a great box office success, and remains Eastwood's highest-grossing film to date.
The movie, based on Kyle's 2012 book, American Sniper: The Autobiography of the Most Lethal Sniper in U.S. Military History, turned the US Navy SEAL into a folk hero. Both the book and the film, however, have brought into question the claims Kyle made about his time overseas.
American Sniper (2014)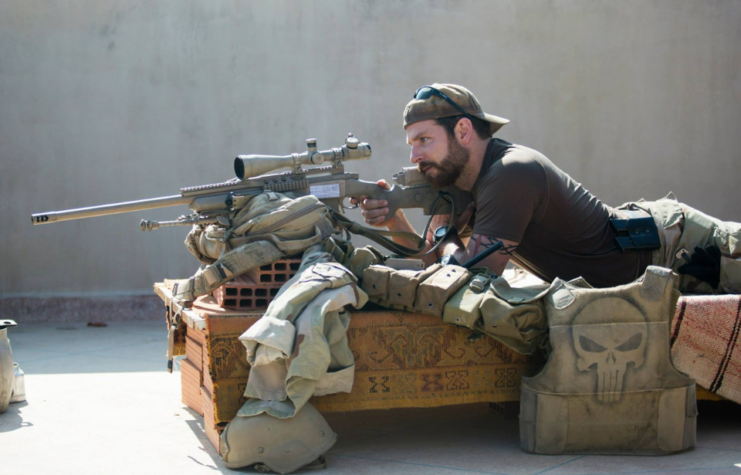 American Sniper follows Chris Kyle, portrayed by Bradley Cooper, from his early life in Texas, where his father taught him how to shoot, to his decision to enlist in the US Navy. From there, he completes the necessary training to become a Navy SEAL sniper. As he serves in Iraq, Kyle becomes one the most lethal snipers in US military history, with 160 confirmed kills. In Iraq, he also faces numerous challenges and witnesses the harsh realities of war.
The film explores Kyle's struggles with the moral complexities of his role as a sniper and the impact of his actions on both himself and those around him. It delves into the psychological toll of war and the challenges a large portion of servicemen face upon their return home, highlighting the strain on Kyle's relationships with his wife, Taya (Sienna Miller), and his comrades.
American Sniper also delves into the broader historical and political context of the Iraq War, touching upon the motivations and justifications for US military involvement. It provides a look at the internal struggle Kyle faces; his duty as a sniper and his desire to protect his comrades clashes with the ethical implications of his actions.
Upon its release, American Sniper made $547.4 million at the worldwide worldwide, becoming the second-most profitable movie of 2014. It also became the highest-grossing war film of all time, surpassing Steven Spielberg's Saving Private Ryan (1998). It received 10 awards and 23 nominations, including the Academy Award for Best Sound Editing, the MTV Movie Award for Best Male Performance and the National Board of Review (NBR) Award for Best Director.
Chris Kyle's service during the Iraq War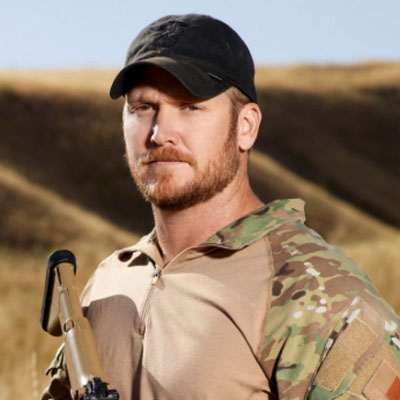 Chris Kyle initially expressed interest in joining US Marine Corps special operations. However, a US Navy recruiter convinced him to become a SEAL. He enlisted in 1998, and half a year later began Basic Training at Naval Station Great Lakes, Illinois. He completed this in April 1999, after which he underwent additional training and the 24-week Underwater Demolition/Sea, Air, Land (SEAL) training (BUD/S) at Naval Amphibious Base Coronado, California.
Following his graduation in March 2001, Kyle completed SEAL Qualification Training between May-August 2001. He was then assigned to Platoon Charlie (later Cadillac), Sniper Element, SEAL Team 3, and went on to serve four tours in Iraq. He arrived in Iraq's al-Faw Peninsula in March 2003, with his team joining the Marines on their march toward Baghdad. Kyle, as a sniper, moved from rooftop to rooftop, keeping an eye out for threats on the ground.
His first kill came while in Nasiriya. From a distance of 50 yards, Kyle saw a woman approach a group of Marines with a toddler in one hand and a grenade in the other. He was ordered to shoot, and while he initially hesitated, wound up pulling the trigger. The woman was killed, resulting in the grenade detonating after falling from her hand.
This was the first of many more shots Kyle would take in an effort to protect his fellow soldiers. Of his first kill, he said, "It was my duty to shoot, and I don't regret it. The woman was already dead. I was just making sure she didn't take any Marines with her."
Kyle became such an effective sniper that a $20,000 bounty was placed on his head by Iraqi insurgents. They also gave him the nickname "Al-Shaitan Ramad" – translating to the "Devil of Ramadi." Among his comrades, he was known as the "Legend."
Questions surround Chris Kyle's claims
Chris Kyle was, without a doubt, one of the deadliest snipers not only in the US Military, but in the world. The release of his book, along with the American Sniper film, cemented his legacy as an American folk hero. That being said, there are aspects of his story that have been brought into question, and many were found to be exaggerated.
For instance, Kyle wrote that he was awarded two Silver Stars and five Bronze Stars. His original Certificate of Discharge from Active Service confirmed he'd earned these medals. However, in 2016, the US Navy corrected his decorations to one Silver Star and four Bronze Stars with Valor.
Kyle also described a story he called "Punching Out Scruff Face." In it, a man he only refers to as "Scruff Face" is critical of the Iraq War and tells him that "you deserve to lose a few [guys]." The retired servicemen said his response was to punch the guy out. In 2012, he claimed the person in question was fellow Navy SEAL and famed wrestle Jesse Ventura.
Ventura subsequently filed a lawsuit for defamation, appropriation and unjust enrichment. Kyle died before it was settled, losing his life at the hands of a fellow veteran, and the lawsuit was transferred to his estate. In July 2014, a jury ruled in Ventura's favor, awarding him $500,000 for defamation and $1.34 million for unjust enrichment. Kyle's widow appealed the verdict, and the case was ultimately settled out of court.
Kyle's kill count has also been brought into question. Publisher Harper Collins stated that, "The Pentagon has officially confirmed more than 150 of Kyle's kills (the previous American record was 109), but it has declined to verify the total number for this book."
The retired Navy SEAL also wrote, "The Navy credits me with more kills as a sniper than any other American service member, past or present. I guess that's true. They go back and forth on what the number is. One week, it's 160 (the 'official' number as of this writing, for what that's worth), then it's way higher, then it's somewhere in between."
More from us: British Troops Were Ordered to Break Out Their Fixed Bayonets During the Iraq War
American Sniper provides a fairly accurate account of Kyle's service in Iraq, although it does present some exaggerations for the big screen. The film, however, stays away from the many claims that have since been brought into question.