Kenneth More was one of Britain's greatest actors, both on-stage and on the silver screen. He became a household name, but only after he served his country. A lieutenant in World War II, More applied his own military experience to the many roles he was cast in throughout his acting career.
Kenneth More came from a family of civil engineers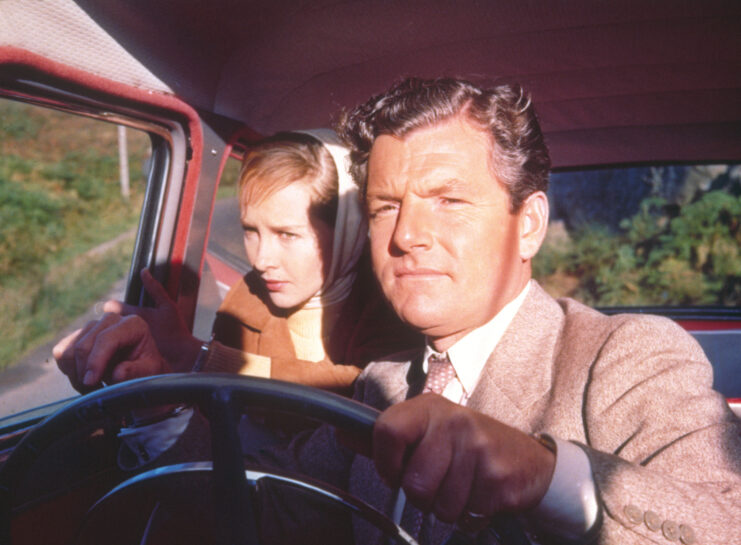 Kenneth More was born in Gerrards Cross, Buckinghamshire in 1914. His father was a naval pilot and civil engineer, and his grandfather, also an engineer, notably designed several bridges over the Thames.
As a young boy, More attended boarding school, but his education was cut short following his father's death. As a result, the 17-year-old's family could no longer support themselves, financially. More subsequently left school and attempted to join the Royal Air Force (RAF), but failed the entry medical test. He, then, decided to follow in his father and grandfather's footsteps, becoming an apprentice at Sentinel Wagon Works Ltd., in Shrewsbury.
More eventually gave up on his apprenticeship and, instead, became a Sainsbury's shop assistant. He even tried to obtain work in Canada as a fur trapper, but didn't have the proper immigration papers and was sent back to Britain.
The Windmill Theatre sparked Kenneth More's interest in acting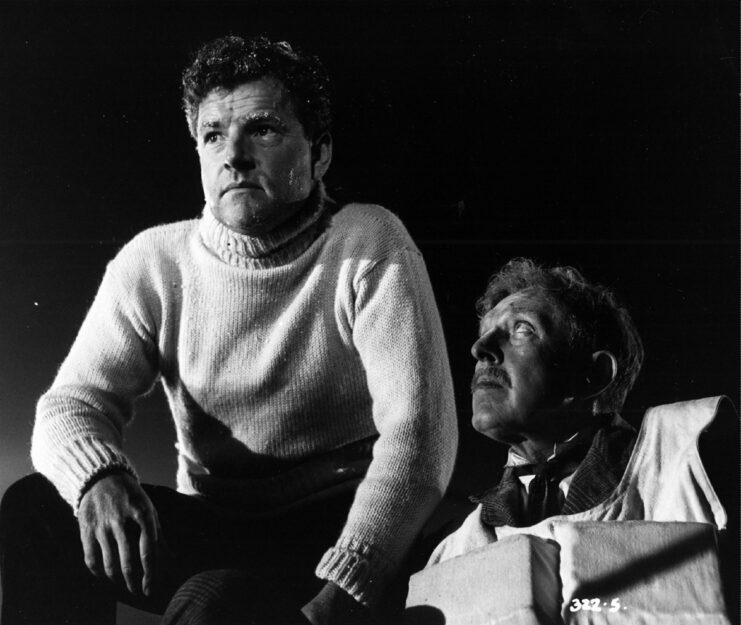 When Kenneth More returned from Canada, he acquired a job as a stagehand at The Windmill Theatre in London, thanks to an old business associate of his father. At first, he simply switched scenery and got nude actors off the stage during the theater's Revudeville shows, but he soon realized he wanted to take to the stage himself.
It didn't take long for this desire to become a reality, as More became a key actor in a routine comedy sketch show by 1935. He stayed at the theater for a year before branching out to other venues, performing in such plays as Burke and Hare and Dracula's Daughter.
While he worked on stage, More was also employed in Wolverhampton as an ambulance driver, but it was the outbreak of the Second World War that fully took him away from acting, at least for a few years.
Enlistment in the British Royal Navy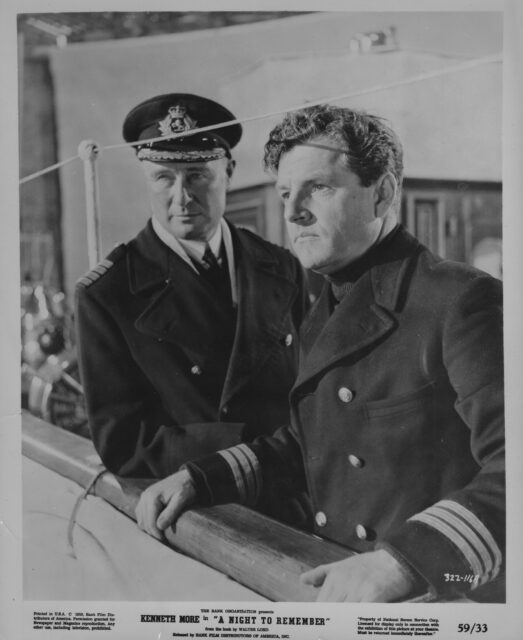 Kenneth More received a commission as a lieutenant in the Royal Navy. At first, he served aboard the cruiser HMS Aurora (12) as an officer of the watch, reporting nearby enemy activity to his shipmates belowdeck. Later, he served aboard the aircraft carrier HMS Victorious (R38).
Throughout his service, More saw action in the Atlantic, Pacific and Mediterranean. He participated in the bombardment of Sicily and helped transport King George VI to Malta. He was even on his way to Japan when the Americans dropped the atomic bomb on Hiroshima.
More earned three campaign stars for his contributions during the war. After being demobilized in 1946, he returned to Wolverhampton to, once again, work on stage through a repertory company.
Biggest star in Britain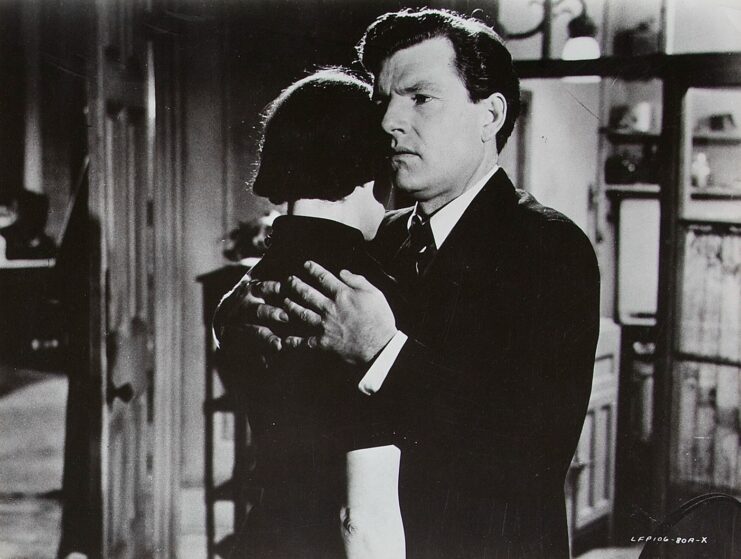 The timing of Kenneth More's return to acting was crucial to his success. He starred in the play The Silence of the Sea, which broadcast to television on June 7, 1946, the day British TV returned after the war. Following this, he performed in a number of other small screen roles.
More eventually made the jump to the big screen, starring in Scott of the Antarctic (1948), Man on the Run (1949) and Stop Press Girl (1949). He continued to act on stage, and became a household name for his portrayal of Freddie Page in The Deep Blue Sea (1952). More was able to bring authenticity to the role, courtesy of his war service, as Freddie was an ex-RAF pilot.
For his performance, critics hailed him as a talented new discovery. He actually critiqued this commentary, saying, "Critics hailed me almost as an overnight discovery, conveniently forgetting I was already thirty-eight, and that I had been working in the theatre for nearly twenty years."
More was later critical of this time in his life, saying, "I was late to arrive, and while I knew that at last I had reached a certain height in my profession, I still felt like a man on an unstable ladder. I could easily fall. What I needed urgently was to consolidate my good fortune before the ladder slipped. I could only achieve this through an audience wider than the theatre. I had to succeed in films."
The transition was rather easy, and he quickly rose to fame after starring as Ambrose Claverhouse in Genevieve (1953), which became the second-highest grossing film of the year and earned More an Academy Award nomination. His appearance as RAF fighter ace Douglas Bader in Reach for the Sky (1956) earned him even more popularity, as the movie was dubbed the most popular of 1956.
Until 1960, More was arguably considered the leading male film star in all of Britain, largely in part for his ability to bring his experiences during World War II to the big screen. Along with The Deep Blue Sea and Reach for the Sky, his other war movie roles included Morning Departure (1950), A Night to Remember (1958), Sink the Bismarck!, The Longest Day (1962) and Battle of Britain (1969).
Kenneth More's career steadily declined following the 1960s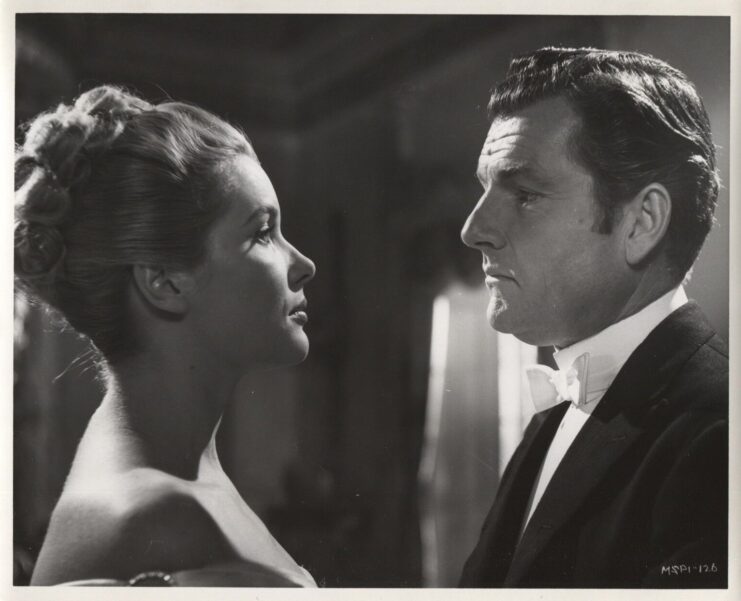 Unfortunately for Kenneth More, his career high wasn't long-lasting; as the 1960s approached, he became less and less popular. He starred in Man In The Moon (1960), which became the first box office flop of his career.
He just couldn't turn it around after that. More was originally meant to play Cpl. John Anthony Miller in The Guns of Navarone (1961), but after heckling the managing director of the Rank Organization entertainment conglomerate had the role taken from him and given to David Niven.
Some felt More's career declined as a result of his personal life. He had three marriages, with the third considered controversial. He left his second wife to be with his former co-star, Angela Douglas. When they first met on the set of Some People (1962), she was 22, while More was 46. Their marriage six years after their introduction caused them to become estranged from their friends and family, and it seems audiences also didn't receive them well.
When films roles stopped landing on his doorstep, More turned to television. His most notable role was his appearance in The Forsyte Saga (1967), which boasted 18 million devoted viewers during its several-month run. His last significant acting credit was the American TV adaptation of A Tale of Two Cities, which aired in 1980.
More from us: 'Perry Mason' Star William Hopper Received the Bronze Star During World War II
More developed Parkinson's disease in 1978 and didn't want the public to see his health decline. Over time, he became a recluse, and he eventually passed away in July 1982. It was later determined he wasn't only suffering from Parkinson's, but from multiple system atrophy (MSA), as well.