Former politician and US Army Reserve officer Tulsi Gabbard is garnering media attention following comments she made in a video posted to social media on December 8, 2021, in which she talks about the United States leading itself into a possible world war while in her service uniform.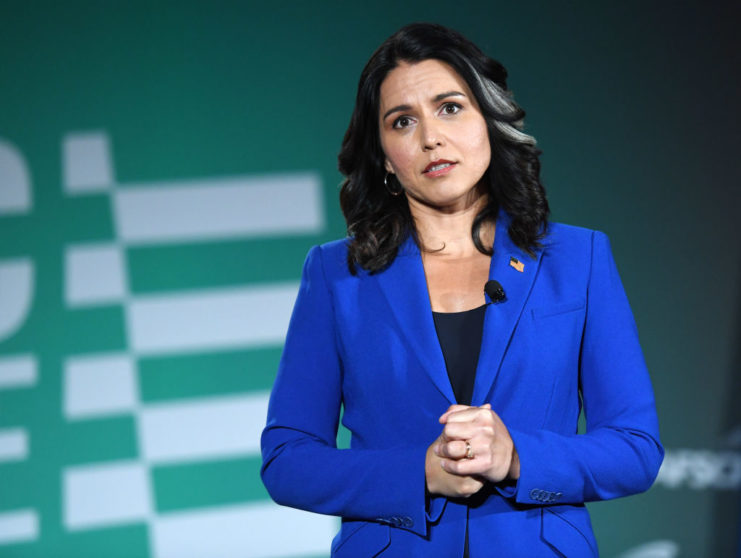 The video was followed up with two additional tweets. In it, she shared that she'd just completed her Army Reserve Duty at Fort Bragg in North Carolina, before segueing into her belief that the US might be nearing an event much larger and devastating than the Japanese attack on Pearl Harbor on December 7, 1941.
"I've been thinking about how infinitely greater the death and suffering will be if we allow the mainstream media, the military-industrial complex, self-serving politicians – if we allow them to lead us now into the apocalypse of World War III," she said. "So, now is the time for anyone who cares for their loved ones, who cares for our fellow Americans, who cares for all human beings and wildlife; now is the time to be reminded of the grim reality that we all face if we don't stop them."
However, she stopped short of explaining how US citizens should "stop" those she claimed to be involved.
I've been on Reserve duty at Ft Bragg, NC, thinking about Japan's attack on Pearl Harbor, my brothers and sisters in arms who perished, and how that day of infamy catapulted us into a world war which… (1/3) pic.twitter.com/C17j1VB2rL

— Tulsi Gabbard 🌺 (@TulsiGabbard) December 8, 2021
Tulsi Gabbard joined the Hawaii Army National Guard in spring 2003, and just over a year later was deployed on a 12-month tour in Iraq, where she served as a specialist with Medical Company, 29th Support Battalion, 29th Infantry Brigade Combat Team. She was stationed at Logistical Support Area Anaconda and completed her deployment in 2005.
Gabbard went on to serve in Kuwait after completing training at the Accelerated Officer Candidate School at the Alabama Military Academy and enlisting with the 29th Brigade Special Troops Battalion, 29th Infantry Brigade Combat Team of the Hawaii Army National Guard.
She continued to serve in the Hawaii Army National Guard until being transferred to a California-based Army Reserve unit assigned at the US Army Civil Affairs and Psychological Operations Command in June 2020.
Along with her military service, Gabbard was a Representative for Hawaii from 2003 to 2021 and vied for the Democratic presidential nomination during the 2020 election.
…the apocalypse of World War 3. It's time for anyone who cares about their loved ones, other Americans, and all human beings and wildlife, to wake up to this very grim reality of what lies ahead if we don't stop them. (3/3)

— Tulsi Gabbard 🌺 (@TulsiGabbard) December 8, 2021
When asked about the video, Army Reserve spokesman Lieutenant Colonel Simon B. Flake said that Gabbard's words do not reflect the overall sentiments of the Army Reserve. In a statement to Task & Purpose, 1st Special Forces Command (Airborne) spokesperson Major Dan Lessard said:
"We are aware of a video posted by Lt. Col. Tulsi Gabbard, a U.S. Army Reserve officer currently assigned to this command, to her personal social media pages Dec. 8, and we're considering her statements in the context of Department of Defense and Army policies."
At present, it has not been announced if Gabbard will face disciplinary actions for her comments. However, in an interview with Task & Purpose, retired Marine Colonel David Lapin, a former Pentagon spokesman, said her statement likely violates the military's policy preventing troops from making political statements while wearing their uniforms, as well as the Department of Defense's instruction on wearing military uniforms.
The latter states soldiers may not wear their uniforms "during or in connection with furthering political activities, private employment, or commercial interests, when an inference of official sponsorship by DoD or the military service concerned for the activity or interest may be drawn."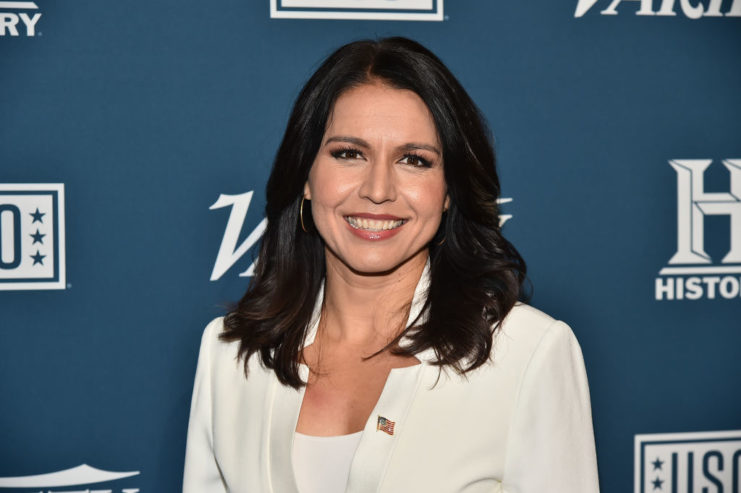 This isn't the first time Gabbard has skirted the military's policies regarding prohibited political activities. In 2018, she was told by the Hawaii Army National Guard to take down campaign material featuring her in uniform or add a disclaimer saying the military was not endorsing her as a candidate.
Her most recent comments have garnered support from followers. One user tweeted that "she's a warrior. She's smart. She's beautiful. And she's right," while another said, "We find ourselves, like the Japanese in 1941, succumbing to the hubris of believing that we are so powerful that we can win any war at any distance against any other great power. As you say, Major, the consequences can very easily result in Armageddon."
However, others have called her out on the vagueness of her comments. One Twitter user said, "I don't disagree about not being led into war, but this is rather ambiguous." Another voiced a similar sentiment, "Why do I have such mixed feelings about you? I can't resist a fellow war veteran interested in peace. Are you for real or are you grandstanding? Considering the stakes this is a very serious question."
Gabbard has yet to comment on the reaction to her video.