A video uploaded to YouTube by Ukrainian media outlet Militaryni is making waves for allegedly showing a Ukrainian officer trolling Russian tech support after a captured T-72B3 tank began to experience a litany of problems. What's more, he actually received help.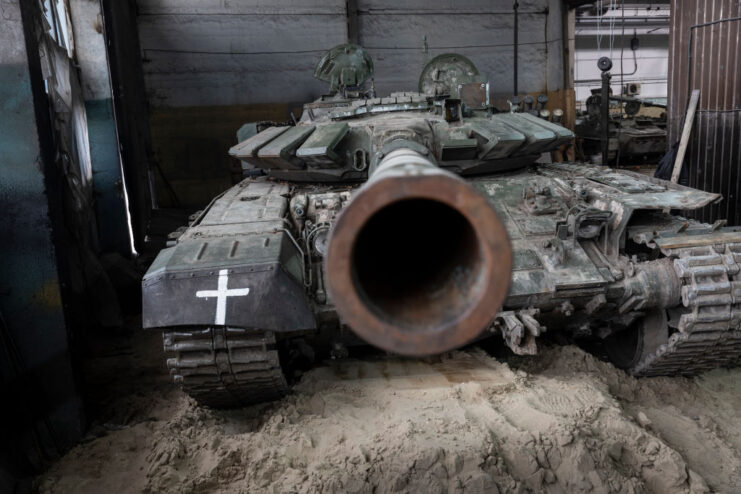 The Ukrainian officer in question, who goes by the call sign "Kochevnik," serves with the 54th Mechanized Brigade, which has been involved in the intense fighting in and around Kramatorsk, in eastern Ukraine.
So far in the Russo-Ukrainian War, the Ukrainian forces have captured approximately 200 Russian T-72B3s, which have been operated by the Russian military throughout the conflict. Unlike other Soviet-era weapons and vehicles, however, the former doesn't have much experience with this specific tank, meaning officials aren't always sure how to rectify issues when they arise.
While his intention with the call to tech support was to troll the Russians, the problems Kochevnik discussed were very real – not only were the T-72B3's compressors not working, but the tank was dripping oil and its electrical turret-rotation mechanism kept failing.
Kochevnik was connected to a man calling himself Aleksander Anatolevich, who evidently was unaware that he was a Ukrainian soldier. After listening to his gripes, Anatolevich promised to bring up the issues with both the design bureau in Nizhny Tagil and the engine manufacturer in Chelyabinsk.
However, Kochevnik wasn't done. He then got ahold of a Uralvagonzavod director named Andrey Abakumov, who asked him to provide more details about the T-72B3's problems via WhatsApp.
At the end of both calls, the Ukrainian officer informed the Russians on the other end who he was, ending one call with, "When we take more of these tanks as our trophies, make them better so that it will be easier for us to operate them. Agreed? Thank you very much. Take care of yourselves. Glory to Ukraine."
The T-72B3 is built by Uralvagonzavod in Nizhny Tagil. The base model of the main battle tank, the T-72, entered production in 1969, having been developed from the much more costly T-64, and over 25,000 have been manufactured in the decades since.
The T-72B3, in particular, is an updated version of the T-72B, with the intention being to equip it with the same armament and parts as the T-90A, which entered service with the Russian military in 2004. It was also given a much more powerful engine and steering system, among several other upgrades.
More from us: Oliver Hazard Perry Shipyard Vying to Become New Home of the USS Halyburton (FFG-40)
The T-72B3 was updated in 2022 to the T-72B3M, using combat experience and information gathered during the first year of the Russo-Ukrainian War. The "M" features updated weapons and parts used by the T-90M.