An African war veteran in his 90s marched to victory against Covid-19. And he's received a special letter from Prince Harry and Meghan Markle recognizing his efforts!
Private Joseph Hammond from Ghana decided to put one foot in front of the other, raising money for those in need during the current world crisis.
At the age of 95, when most people would be thinking of staying indoors, Pte Hammond ventured out to cover 23 km. A crowdfunding target of just over $600,000 was set.
He had an ankle-straining objective of 2 miles per day for 7 days, which he managed with aplomb. At time of writing, the amount on his JustGiving page stands at approx $46,000.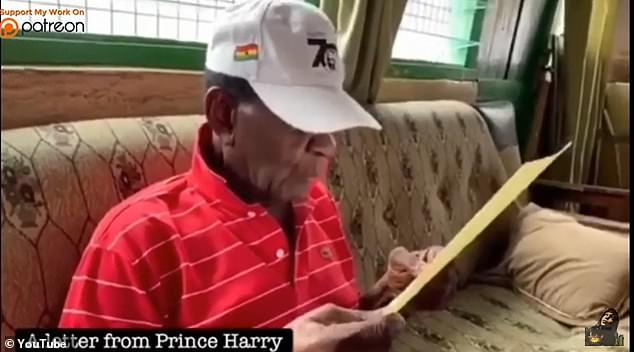 He undertook this epic task alongside the GUBA Foundation, a charity which helps African communities around the world.
Frontline workers and veterans are to be recipients of the money. "I fought in the war which ended 75 years ago" he says in the explanatory video. "Now we are faced with another invisible war… kick away Covid-19 from Africa".
Hashtag #WALKwithHAMMOND promoted the move on social media. T
England's Colonel Tom Moore – now a Sir – was the inspiration behind Pte Hammond's idea. Moore, 100, raised many millions of pounds by walking laps of his 25 m long garden. Like Moore, Hammond served in Myanmar (then Burma) during World War II.
While this extraordinary individual might have expected recognition, a letter from the Duke and Duchess of Sussex wasn't quite what he had in mind.
As posted on Twitter, a video shows Pte Hammond reading the opening of a truly unexpected delivery: "Meghan and I send you our warmest wishes…" he begins. When it dawns on him what exactly he's holding, Hammond lets out a celebratory whoop!
The walking wonder also expressed his appreciation via the platform: "I received a letter from Prince Harry today. This is such a wonderful surprise. It is absolutely marvellous and I will hold this in my heart forever. I will like to thank Prince Harry for this amazing gift."
A follow up post on YouTube shows the proud Private framing the precious letter. "He is a great soldier," Hammond comments. "I am very proud of him.
When I met him last November I was extremely happy." Another has him sending a present to their son Archie and highlighting the special day, a Monday. Hammond explains how those born on Monday are "loyal, dependable and caring". Ghanaian tradition refers to such children as "Kojo", or "associated with peace".
The Prince and the veteran met face to face, at a Commonwealth soldiers' event in happier times. "I glued myself to him because he is also a soldier," said Hammond, quoted by CNN, adding "he's been to Afghanistan, and we spoke about the military, my battalion."
Al Jazeera wrote last month, "The World Health Organization has called for vigilance, warning that COVID-19 could kill up to 190,000 people in Africa and infect between 29 million and 44 million in the first year if containment measures fail." Hammond's crowdfunding challenge will hopefully provide a literal lifeline to those struggling.
The worldwide response to Coronavirus demonstrates humanity's exceptionally giving nature. Just because someone is around a century old, doesn't mean they've lost the fight.
"In Russia, Zinaida Korneva, a 97-year-old WWII veteran, is recounting her war stories on social media to raise money for the families of doctors who died of coronavirus" says Al Jazeera.
Meanwhile, "In the UK, 100-year-old Dabirul Choudhury walked laps of his community garden while fasting for the holy month of Ramadan to raise money for COVID-19 victims."
Corsair For Sale – Yours for $3.5 Million
Pte Hammond has played his small but significant part in tackling the issue. It's only right that he is acknowledged for his bravery by the highest quarters.