US President Joe Biden has signed a bill authorizing the construction of a monument in Washington, D.C. dedicated to the recipients of the Medal of Honor, the US military's highest award for valor in combat.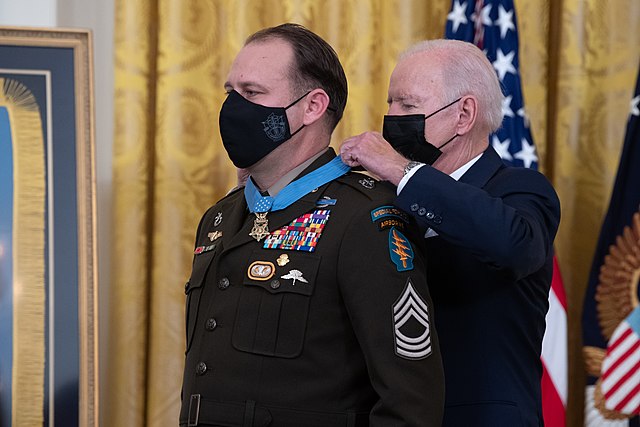 The legislation was introduced to the US Congress by Rep. Marc Veasey (D-Fort Worth) and Sen. John Cornyn (R-TX), with support from Rep. Blake Moore (R-UT) and Sen. Tim Kaine (D-VA). According to a press release from the White House, the bill, known as the National Medal of Honor Monument Act, will "establish a commemorative work to honor Medal of Honor Recipients" at the future Medal of Honor Museum in Arlington.
"An homage to America's Medal of Honor recipients in our nation's capital will remind visitors and residents alike of what it means to put your country first," wrote Cornyn in a statement. "The selfless servicemembers who have earned the Medal of Honor – like the fabled Patrick Brady and Audie Murphy, to name a few – deserve our utmost respect and recognition, and I applaud the Foundation, which calls Arlington, Texas home, for their hard work and advocacy."
Thank you, @POTUS for signing my bill, the National Medal of Honor Monument Act, into law which will create a monument in D.C. honoring some of our nation's most distinguished veterans and servicemembers!

— Rep. Marc Veasey (@RepVeasey) December 27, 2021
According to the National Medal of Honor Museum Foundation, no federal funds will be allocated to the monument's construction, with the foundation itself responsible for raising the money needed. Since the Medal of Honor was introduced in 1851, fewer than 4,000 American servicemen have been awarded it. Its most recent recipients include Master Sgt. Earl Plumlee, Sfc. Alwyn Cashe and Sfc. Christopher Celiz.
"Recognition in our nation's capital for those who received our country's highest award for valor in combat is long overdue," said the National Medal of Honor Museum Foundation's president and CEO, Chris Cassidy. "Thank you to President Biden for swiftly signing this bipartisan legislation. We are ready to recognize the valor of these great heroes and all those they served alongside with a place of inspiration on the National Mall in Washington, D.C.
"More importantly, this monument will be a beacon for the enduring values the Medal of Honor represents: courage and sacrifice, commitment and integrity, citizenship and patriotism."
The National Medal of Honor Museum was announced in 2019 and will be designed by architect Rafael Viñoly. Scheduled to open in 2024 in Arlington, it will feature a state-of-the-art Education Center, exhibition galleries, an outdoor amphitheater for ceremonies, and conference and event space.
A specific site for the monument has yet to be determined. According to Cornyn's office, it will be a living memorial, aimed at honoring the growing list of Medal of Honor recipients, and will serve as a place of reflection to highlight their service.