A discovery dating back to the mid-1800s has been made in rural Kentucky. A man, who's chosen to remain anonymous, has unearthed a hoard of American Civil War-era coins that's estimated to be worth around $2 million – a truly incredible find!
The hoard of Civil War-era coins, discovered in 2023, has since been certified by the Numismatic Guaranty Company (NGC), which has nicknamed the 700-piece discovery, "The Great Kentucky Hoard."
In a video uploaded to the GovMint YouTube channel, the unidentified man is heard saying, "This is the most insane thing ever. These are all $1 gold coins, $20 gold coins, $10 gold coins and, look, I'm still diggin' them out."
Among the coins unearthed include hundreds of US gold dollars dating back between 1850-62, twenty $10 Liberty coins from 1840-62, several Gold Liberty Double Eagles from 1863, eight $20 Liberty coins dating back to 1857-62, a number of silver coins and an additional eighteen 1863 $20 Liberty coins. According to GovMint, the latter can sell for prices in the six-figures.
GovMint adds that each coin was struck with 90 percent gold at the Carson City, Denver, San Francisco, Philadelphia, Denver or New Orleans Mints. Given their quality, it's likely they were lightly circulated before being buried, with some possibly not even seeing circulation. What's more, they don't feature the phrase, "In God We Trust," which was added to American currency after the Civil War.
Speaking in a press release from NGC, rare coin dealer Jeff Garrett, with whom the coins were entrusted, said, "While I'm always excited when someone calls asking for advice about a rare coin discovery, the opportunity to handle the Great Kentucky Hoard is one of the highlights of my career.
The importance of this discovery cannot be overstated, as the stunning number of over 700 gold dollars represents a virtual time capsule of Civil War-era coinage, including coins from the elusive Dahlonega Mint. Finding one Mint condition 1863 Double Eagle would be an important numismatic event. Finding nearly a role of superb examples is hard to comprehend," he added.
In an interview with the New York Post, Andy Salzberg, the executive vice president of the Certified Collectible Group, said the Civil War-era hoard contains coins that are "remarkably well preserved," adding they have "an astonishing luster and newfound freshness" that's "rarely observed" in older coins.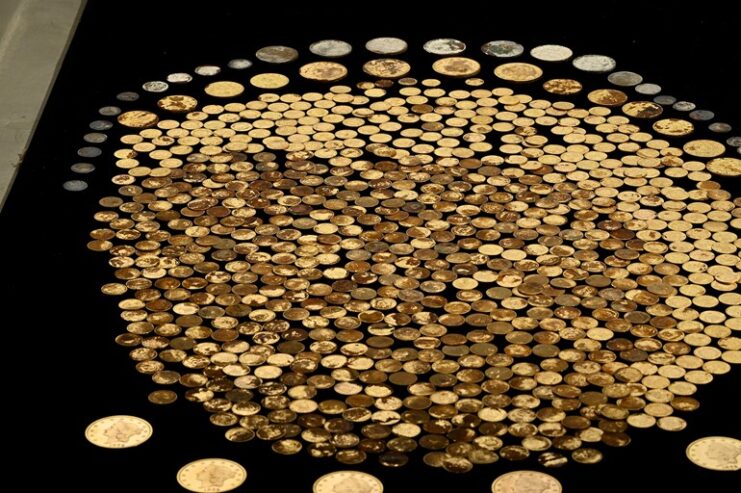 During the Civil War, Kentucky declared itself as neutral, meaning it didn't secede to join the Confederacy, nor did it support the Union forces. Worried about their money falling into the hands of Confederate soldiers, it's rumored that wealthy residents took it upon themselves to bury their wealth.
Speaking with Live Science, Ryan McNutt, a conflict archaeologist at Georgia Southern University who hasn't seen the hoard himself, said the discovery in Kentucky and the time period to which it dates makes it "entirely possible this was buried in advance of Confederate John Hunt Morgan's June to July 1863 raid."
Occurring from June 11 to July 26, 1863, Morgan's Raid saw Brig. Gen. John Hunt Morgan lead the Confederate cavalry through Indiana, Kentucky, West Virginia and Ohio. While ultimately deemed a failure, it saw Morgan's men captured 6,000 Union and militia fighters, disrupt railroad service, destroy over 30 bridges and divert tens of thousands of Union soldiers.
More from us: World War II-Era Hawker Hurricanes Found Buried In Ukraine
It's estimated the 700 coins could be worth upwards of $2 million. Those interested in purchasing them can contact GovMint via telephone at +1 (888) 870-6339.