The 16th Combat Aviation Brigade is using Black History Month to raise awareness about the accomplishments of the African-American service members who fought before them.
The project is launched in recognition of Black History Month
Speaking with Task & Purpose, Capt. Kyle Abraham, a public affairs officer with the brigade, said the idea was inspired by a similar photoshoot done two years prior. In it, soldiers recreated an iconic image of the Red Tail Squadron – better known as the Tuskegee Airmen.
This prompted Abraham and another public affairs noncommissioned officer, Staff Sgt. ShaTyra Reed, to begin work on this year's project, which spans the month of February. The aim? To highlight the accomplishments of Black service members the wider population might not know about.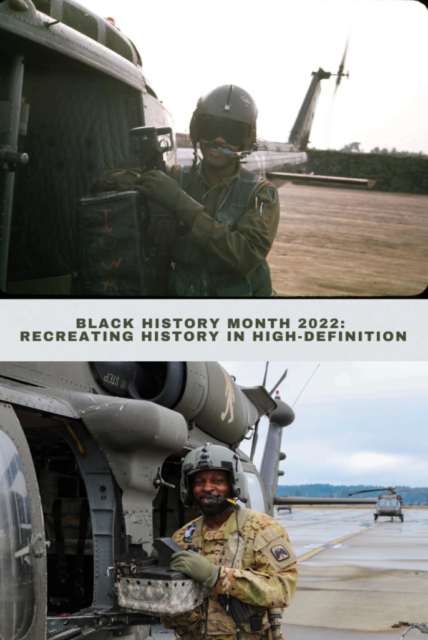 The project debuted on social media on February 1, 2022, with the brigade tweeting, "February is #Blackhistorymonth2022, and we would like to recognize and honor the Soldiers that served in the past by recreating moments with Soldiers from the present."
The first batch of images are published on social media
The month kicked off with the recreation of a photo of Lt. Col. Marcella A. Hayes Ng. In 1979, she became the first Black female to earn aviator wings with the Armed Forces, following her completion of Army helicopter flight training at the US Army Aviation Center of Excellence and Fort Rucker. She retired in 2000, after 22 years of service.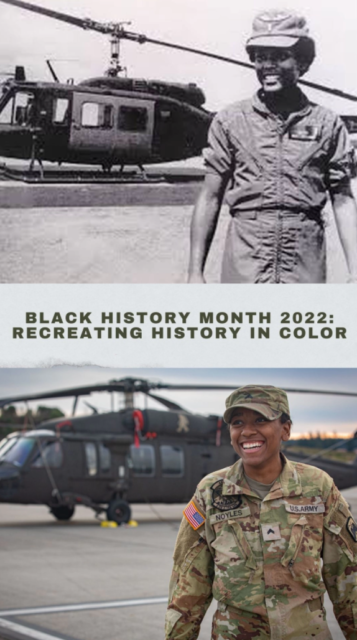 Cpl. Kaya Noyles, who recreated the image, currently serves with the 2-158th Assault Helicopter Battalion. She shared how much of an inspiration Hayes and others like her have been during her time in the military:
"People like Marcella Hayes inspire and motivate me to keep going because they make me realize the sky is the limit. Females are already scarce in Army Aviation whether enlisted, commissioned, or warrant. Black females are a rarity. Being able to exceed the standard and reach all my goals as an Army aviator shows the next little girl or boy of color that despite the obstacles we may face in any profession, they are just as capable as I am, if not more.
"That is what the Black aviators before me did and that is what I strive to do for the ones after me."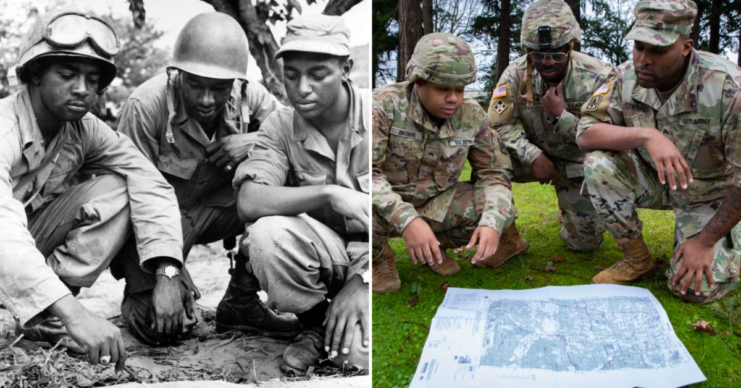 The second recreation dates back to the Korean War, which was the first American conflict to feature desegregated units. In it, Cpl. Zavier Brown and Sergeants Donell Gaiter and Dustin Edwards are standing in the places of 1st Lieutenants Oliver Dillon, Ernest Robinson, and Walter Redd, who were assigned to the 24th Infantry Regiment in August 1950.
Dillon graduated from the Tuskegee Institute in 1946 and was commissioned as a second lieutenant in the US Army Air Corps. He retired after 27 years.
Recreating images from the Vietnam War
The next batch of recreations is of photos from the Vietnam War. This was an important era for African-Americans in the military, as it was the first time they could serve as helicopter pilots during combat operations.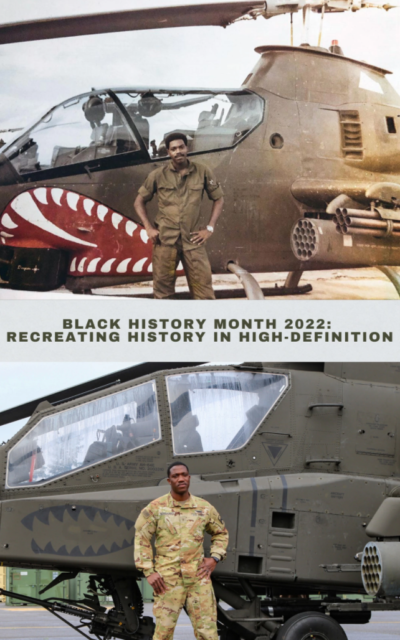 The first two feature UH-60 Black Hawk pilots Chief Warrant Officer 2 DeBrandon Perryman, assigned to B Company, and Chief Warrant Officer 2 Brandon Holliday, assigned to A Company, 2-158th Assault Helicopter Battalion, posing as Warrant Officer Raymond Wilson, who was assigned to the 12th Combat Aviation Group during the war.
While in school to become a schoolteacher, Wilson enrolled in private flying lessons. After an instructor introduced him to a recruiter, he made the decision to join the Army. Following Vietnam, he served 22 years, with roles as a MEDEVAC pilot, a flight school instructor, and as Chief Warrant Officer.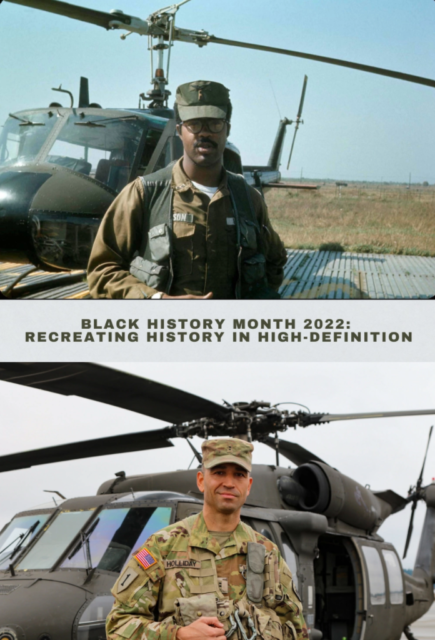 Perryman and Holliday then teamed up with Warrant Officers 2 Jeff Barnes and Daniel Nembhard, AH-64 Apache pilots, to recreate a photo of Warrant Officers Clyde Romero, James Casher Jr., Eldridge Johnson, and Bob Farris. The four were assigned to C "Condor" Troop, 2nd Squadron, 17th Cavalry Regiment, 101st Airborne Division in 1971.
Romero flew 1,100 hours of scout missions while serving in South Vietnam and over his 26 years of service was presented with many decorations, including the Silver Star, the Purple Heart, and the Bronze Star. Eldridge served his first tour of Vietnam as a door gunner aboard Bell UH-1 Hueys, the Hughes OH-6 Cayuse, and Bell 47s. He dreamed of becoming a helicopter pilot, which he achieved after much perseverance and training.
Farris was obsessed with aircraft and graduated from junior college with a degree in engineering. After completing training, he was sent to Vietnam to fly UH-1 Hueys. Both he and Romero fought during the Cambodian campaign, before being transferred to the 101st Airborne Division.
Casher kept quiet about his military service following his retirement. His neighbors didn't know about his actions in Vietnam until after his death in 2011.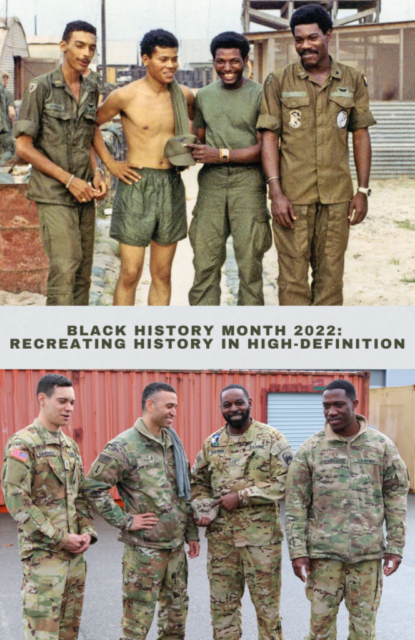 Following this, Chief Warrant Officer Cheddie Wilson Jr., an Apache pilot assigned to A Company, 1-229th Attack Battalion, recreated an image of Romero, while Nembhard did the same with one of Farris. Chief Warrant Officer 2 David Monplaisir, an Apache pilot assigned to the battalion's C Company, recreated a photo of Johnson.
Red Ball Express
As of February 22, 2022, the final image to be published features Sgt. Xavier Lewis, a wheeled vehicle mechanic with Headquarters Company Support, 46th Aviation Support Battalion, recreating a photo of a Red Ball driver, who conducted vehicle maintenance on the Red Ball Express highway during the Second World War.
As the post reads, "The Red Ball Express was a truck convoy system made predominantly of Black drivers from the Army Quartermaster Corps who served as the supply route of Patton's Third Army. The men carried critical supplies inland from St. Lô, France, to 28 American divisions that had broken through the beaches of Normandy and were racing across Western Europe in pursuit of retreating German forces."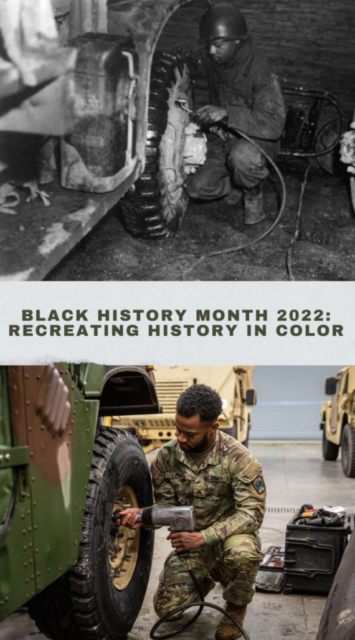 The project has been positively received, with many commenting on the important legacy the recreations are bringing to light. To learn more about the project, visit the 16th Combat Aviation Brigade's Facebook and Twitter pages.