Pascal Cleatus Poolaw was a veteran of WWII, the Korean War, and the Vietnam War, receiving the Purple Heart in each. Over his military career, he earned over 40 medals and is known as the most decorated Native American soldier in US history.
Among these awards was a Distinguished Service Cross, four Silver Stars, and five Bronze Stars.
Second World War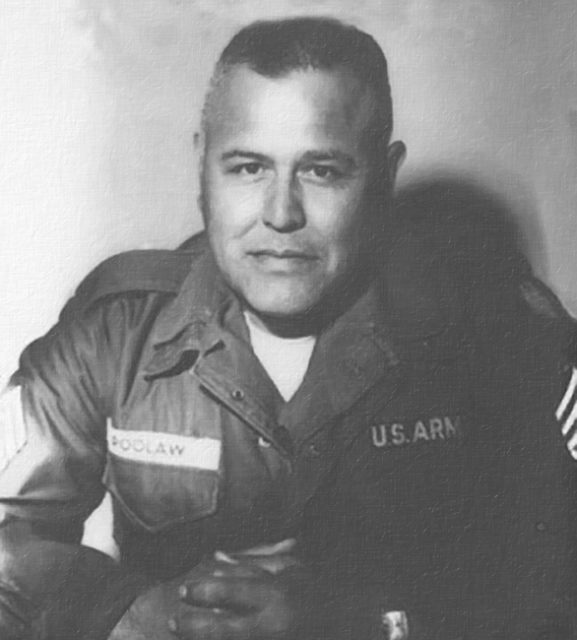 Poolaw was born in Apache, Oklahoma on January 29, 1922, as a member of the Kiowa tribe. In 1940, a year before the US entered WWII, Poolaw married Irene Chalepah and the two had four sons together: Lester, Pascal Jr., Lindy, and Donnie.
He enlisted in the US Army in 1942, wanting to join his father and two brothers who were already serving. In September of 1944, Poolaw was injured in combat against the Germans, for which he received his first Purple Heart. Not long after this, he was awarded his first Silver Star for his actions near Recogne, Belgium. As part of Company M, 8th Infantry Regiment, Poolaw ensured the forward movement of his unit during an attack on a German position while under heavy fire. He neutralized the threat with hand grenades.
Korean War
After making it through WWII Poolaw carried on in the Army and was eventually deployed to Korea to fight in the Korean War. It was in Korea that he earned his second Purple Heart and the Distinguished Service Cross (DSO).
In addition to this, he was awarded two Silver Stars for his extreme bravery. One of these was awarded for his actions on September 19, 1950, where he lead his men on a mission that penetrated the enemy's defensive line and engaged them in vicious hand-to-hand combat.
His bravery inspired his men and they held onto their position and enabled the successful completion of the mission.
His second Silver Star came on April 4, 1951, after another display of selflessness and bravery. Poolaw's platoon became pinned down by enemy explosives and machinegun fire near Chongongni, Korea. To break the stalemate, Poolaw left his position and diverted the enemy's fire towards himself, allowing his men to move to better locations.
He returned to the US in 1952 and stayed in the military for another decade, retiring in 1962. However by this point, the Vietnam War was in full swing, and it would soon be his sons that would be exposed to the harshness of war.
Vietnam War
Poolaw's son, Pascal Jr., had signed up to the Army and was participating in the fighting in Vietnam. In 1967 Pascal Jr. was injured by a landmine, which resulted in the amputation of his right leg below the knee.
Shortly after this, Poolaw's youngest son Lindy was drafted into the military. With one son physically changed for life by war, and understanding the dangers involved, he chose to rejoin the Army and go overseas instead of Lindy. Regulations at the time forbid two members of the same family from serving in action at the same time without consent. Poolaw relied on this to spare his son.
But it was too late. When Poolaw arrived on the West Coast to be deployed to Vietnam, he discovered Lindy had already been shipped out. He decided to go regardless.
He was deployed to Vietnam on May 31 1967 as the first sergeant of the 26th Infantry Regiment's C Company. On November 7, 1967, four months after arriving, Poolaw and his unit were ambushed by a much larger Viet Cong force near the village of Loc Ninh.
His men were pinned down, but like in Korea, Poolaw exposed himself to enemy fire to reach the lead squad, who he had set up a base of fire. During the fight Poolaw moved around his men, repositioning them were necessary and dragging the wounded to safety.
While dragging a wounded soldier, Poolaw was killed by a Viet Cong soldier.
For his extreme bravery, he was posthumously awarded his fourth Silver Star.
At his funeral, his wife Irene said "He has followed the trail of the great chiefs. His people hold him in honor and highest esteem. He has given his life for the people and the country he loved so much."