During the Korean War, there was one Marine who stood out from the rest. Not only for her skill and bravery, but because she was a horse. Sergeant Reckless served with the US Marine Corps for years, facing intense enemy fire while participating in one of the most storied engagements of the conflict. She became highly-decorated for her service, and lived a long and prosperous life following the close of the war.
Sergeant Reckless was meant to be a racehorse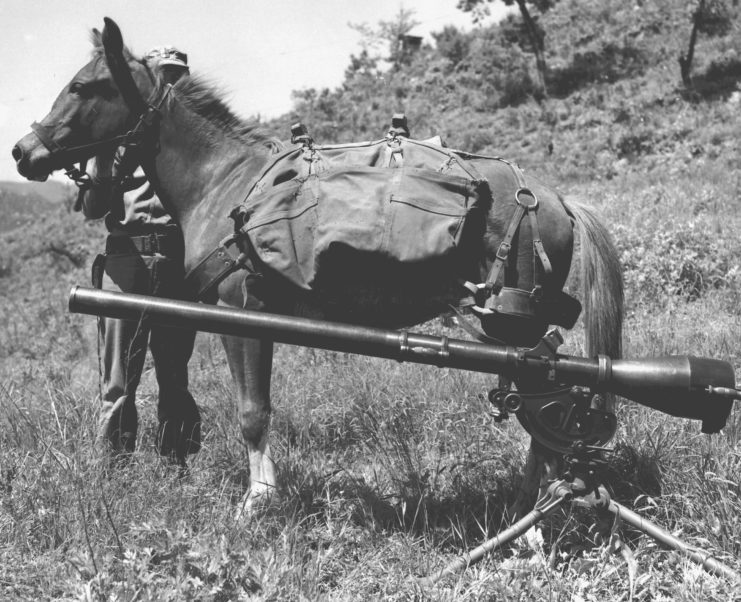 Sergeant Reckless was a chestnut mare born in June 1948. She was meant to be raised as a racehorse by the name Ah Chim Hai – or "Morning Flame," in English. Her stablehand, Kim Huk-moon, was training her when Lt. Eric Pedersen of the Recoilless Rifle Platoon, Anti-Tank Company, 5th Marine Regiment, 1st Marine Division went searching for a horse in 1952. The former needed money to pay for a prosthetic leg for his sister and sold the animal to Pedersen for $250.
Pedersen intended to use the horse to carry the six-foot recoilless rifle his platoon operated, which weighed over 100 pounds and required 75 mm shells, which themselves weighed 24 pounds a piece. The weapon required three to four Marines to carry it and was a risk to transport through battlefields. However, it was necessary during the Korean War, as it fired with striking precision.
By purchasing the horse, renamed Reckless, the platoon was able to transport the rifle more efficiently through terrains that were inaccessible by vehicle.
Sergeant Reckless attended 'hoof camp'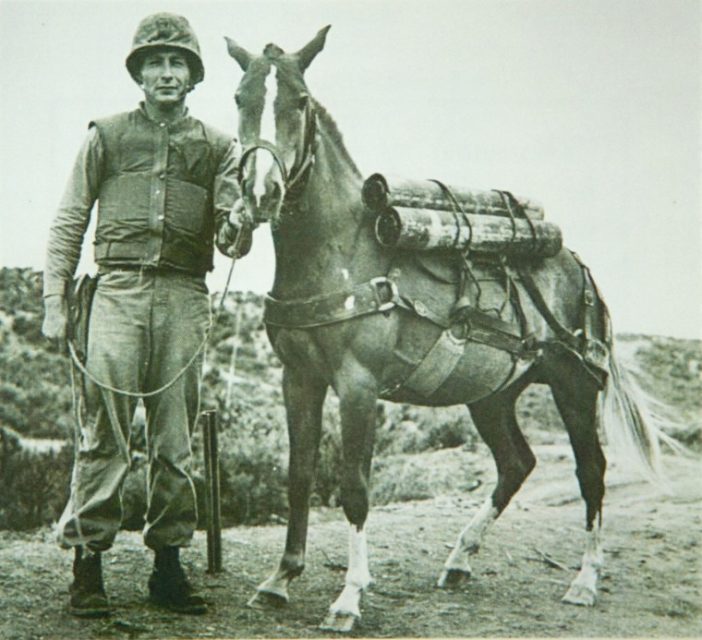 When Reckless joined the US Marine Corps, she was put through an equine boot camp dubbed "hoof camp." Gunnery Sgt. Joseph Latham and others from the Recoilless Rifle Platoon helped prepare and train the horse for the realities of war.
Beyond being trained to carry their equipment, Reckless was taught how to perform the same tasks as the Marines. "[Latham] taught her to step over communication lines and barbed wire," wrote Robin Hutton, author of Sgt. Reckless: America's War Horse. "He yelled, 'Incoming!' and she would run to a bunker and get down. She learned how to lay down in a trench for cover."
Reckless also learned how to understand various hand signals and how to find her way back to the platoon, if necessary. "The Marines became her herd, and she would follow them everywhere. She became one of the guys," explains Hutton.
She truly did become one with the Marines, sleeping in their tents and dining with them in the mess hall. Her diet was that of a Marine, and she enjoyed a hearty breakfast of bacon, eggs and coffee. She would snack on candy bars and enjoyed the refreshing taste of Coca-Cola, and would mess around by munching on hats and blankets, as well.
Battle for Outpost Vegas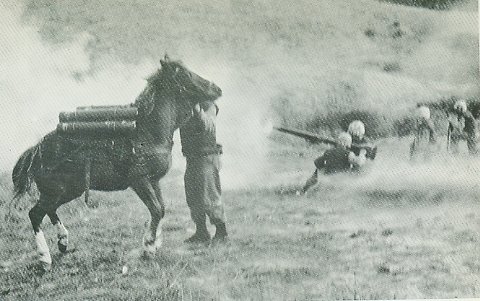 Reckless had already been exposed to enemy fire when she was sent to serve in one of bloodiest battles of the Korean War. During the five-day Battle for Outpost Vegas in March 1953, the US saw over 1,000 casualties, while the Chinese suffered more than twice that amount.
On the second day of the battle, Reckless made 51 trips across rice paddies and mountain trails that inclined at a steep 45-degree angle. She hauled supplies and ammunition weighing over 9,000 pounds to the front, and transported wounded soldiers to safety.
Originally led by a Marine, the horse eventually had to make her treks alone, and she crossed no man's land fearlessly to support her comrades. Such journeys, however, weren't without their dangers, with Reckless being wounded twice. She was hit above the eye and on her left flank, yet continued to make trips through the "smoking, death-pocked rubble" on her own volition. "Horses are flight animals, but Reckless ran toward the danger because she knew the guys needed her," Hutton explains.
Reckless's service was so valuable that, after two years, the commander of the 1st Marine Division gave her an official battlefield promotion. From then on, she was to be referred to as Sergeant Reckless. Her platoon took the rank very seriously. Anyone who dared to disrespect it was issued a court martial, and there was a standing court order that no one was allowed to ride her.
Sergeant Reckless traveled to the United States after the Korean War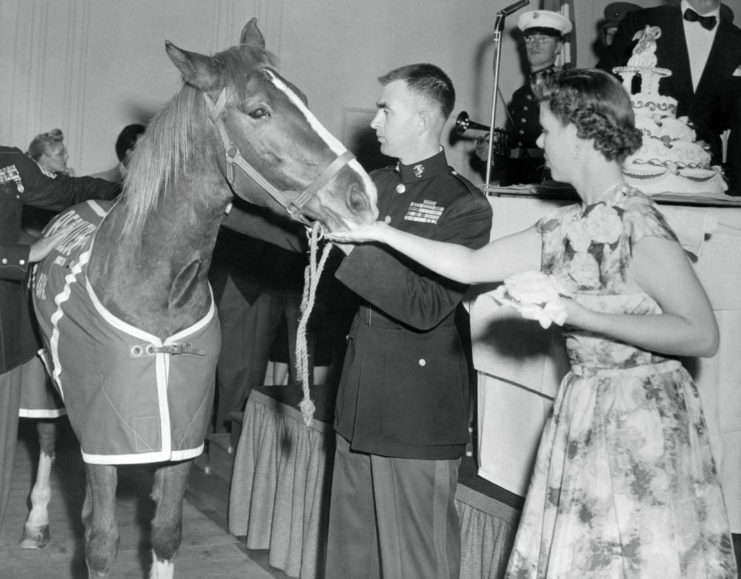 Following the armistice that ended the Korean War, Sergeant Reckless celebrated with her fellow Marines. Happy to indulge in drinks with the other men, it's said she was noticeably staggering around camp the next morning.
Stories of Sergeant Reckless' bravery and value reached the US, where she became a full-fledged hero. She was so popular that the public pleaded for her to brought to the country at the close of the war. Inspired by her story, an executive with Pacific Transport Lines offered to transport her to San Francisco on a ship, a trip that would have otherwise cost $1,200.
In November 1954, Sergeant Reckless stepped foot on American soil. She initially spent time with Pedersen's family, but was eventually moved to Marine Corps Base Camp Pendleton, California, where she was treated well and honored as a war hero. She was promoted to the rank of staff sergeant in 1959, receiving a 19-gun salute and 1,700-man parade, and retired from active service the following year.
While at Camp Pendleton, the horse bore three colts and a filly, and lived out the rest of her days in peace until her death in 1968.
Sergeant Reckless was a highly-decorated Marine
When Reckless was promoted to sergeant on April 10, 1954, she became the only animal to be granted an official rank in the US Marine Corps. As high of an achievement as this was, it wasn't the only one she earned for her service in Korea.
Sergeant Reckless was awarded two Purple Hearts, the Marine Corps Good Conduct Medal, the Navy Presidential Unit Citation with bronze star, the National Defense Service Medal, the Korean Service Medal, the United Nations Korea Medal, the Navy Unit Commendation and the Republic of Korea Presidential Unit Citation, among others. She wore these on her horse blanket, which was also adorned with a French fourragère the 5th Marines had received during World War I.
Honoring an impressive legacy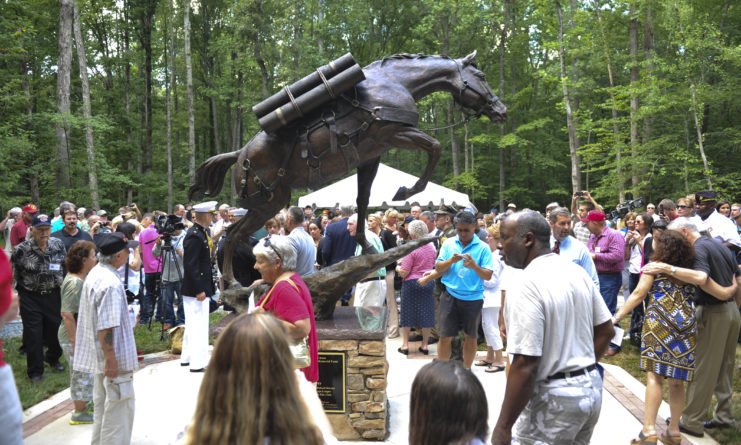 Following her death, Sergeant Reckless was given a proper burial with military honors.
The first statue in her honor was erected at the National Museum of the Marine Corps in Triangle, Virginia in 2013, while another was installed at Camp Pendleton three years later. After this, another four were erected at the Kentucky Horse Park in Lexington; the National Cowgirl Museum & Hall of Fame in Fort Worth, Texas; Barrington Hills Farm in Illinois; and the World Equestrian Center in Ocala, Florida.
More from us: Rip the Terrier-Mix Rescued Over 100 People During The Blitz
Sergeant Reckless' story is one of inspiration and achievement, and many agree with Hutton when he writes, "She wasn't a horse. She was a Marine."