Animals have been a part of military units throughout history. From ancient times to modern conflicts, they were of use on the battlefield and provided morale to those serving on the frontlines. One of the more famous is Sergeant Stubby, a Terrier-mix that aided U.S forces fighting in Europe during World War I.
A stray turned comrade
Stubby was found wandering around Yale University in July 1917. At the time, the school's football stadium was being used by the 102nd Infantry Regiment of the Massachusetts 26th "Yankee" Division for encampment and training.
The Terrier-mix watched the men conduct their drills, and Corporal James Robert Conroy took a particular liking to him. When it came time for the regiment to ship out, Conroy hid him as they traveled by rail to Newport News, Virginia, and boarded the USS Minnesota to France.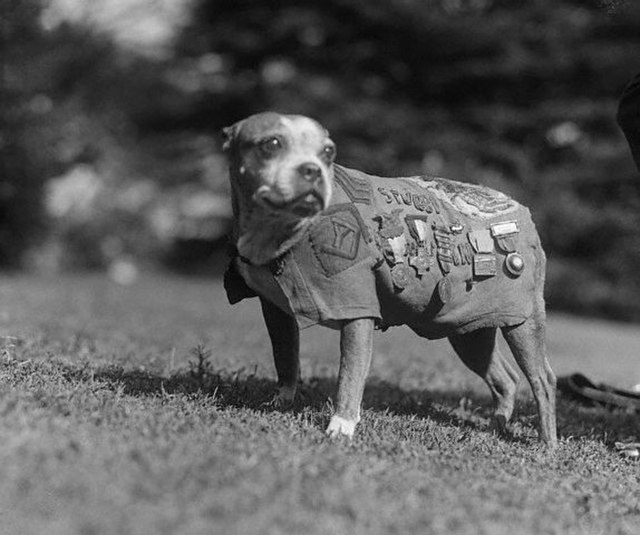 The ship docked in Saint-Nazaire, France. At some point, Stubby was discovered by Conroy's commanding officer. According to legend, he saluted the officer and was allowed to stay with the unit. The exception proved vital for the 102nd Infantry Regiment's efforts on the Western Front, as Stubby provided much-needed morale and saved lives.
Great War service
In October 1917, one month after landing in France, the American Expeditionary Forces arrived on the Western Front. Troops with the 26th "Yankee" Division were brought to Neufchâteau, in the Lorraine region, to train with the more experienced French forces, and officially entered combat on February 5, 1918, in Chemin des Dames, north of Soissons.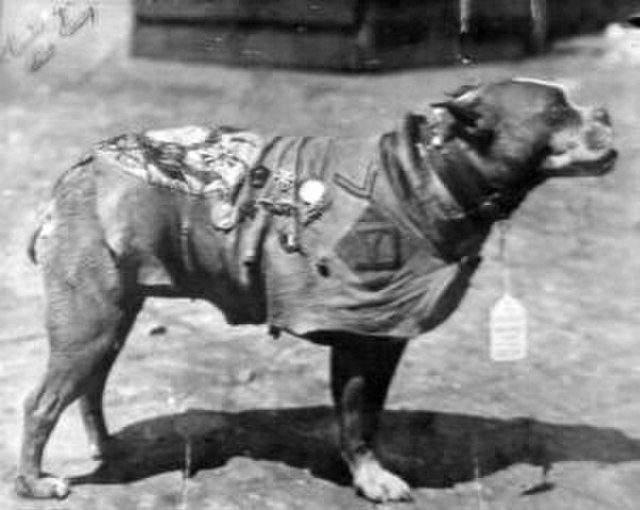 Stubby and troops with the 102nd Infantry Regiment saw 18 months of service. They participated in 17 engagements, the largest of which were the offensives at Meuse-Argonne, Aisne-Marne, Saint-Mihiel and Champagne-Marne.
Stubby served his unit like any other soldier. He saved his comrades from surprise mustard gas attacks, thanks to his sensitive nose, and located injured and lost soldiers in no man's land. He provided comfort for those injured or dying, became adept at alerting his unit of incoming artillery attacks, and is credited with capturing a German spy.
His service wasn't without its dangers. On April 20, 1918, while the 102nd Infantry Regiment was stationed at "Dead Man's Curve," Stubby was injured by retreating Germans throwing hand grenades. He recovered in a little over a month and returned to the trenches. He'd also suffer injuries from mustard gas and shrapnel, earning him a Wound Stripe.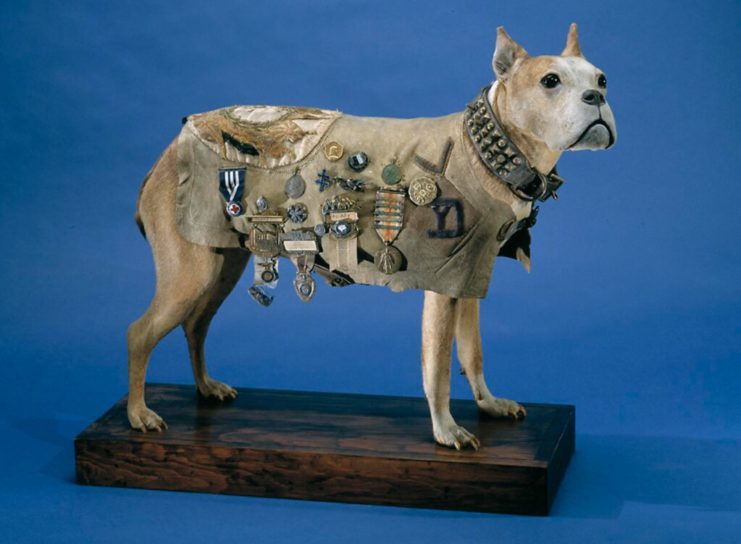 Following the retaking of Château-Thierry by U.S. forces, those living in the town made Stubby a chamois coat, upon which his medals were pinned. When the war came to an end on November 11, 1918, he remained in France for several months, as the process of demobilization was protracted.
Post-war celebrity
Once allowed to demobilize, Cpl. Conroy brought Stubby back to the U.S., where he was an instant celebrity. He marched in – and led – parades across the country, and met Presidents Woodrow Wilson, Calvin Coolidge and Warren Harding. He was even given lifetime memberships to the American Legion and the YMCA, with the latter stipulating he was entitled to "three bones a day and a place to sleep" for as long as he lived.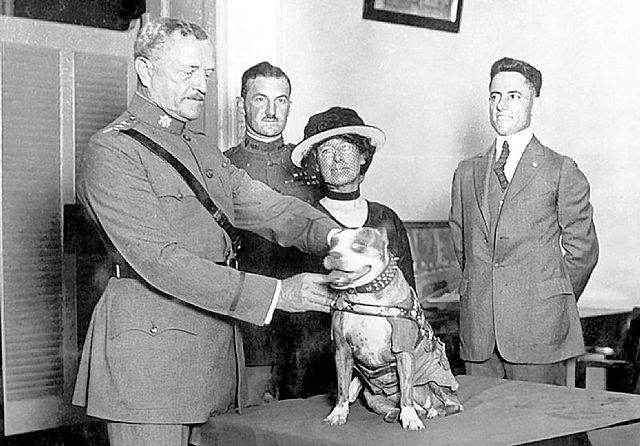 In 1921, General of the Armies John J. Pershing held a ceremony to honor those who served in the 102nd Infantry Regiment. He also honored Stubby with a gold medal from the Humane Education Society. While not an official military commendation, it dubbed Stubby the greatest war dog in U.S. history.
Stubby eventually attended Georgetown University Law Center with Conroy, where he came the Georgetown Hoyas' team mascot. During halftime, he would nudge the football around the field, much to the amusement of those in attendance.
In March 1926, Stubby died in his sleep. He received a half-page obituary in the New York Times. His body was preserved via taxidermy and his cremains sealed within the mount. In 1956, Conroy gave his taxidermied friend to the Smithsonian Institute, where he sits as part of "The Price of Freedom" exhibition.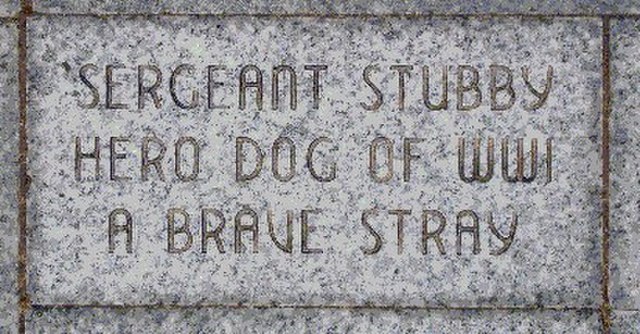 Stubby has posthumously been the recipient of many honors. During an Armistice Day ceremony in 2006, he was given a brick on the Walk of Honor at the Liberty Memorial in Kansas City, while a portrait of him is displayed at the West Haven Military Museum.
In May 2018, Conroy's descendants dedicated a life-size bronze statue to him and fallen veterans. It sits in the Connecticut Trees of Honor Memorial at Veteran's Memorial Park in Middletown, Connecticut.