The gallantry medals awarded to a Royal Air Force wing commander have come up for auction in the United Kingdom. They belonged to Sidney "Tubby" Baker, one of the most decorated airmen of WWII, and are estimated to sell for £32,000.
Joining the Royal Air Force
Baker was born in Clapton-in-Gordano in 1918. He joined the R.A.F. Volunteer Reserve in March 1940 and earned his wings a year later, after which he joined the No. 218 Squadron in Wellington. The unit targeted areas in Germany and France, during which Baker repeatedly risked his life for his country.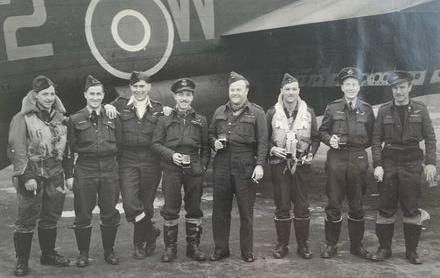 The airman participated in many raids during his time with the squadron, and in 1944 he was appointed commander of the No. 634 Squadron in Downham Market, Norfolk. Upon returning to base after each raid, he was said to down a pint of beer, much to the enjoyment of his fellow airmen.
Normandy and the Battle of the Bulge
In May 1944, Baker began his third tour of service, this time with the No. 7 Squadron. He flew 22 operations in support of the Allied landings in Normandy, before finishing up the tour with a raid in Bremen that August.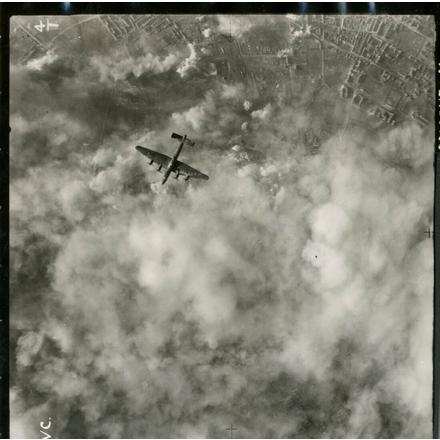 A few months later, he led a force of 300 Avro Lancaster heavy bombers over St. Vith in Belgium during the Battle of the Bulge. The raid occurred on Boxing Day 1944, and destroyed a large portion of the 6th SS Panzer Division's armored vehicles.
His 100th and final raid was on March 13, 1945, when he flew a daylight mission over Wuppertal. After returning to base, he was placed on desk duties, as his superiors had felt he'd done enough for his country. His citations from the war speak of his "outstanding ability, cool courage and firm determination," which were an inspiration to his crew.
He was the Master Bomber for 20 of the 100 raids he participated in over the course of WWII. He survived each, an impressive accomplishment, as the casualty rate for Bomber Command crews was 44%. For his efforts, he was awarded numerous medals, including those for gallantry.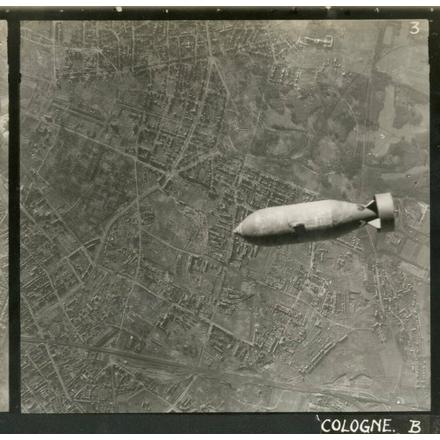 He remained in the R.A.F. during the post-war period as commander of the No. 139 Squadron, with which he carried out training and appointments in Germany. He retired as Wing Commander in 1966 and died in 2007 at the age of 88.
Up for auction
Baker's medals have come up for auction with Spink & Son. They're being sold by a private collector who acquired them from the family and are estimated to sell for between £28,000 and £32,000. According to the auction house, it's a "once in a lifetime" opportunity to acquire the awards of a "national hero."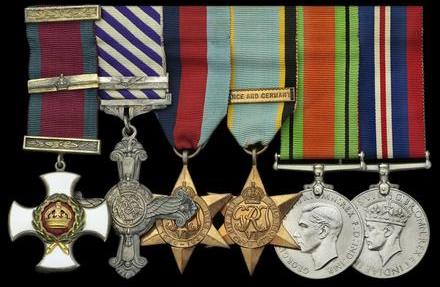 The medals for sale included Baker's Distinguished Service Order (D.S.O.) with Bar, his Distinguished Flying Cross (D.F.C.) with Bar, his 1939–45 Star, the Air Crew Europe Star, and his Defence and War Medals 1939–45.
"The record of Wing Commander 'Tubby' Baker ranks amongst the finest in the history of the Royal Air Force," said Marcus Budgen, head of the medals department at Spink & Son. "His four gallantry awards won during the Second World War reflects his unique record of service, which included the legendary score of 100 operations flown in heavy bombers over the most heavily defended targets over Europe."
More from us: An Incredibly Rare 1940-Era Plane Is Up For Sale
Along with the medals, other mementos from Baker's time in the R.A.F. are also up for auction. These include his logbooks, a cigarette case, and beer tankards, among other items.