A Pearl Harbor commemoration ceremony has taken place on the anniversary of the Japanese attack. The ceremony took place at the harbour itself and among the guests was US Air Force pilot Jack DeTour, who is now 92 years old, and Japanese pilot Shiro Wakita, who is now 88 years old.
During the war, the two were sworn enemies, but for the ceremony, they together poured an old canteen of whisky into the waters of the harbour in honour of all of those who died in the attack.
The Japanese launched their attack on the US naval base on December 7, 1941. Now the ceremony took place at sunrise on the same day 74 years later as the sun came up over the USS Arizona Memorial. The attack took more than 2,400 lives and ensured that the US entered into World War Two.
Colonel DeTour and Pilot Wakita took hold of the canteen together and jointly poured it into the waters where so many people lost their lives. Before the ceremony, the two veterans had never met.
Now a symbol of friendship, the relic was recovered in 1945 in Shizuoka, Japan after two B-29 U.S. Superfortress bombers collided overhead. The 23 Americans killed were buried alongside Japanese citizens who died in the bombing raid. Found among the wreckage was the blackened canteen, filled with whisky, and it was kept in Japan to remember loved ones lost.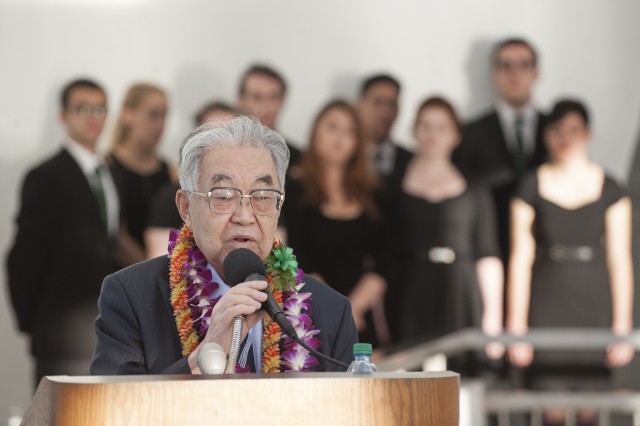 For the past 30 years, Japanese veterans have returned to Pearl Harbor with the canteen to commemorate and honour those who lost their lives. It has now become a symbol of friendship and peace.
Jack now lives in Honolulu, originally from Oregon he joined the US Air Force in 1942.
The ceremony had no survivors of the Pearl Harbour attacks attending since there are no more surviving officers. The last survivor officer of the USS Arizona was Joseph Langdell, who died at the beginning of February this year at the age of 100.
Dr Hiroya Sugano manages the Japanese Zero Fighter Admirers' Club and says that he keeps the canteen in his possession and takes it to the commemoration ceremony each year as a symbol of peace.