In recent years, cats have been subjected to immense online fame. Users can't get enough of their adorable faces and their "toe beans" — and don't get us started on their boop-able noses. What many might not know is that these loveable felines played an integral role during World War I, providing not just pest control, but much-needed morale boosts.
Cats made trench warfare more bearable
It's estimated some 500,000 cats were dispatched to the trenches of Europe during WWI. They were tasked with killing the rats that came to infest the front, but they also had a secondary job: gas detection.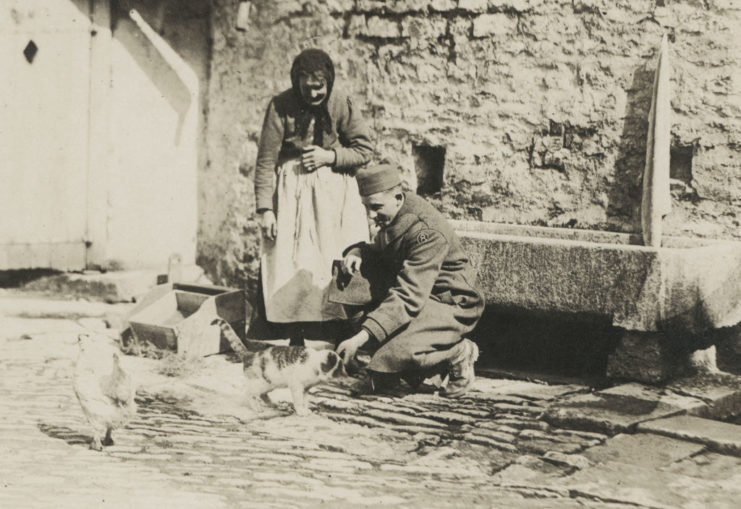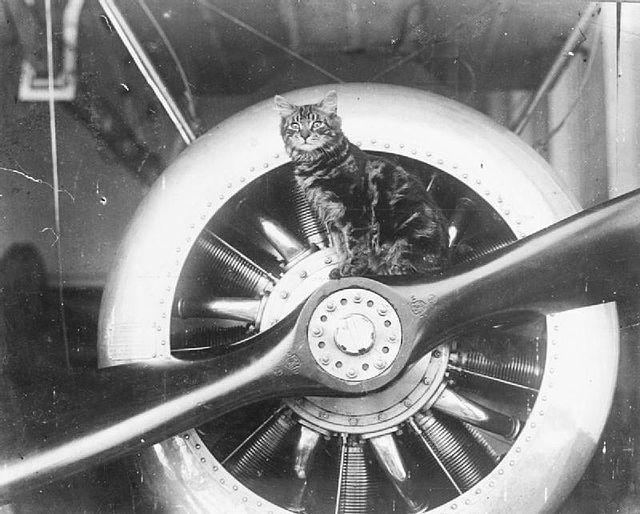 The conflict was the first time large-scale chemical warfare was utilized, and the near-odorless and colorless gas was incredibly dangerous. If it didn't kill a soldier, it left him with permanent ill effects that caused issues later in life.
To ensure the safety of troops on the front, Britain sent 500 cats to serve as their version of a "canary in a coal mine." The felines succumbed to the effects of the gas faster than their human counterparts, which provided enough warning for soldiers to grab their gas masks and seek shelter.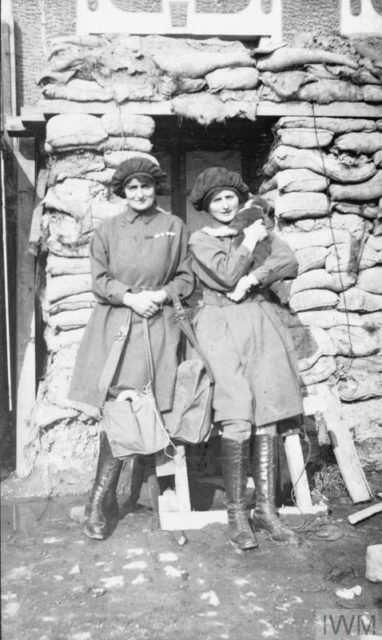 A rather interesting use for cats during the war was relaying messages between lines. This is most notable during the Christmas Truce of 1914, when Allied and German troops sent messages to each other by tucking notes in their feline friends' collars.
Unfortunately, the practice caused paranoia, evident in the 1915 death of Felix the cat. A British intelligence report stated that two cats and a dog were seen running along enemy lines, and officials began to fear they were being used for nefarious reasons. A French general decided the risk was too great, so he captured Felix and sentenced him to death for treason.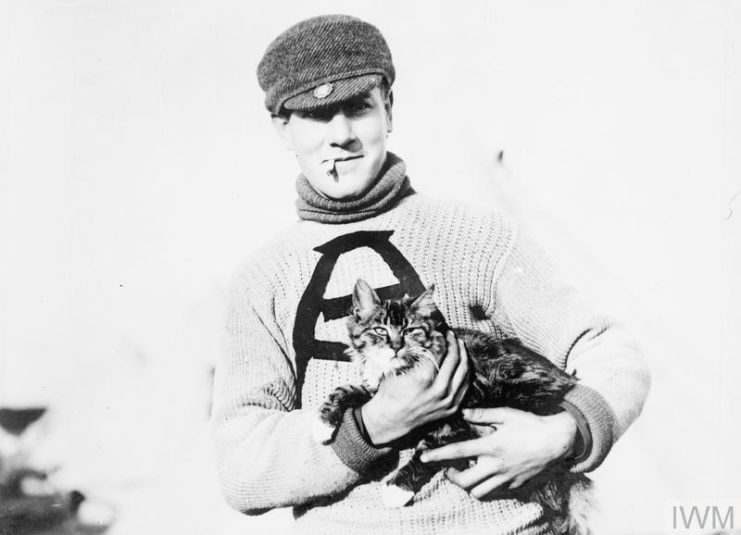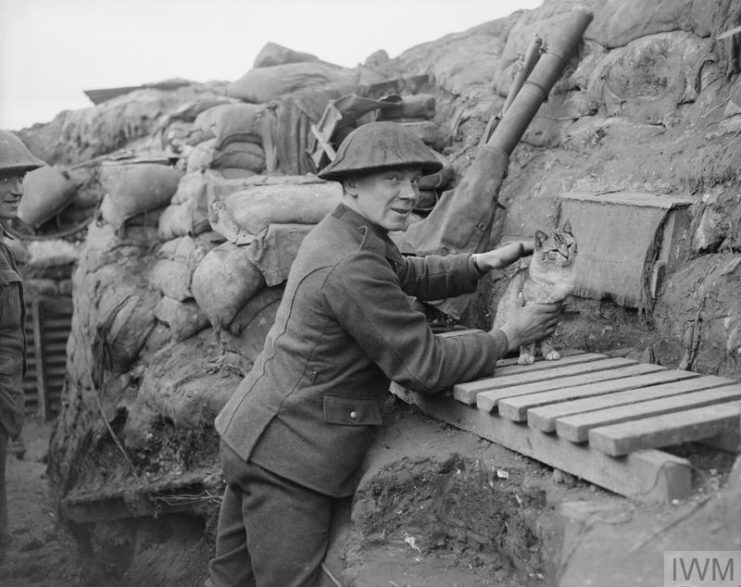 When not risking their lives, cats served as morale boosters. Many became honorary regiment mascots, and soldiers often shared their rations with their feline friends. During breaks between battles, they would spend time in their living quarters playing with them.
Pitouchi, the hero cat of the Belgian Army
One of the more famous cats of WWI was Pitouchi, the adopted feline friend of Lieutenant Lekeux. After nursing the orphaned kitten back to health, Lekeux brought him everywhere, including near the German front. It was there Pitouchi saved the lieutenant's life, according to author Susan Bulanda.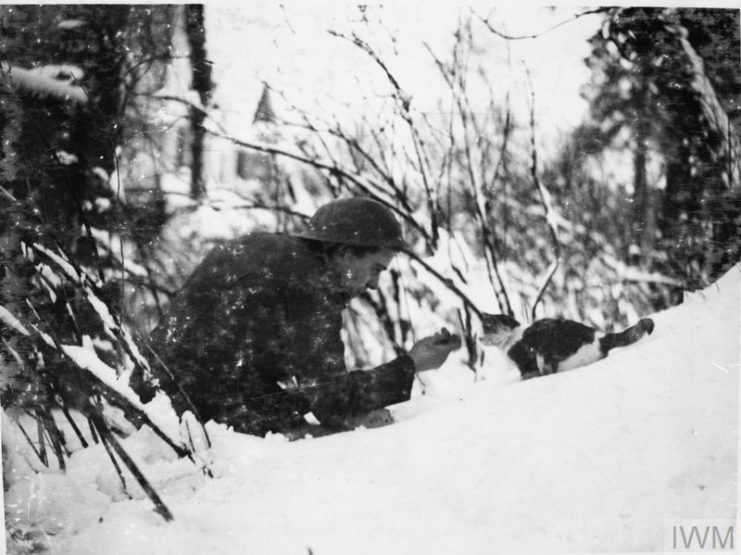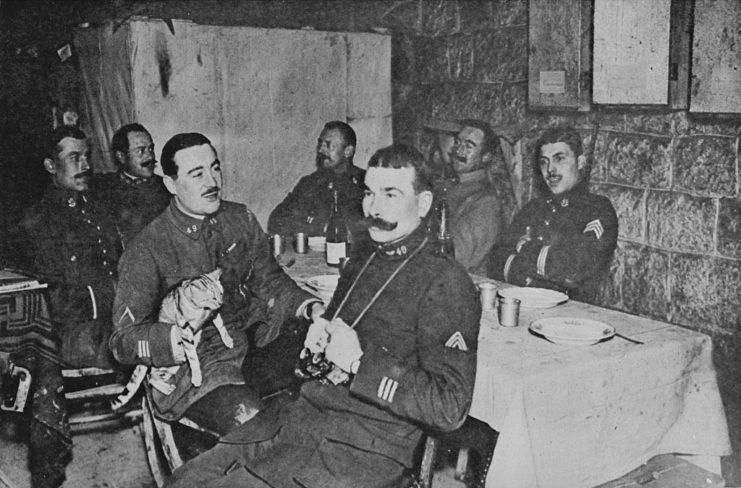 According to Bulanda, Lekeux was walking along the German line when he saw soldiers digging a new trench. Looking to sketch the layout, he hid himself in a hole. Unfortunately, he became so engrossed in his work that he didn't notice the approaching enemy soldiers.
By the time he became aware of their positions, he had no choice but to lie still and hope for the best.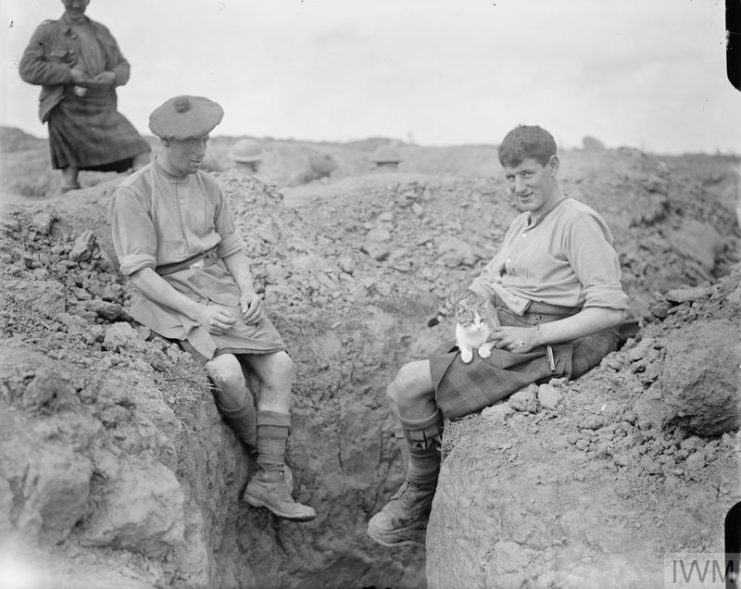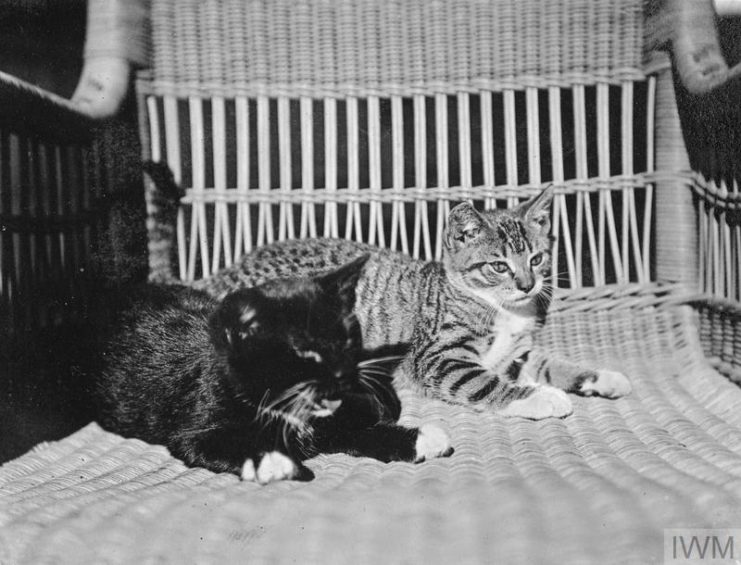 Unfortunately, the soldiers noticed the Belgian lieutenant. One of them yelled, "He's in the hole," after which Pitouchi jumped out from their hiding spot and onto a piece of timber. Startled, they shot at him but didn't manage to hit the tiny feline. Assuming they'd mistaken Pitouchi for a man, they went on their way, after which Lekeux finished his sketch and returned to the Belgian line.
If that's not a hero cat, we don't know what is!
Ship cats brought good luck
Having cats aboard a ship is nothing new. They've always been a staple of sea life, primarily due to their superb hunting abilities. When you're out at sea with limited provisions, the last thing you want is for your food to be eaten by rats and mice.
Pair this with the risk vermin pose regarding the spread of disease and the fact they chew through rope, and cats basically ensured the health of everyone on board during WWI.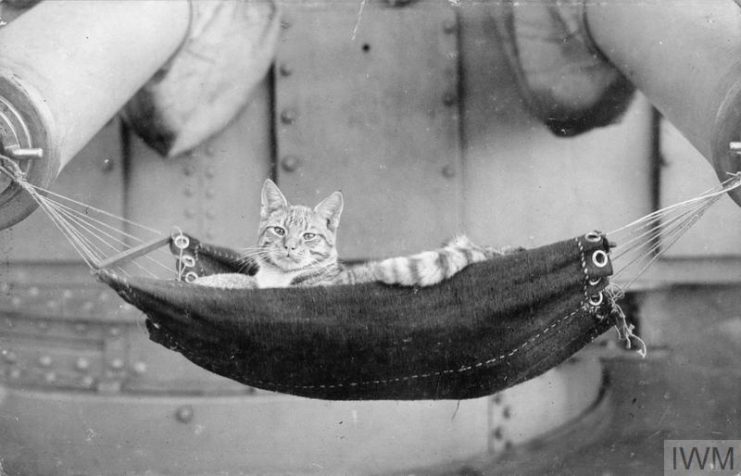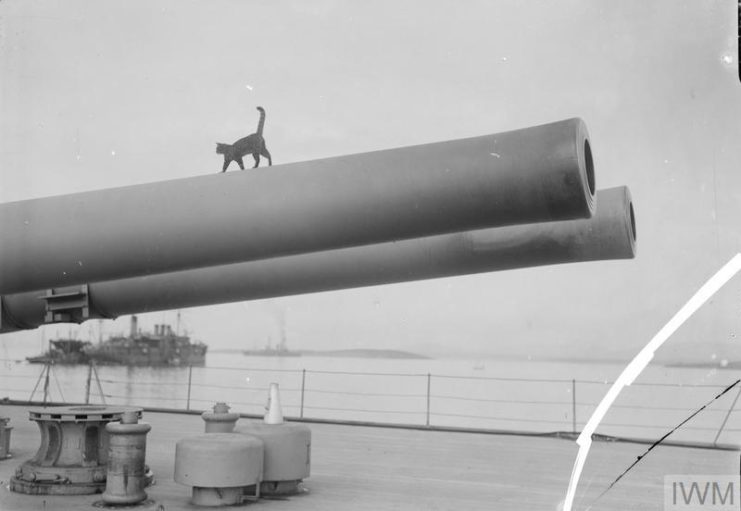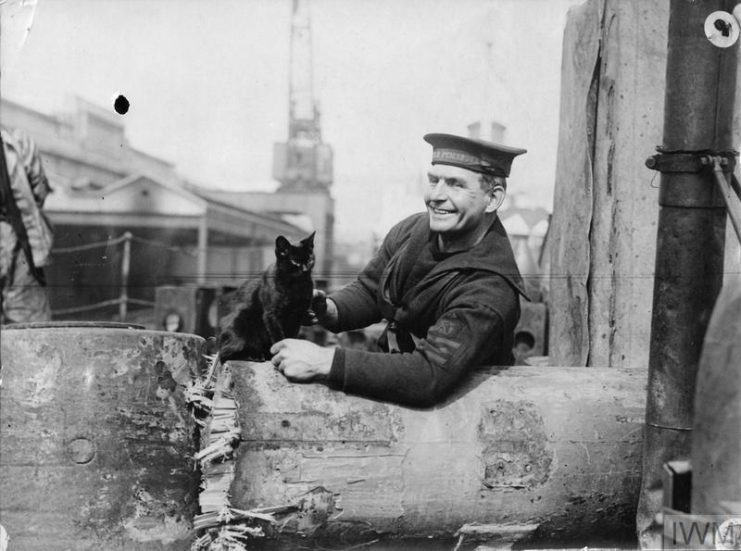 In addition to their work in the pest control department, many sailors believed cats were a symbol of good luck. The more superstitious thought they had the ability to protect the ship from hazardous weather, which isn't exactly all that untrue. Our feline friends are actually able to detect even the slightest change in weather, given the sensitivity of their inner ears.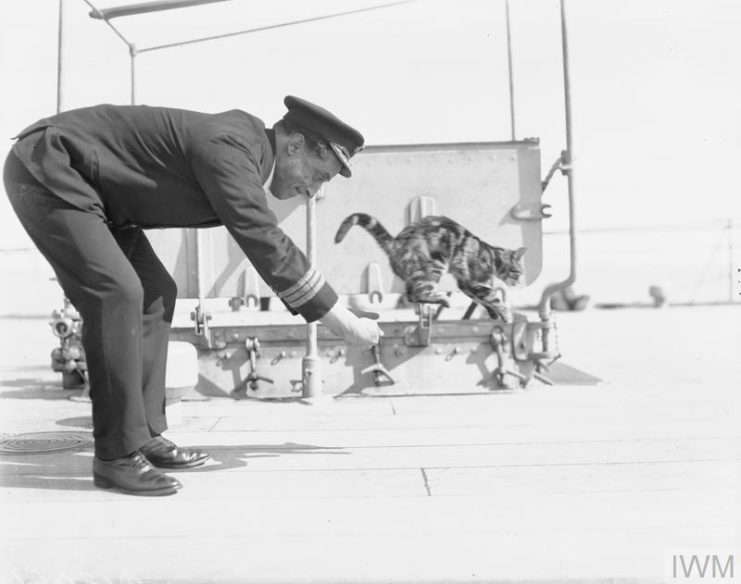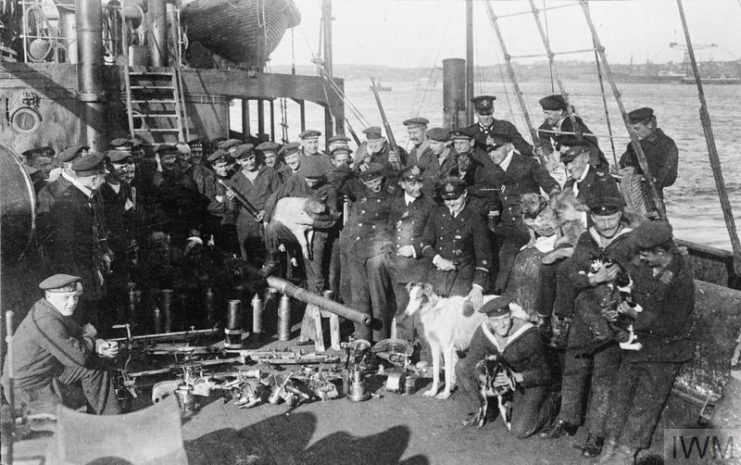 More from us: Comparing 7 Historic Battlefields Then And Now
As with those in the trenches, the majority aboard ships saw cats as companions. Sailors were away from home for months at a time, so they took comfort in playing and spending time with their vessel's ship cats. In fact, it was common for crews to adopt felines from the places they visited to serve as both souvenirs and pets back home.