Following the conclusion of the Korean War, the Korean peninsula entered into a period of uncertainty. While armistice negotiations occurred, UN forces remained in the area to keep the peace. The majority of troops were weary from fighting and the poor weather conditions, and thus welcomed those tasked with providing them with entertainment. This included Hollywood starlet, Marilyn Monroe.
"How would you like to visit Korea for a few days?"
Marilyn Monroe and baseball legend Joe DiMaggio married in San Francisco in January 1954. Shortly after, the pair set off for their honeymoon in Tokyo, Japan, where DiMaggio was scheduled to attend a host of baseball clinics.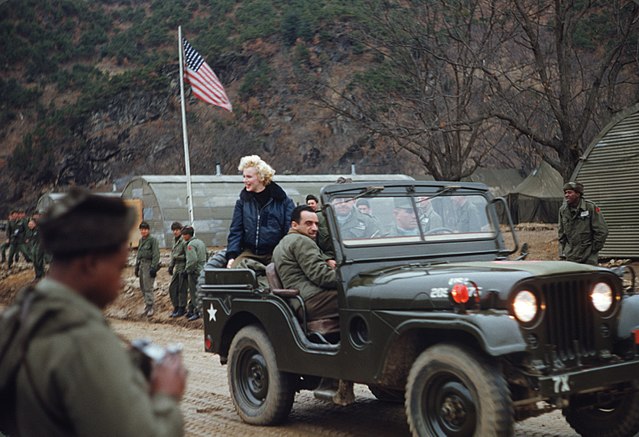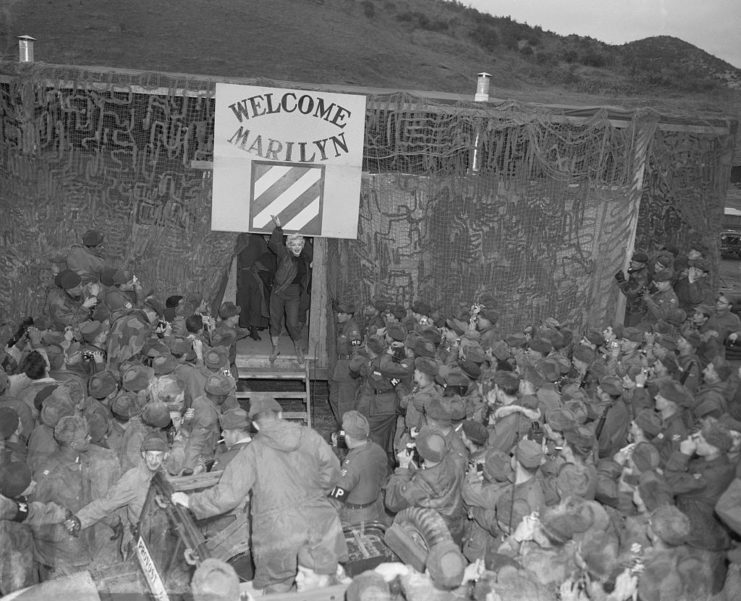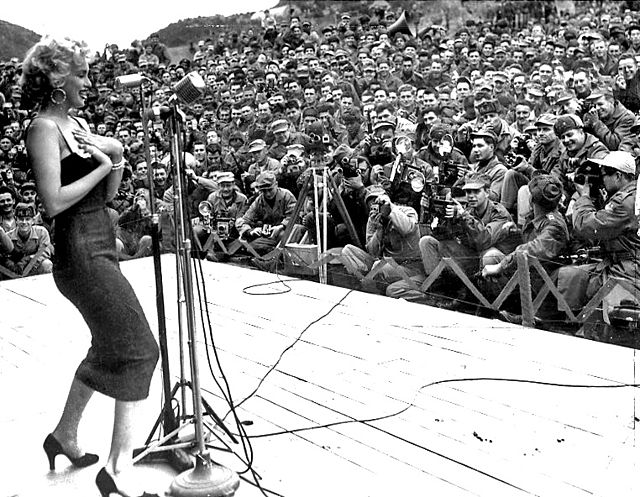 As their plane began its descent into Tokyo on February 1, 1954, Monroe was approached by Major General Charles W. Christenberry, the assistant chief of staff at the US Army's Far East Command. He asked the starlet, "How would you like to visit Korea for a few days and entertain American troops currently stationed in Seoul as part of the UN occupation?"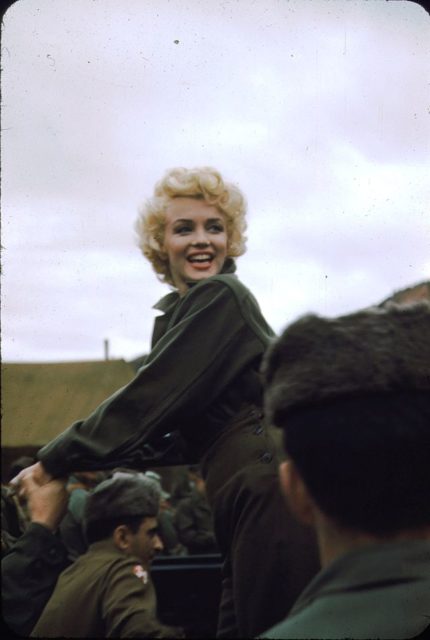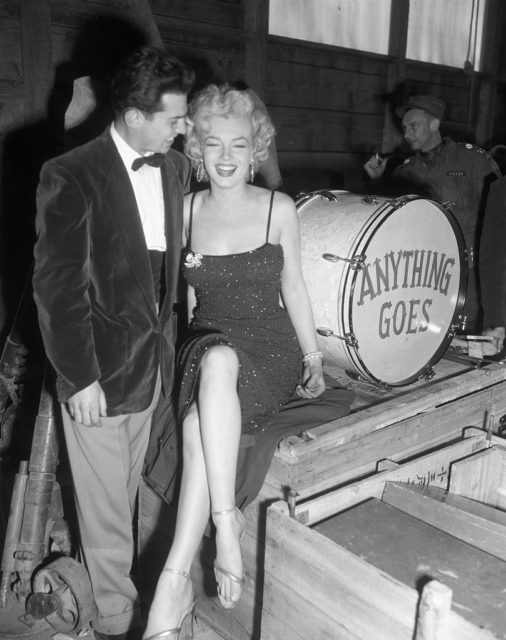 Monroe jumped at the opportunity. She wished to repay those soldiers who'd written letters to Hollywood Studios to plead for her appearance in more prominent roles. Thus, while DiMaggio went about trip, she took a solo detour to the Korean peninsula.
Fast-tracked rehearsals
Monroe received her clearance papers on February 8, 1954 and officially became a USO entertainer. As the arrangement had been made on such short notice, rehearsals were fast-tracked. They occurred at the Osaka Military Hospital in Japan, where Monroe teamed up with Corporal Al Guastafeste, an Army pianist from Long Island, and his musical group, Anything Goes.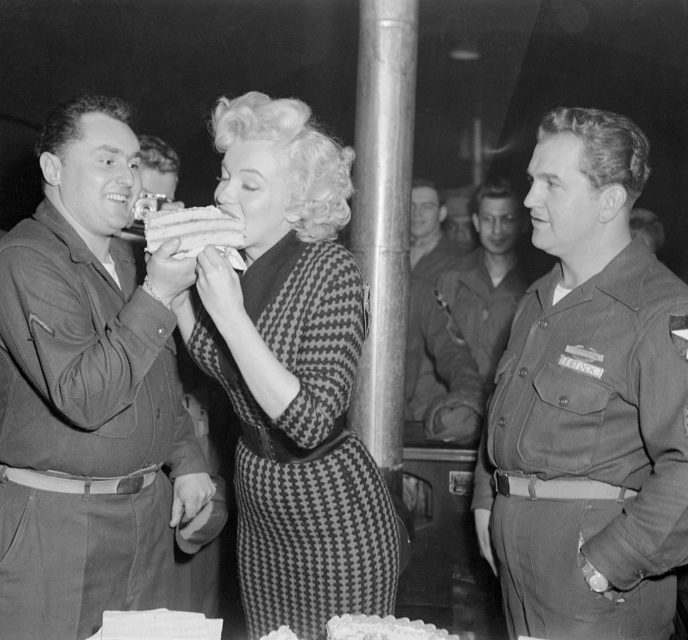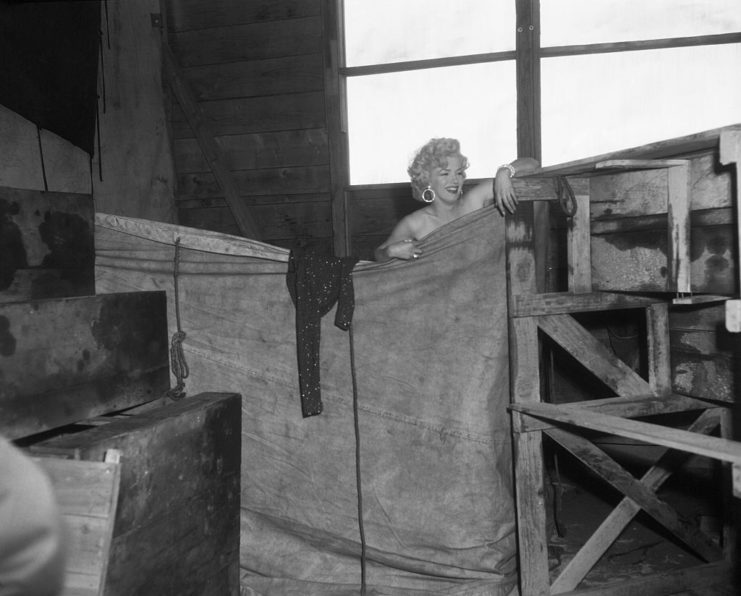 The starlet was relatively modest during rehearsals, according to Guastafeste. "She was Marilyn Monroe, but she didn't seem to realize it," he recalled. "If I made a mistake, she said she was sorry. When she made a mistake, she apologized."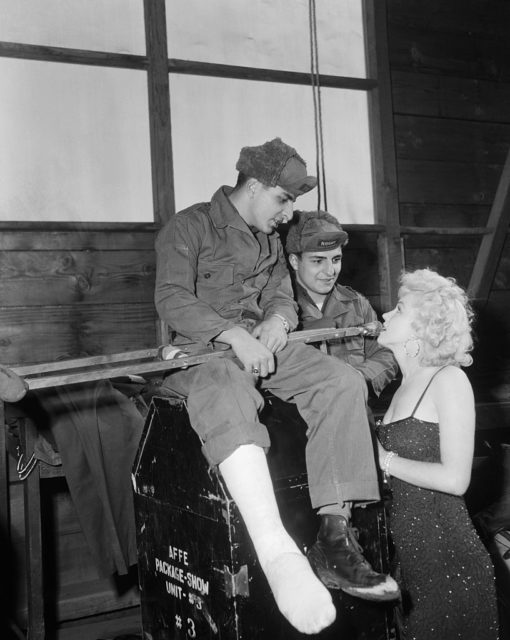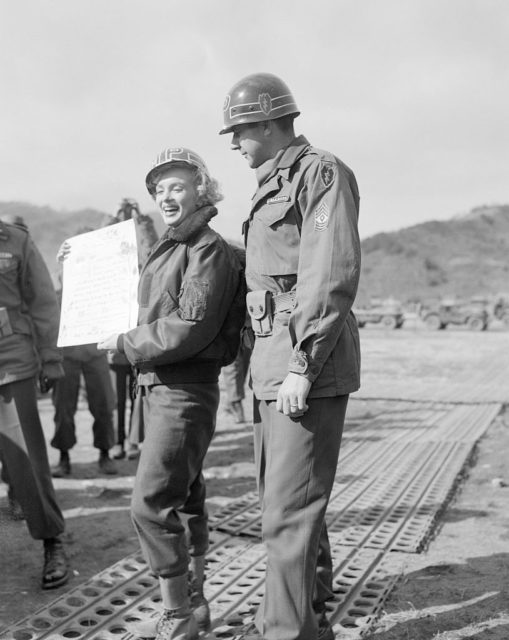 Monroe also took the time to meet with those recovering at the hospital. She signed former-prisoner of war Corporal Donald L. Wakehouse's cast, and even lay down on the floor to smile at Private Albert Evans, who'd been suspended upside down over his hospital bed after breaking his back in a Jeep accident.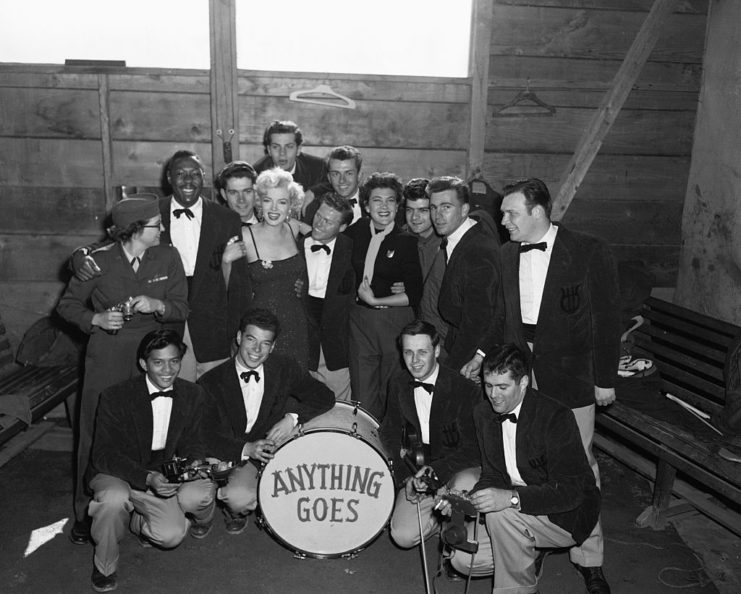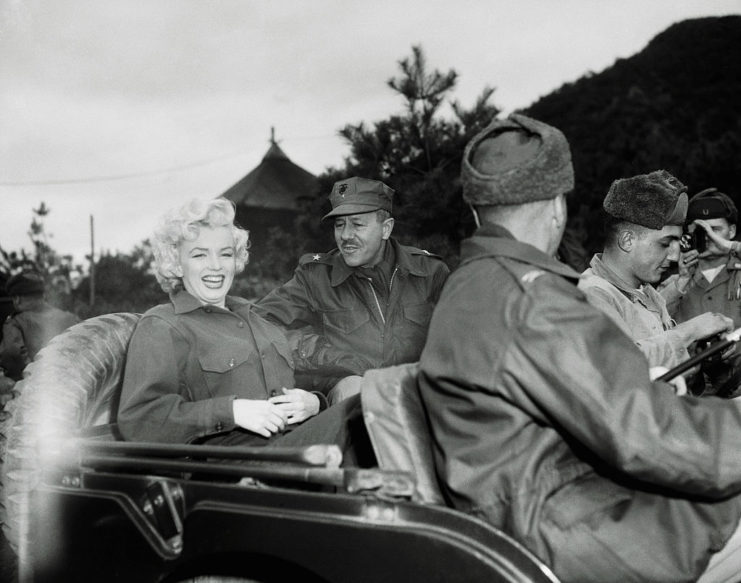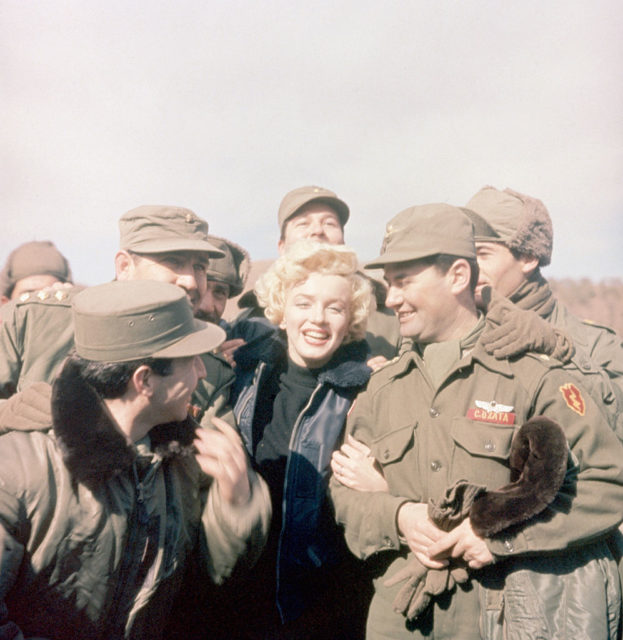 On February 16, 1954, after being vaccinated against yellow fever and cholera, Monroe and her crew left Tokyo. After arriving in Seoul, they set out for the 1st Marine Division camp in the mountains, swooping over the thousands of Marines crowding below.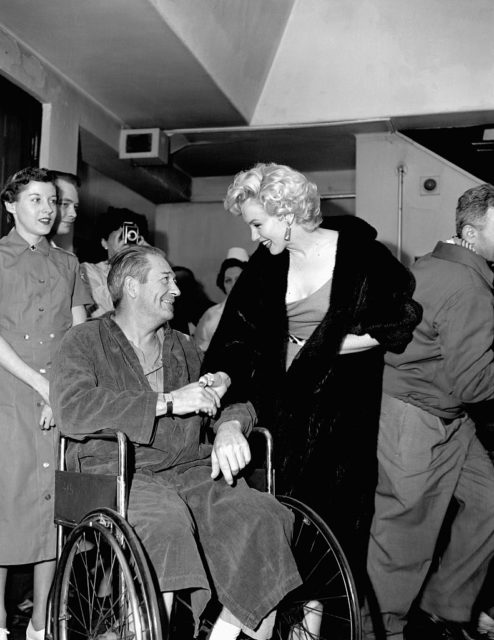 Despite the risk to her safety, Monroe went so far as to ask two soldiers to hold her feet while she lay on her stomach, leaned out the door of the helicopter and blew kisses at the men below.
10 shows over four days
Over the course of four days, Marilyn Monroe performed 10 shows for an estimated 100,000 troops. She started each by singing "Diamonds Are A Girl's Best Friend" from Gentlemen Prefer Blondes, then segued into George Gershwin's "Do It Again."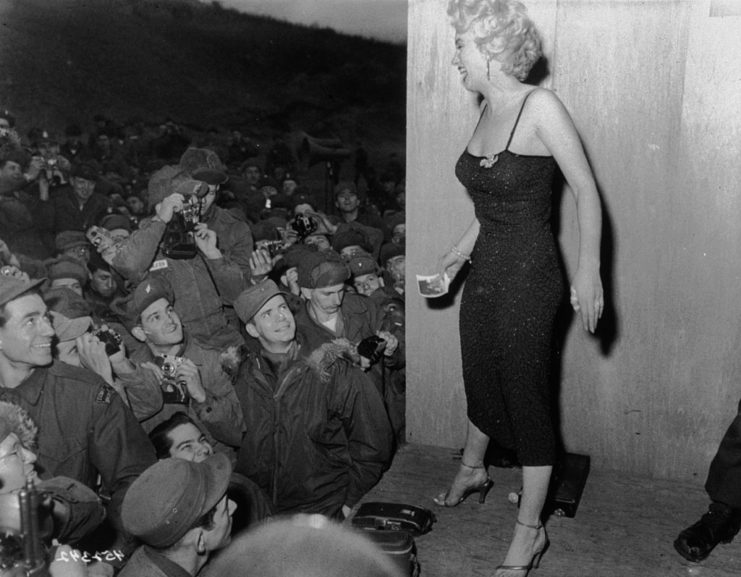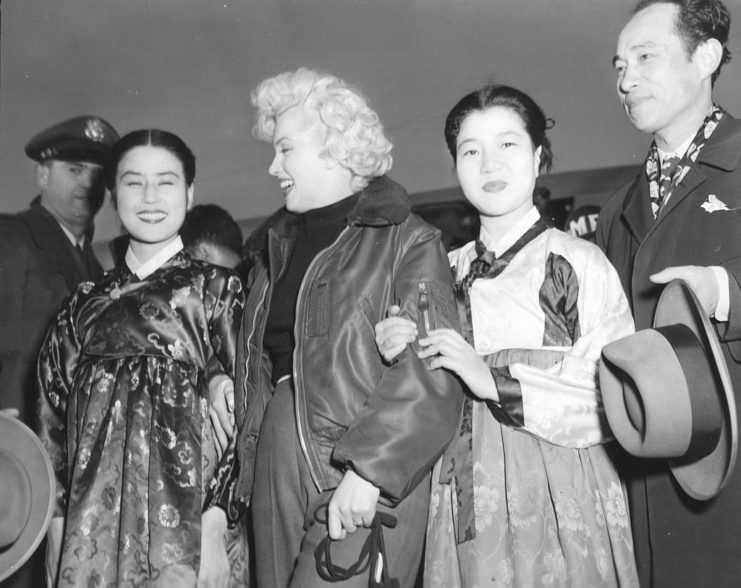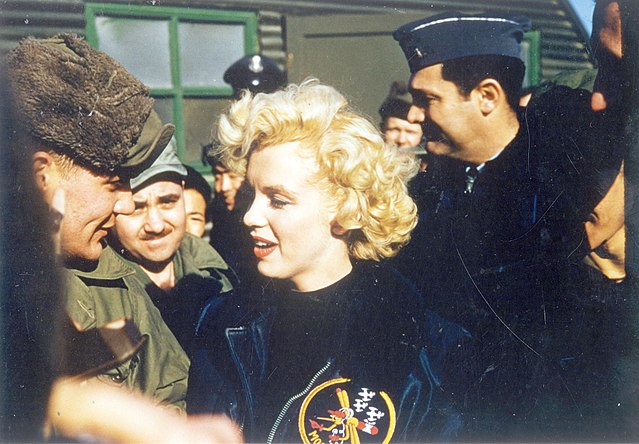 "Marilyn came out dressed in a heavy parka," recalled Don Loraine, a GI present at one of Monroe's shows. "She started to sing, suddenly stopped, and said, 'That's not what you came to see,' and took off the parka. She was dressed in a low-cut purple cocktail dress. She was so beautiful, we all went wild, and, I might add, it was colder than hell that day.
"She brought a lot of joy to a group of combat-weary Marines and I, for one, will never forget her."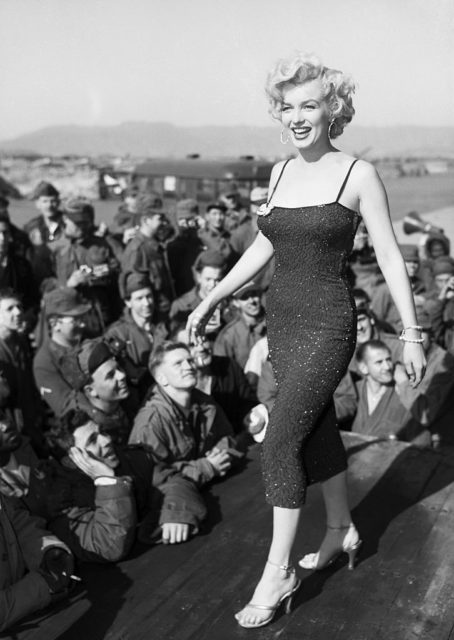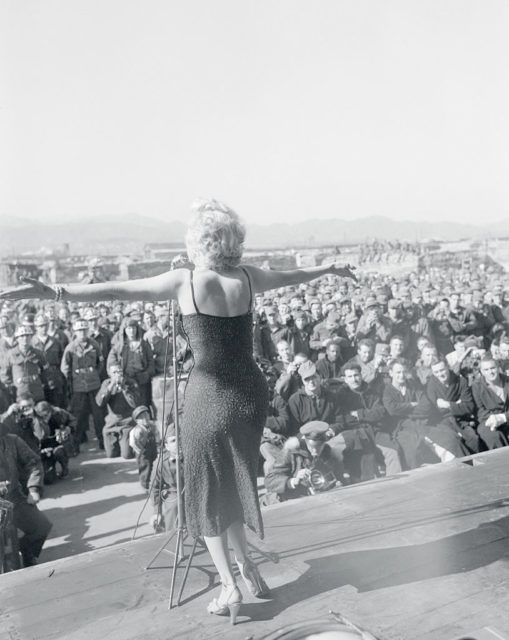 One show was delayed and those in the audience threatened to riot. As such, the opening acts were canceled to allow Monroe to hit the stage sooner, much to the delight of the GIs. At another show at the USO's stage in the Cheorwon Valley, troops laid claim to front row seats some seven hours before the starlet was due to perform.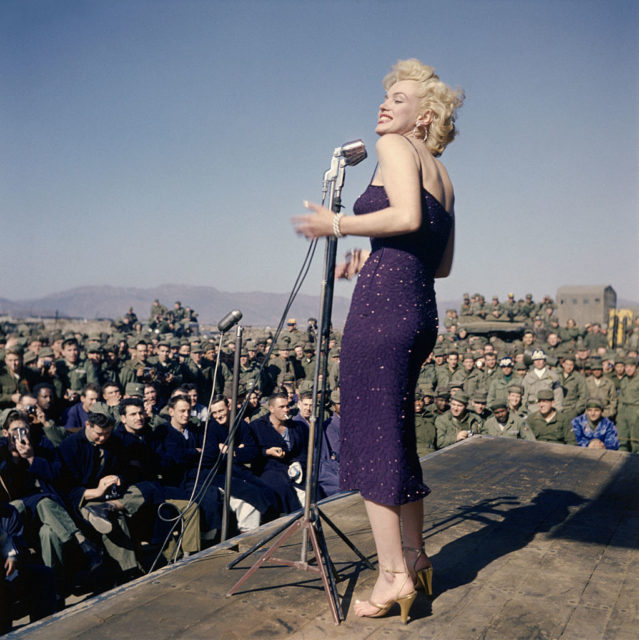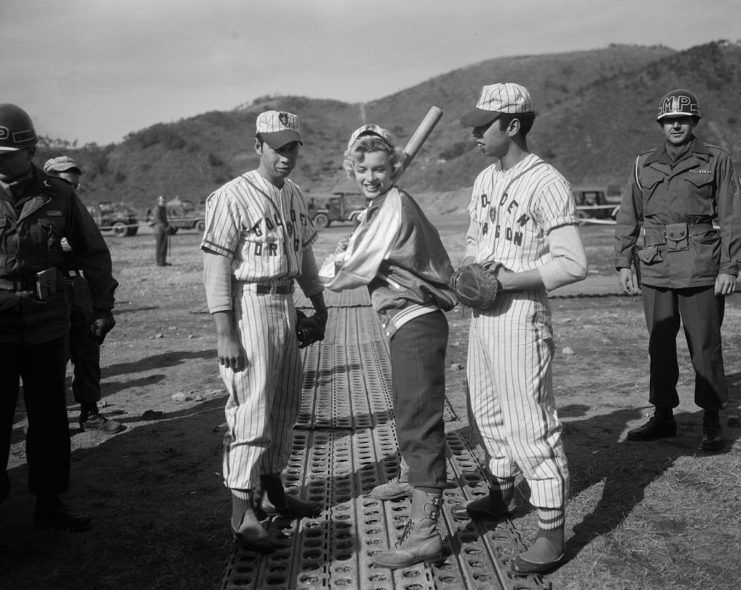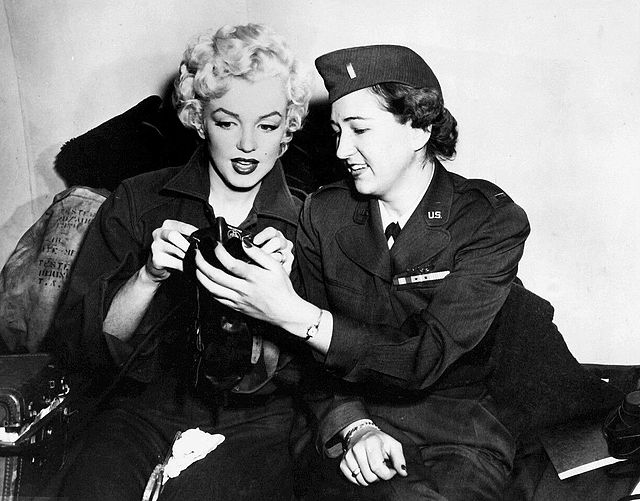 Speaking about one of the shows, Monroe said, "There were seventeen thousand soldiers in front of me, yelling at the top of their lungs. I stood there smiling at them. It had started snowing, but I felt warm, as if I were standing in the bright sun. I've always been frightened by larger audiences, but standing in the snowfall, facing these shouting soldiers, I felt no fear for the first time.
"I only felt happy. I felt at home. That is what I've always wanted, I guess."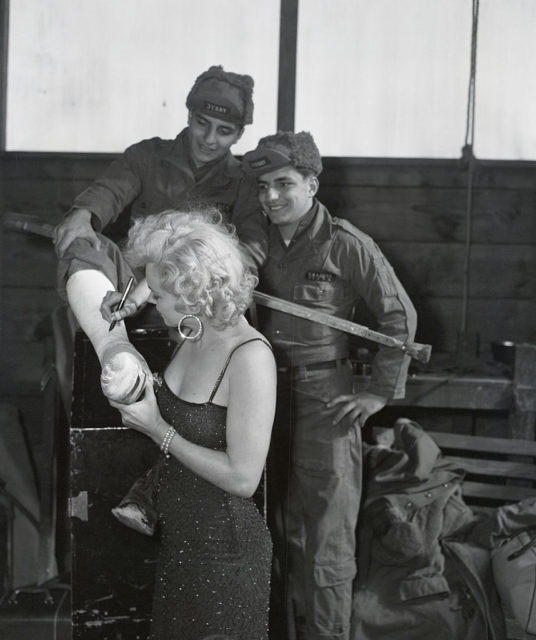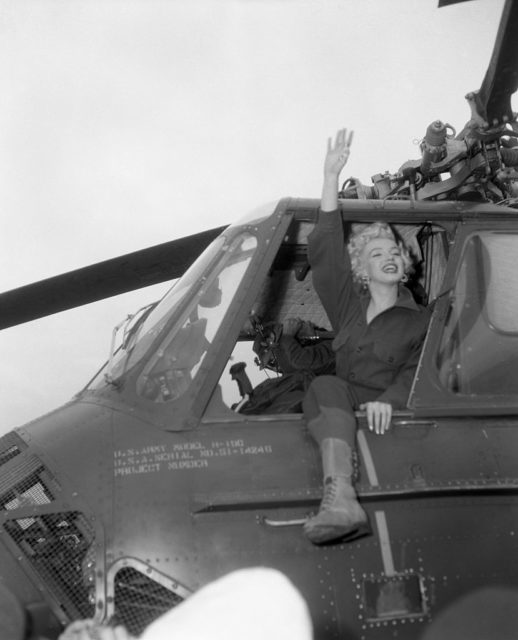 While in Korea, Monroe made sure to include her bandmates and at least 10 enlisted servicemen at every reception held in her honor at officer's clubs. Things got out of hand at one such party, and the starlet cut her wrist while cutting a cake with a bayonet. A surgeon general was called in to treat the injury, and all in attendance were ordered to never speak of what transpired.
A successful trip
Marilyn Monroe's trip was a resounding success, despite the fact she came down with bronchial pneumonia due to the harsh weather conditions. Not only did she lift the spirits of those serving abroad, but found self-confidence.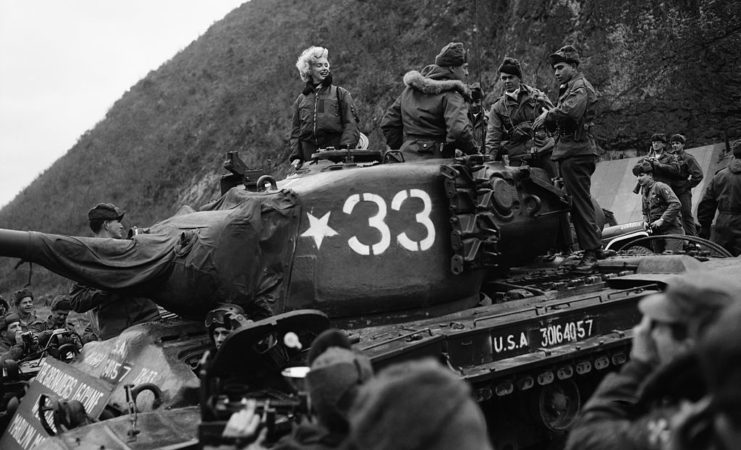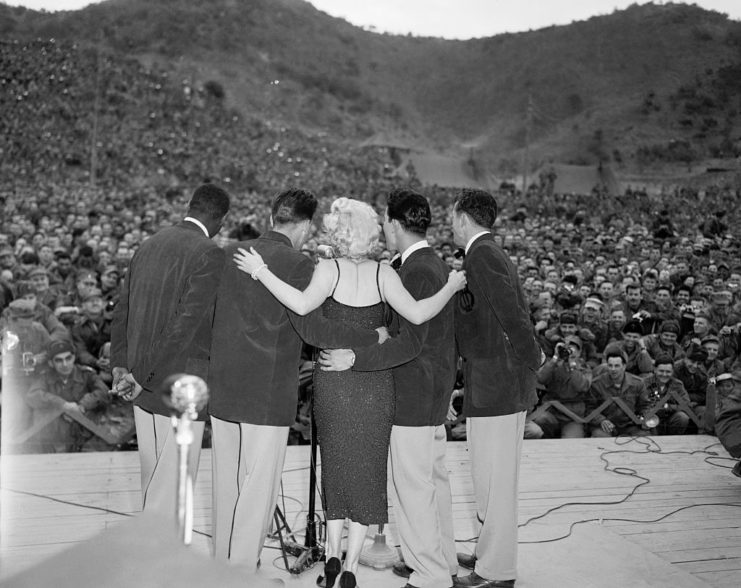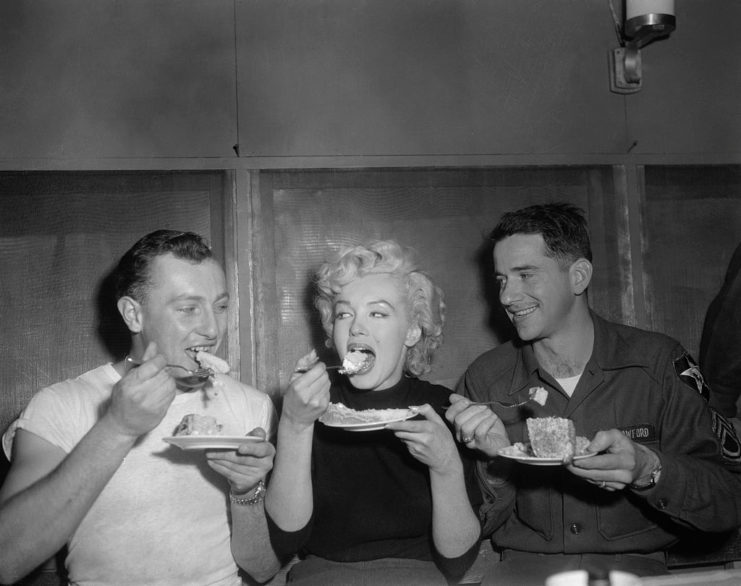 As Ted Cieszynski, photographer for the public information office of the Army Corps of Engineers, said:
"She gave us the feeling she really wanted to be there. Of all the performers who came to us in Korea – and there was a half dozen or so – she was the best. She showed no nervousness and wasn't anything like a dumb blonde. When a few of us photographers were allowed to climb up on the stage after her show, she was pleasant and cooperative and told us how glad she was to be with us. She took her time, speaking with each of us about our families and our hometowns and our civilian jobs.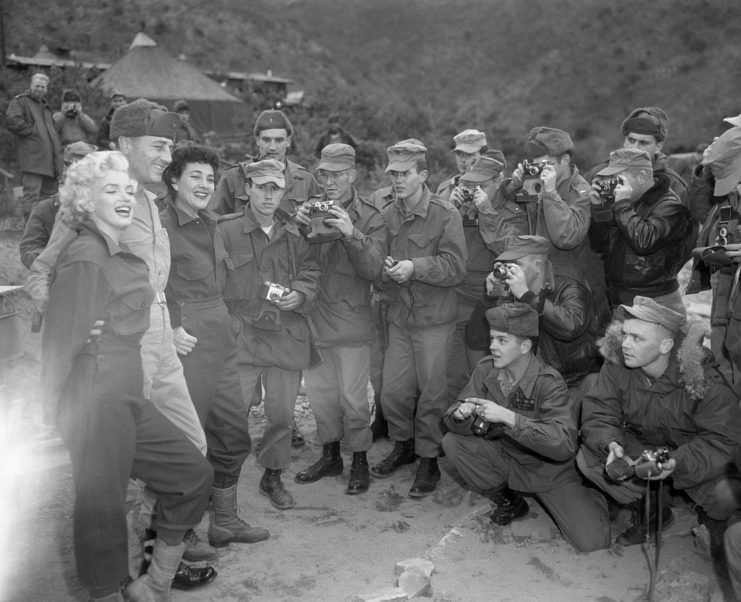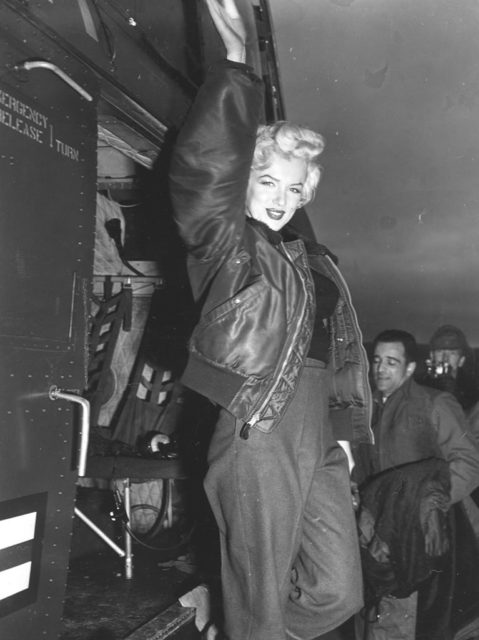 "It was bitter cold, but she was in no hurry to leave," he concluded. "Marilyn was a great entertainer. She made thousands of GIs feel like she really cared."