The Russian-produced DShK is among the longest-serving machine guns still in use today. Following the dissolution of the Soviet Union, the Ukrainian military found itself with a stockpile of the weapons, which it has since repurposed for use as a shoulder-fired infantry weapon
The DShK's history dates back to the Second World War
In 1929, the Russians began developing a firearm that was comparable in power and performance to the American M2 Browning .50 caliber machine gun. After years of work on an effective design, production began on the 75-pound DShK. Over the course of the Second World War, around 9,000 were produced.
Used extensively by the Red Army during the war, the 12.7 x 108 mm DShK was mounted to military vehicles (primarily tanks and trucks) and used as an anti-aircraft gun. It also saw action with the Russian infantry, through the use of a two-wheeled trolley.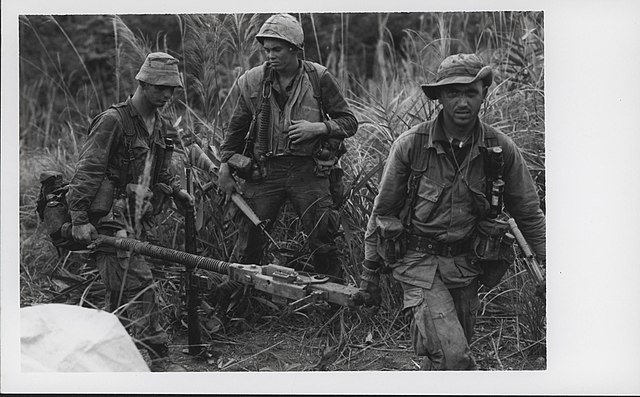 Following the war, a new variant of the DShK was produced, featuring a revised feeding system and muzzle. These modifications made the machine gun more reliable and easier to produce. Over a million were manufactured between 1946-80, many of which were delivered to forces around the world.
During the Vietnam War, the DShK was smuggled through Laos, Vietnam and Cambodia for use by the communist forces. It's believed the majority of the American aircraft downed during the conflict were destroyed by the weapon. This reputation led to its use in the Middle East, particularly against British troops in 2004, and by rebel forces during the Syrian Civil War.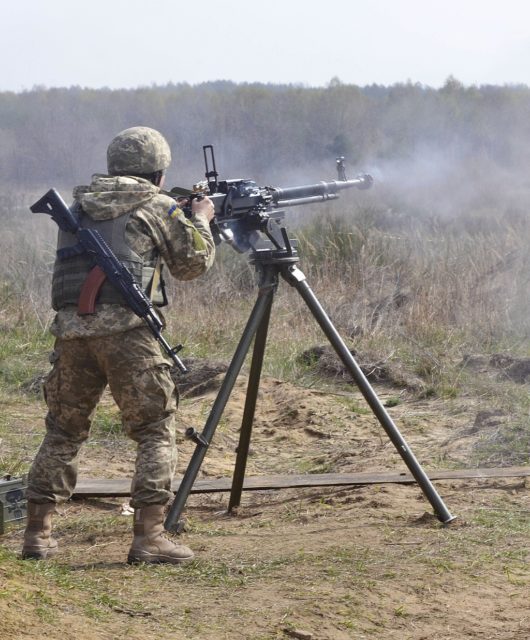 In 1971, the NSV heavy machine gun was introduced to the Soviet military as a partial replacement for the DShK. However, it didn't last long and was replaced by the Kord heavy machine gun in 1998. Despite attempts to replace it, as well as the fact it's no longer in production, the DShK remains in active service, thus making it the only .50 caliber machine gun – aside from the M2 – to still be in use today.
Modified for use by the Ukrainian military
Following the collapse of the Soviet Union, Ukraine was left with a stockpile of DShKs that were later modified for use in trench warfare. These changes came about during War in Donbas in 2014, when it was realized the Ukrainian military's 7.62 mm x 54 mmR PKM general-purpose machine guns didn't provide the necessary accuracy or effectiveness.
The modifications included the development of a muzzle break, which lessened the DShK's recoil, as well as the creation of a bipod and shoulder stock that allowed it to be carried and used by just two infantrymen. When paired with a pistol grip and conventional trigger, the machine gun turned into an ideal shoulder-fired infantry weapon.
More from us: M1919 Browning: An Innovative and Revolutionary Firearm
Following the success of field tests, the modified DShK was standardized by the Ukrainian military, with officials impressed by its ability to accurately fire the powerful .50 caliber round.