The US Marine Corps War Memorial – also known as the Iwo Jima Memorial – stands as an iconic symbol of valor and sacrifice. Located just outside of Arlington National Cemetery, in Virginia, this sculpture serves as a powerful tribute to the Marines who serve and sacrifice their lives for their country.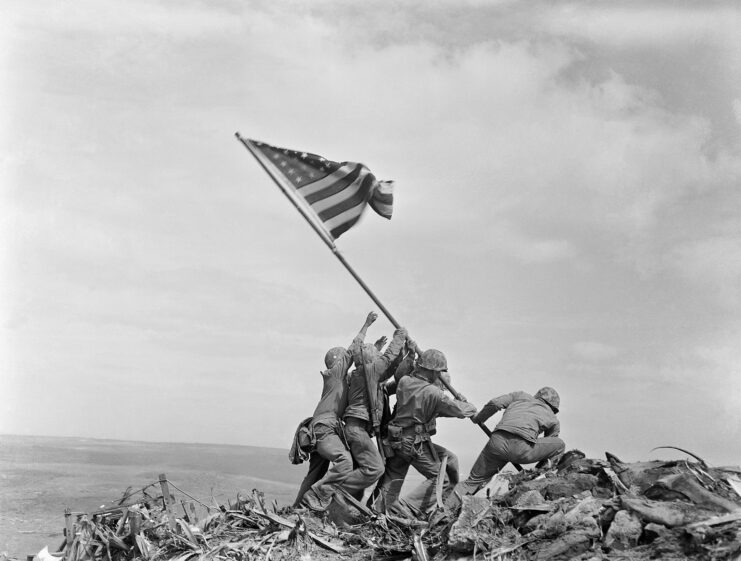 The creation of the US Marine Corps War Memorial began in the aftermath of the Second World War. Inspired by the bravery and resilience displayed during the Battle of Iwo Jima, a group of veterans envisioned a lasting memorial to honor the fallen. They wanted to create something that would capture the spirit of the Marine Corps, while serving as a reminder of the sacrifices made by those who served.
Felix de Weldon, a sculptor and former painter second class with the US Navy, was commissioned to bring this vision to life. Working tirelessly, he crafted a plaster model of the monument.
His design depicted the photograph taken by Joe Rosenthal showing six Marines raising the American flag atop Mount Suribachi, one of the most iconic images from World War II. The sculpture was cast in bronze, with the figures standing at an impressive 32 feet tall. They're raising a 60-foot flagpole and flag.
The Featured Image of this article shows de Weldon putting the finishing touches on the plaster model before it's cast in bronze.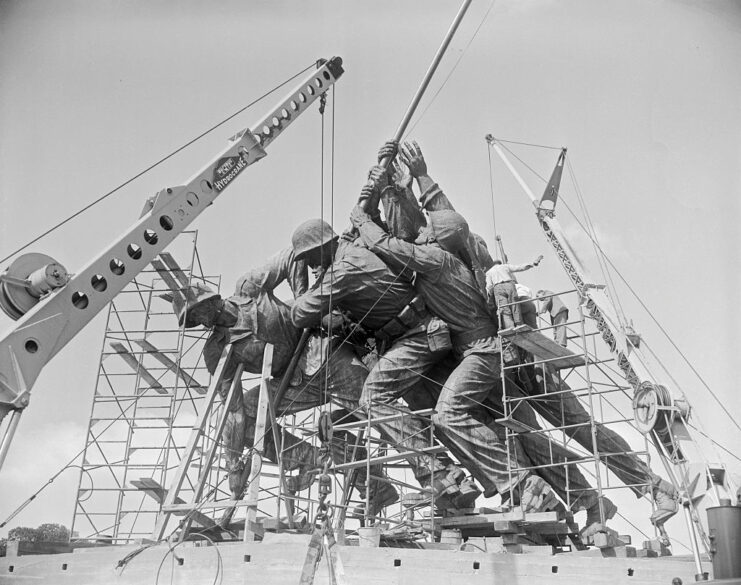 On November 10, 1954, the US Marine Corps War Memorial was dedicated in a ceremony attended by thousands, including President Dwight D. Eisenhower and many veterans of the Pacific Theater.
More from us: Clint Eastwood's Iwo Jima Duology Accurately Depicts the Battle from Both Sides
The memorial's location holds special significance, as it overlooks Arlington National Cemetery, where many Marines are laid to rest. The monument's inscription reads, "In honor and in memory of the men of the United States Marine Corps who have given their lives to their country since November 10, 1775." It stands not only as a testament to the courage of the Marines who fought on Iwo Jima, but as a tribute to those who have and continue to serve.