Kirk Douglas is arguably one of the most famous names to emerge during Hollywood's heyday in the 1950s and '60s. Known for taking on particularly demanding roles and starring alongside some of the industry's most talented, he made a name for himself with such films as 20,000 Leagues Under the Sea (1954), Paths of Glory (1957) and Spartacus (1960).
Prior to becoming a big-name actor, Douglas answered the call to serve his country, enlisting the US Navy and chasing Japanese submarines in the Pacific Theater.
Kirk Douglas' early life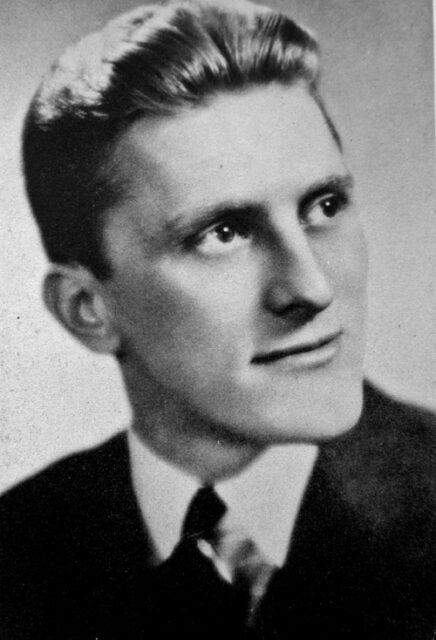 Kirk Douglas was born on December 6, 1916 in Amsterdam, New York. His parents, immigrants from the Russian Empire, named him Issur Danielovitch. He legally changed his name to "Kirk Douglas" in 1938, as he was beginning his pursuit of acting.
Douglas had what many would describe as an unhappy and turbulent childhood. His father was an abusive drunk who spent the family's money on alcohol. To support his mother and siblings, Douglas worked a number of odd jobs, including as a newspaper delivery boy and a snack vendor at a local mill. He later revealed he held over 40 different positions to help make ends meet.
Developing an interest in acting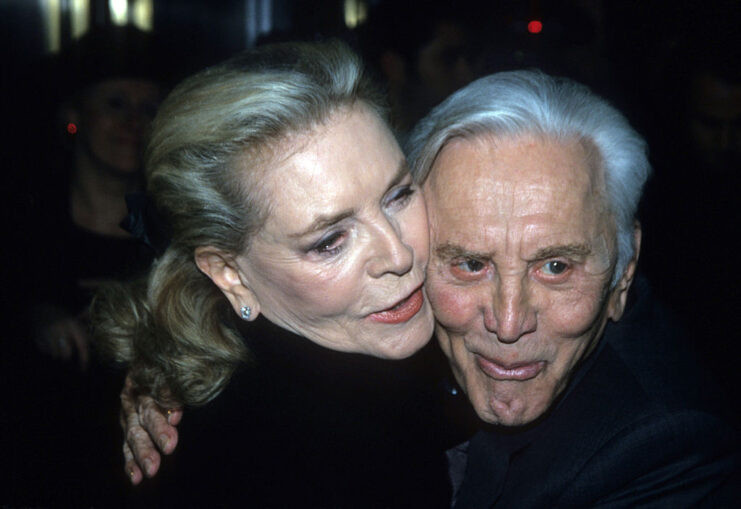 Kirk Douglas first realized he wanted to be an actor in kindergarten, when he received applause for his rendition of John Clare's popular poem, The Red Robin of Spring. He appeared in many plays during his time at Amsterdam High School, but paused his dreams to attend university, graduating with a bachelor's of English from St. Lawrence University.
After he'd completed his post-secondary education, Douglas returned to acting, with his skills being noticed by New York City's American Academy of Dramatic Arts. He received a scholarship, and met Lauren Bacall, who played a critical role in launching Douglas' future Hollywood career.
Serving his country in the Pacific Theater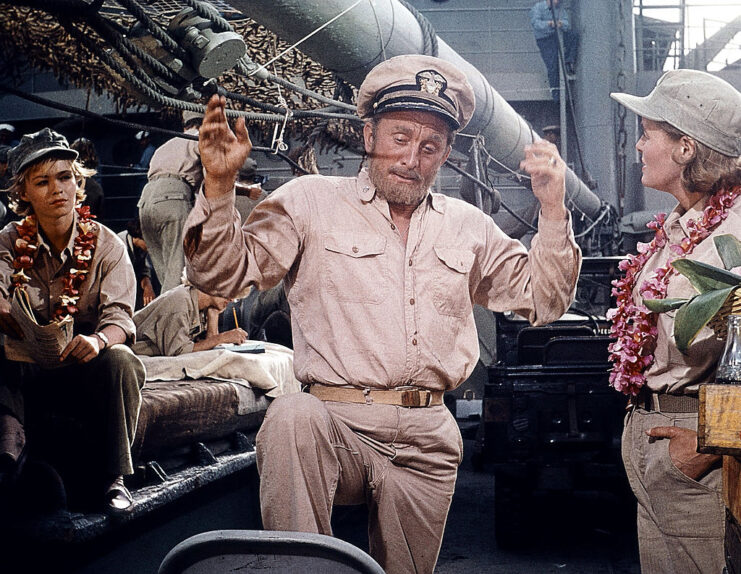 Just as Kirk Douglas was focusing on his acting career, the Japanese launched their devastating attack on Pearl Harbor, which led the United States to officially enter the Second World War. While his fellow actors opted to entertain troops or film training films for the US military, Douglas knew he needed to do more, later saying, "I felt a wave of patriotism and a wave of Jewishness about what was happening in Europe."
While he wanted to serve in Europe, Douglas failed the necessary dexterity test, and thus found himself enlisting in the US Navy. After taking the midshipmen course at Notre Dame, he was commissioned as an ensign and assigned to the USS PC-1139, a PC-461-class submarine chaser.
Under the command of J.O. McCormick, Douglas traveled across the Pacific as a communications officer – that is, until February 7, 1943. On that day, an enemy submarine was detected on PC-1139's sonar. A crewman was supposed to deploy a depth charge marker, but accidentally launched a live one. The subsequent explosion lifted the submarine chaser into the air. Douglas, thrown against the vessel, suffered abdominal injuries.
Sent to San Diego to recuperate, it was soon discovered that Douglas was suffering from a case of amoebic dysentery, which led to a medical discharge from the Navy. At the time, he was a lieutenant (junior grade) and the recipient of the World War II Victory Medal, the American Campaign Medal and the Asiatic-Pacific Campaign Medal.
Kirk Douglas returns to his true passion: acting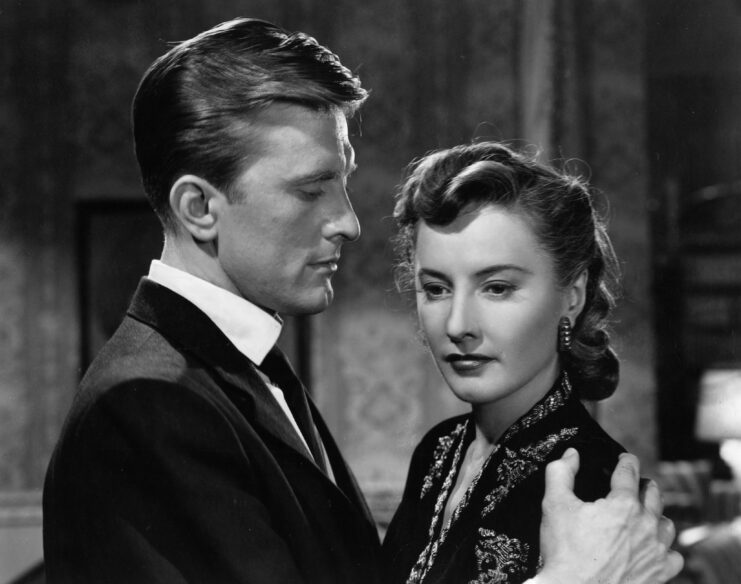 Following World War II, Kirk Douglas returned to New York City, where he obtained acting roles in commercials, on-stage and on the radio. The latter saw him star in several noteworthy soap operas, and he saw the experience as invaluable. His stage debut was as a replacement for fellow actor Richard Widmark in Kiss and Tell.
Douglas was content with remaining a stage actor. However, Lauren Bacall had other ideas. She saw he had potential to star on the big screen and passed his name along to producer Hal B. Wallis, who cast him in 1946's The Strange Love of Martha Ivers, which featured Barbara Stanwyck.
While he continued to star on-stage, including on Broadway's Three Sisters, Douglas began to secure more and more film roles. His eighth movie, 1949's Champion, earned him his first ever Academy Award nomination, for his portrayal of boxer Midge Kelly.
Becoming a major box-office star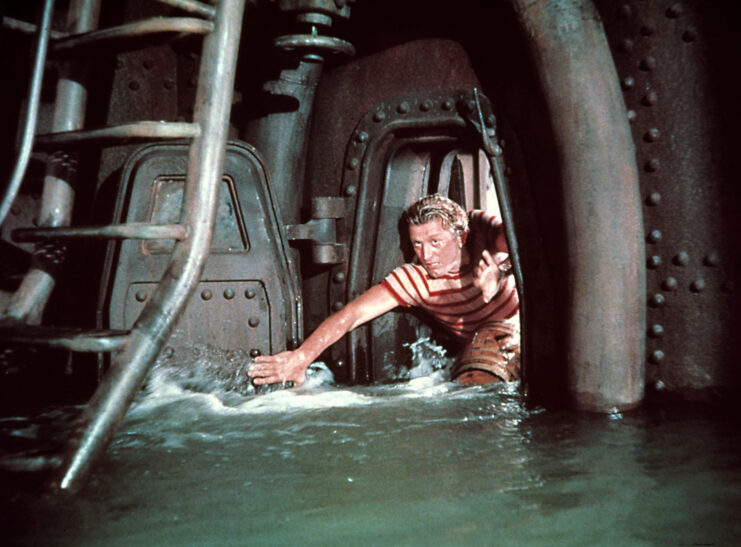 By the 1950s and '60s, Kirk Douglas had solidified himself as one of Hollywood's most sought-after leading men. He was known for diving headfirst into roles, meaning each performance was equally intense. In 1952, he received his second Oscar nomination for his role in The Bad and the Beautiful, and followed it up with the critically-acclaimed Disney live-action adaptation of 20,000 Leagues Under the Sea (1954).
Douglas started his own production company, Bryna Productions, in 1955, under which he produced such films as Paths of Glory, The Vikings (1958), Spartacus, Lonely are the Brave (1962) and Seven Days in May (1964). As a producer, he was harsh with his actors and crew, but only because he set the same standards for himself.
In 1956, Douglas, yet again, earned critical acclaim for his portrayal of artist Vincent van Gogh in Lust for Life. During this period, he also frequently starred alongside Burt Lancaster, with the duo filming seven movies together, including Gunfight at the O.K. Corral (1957), The Devil's Disciple (1959) and Tough Guys (1986).
Kirk Douglas starred in several military films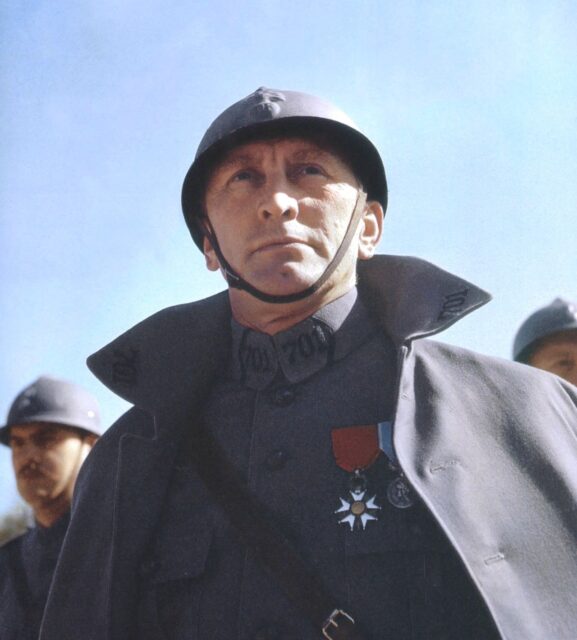 Kirk Douglas starred in a number of military and war films over the course of his career. His first was the aforementioned Paths of Glory. Teaming up with director Stanley Kubrick, Douglas brought World War I's Souain Corporals Affair to the big screen. The controversial incident saw the French military court-martial members of the 21st Company, 336th Infantry Regiment, 60th Infantry Division after they refused to run into certain death on the Western Front.
Top Secret Affair (1957) saw him play the role of a decorated US Army major general who's named the chairman of the Joint Atomic International Commission, while Town Without Pity (1961) had him tasked with defending four soldiers accused of sexually assault a young woman in occupied Germany after the Second World War.
This was followed two years later by the Korean War thriller, The Hook (1963). Based on a novel by Vahé Katcha, it saw Douglas serve as a sergeant with the US Eighth Army assigned to a ship serving overseas. A North Korean pilot is shot down nearby, and the vessel's crew is torn between following orders to execute him or facing charges for disobeying instructions.
Douglas took on the US Marine Corps in the Cold War-era Seven Days in May, after which he brought Norwegian heavy water sabotage to the big screen with The Heroes of Telemark (1965). That same year, he starred in In Harm's Way alongside John Wayne, a retelling of what sailors and US Navy officials faced during the attack on Pearl Harbor.
His final three war movies were Cast a Giant Shadow (1966), set during the 1948 Arab-Israeli War; Is Paris Burning? (1966), which takes place during the liberation of Paris; and The Final Countdown (1980), a science fiction movie that saw the USS Nimitz (CVN-68) travel back in time to when Pearl Harbor was attacked. Co-starring Martin Sheen, the latter was filmed on the real-life aircraft carrier.
Winding down his acting career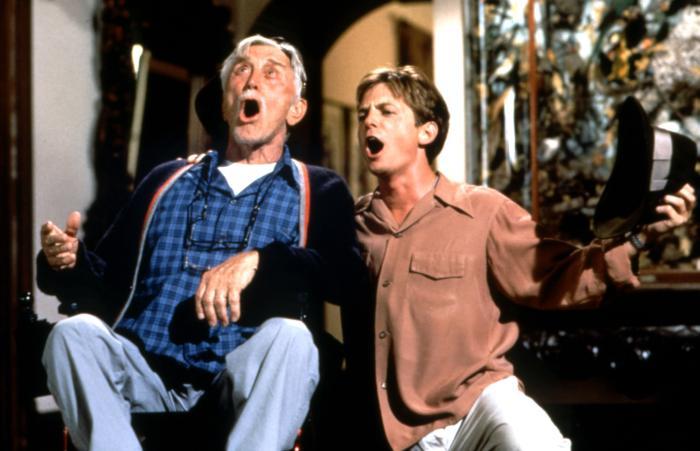 While Kirk Douglas continued to act into the 1970s and beyond, he did appear in less films. He made his directorial debut in 1973 with Scalawag, and in the 1990s starred in several smaller roles, including alongside Michael J. Fox in Greedy (1994).
Douglas' final feature film was 2004's Illusion, while his last on-screen role was in the television movie, Empire State Building Murders (2008). In 2009, he performed a one-man show, titled Before I Forget, which was later turned into a documentary.
Kirk Douglas lived for over a century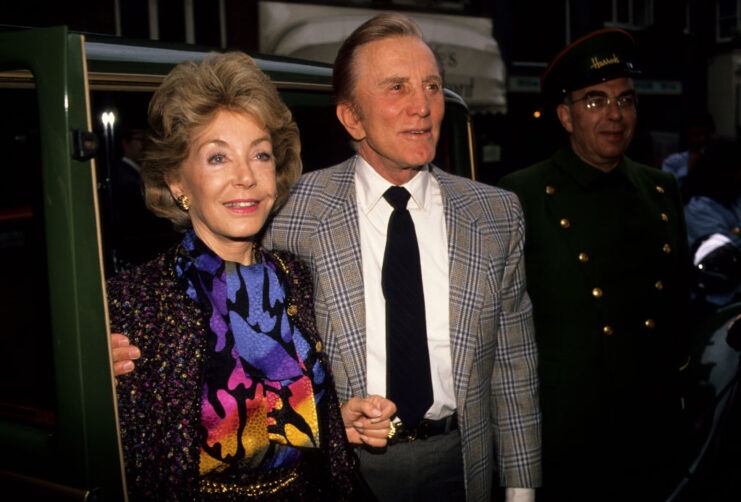 For the most part, Kirk Douglas lived in relative health. However, he was involved in a near-fatal helicopter crash in 1991, and he suffered a stroke in '96, which impaired his ability to speak. He also caused controversy in 2001, when it was alleged he sexually assaulted actress Natalie Wood in 1955. The allegations resurfaced in 2018, when he was honored at the Golden Globe Awards.
Douglas was married twice, with his second wife, Anne Buydens, having escaped Germany during the Second World War. While he wasn't faithful to his partner, the pair remained together until Douglas' death. They went on several goodwill trips to promote democracy, for which US President Jimmy Carter awarded him the Presidential Medal of Freedom, and spent the latter parts of their lives dedicated to supporting various charities.
More from us: Denholm Elliott Scored His First Acting Gigs While a Prisoner of War
On February 5, 2020, Kirk Douglas passed away at his home in Beverly Hills, California. The 103-year-old's death was never revealed by his family. He was buried beside his son, Eric, who had died just under 16 years prior, with Anne also being laid to rest alongside them following her death in August 2021.