Denholm Elliott was known for his versatile performances in numerous films and television shows. However, before he became a famous actor, he was a member of the Royal Air Force (RAF), having served in the Second World War. Like many young men of his generation, as well as several of his fellow actors, Elliott called up for duty. His service, however, was harsh, as he was kept as a prisoner of war (POW) for several years.
Denholm Elliott's early life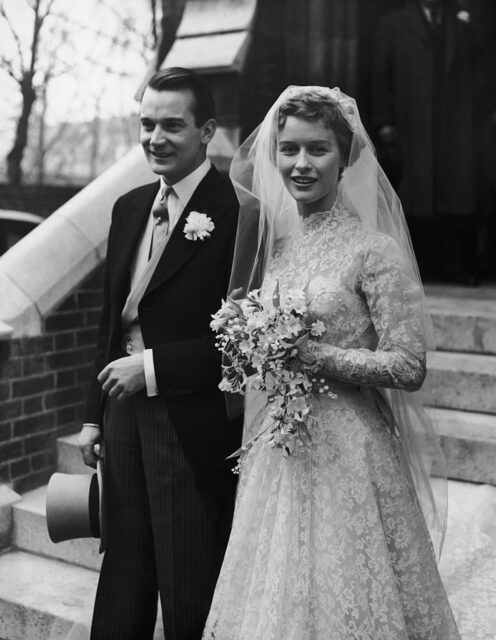 Denholm Elliott was born on May 31, 1922 in London. His father was assassinated while serving on the Mandatory Government in Palestine when the future actor was just 11 years old. His mother encouraged his passions, which included dramatics. He first attended Malvern College, before being accepted into a program at the Royal Academy of Dramatic Art (RADA).
Despite the lengthy acting career he would go on to have, Elliott wasn't always so impressive; he was asked to leave RADA after only a single term. He said they reached out directly to his mother, writing in a letter, "You are wasting our time and your money; please take the little fellow away."
This decision was fine by him, as Elliott wasn't a fan of theirs, either. Instead, he turned his sights toward the British military
Service with the Royal Air Force (RAF)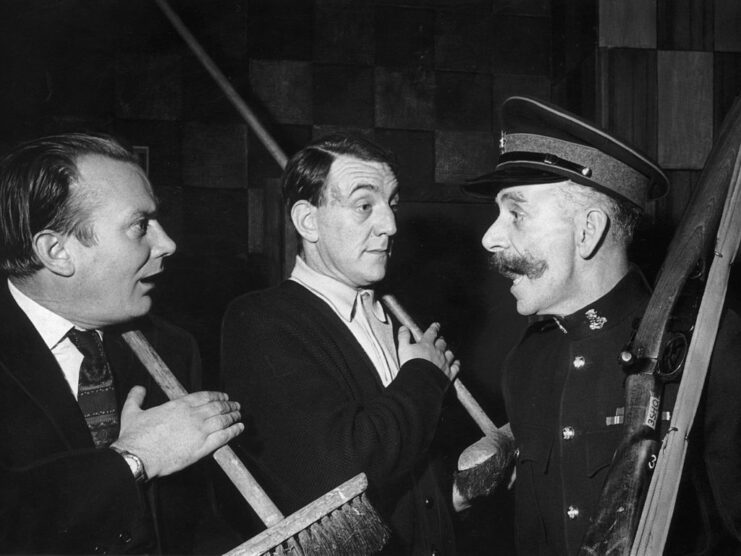 It's unclear exactly when Denholm Elliott enlisted, but sometime after the start of the Second World War he joined the RAF. He was trained as an air gunner and a wireless operator. When this was complete, he was assigned to No. 76 Squadron RAF, serving under the command of the youngest group captain in the service, and one of its most decorated pilots, Leonard Cheshire.
Little is know about the missions Elliott partook in, aside from the one that occurred on September 23-24, 1942. On this evening, he was assigned to a Handley Page Halifax taking part in an attack on a U-boat pen in Flensburg, Germany. At some point during the raid, the aircraft was hit with flak, causing it to crash into the North Sea.
Elliott and four other crew members survived the landing. Unfortunately for them, they were captured by German soldiers and taken as prisoners of war.
A true thespian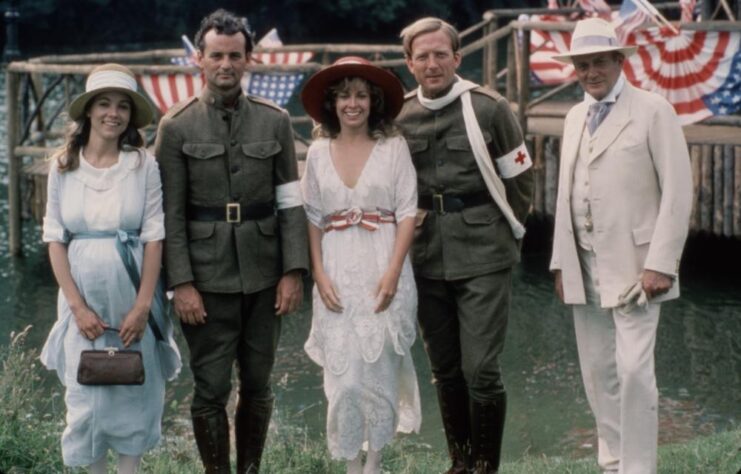 For the remaining years of the conflict, Denholm Elliott and the others were held at Stalag VIII-B, located in what was once the village of Lamsdorf, Germany. It's unclear why it started (likely to pass the time), but he put together an acting troupe called the "No Name Players," who put on amateur performances.
It appears Elliott's acting had improved drastically from his days at RADA, as the No Name Players were highly praised for their performances. In fact, they were so good that they were asked to tour other POW camps and put on performances of William Shakespeare's Twelfth Night.
Denholm Elliott's notable performances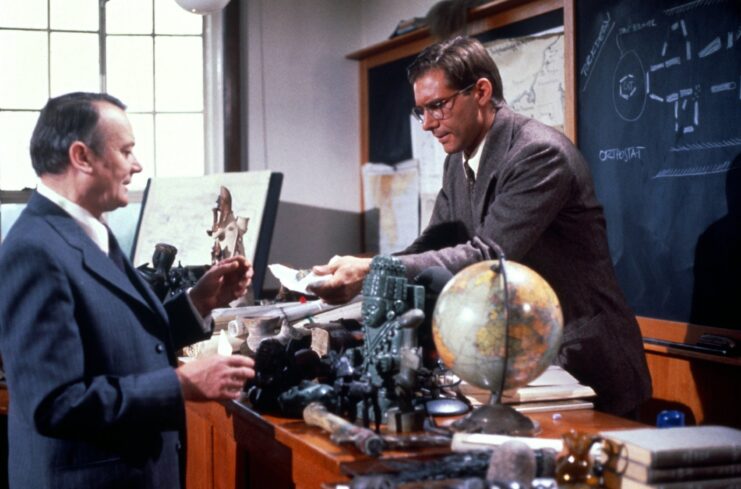 Denholm Elliott would carry on this undying passion for acting when he returned to Britain and was cast in Dear Mr. Prohack, his 1949 debut. During his decades-long career, he took on an array of characters, becoming known as "a star among supporting players" for his ability to play any role.
Among his best known works are Trading Places (1983), A Room with a View (1985), A Private Function (1984), Defence of the Realm (1986), Alfie (1966), Maurice (1987), A Doll's House (1973) and September (1987). Elliott was also cast in such legendary adventure movies as Raiders of the Lost Ark (1981) and Indiana Jones and the Last Crusade (1989).
Denholm Elliott's war dramas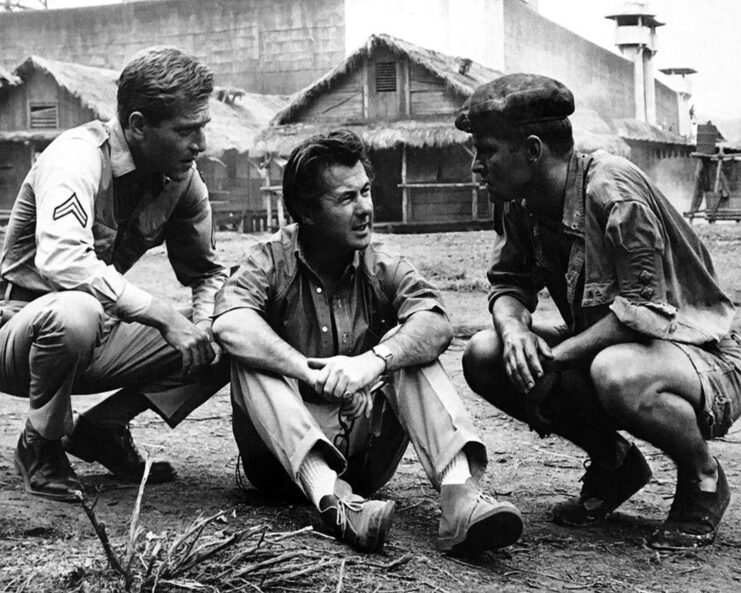 Showing the breadth of his ability, Denholm Elliott acted in many different war films, some well-known and others obscure. At the beginning of his career, he was cast in the 1952 drama, The Sound Barrier, about a group of designers and aviators trying to break the sound barrier during World War II.
Other movies based on the conflict were They Who Dare (1954), King Rat (1965), Too Late the Hero (1970), The Cruel Sea (1953) and A Bridge Too Far (1977). The latter was, of course, one of his best known films, having a fantastic cast: Laurence Olivier, Dirk Bogarde, Michael Caine, Sean Connery and Anthony Hopkins. Elliott didn't have a particularly fascinating role, portraying an unnamed RAF meteorology officer.
End of an era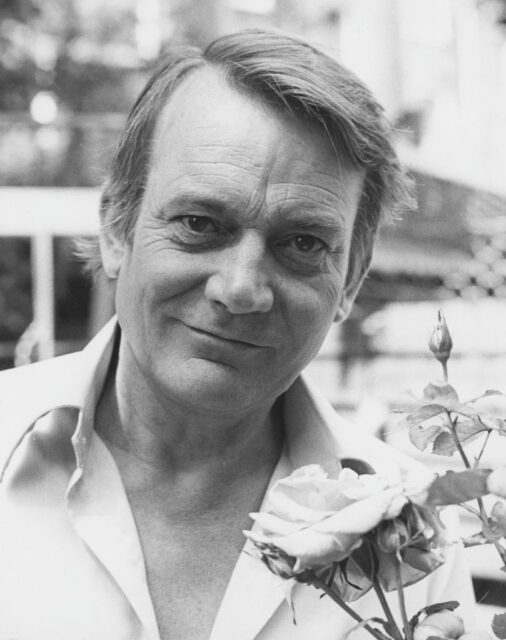 Although Denholm Elliott never worked his way up to a leading man, he was well-known for stealing the show as a supporting character. His admirable acting career was acknowledged in 1988, when he was made a Commander of the Order of the British Empire.
Elliott continued working in film right up until the day he died, never officially retiring. His final role was as Selsdon Mowbray in 1992's Noises Off. 
More from us: Clint Eastwood's Iwo Jima Duology Accurately Depicts the Battle from Both Sides
Elliott was only 70 when he died on October 6, 1992. Five years prior, he'd been diagnosed with HIV, having kept his bisexuality from most of the world. It was an HIV-related case of tuberculosis that killed him. Donald Sinden, who worked with Elliott on The Cruel Sea, only had complimentary things to say of the actor following his passing
"He was one of the finest screen actors and a very special actor at that. He was one of the last stars who was a real gentleman."