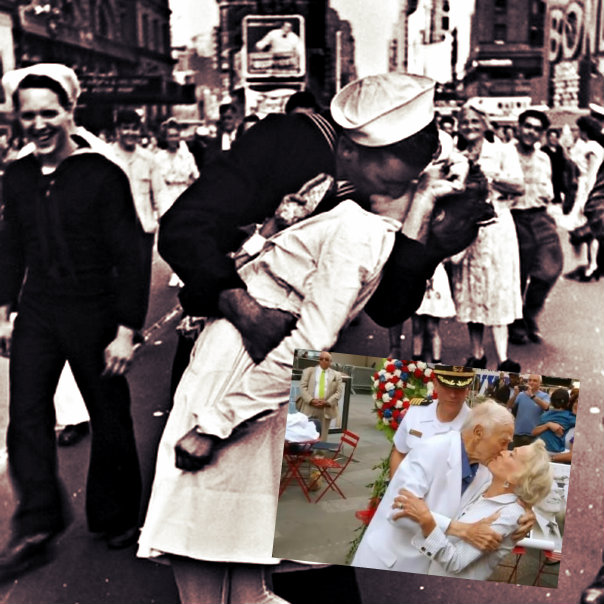 WWII vet Sydnor Thompson and his wife Harriette reenacted the famous Times Square kiss of Alfred Eisenstaedt in time for the 69th-year of the commemoration of V-J Day (Victory over Japan) last August 11, Monday.
The couple, who are married for 67 years now, portrayed the famous historic pose right next to a replica of the original kissing couple photographed in New York's Time Square on the 14th of August, 1945. V-J Day was in celebration of Japan's official surrender and the ending of the Second World War.
Mr. and Mrs. Thompson were selected for the photo reenactment after 91-year-old Harriette set a record for being the fastest 90-years-and-over runner during a marathon in San Diego. The couple from North Carolina gamely posed like the Times Square couple way back in 1945 and kissed in front of the cameras.
In her speech, Mrs. Thompson stated how glad she was to take part of the celebratory event and keep the spirit of V-J Day alive. For his part, Mr. Thompson just laughingly said the best thing he did in his life was marrying his wife.
According to them, they were married two hours right after their college graduation way back in 1947. And from then on, Sydnor and Harriette enjoyed and endured 67 years together.
On the whole, the Times Square Kiss reenactment was part of the year-long campaign aimed at boosting awareness for V-J Day.
V-J Day will be reaching its 70th anniversary next year.