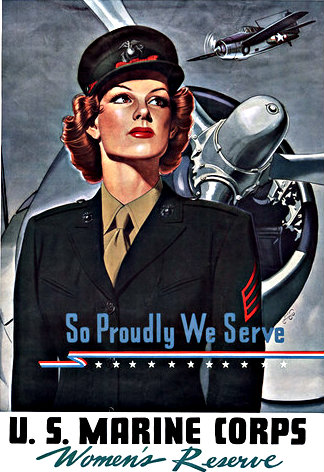 Iris Nigg Lundin may seem like an ordinary elderly lady at 97 but she had a special spot within the Marines during the Second World War — being one of the first four women teachers of WWII pilots.
Iris was already a teacher on a summer job as a waitress when her boss egged her to enlist in the Marines way back in 1943. So, armed with her college degree, she walked in to a Marine recruiting station. It was the start of her journey as one of the first women teachers teaching WWII pilots navigation, meteorology and radio/laser technique. All of her students were men.
Among these men was the group the Black Sheep Squadron led by famed aviator and ace Marine pilot Gregory "Pappy" Boyington. The group was known for its war feats and is believed to have shot down more than ninety Japanese war planes.
Before becoming one of the first women teachers of WWII pilots, Iris had to master state-of-the-art technology. She, then, passed on her knowledge to navigators, pilots and even bombers. In those times, while women were allowed to transport planes, they weren't permitted to engage in the actual war as fighters.
Iris laughingly recounted how she and the other female Marines, though surrounded by hormone-filled males, were able to keep their own up. She recalled one time how one of her roommates, a brainy beauty named Betty, had an encounter with the ace Marine pilot himself, Gregory Boyington. Boyington tried to kiss Betty for which he got bit off, literally, in response.
"He got fresh and she bit him," she recounted adding how those days working as one of the Marines' women teachers were exciting yet at the same time scary.
Even after decades later since her being one of the first women teachers for WWII pilots, Iris kept mementos of those times with her included the chic uniform female Marines were required to wear except when they were in planes as it was necessary for them to wear slacks.
Speaking about the dress standard, she said how the Marines made ladies out of them. The Marines' standard uniform at that time had included spit-shined shoes, a hat and even nail polish and lipstick which both matched a stripe in their outfit.
Iris Nigg Lundin – US Marine Corp. Women's Reserve and Navigation Instructor Second Lieutenant