WWII soldier Tom Bryan gets the hero send-off he deserved, an amazing answer to an appeal made by nephew Tony Budgett for his veteran uncle's November 10 funeral last week. Tony's plea was initially made via Facebook; fear that only four of them – himself, his wife along with their two daughters – prompted him to make it.
Hundreds of strangers, united by their wartime memories as well as the love and respect for the men and women who served the country, flocked the Stockport Crematorium to attend the funeral of WWII veteran Tom Bryan in answer to the appeal made by the vet's nephew last week.
Tom passed away last week at the age of 92. He remained unmarried and didn't have any children making Tony, his wife and their two children the only family he had.
"Now I would ask you all to kindly forward this to anyone you know who may be ex-services or who may be local to Stockport and could attend his funeral to pay their respects to a man that was deeply changed by his experiences during the war. It would be very sad for there to only be a couple of people to say farewell to this loyal servant of Crown and Country," Tony posted in his Facebook page last November 5.
Tony said the realization that only the four of them, along with the pallbearers, would attend the funeral of his veteran uncle and the fear that came with it encouraged him to make the appeal. He did not want the WWII vet's wartime deeds to go unrecognized and the man himself to be laid down to his final rest without proper recognition.
The simple Facebook appeal made rounds in a number of newspapers, news sites online and even in several TV news programs bringing an amazing tide of over 400 people attending the WWII vet's funeral which poignantly took place a day before Armistice Day.
Some of the attendees even traveled from across UK to pay their respects to the WWII hero with guests including representatives from the army, police and fire service.
"It's heartening to know that people do care for an elderly gentleman who's led a very quiet and anonymous life and it has helped the family considerably," Tony expressed in an interview.
Knowing Tom Bryan
Tom Bryan was stationed in India as a member of the Queens Rifle Regiment. When Singapore fell into the hands of the Japs, they were immediately shipped off to take part in the Burma Campaign.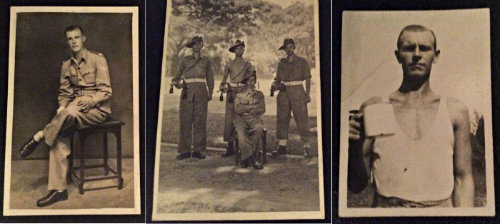 While there, they got surrounded by the enemy and was cut off from the rest of the British troops for more than three weeks. Throughout this time, he and his comrades had to fight off Japanese soldiers to get out, often doing so hand to hand. To top that, their way out was littered with the cadavers of fellow Allied soldiers who were captured and killed by the Japanese, their bodies left for the retreating soldiers to find.
These "hellish" wartime experiences haunted Tom throughout his lifetime. They morphed into nightmares, waking him in the middle of the night screaming. When asked about them, the WWII vet would shut down. It wasn't until 50 years after that he was able to talk about them like they only occurred yesterday.
Tony went on to say that it wasn't only Tom who got traumatized by his wartime experiences; his brother, John, was, too.
"They both had a very, very tough time. This was not taking pot shots – it was hand to hand because they only had bayonets so it was shocking stuff. When he was back home, you could tell how much it affected him because you would hear screaming at night," he recounted. John died way back in 1982.
Tony said that his veteran uncle took his military past seriously.
"He still kept all his old papers and Remembrance Day was something that was very important to him.," he stated.
Funeral Fit for a War Hero
Representatives from the Royal British Legion took part of the WWII vet's funeral procession by walking in front of it carrying regimental flags. The funeral attendees, mostly comprised of war vets and strangers who never met Tom, lined the street where the procession took place saluting as the car bearing his flag-clad coffin passed by. Then, a group of firefighters acted as his pallbearers, carrying his coffin out of the hearse and into the crematorium for cremation.
Strangers these people may be but they brought in flowers and cards to honor the WWII vet. Some couldn't even contain their emotions as Tom Bryan's coffin passed by.
During his funeral speech, Tony said that he couldn't believe the amazing turnout his simple Facebook appeal caused. He went on to say that even the funeral director couldn't believe his eyes as being in profession for 35 years, he never saw anything like it.
https://youtube.com/watch?v=1Un5a57YbDc
"We have had 160 cards and messages. It was absolutely amazing. We are so grateful to the public for their response. I feel very lucky and very blessed," he added.