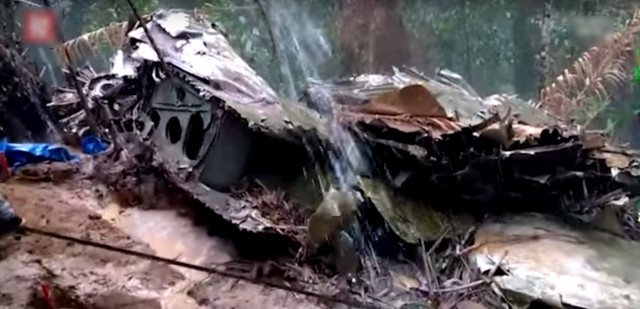 Researchers have begun the daunting task of retrieving the remains of two World War Two crew who were killed when their plane crashed in Malaysia.
The crew were flying a Douglas Dakota C-47B when they ran into difficulties and crashed in the Bubu Forest Reserve in the north of Malaysia in November 1945.
The researchers have been on the ground at the crash site where many artefacts and remnants have been retrieved. They are being sent back to laboratories to be analysed and assessed.
The team will have to wait for the results of the analysis to know if it is the two crewmen from the Dakota.
The expedition to the Bubu Forest Reserve to search for and retrieve the US military items, as well as any human remains such as teeth and bone that can be used to identify the crew, and personal belongings.
The findings have already been provided to the Malaysian authorities and will be assessed there before being returned to the US.
The aircraft was being flown by three crew and was flying a short distance from Singapore to Penang to transport food supplies. The crew were Flight Officer Judson Baskett, Flight Assistant William Myers and Communications Officer Donald Jones, The Star reports.
The research team have surmised that the plane would have crashed and broken into pieces as it hit the trees in the dense jungle area. By the time it landed on the ground the entire cockpit had been destroyed.
The rest of the aircraft had scattered into pieces over a vast area of the forest up to 200 square metres away.
The team of 11 researchers has removed several large soil samples to also filter for bone remnants and aircraft parts. The team has been supported by more than 100 Malaysian local personnel from the Malaysian Army and government departments.
Their main aim has always been to retrieve and return the remains of the crew to their families in the US. The Malaysian authorities hope that by November the tests will be completed and they will be able to return the remains to the families.